City of the Sun Pt. 2 – Summary:
Who: Sheila Bjeletich
What: Toured the City of the Sun in Columbus and met other residents; Drove to northern New Mexico through various cities; Arrived at The Commons on the Alameda
When: Sunday, April 8
Where: Columbus, NM; Hatch, NM; Santa Fe, NM
Quick Resources:
My Route:
Planning my Eco-Inspired Road Trip Blog Post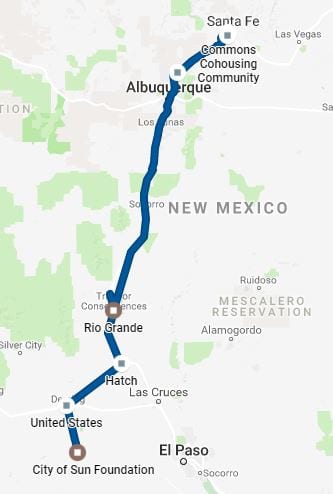 My Travel Story:
The following morning in the City of the Sun, I woke up to the sounds of dozens of dove cooing above me, and flocks of desert quail running around under my hammock and in the gardens. So it was an interesting morning alarm.
We started the morning touring one of her neighbor's homes, which was a round hand-built building, with a mermaid themed bathroom that was undergoing repairs because a storm and water damaged knocked down part of the wall.