Valverde Commons Community – Summary:
Who: James Ludden
What: Visited the Valverde Commons Community
When: Monday, April 9
Where: Taos, NM
Quick Resources:
My Route:
Planning my Eco-Inspired Road Trip Blog Post
My Travel Story:
After the The Greater World Earthship Community, I traveled to the other side of Taos to visit Valverde Commons.
"Valverde Commons was conceived as an active adult CoHousing community in 2006 and developed from pastureland starting in 2011. Currently there are 22 energy efficient houses with 6 additional ones expected by 2023. Thirty four people live in the community as of 2018. The community is located in the heart of Taos, New Mexico and a short walk from the historic Taos Plaza.
The individual homes are clustered on 10 acres surrounding an almost 4 acre common green space, plus an adjacent 10 acre park with walking paths and gardens.
Our beautiful common house has a full kitchen, large meeting room, library, and laundry facilities. It is frequently used for group dining, parties, meetings, classes, and entertainment. The common house has rooftop solar energy to promote sustainability. We also have a barn building for communal garden tools, tractor, and garden carts. The barn also includes a complete professional wood working shop and other studio facilities." – Valverde Commons FIC Profile
I arrived at Valverde Commons and pulled into their dog-park parking lot, and met my host, James (Jim) Ludden, at the community's common house.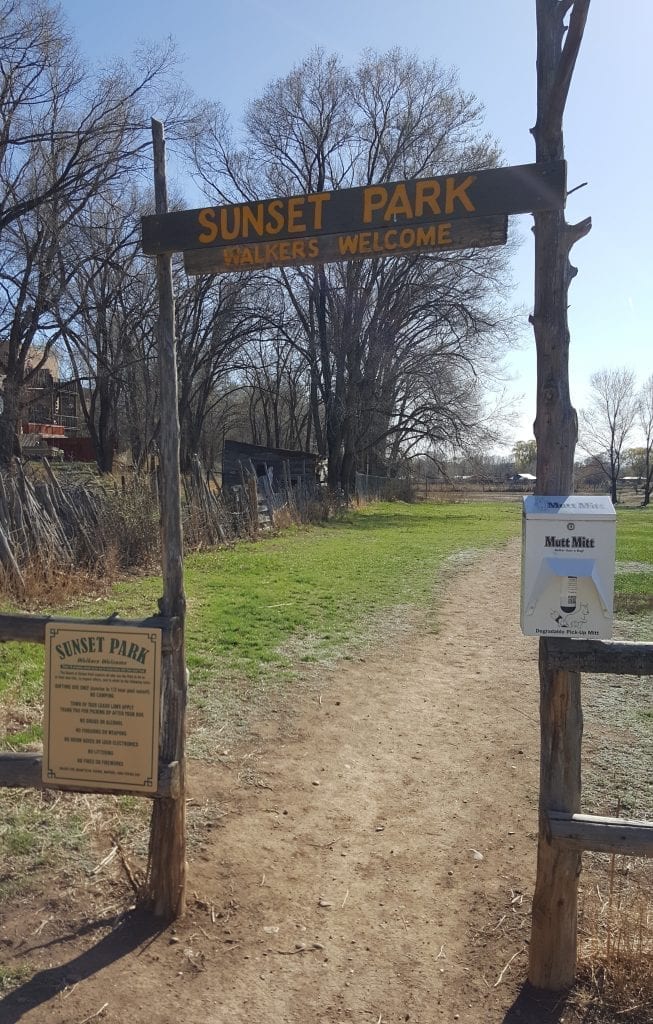 This is a view of Valverde Commons on my walk from the dog park to the common house!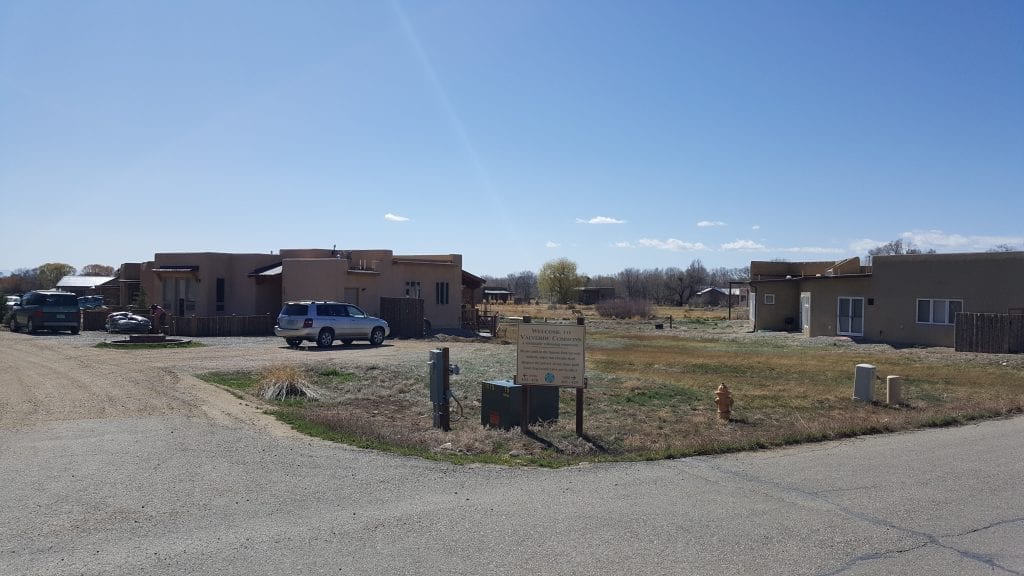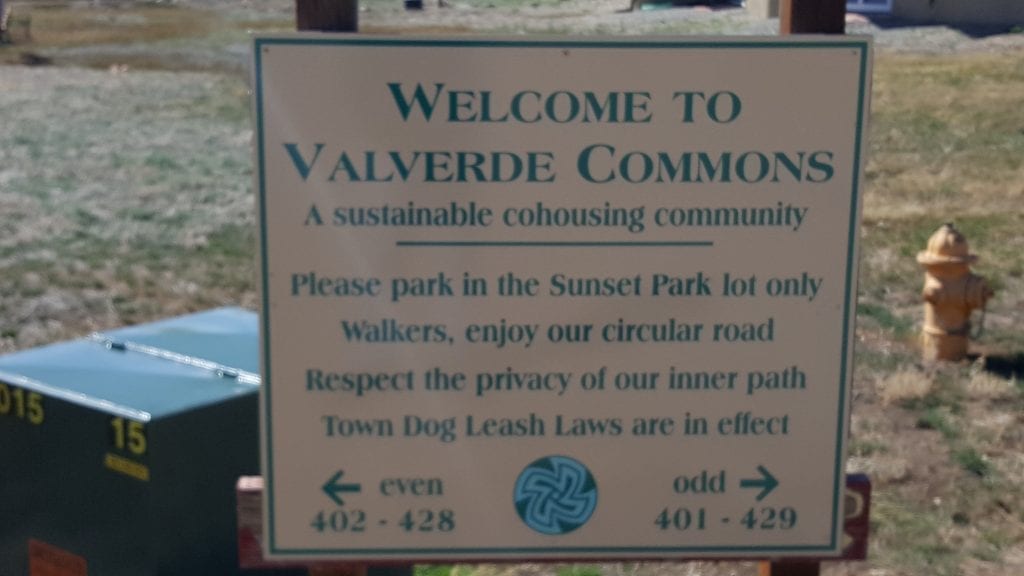 I appreciated Jim's frank insights and straightforwardness on the tour, especially when we were touring the common house. He pointed out some of the builder's design flaws that caused some inconveniences – like the lack of power outlets and poor air circulation in common spaces.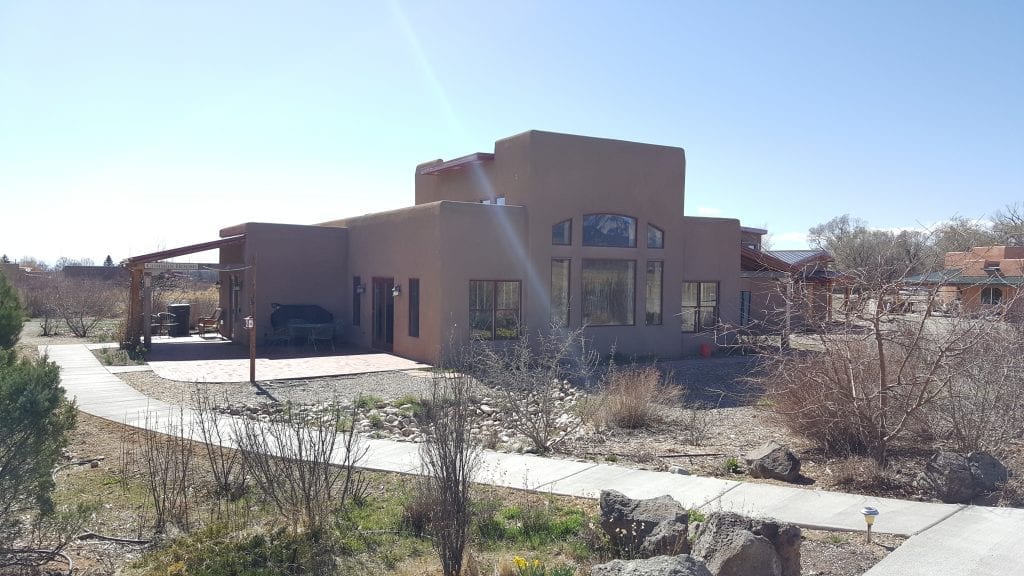 When you walk inside the main entrance to the common house, the white hallway wall is covered with local's artwork. Otherwise the building had no artwork or color, and would have looked like it was still under construction.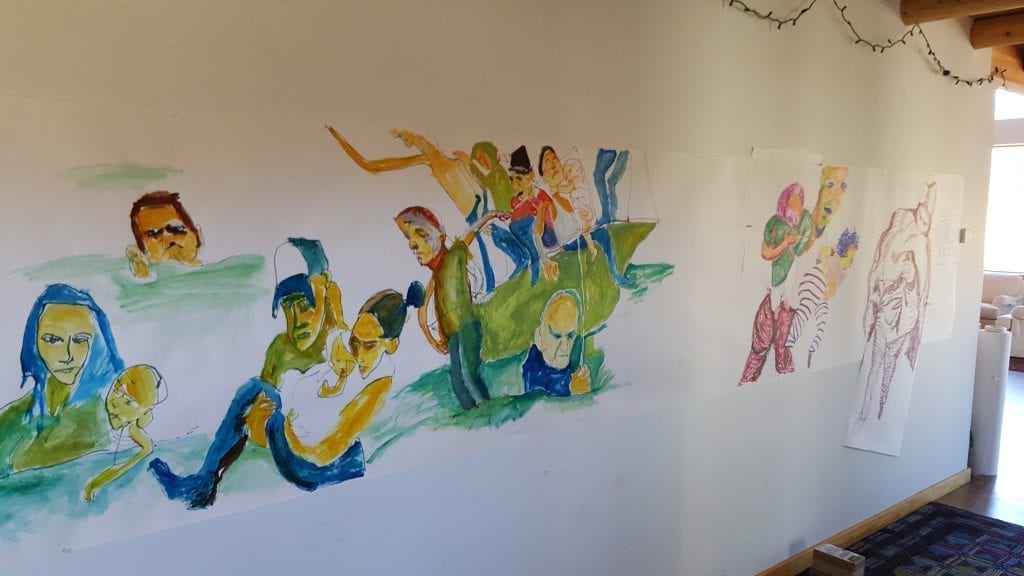 This is a view of the community kitchen and dining hall in the community center, which had quilts hanging up for decoration high on the walls.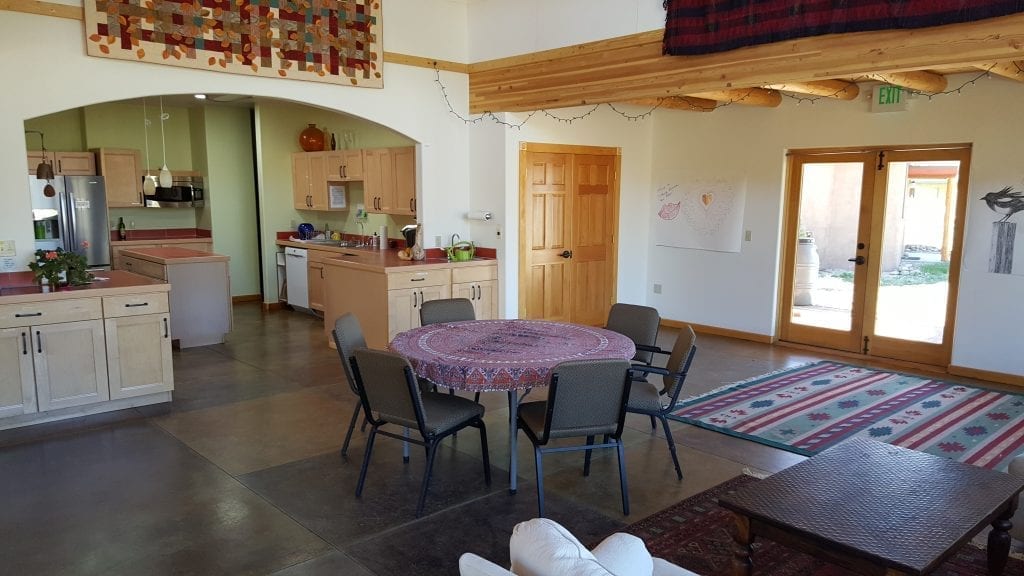 After the common house, we walked through the shared courtyard between the main housing clusters. It was primarily native landscaping with an infestation of burrowing animals that ate any introduced vegetables. Jim explained to me how Valverde is different than most intentional communities. It's more a "community of individuals" type of cohousing, compared to other models. Meaning residents weren't required to be social, the front of the homes faced out instead of inward, and residents have most of their own amenities like kitchens and garden spaces so there wasn't a full-communal sharing undertone.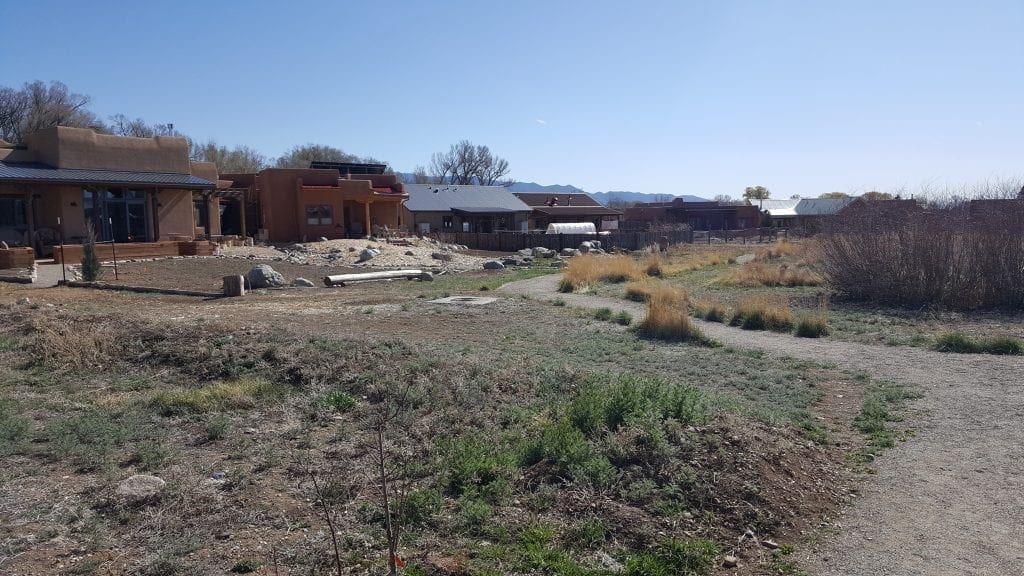 Some of the residents had gardens, while others chose xeriscape-style native landscapes!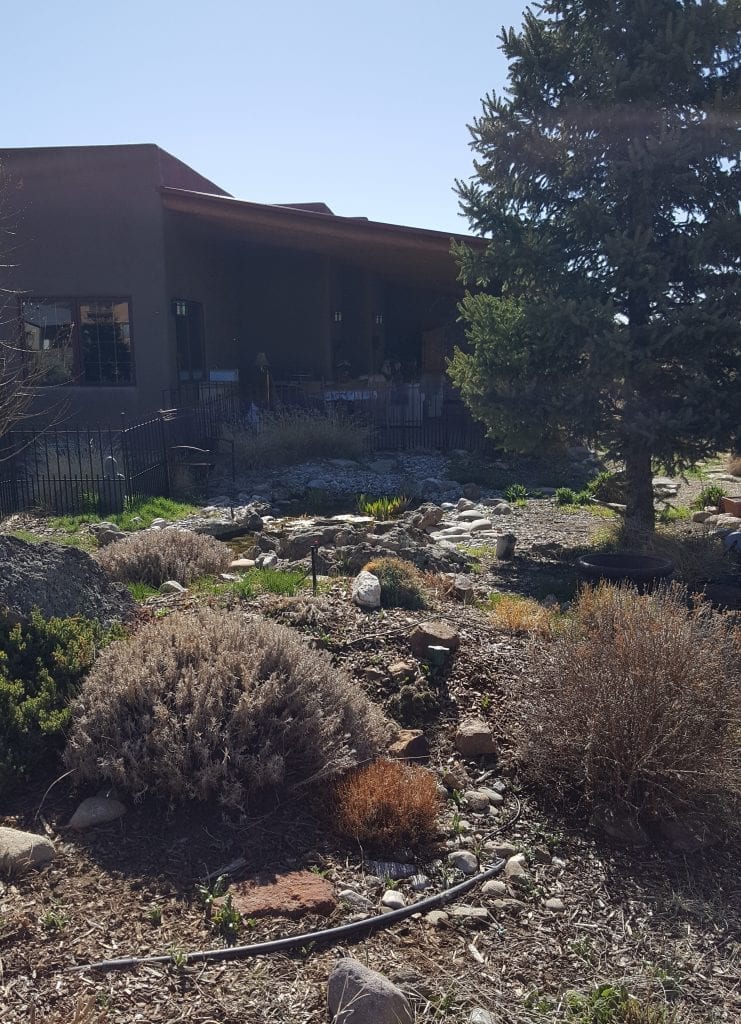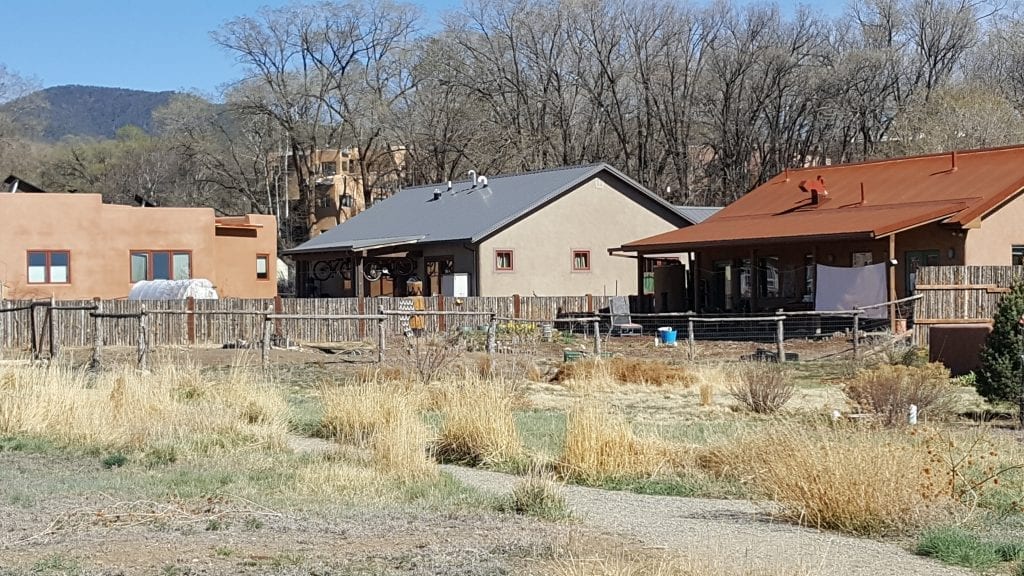 I really love the adobe style of architecture on his building, which makes sense since I like earthen buildings and natural plasters!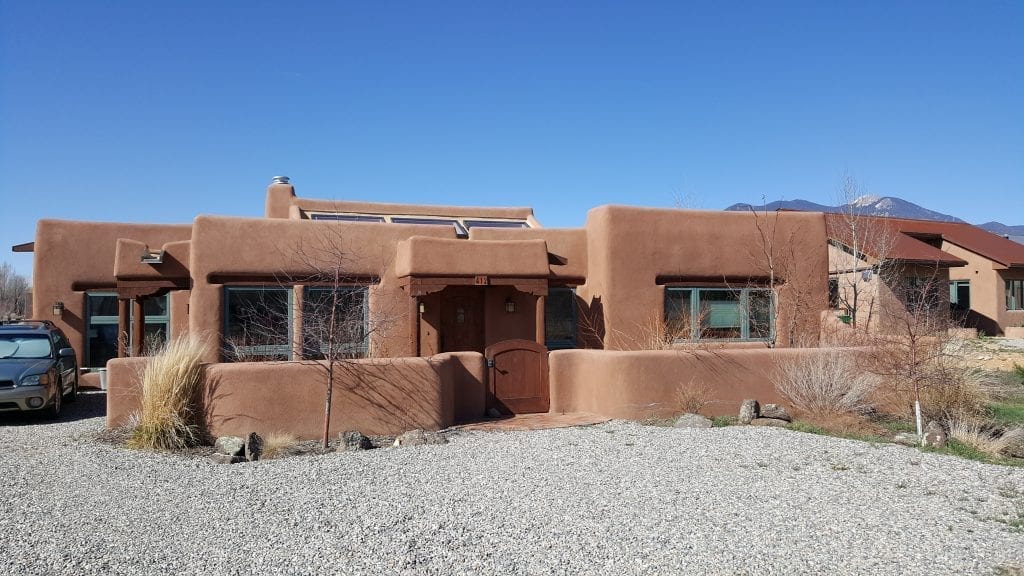 This is one of the few homes that had chickens and a home garden.
We walked by Jim's adobe style casita home on the way to the community workshop, known as the Barn. Jim told me that there is extensive labeling and security because the workshop had been broken into before, as well as the front dog-park parking lot had been used by drug dealers – which is why the community financed an artistic gate to be used to close off the parking lot at night.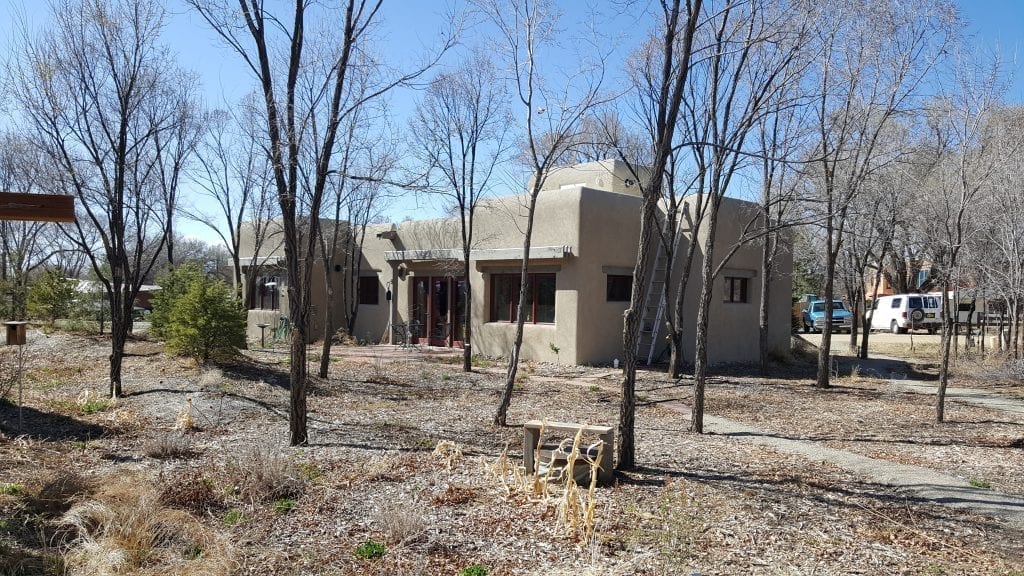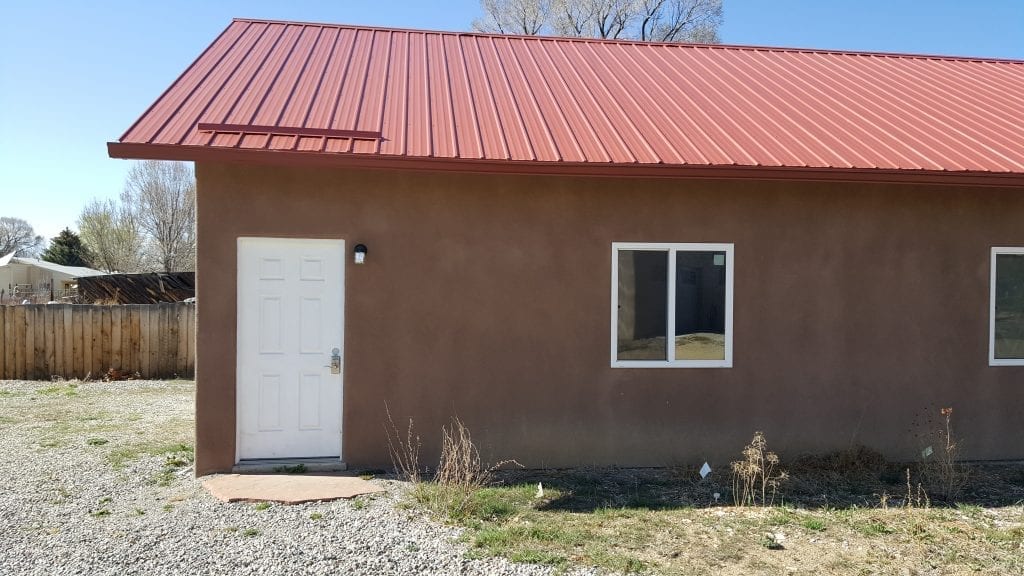 Here's a view from inside the Barn wood-working shop, which isn't used as much as it was during home construction.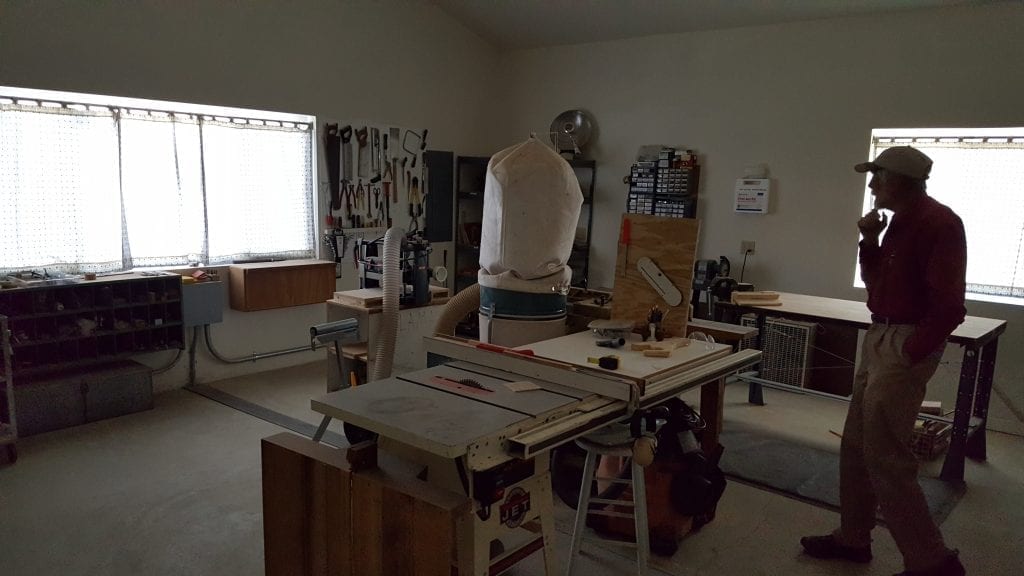 Before I left, I thanked Jim for hosting me and took one last look at the community's mountain range view before I headed back to Santa Fe to see the interactive art museum, Meow Wolf!