OSU Master Gardens & Grant's Pass – Summary:
Who: N/A
What: Visited the OSU Discovery Garden in Roseburg; Saw a movie, mural and the Family House in Grant's Pass; Set up my hammock at Panther Flat Campgrounds in California
When: Monday, March 26
Where: Roseburg, OR / Grant's Pass, OR / Del Norte County, California
Quick Resources:
My Route:
Planning my Eco-Inspired Road Trip Blog Post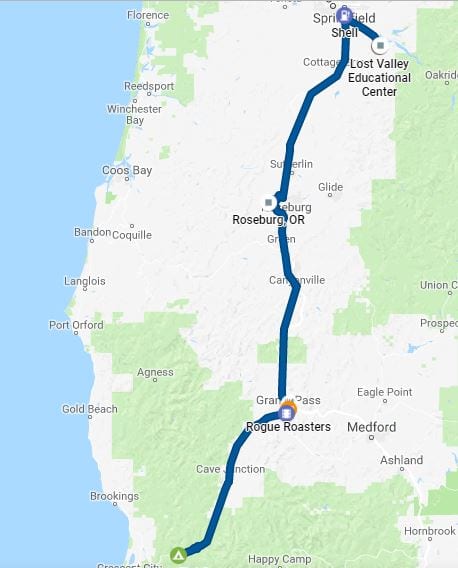 My Travel Story:
I left Lost Valley Education & Event Center this morning – my home for the past 6-7 months – after saying my final goodbyes, hanging up a Texas flag in the community Lodge, and getting my car battery jumped (which was super stressful, but a huge relief once it started up!)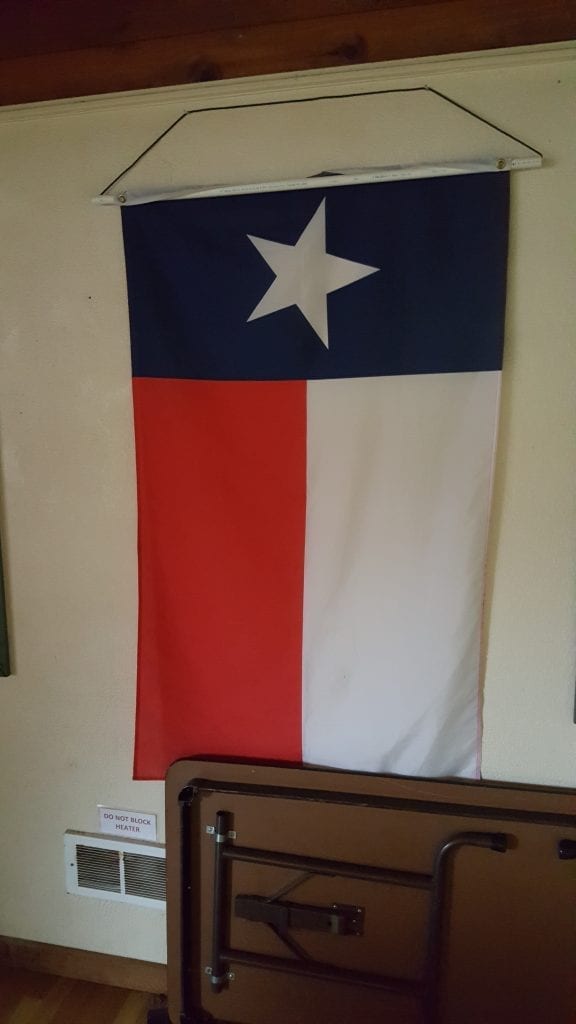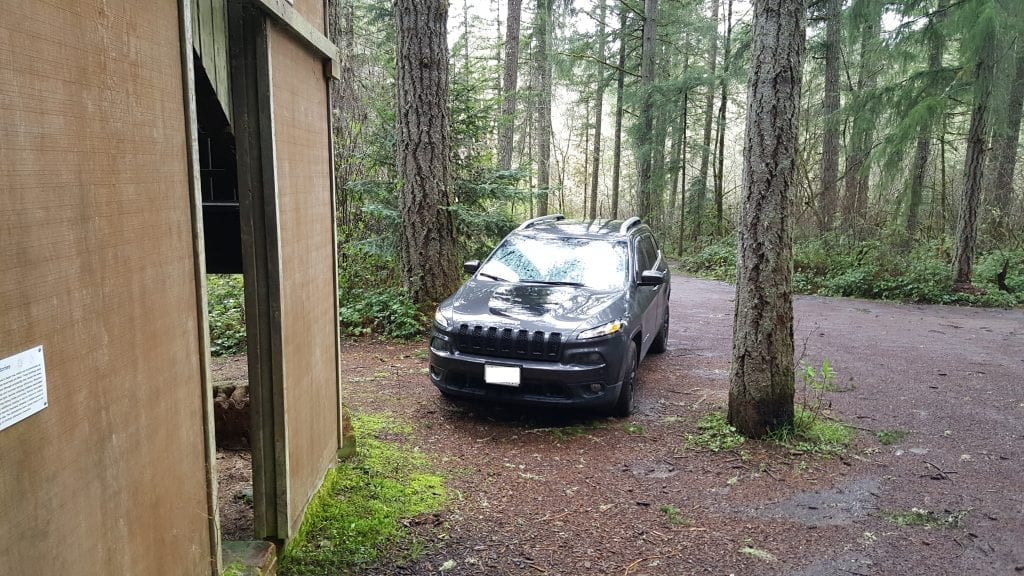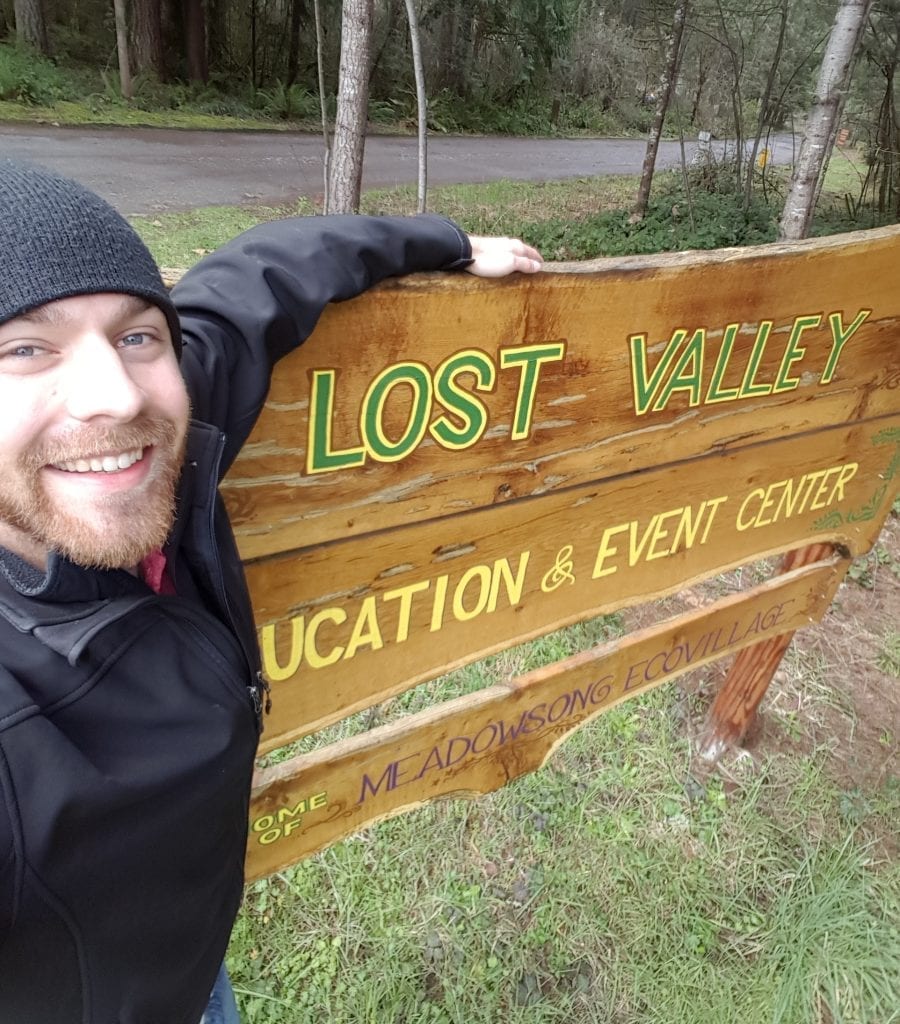 Driving down Interstate-5, I crossed through beautiful, overly-green, rolling wine-country hills on my way to the OSU Discovery Garden in Roseburg, OR. This route took me along Oregon's Blue Star Memorial Highway – a tribute to the national armed forces who served in WWII.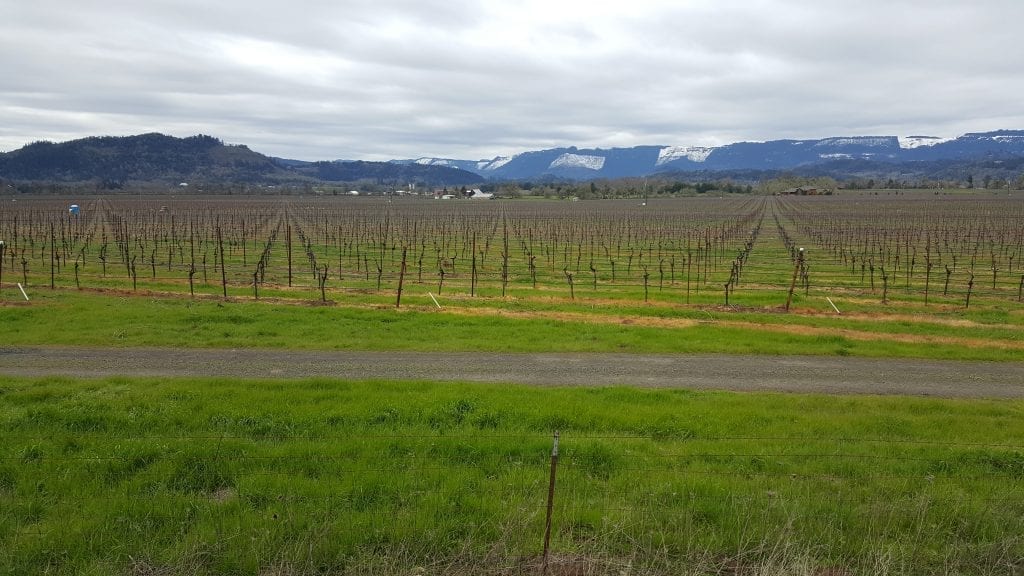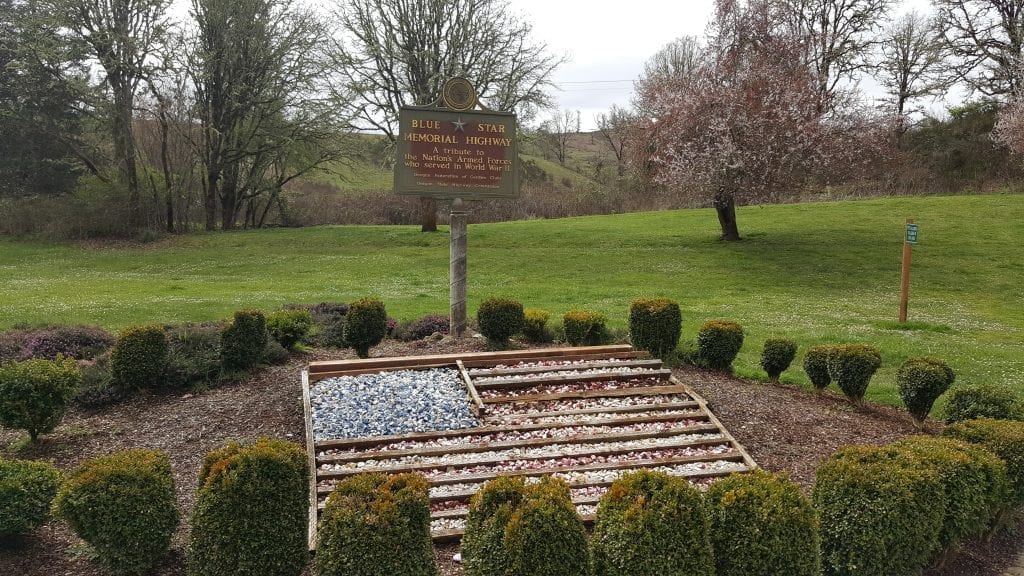 Hours down the highway, I pulled off into the city of Roseburg and took winding backroads to the OSU Discovery Garden. Other than a mom with her two kids, I was the only one walking around the discovery garden and I was thoroughly impressed with the themed gardens and demonstration areas!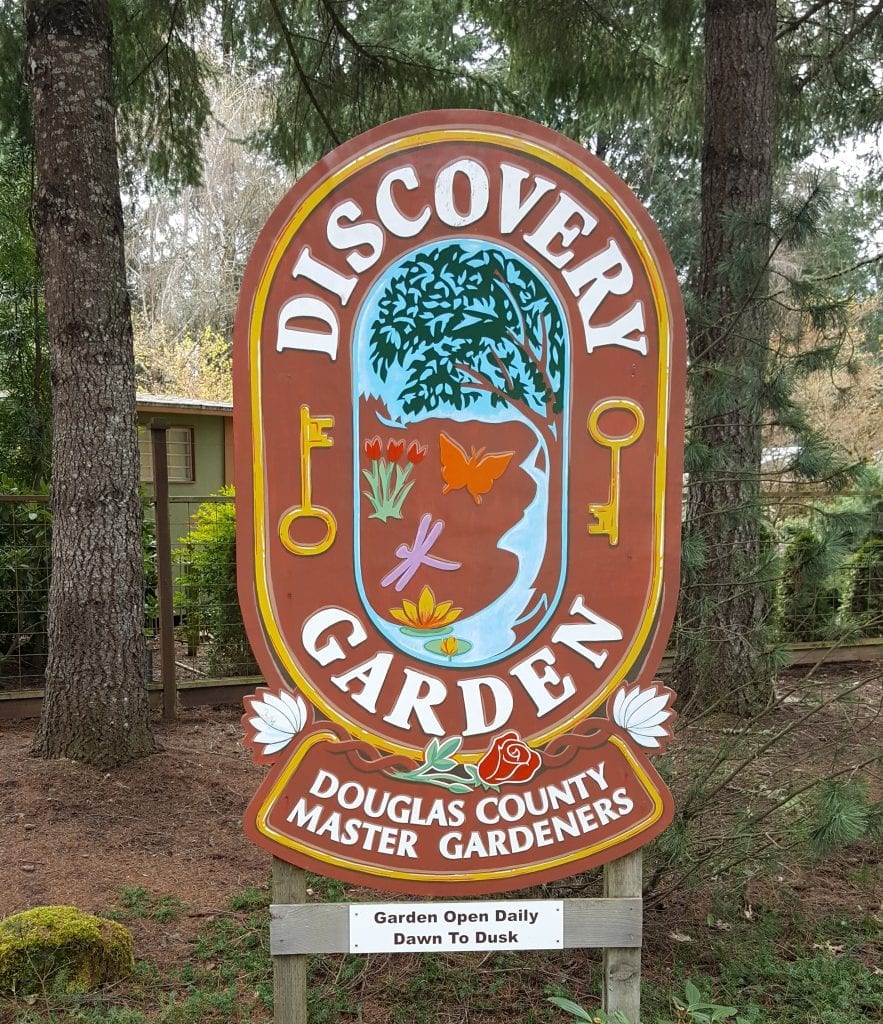 "The Discovery Garden is open year round for both self-guided tours and educational tours guided by Master Gardeners. The Master Gardeners have developed this garden for community use and enjoyment. [The] goal is to enhance and preserve the beauty and quality of the environment by using sustainable gardening practices. The Garden and Pavilion are used for instruction and demonstrations on various aspects of gardening." – Discovery Garden Webpage
The Garden is designed to show the benefits of a variety of ecologically sound management practices including:
proper irrigation including a rainwater collection system that is a part of our drip irrigation design
use of mulch to suppress weeds and control evaporation
water-wise (xeric) plant selection
pruning
composting
Discovery Garden 2017 [Video Tour]
Virtual Tour – Garden Links with Slideshows
Pictures from my Garden Tour:
Demonstration and outdoor education pavilion and surrounding gardens once you enter the Discovery Gardens.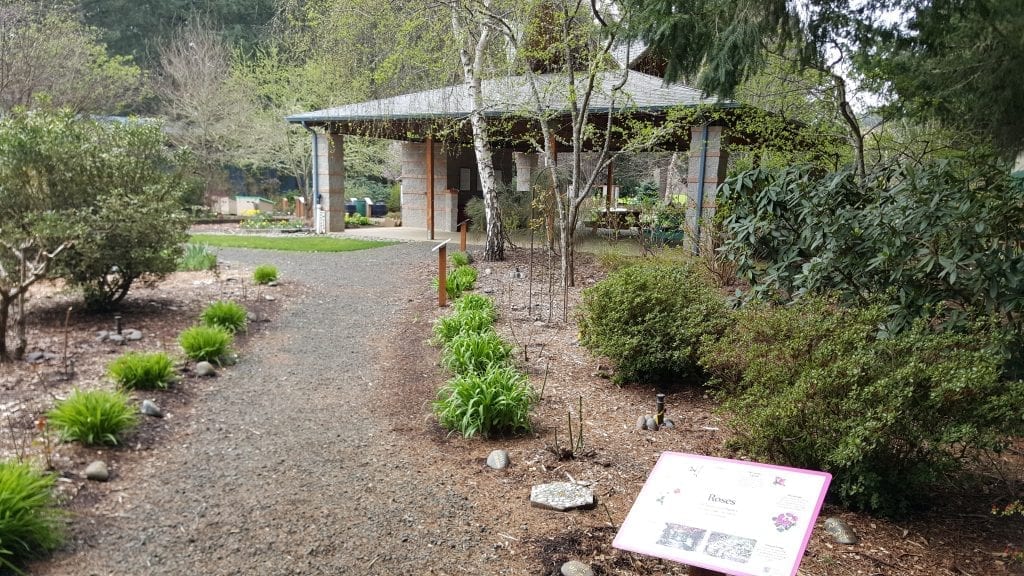 Children's Garden and play area with crawl tunnels, digging areas, and fun colorful garden decorations!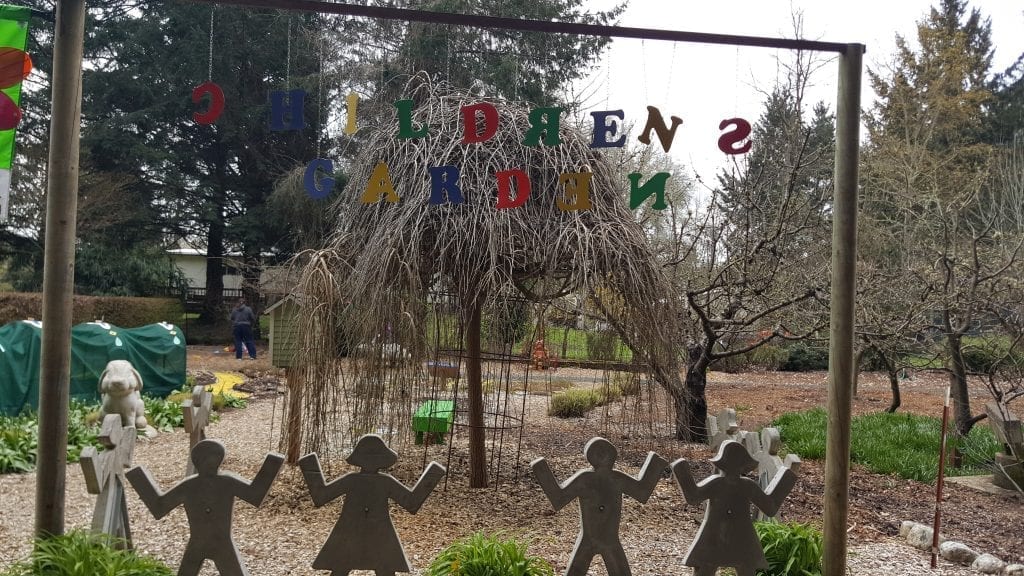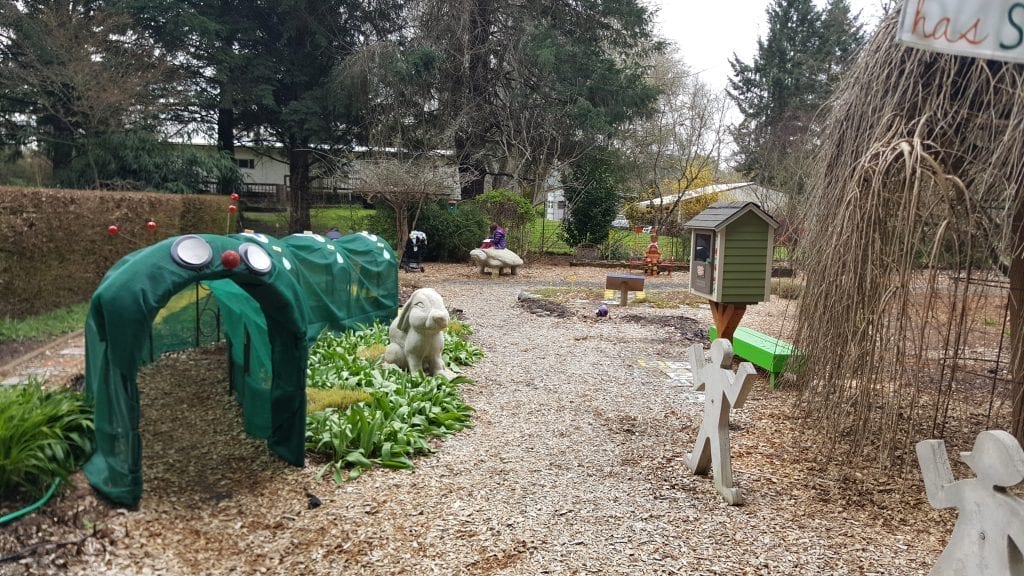 Miss Potts on her bench next to the "raised bed" – headboard included! I bet she looks good with growing hair. (DIY VIDEO)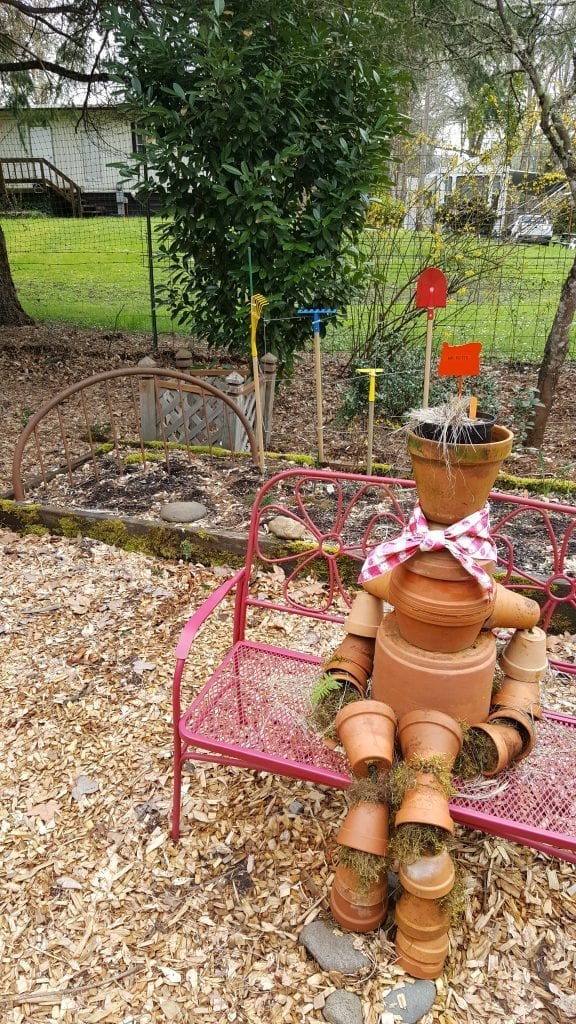 Dedication statue in the Japanese Garden – representing "harmony, peace, and compassion."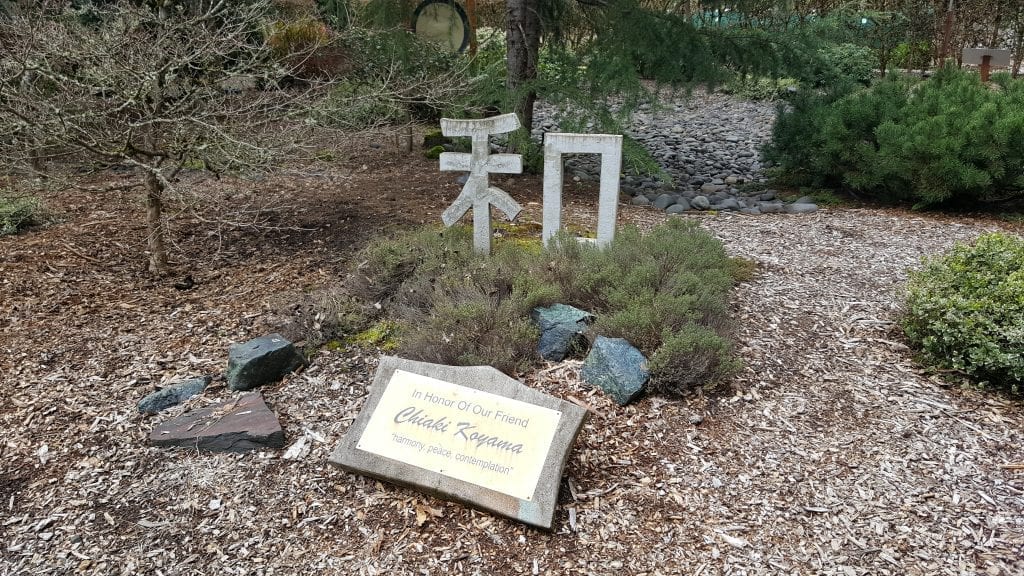 One of the many educational demonstration sites in the Discovery Garden, this one was for composting systems.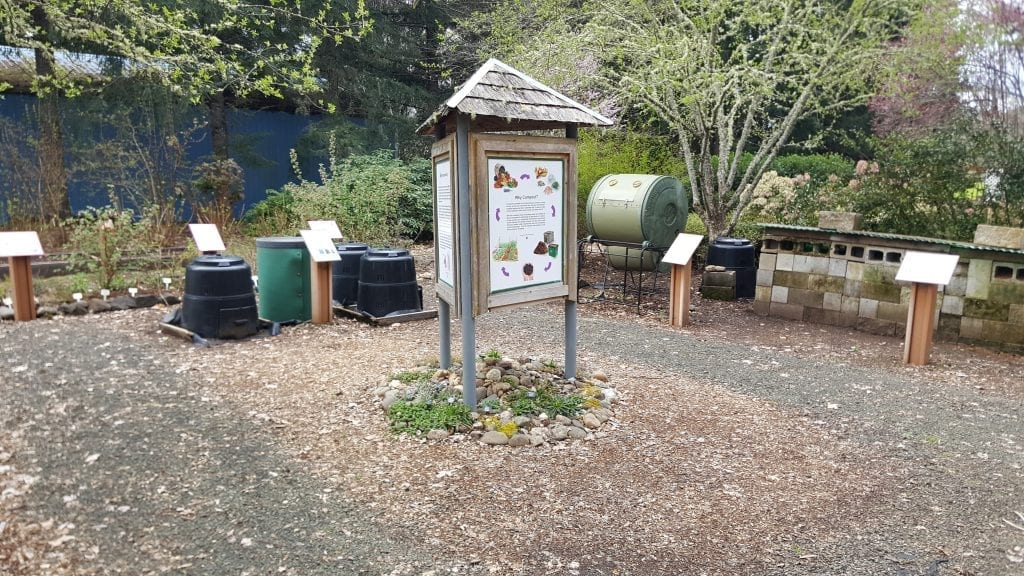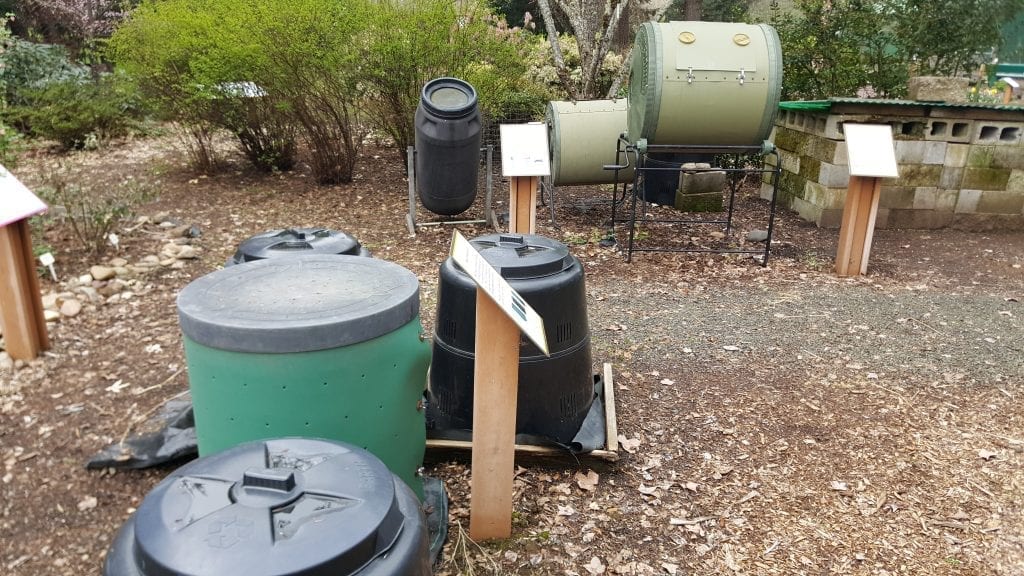 The pollinator garden was semi-dormant, but I can image it would be full of life at its seasonal peaks.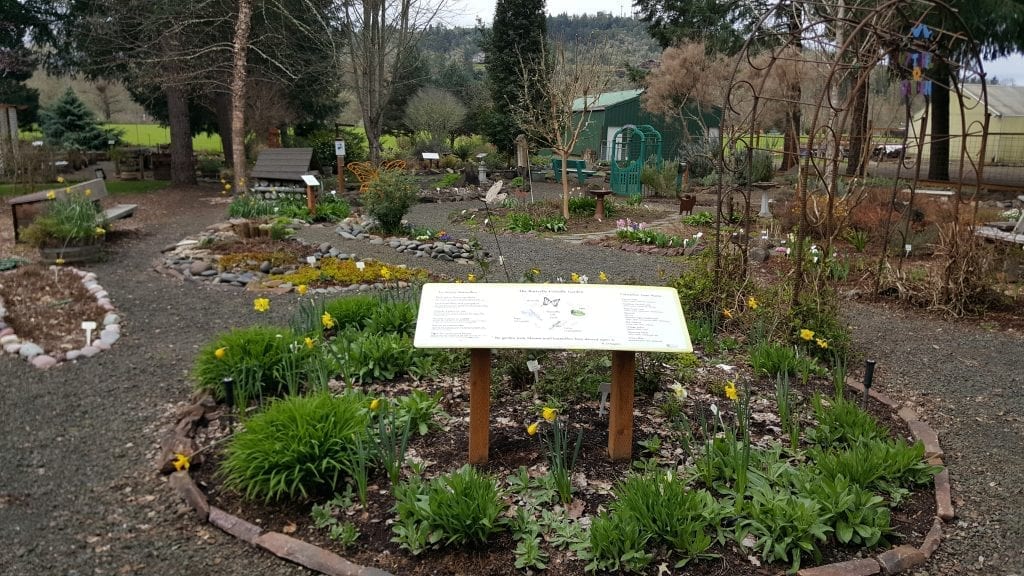 There were also several bug hotels throughout the gardens, this covered design was for a butterfly log house. (DIY ARTICLE)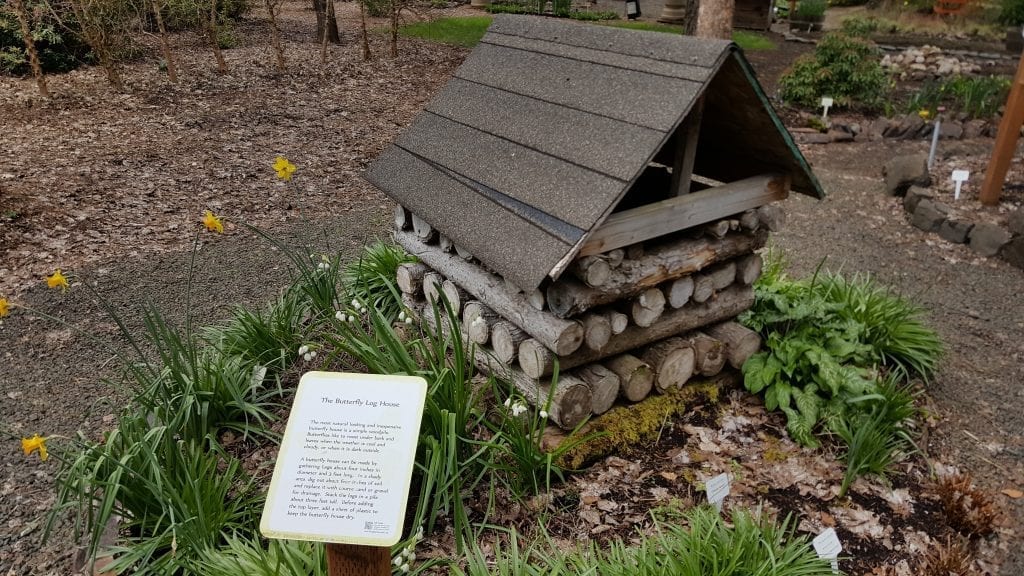 The Easy Access Garden is a design for the physically handicapped in wheelchairs as well as the less mobile elderly!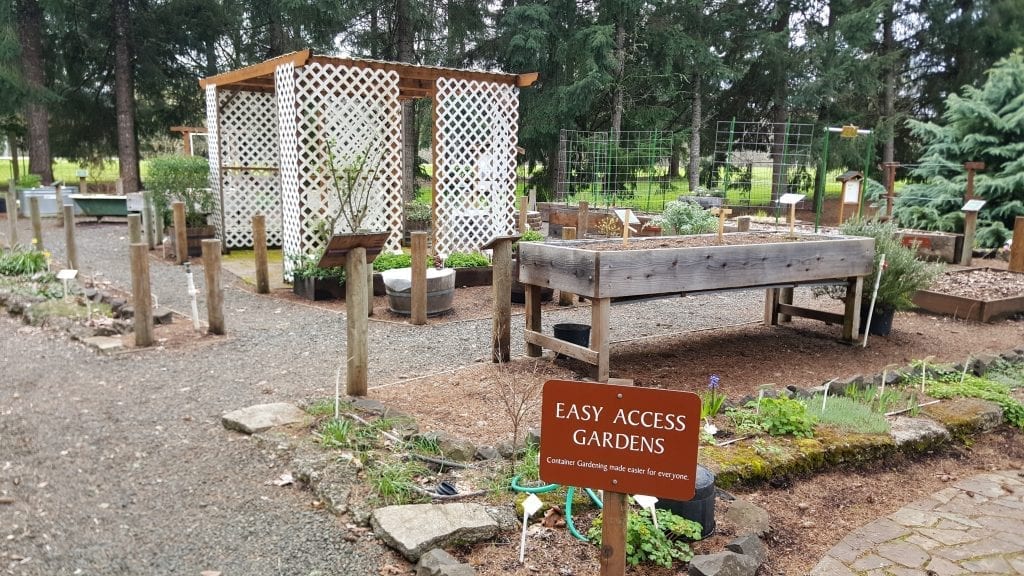 The alternative garden beds included cinder-blocks, wine barrels, and my new favorite – straw bale gardening!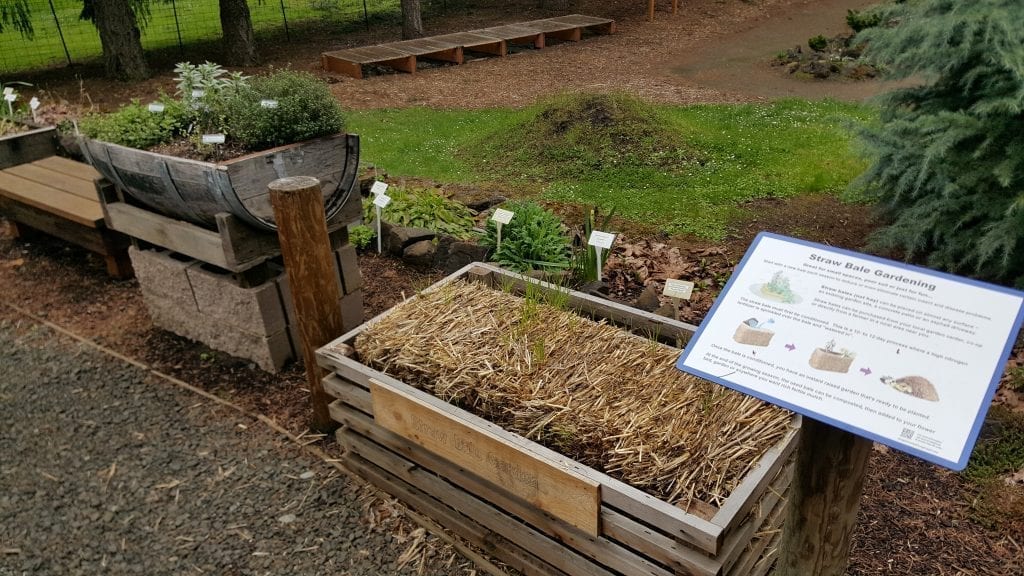 A mixed xeriscape garden with supporting plants that don't need much water, but grow well in the Pacific Northwest.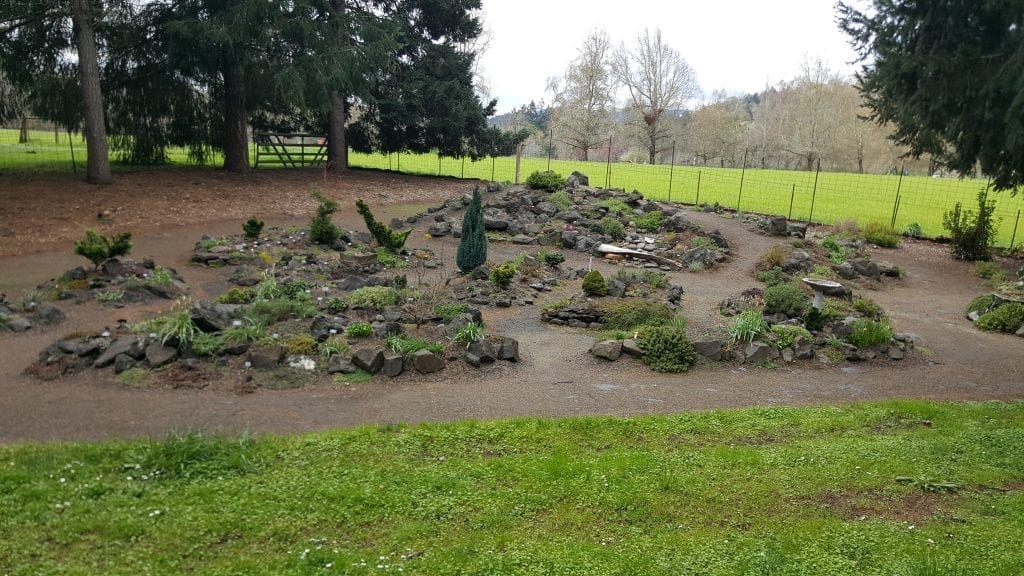 Across the parking lot from the Discovery Garden was the Master Gardeners' Victory Garden!
"The Victory Garden is a project adjacent to the Discovery Garden which produces vegetables for donation to UCAN that are then distributed to local pantries and community kitchens.
The Victory Garden offers Master Gardeners an opportunity to put into practice techniques taught in our Master Gardener winter training classes such as succession planting, crop rotation, leaf mulching, and vertical gardening.
By donating fresh, nutritious produce to UCAN, Master Gardeners are promoting and contributing to a healthier community." – Victory Garden Webpage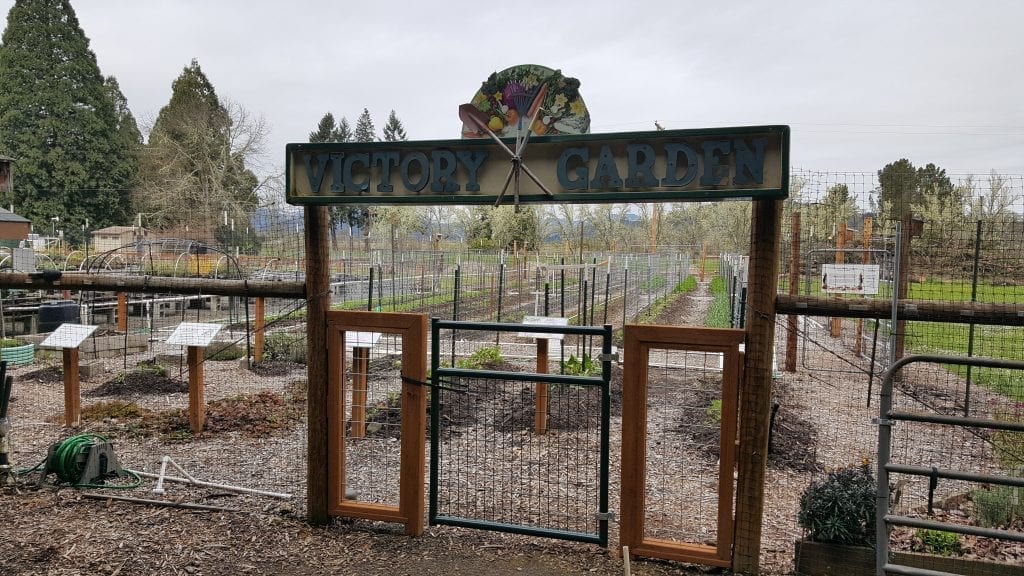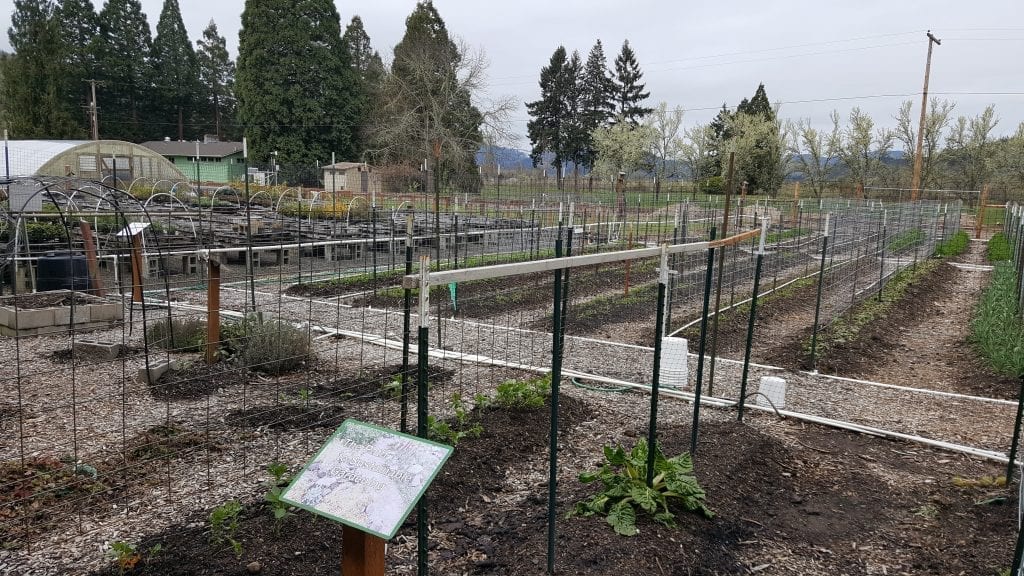 Grant's Pass:
After the Discovery Gardens, I continued my adventures south to the city of Grant's Pass, OR. I had several hours of daylight left before I arrived at the campgrounds for the night, so I decided to catch a movie at SouthGate Cinema to kill some time.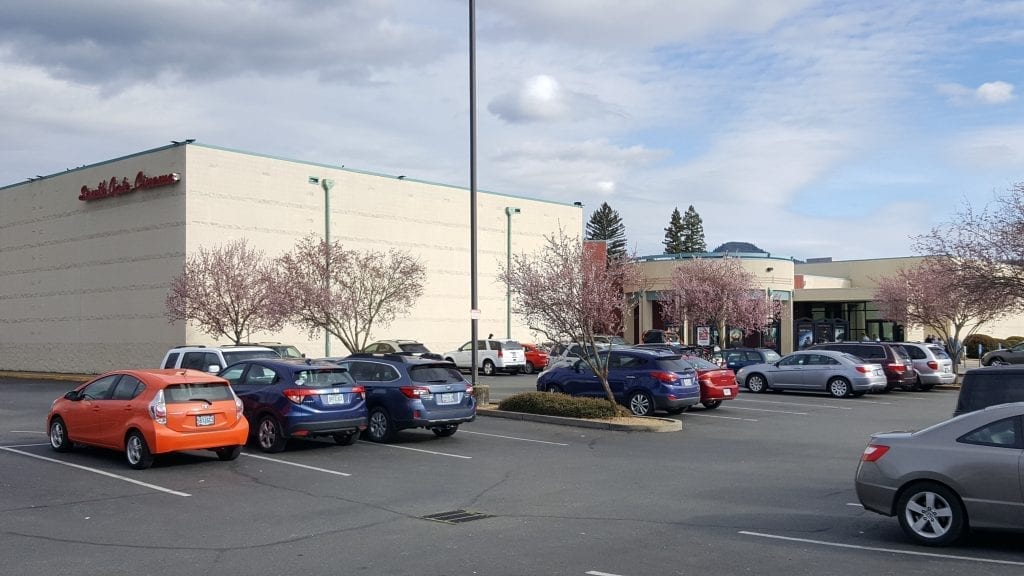 I bought a ticket to Lara Croft: Tomb Raider, and walked around the block before the movie started.
While I was walking around the block, I stumbled on a large 200-foot painted mural on the side of a building, depicting scenes from Oregon, both its history and geography. (News Story/Video)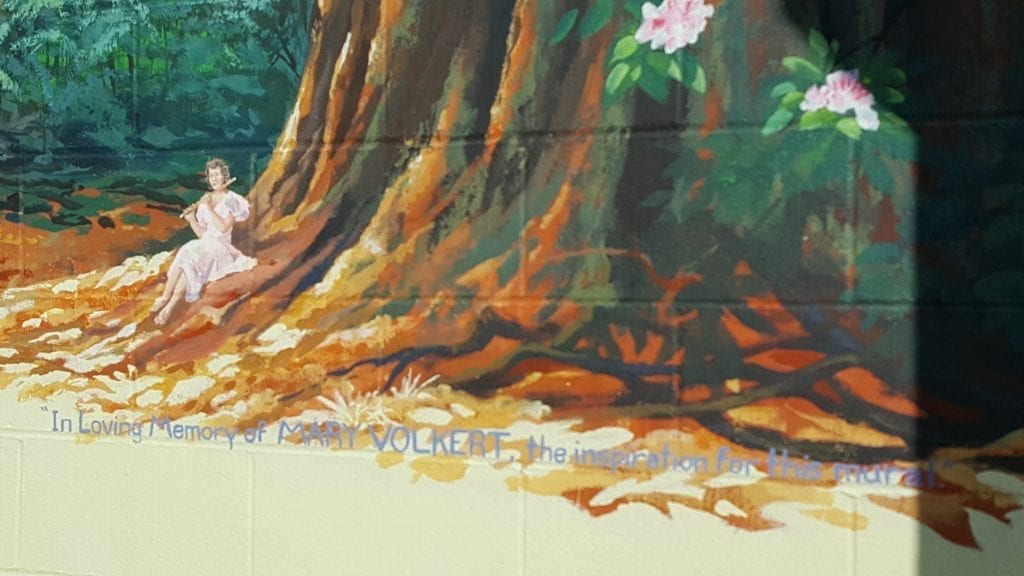 After the mural, I continued my walk around the block and came across another interesting find – the Family House, a temporary guest residence for out-of-town patients and family members of those receiving care at Asante Three Rivers Medical Center.
"Extending a culture of caring outside the walls of the hospital, the mission of the Family House is to provide an affordable, accessible, supportive homelike setting where healing can take place. People from across Asante's service area, who are receiving medical treatment, will have a supportive, temporary home at a minimal cost of $40.00/night." – The Family House Webpage
In terms of community, this place is very unique by facilitating temporary and accessible housing in order to keep families together – a critical support aspect to the healing process, which is generally overlooked by most healthcare providers during operations and in post-recovery stages.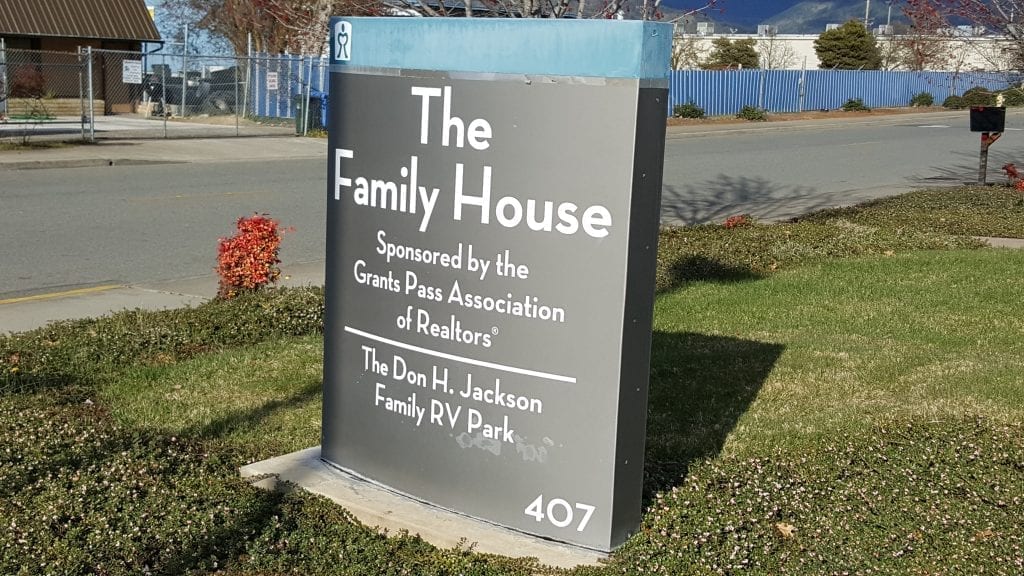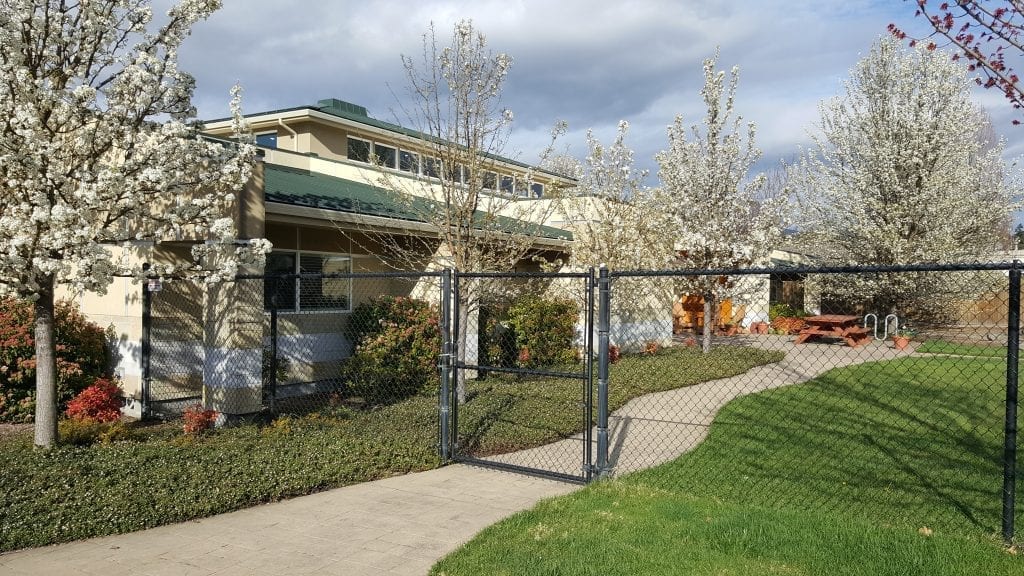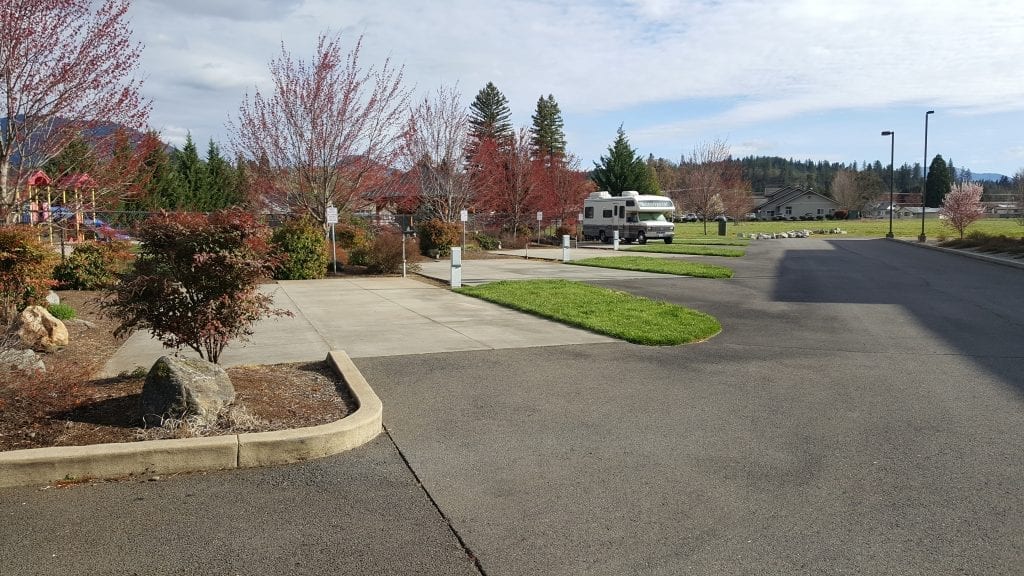 Finishing my stroll, I went to the theater and watched the movie. I thought it was decent, but preferred the videogame over the film.
Panther Flat Campground:
Following the movie, I continued my drive south through windy mountain roads and crossed into California, and set up my hammock headquarters at Panther Flat Campground.
(Note: I froze my butt off that night, literally, and hardly slept at all – even with my sleeping bag and layers of blankets.)