Before I left Lost Valley at the end of the month, I planned a few excursions in the area and around Portland, Oregon.
There was a SquareOne Village tiny house community, Emerald Village Eugene, grand opening for the public in Eugene, and I was really looking forward to seeing it! Most of the houses onsite were finished in terms of their exteriors, and several already had residents living in them. It was great to see a city supported, experimental community for the chronically homeless. The model they operated on was that after a rigorous interview process for residency, community members were given a fully furnished space and were required to pay a percentage of their personal income to cover costs. Many of the current residents relied on bicycles and public transportation for travel to their jobs, and some of them were married and dual incomes that helped them financially afford to get back on their feet.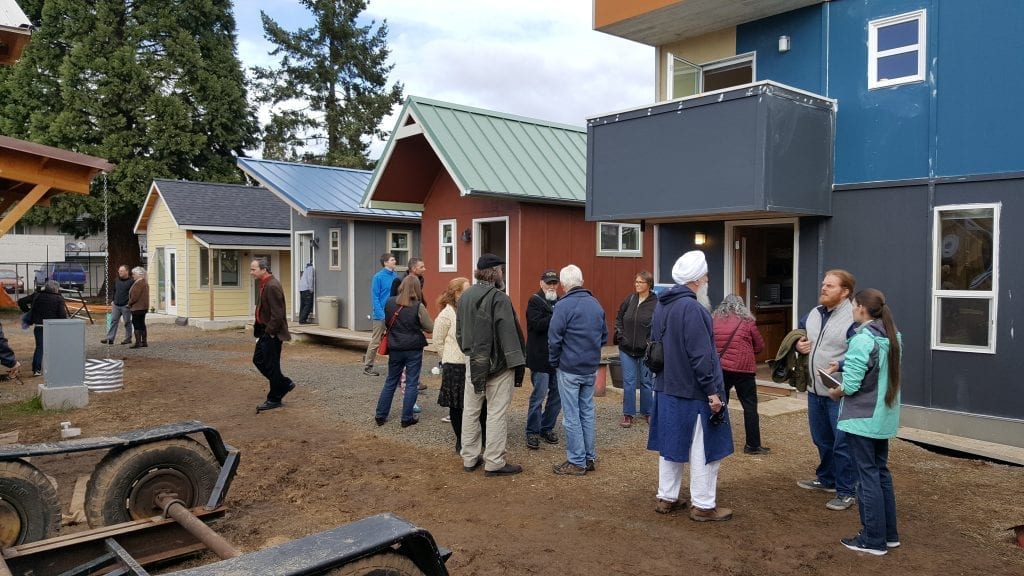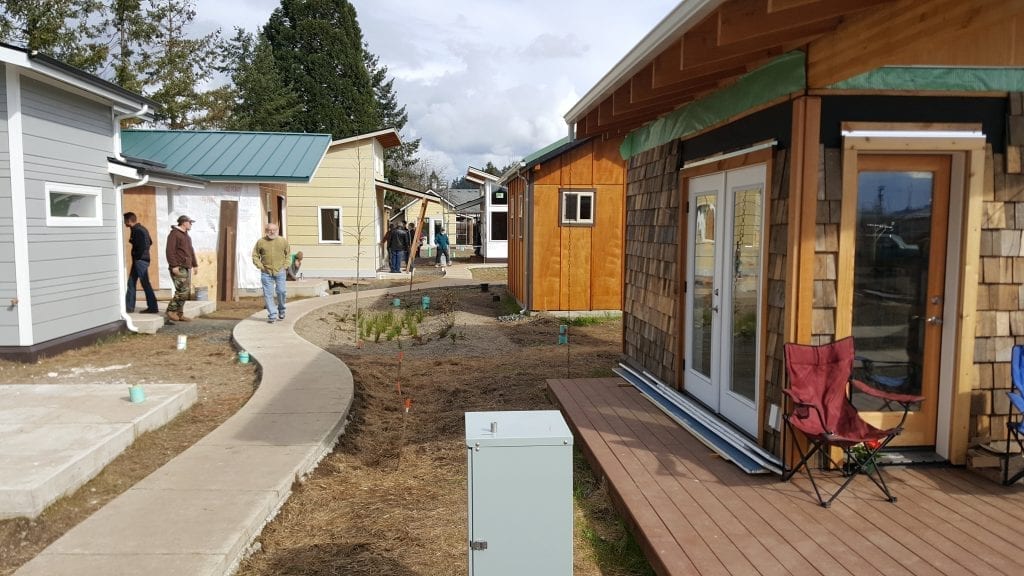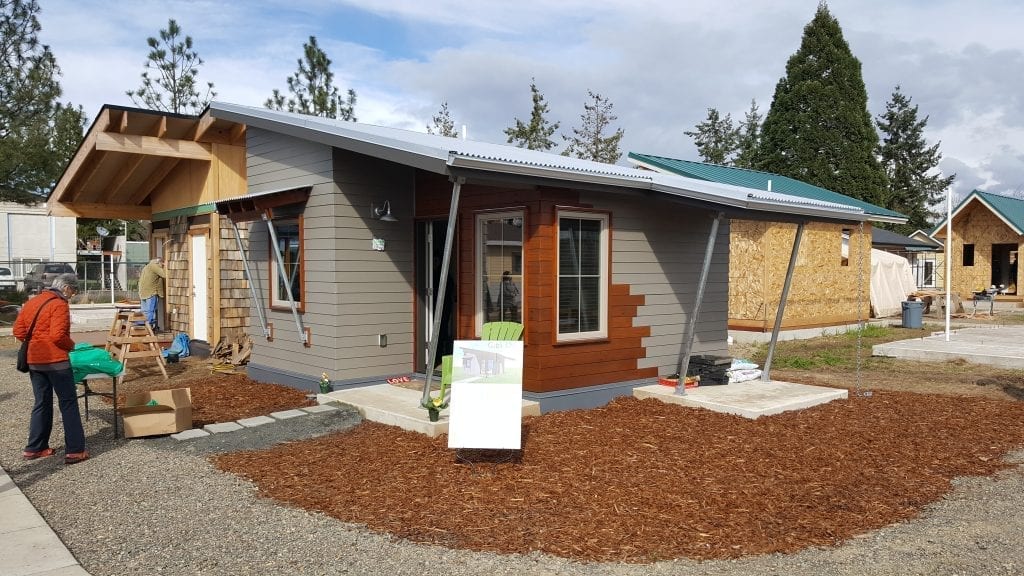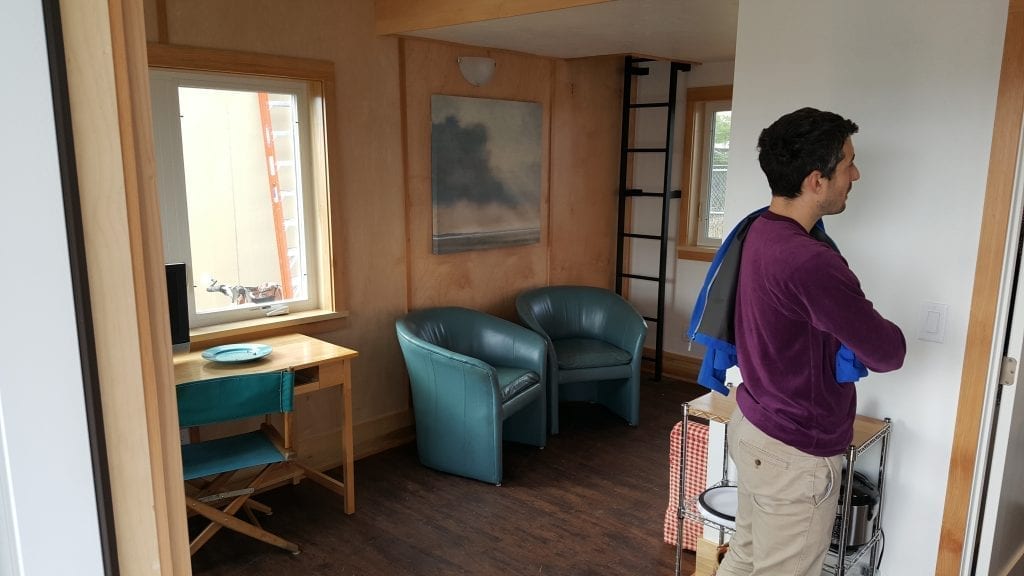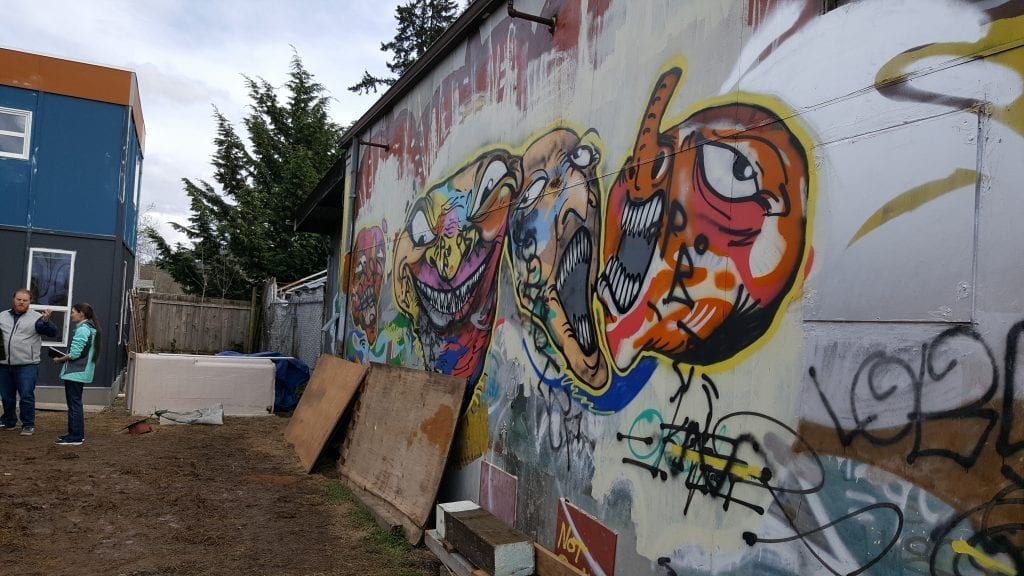 I also celebrated St. Patrick's Day with Bri at a local Irish Bar in Eugene. We had green beer, Bailey's and Irish car bombs to commemorate the occasion. The bar also hid gold painted rocks, like an Easter egg hunt, for the patrons to find and redeem for prizes!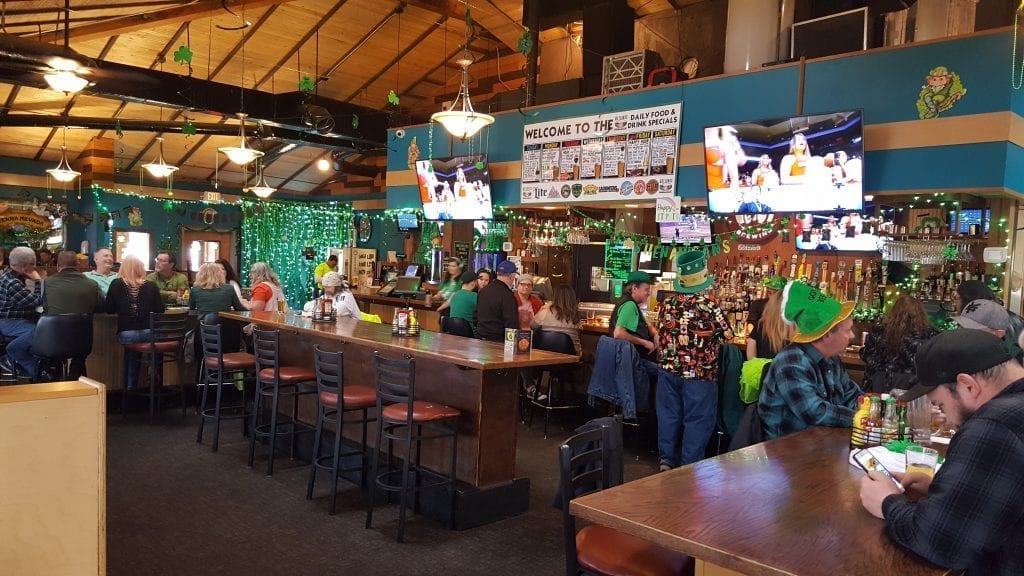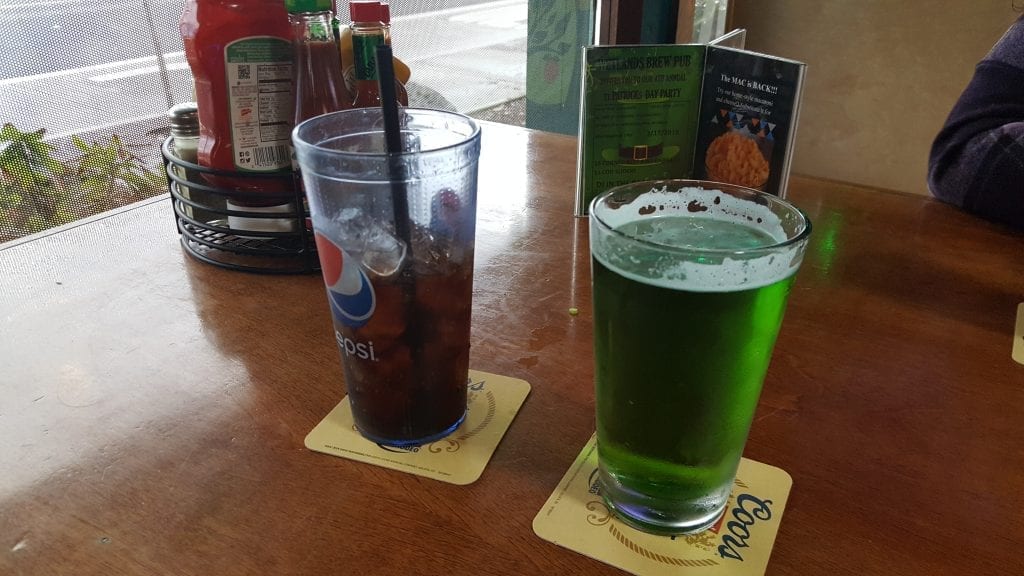 One of the new residents, Jay, also put a metal unicorn sculpture he made on display in the Lodge by the fireplace on St. Patrick's Day too.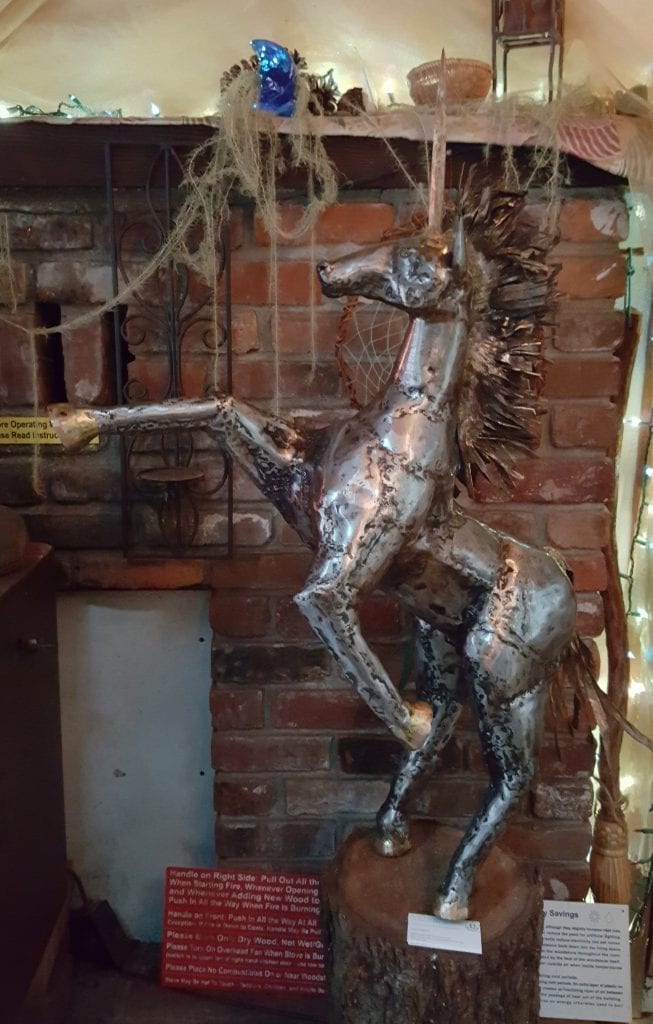 The day after St. Patrick's Day, I travelled up to Portland for a scheduled tour at Heart2Heart Farms. (They offered an internship program I was very interested in, but I missed the sign-up date and already had my plans in motion to return to Texas.) Heart2Heart Farms is ran by Tyler and Elizabeth Boggs, a married former-military couple, who built and scaled their operations into an impressive business and nonprofit combination. Tyler and a couple of the interns showed me around the property and gave me some insights into their various on-site businesses. They had onsite hydroponics and aquaponics, an animal foster care program for urban homesteaders, petting zoo rentals, peacocks and rabbits for meat sales, organic animal fertilizers, and many more sources of income! Including turning a portion of the front slope gardens into a wedding venue, which would triple their profits with three of four weddings compared to the profit from growing food in a single year.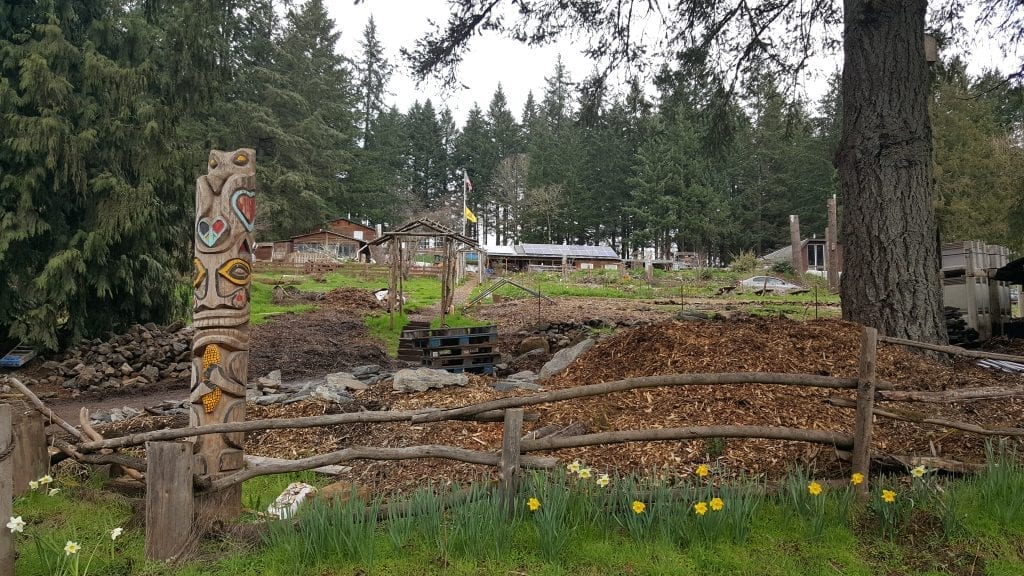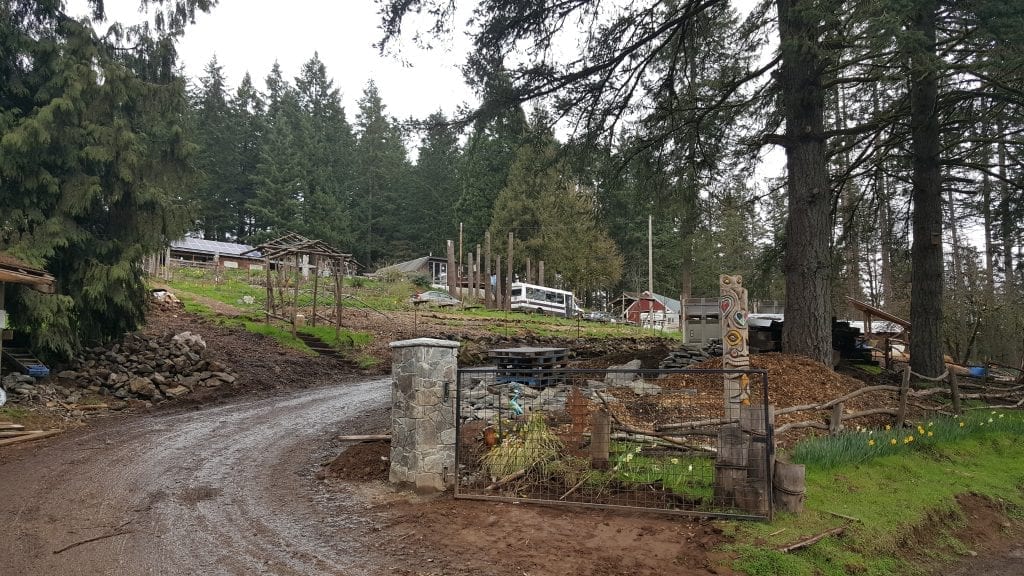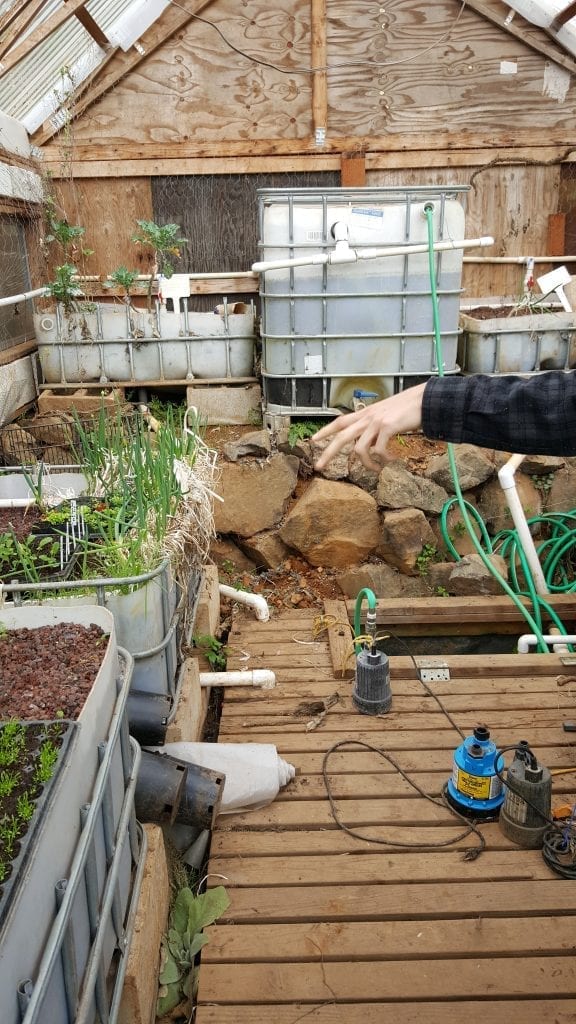 Tyler also developed a lot of relations with local organizations, some of which helped source animal bedding and food for free, as well as other materials for construction or repurposed into products. He also emphasized taking advantage of all available resources, so he and his wife received military grants, discounted farmer's loans, governmental support, and they also designed their business and their nonprofit to work hand-in-hand for tax write-offs and other business benefits. I was beyond impressed! And this was even before I got to see their kid's backyard playground full of trampolines and playground equipment! (I would love to go back and be a part of their operations and learn from them!)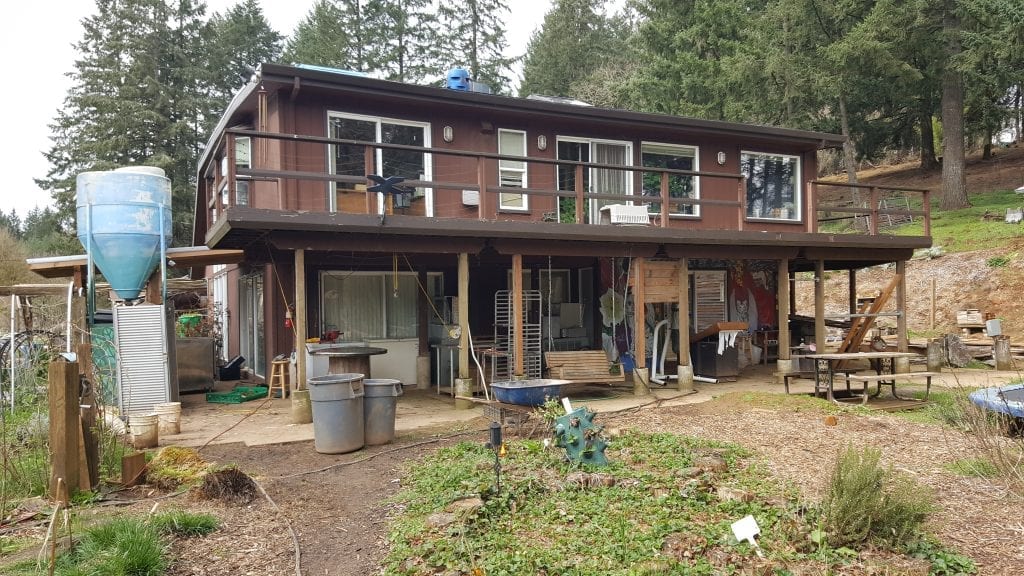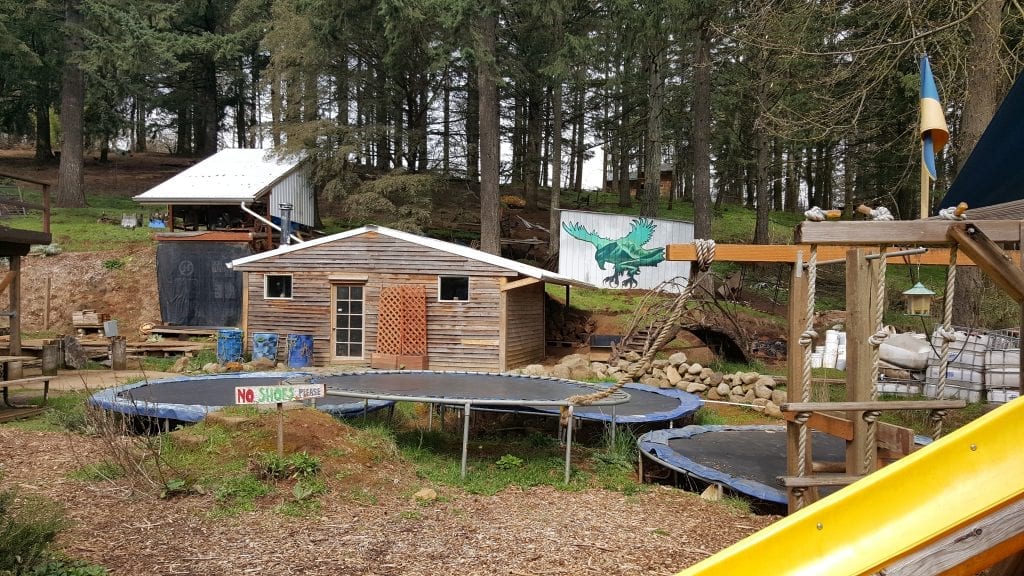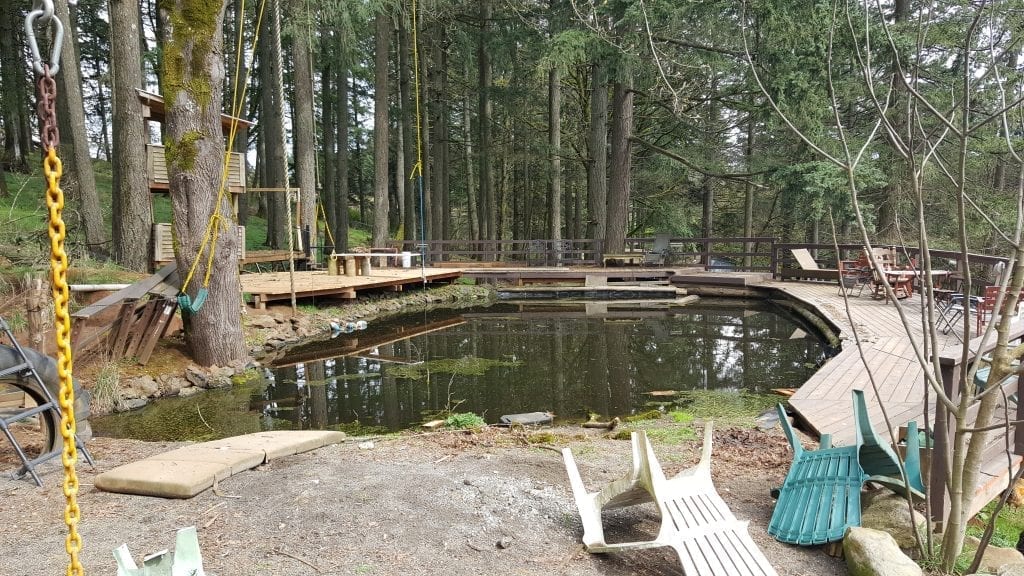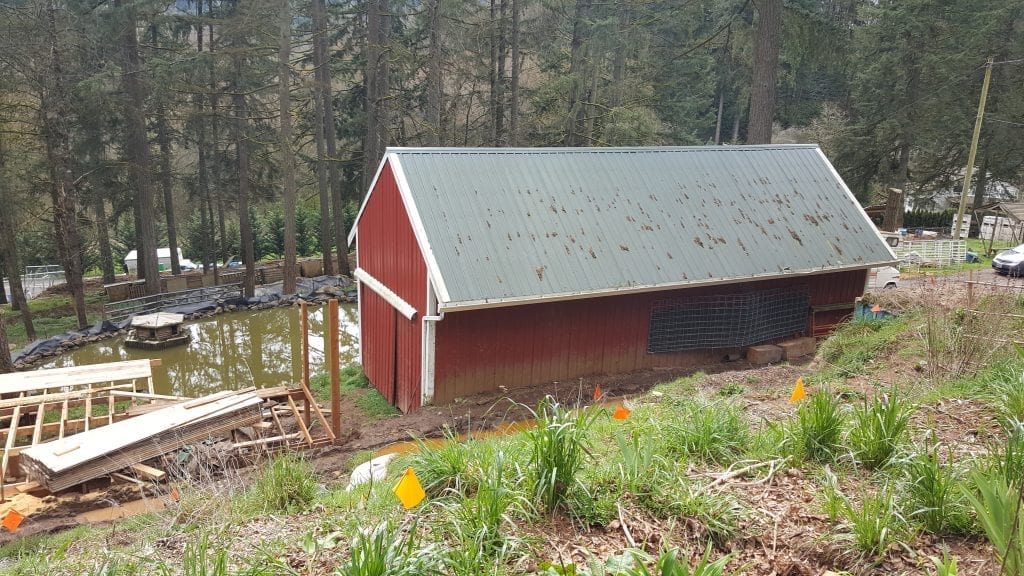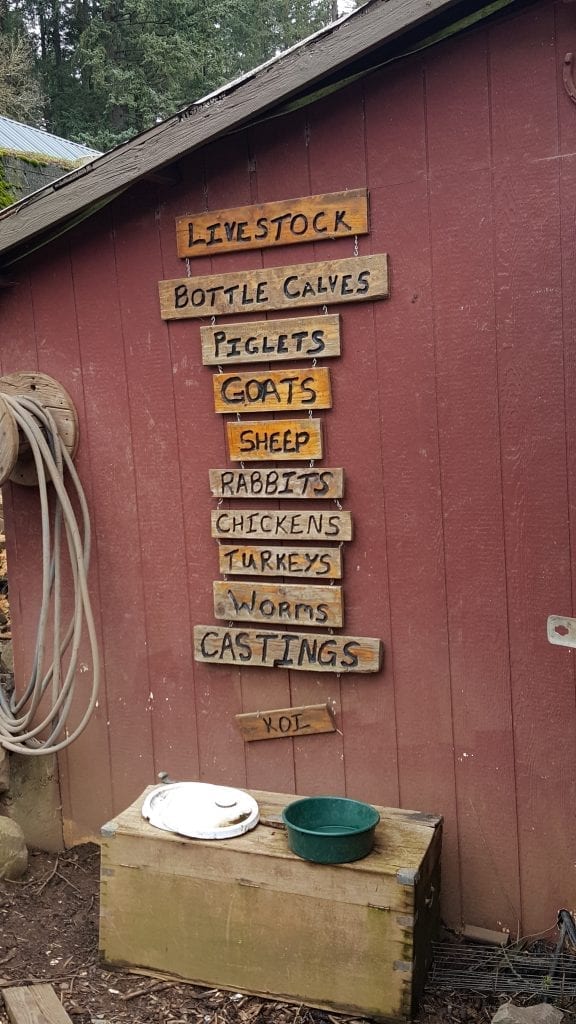 After my visit to Heart2Heart Farms, I made some unplanned visits to two local ecovillages in Portland. My first stop was at Kailash Ecovillage. This was a retrofit ecovillage that took over a former urban apartment complex, and had a large community garden in the front. Since it was an unplanned stop and I didn't have a host, I was asked to leave and didn't really get to see much. (After I posted pictures online, Steve, a former Lost Valley resident who I met when he returned to pick up beekeeping equipment, told me he lived there and could have hosted me – luckily I learned this lesson before going on my road trip back to Texas, instead of just stopping unannounced.)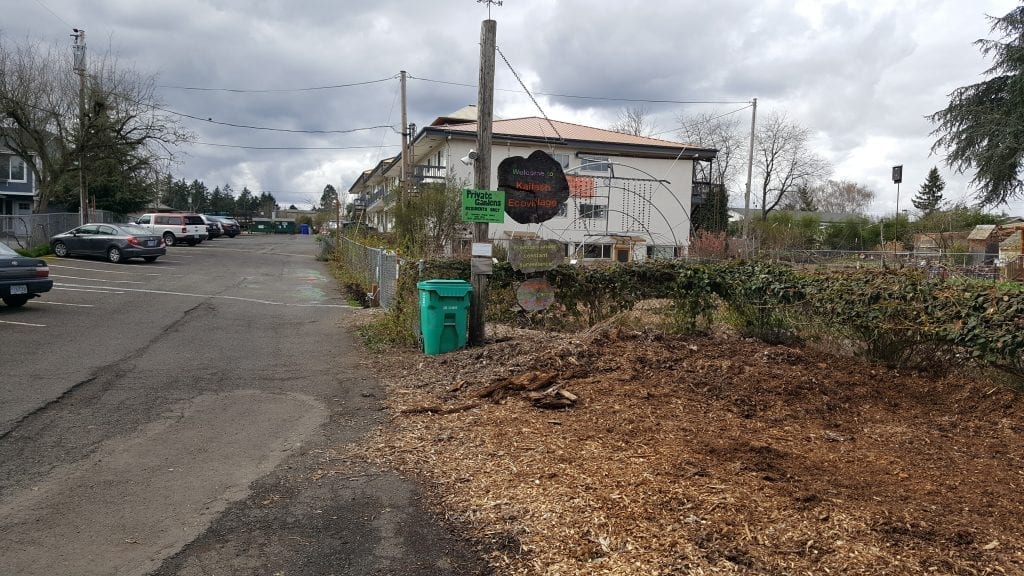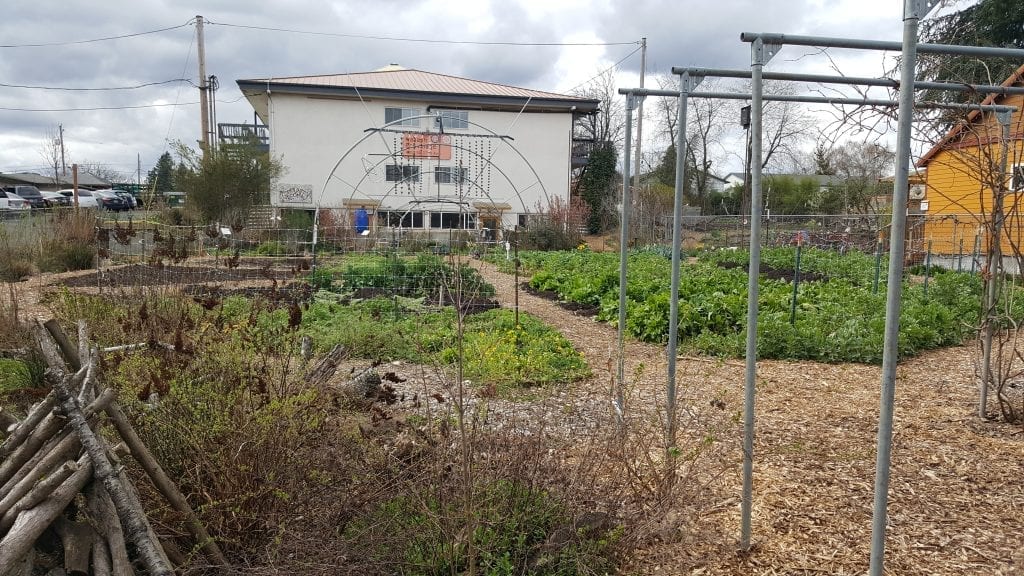 The second stop I made in Portland was at Colombia Ecovillage, another retrofit ecovillage that used a former urban apartment complex. I also made this stop unannounced, and wound up arriving just as the community was heading into a meeting. I caught one of the residents that was heading into the meeting and asked if I could look around. She told me I could if I had someone willing to host me, and she also told me I showed up at a pretty inconvenient time since most of the residents would be attending this meeting to practice sociocracy, which the community recently adopted instead of straight consensus. As I was heading back to my car, two ladies asked if they could help me and I told them I was interested in learning more about the ecovillage. So we sat down by the playground where their children were playing and we talked about the community. I learned about their rain water collection system, the history of the community, the large number of young children and families onsite, how its location resulted in a long waitlist for occupancy, and that many of the working class residents could bike or bus to work. I really appreciated seeing urban ecovillage models while in Portland!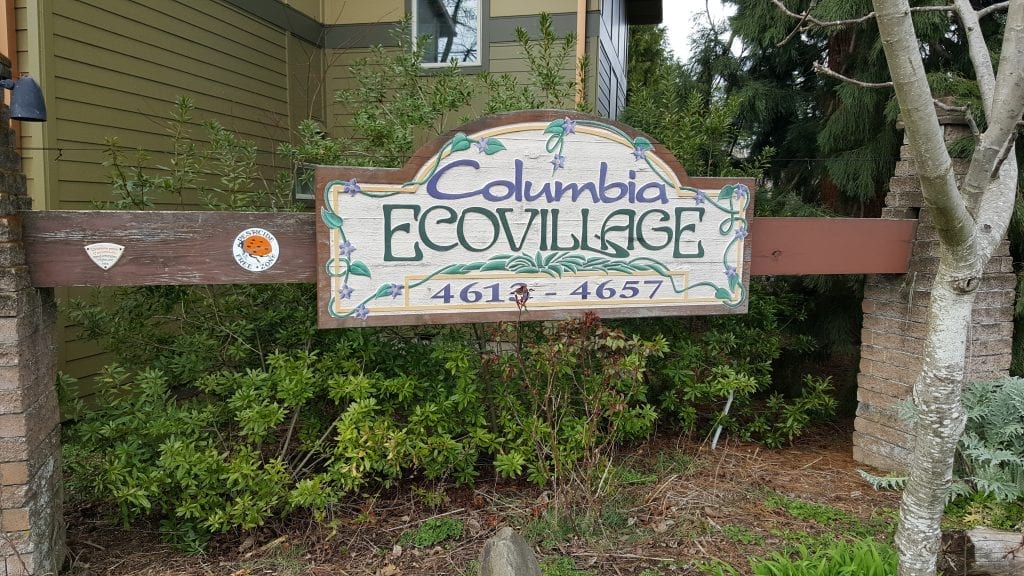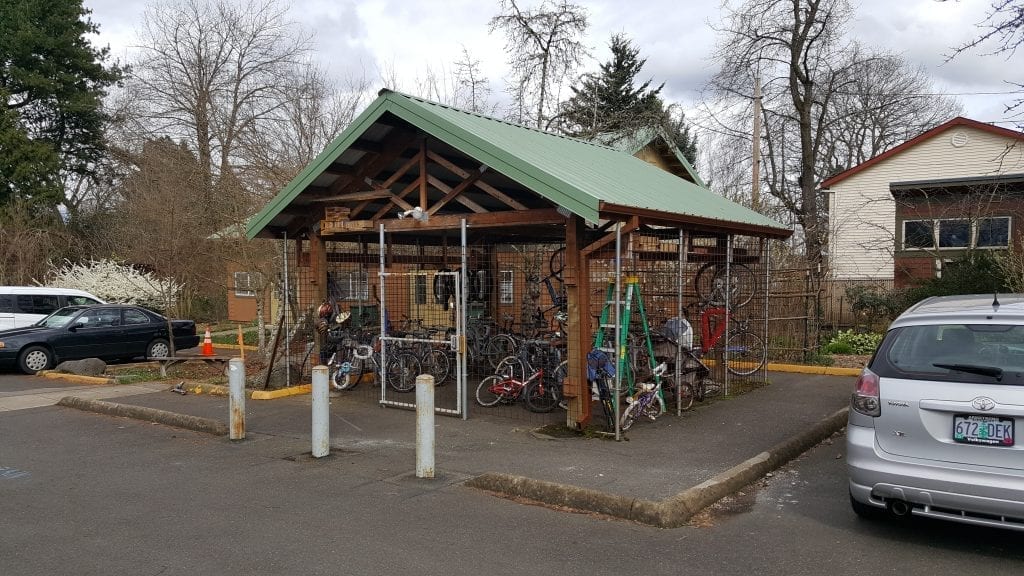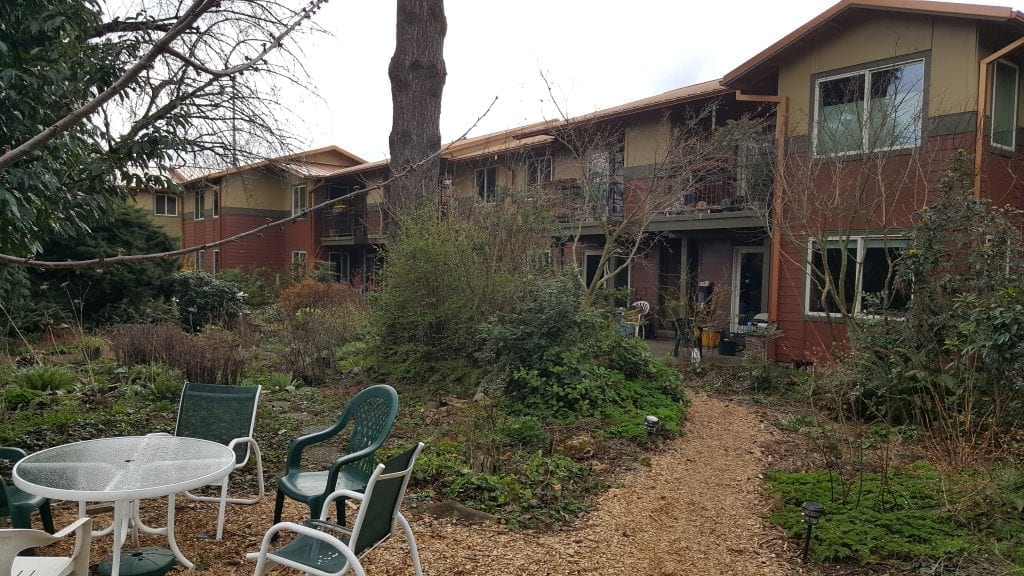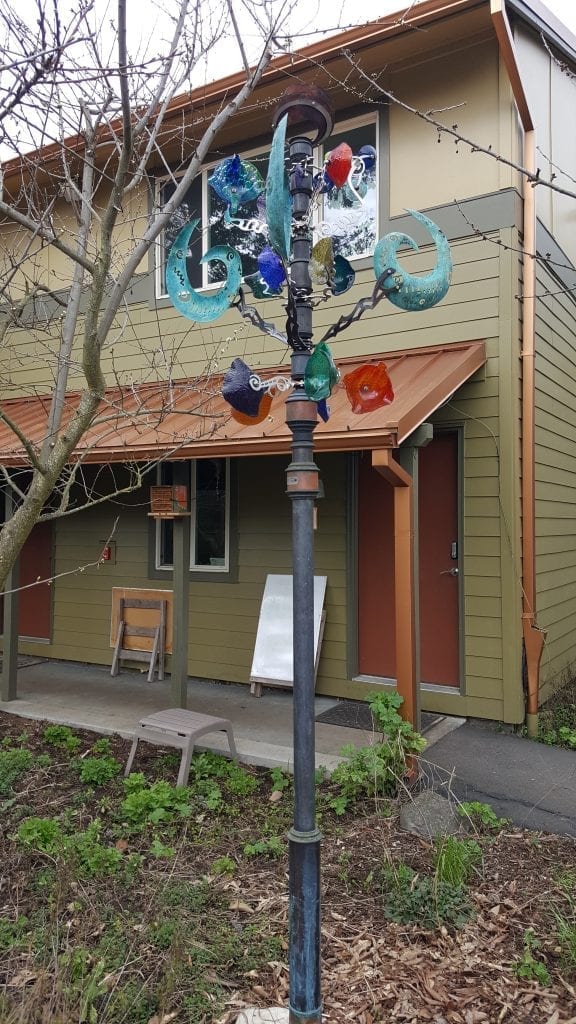 Because my adventure to Portland brought me so close to Washington State, I decided to drive over the Columbia River and check that state off my travel list! I didn't go very far into Washington, but I did come across some historic walking paths that highlighted the settler's travels, Native American traditions and the involvement of Washingtonians in the World Wars.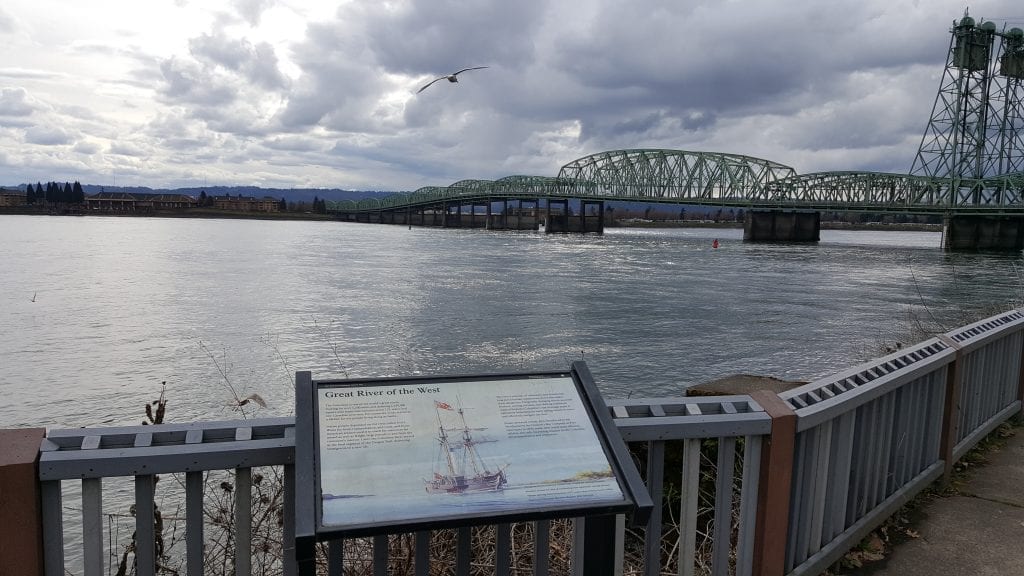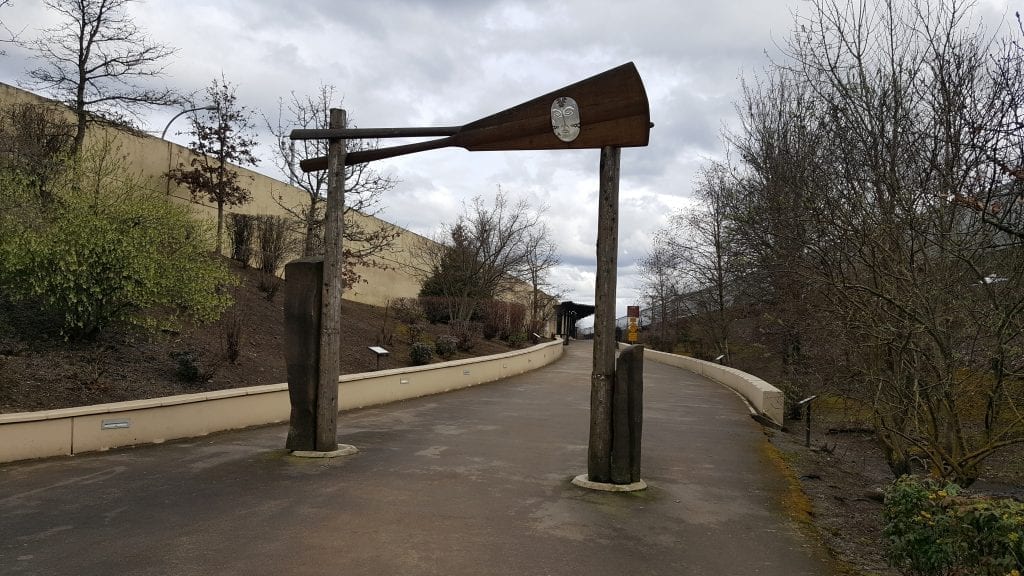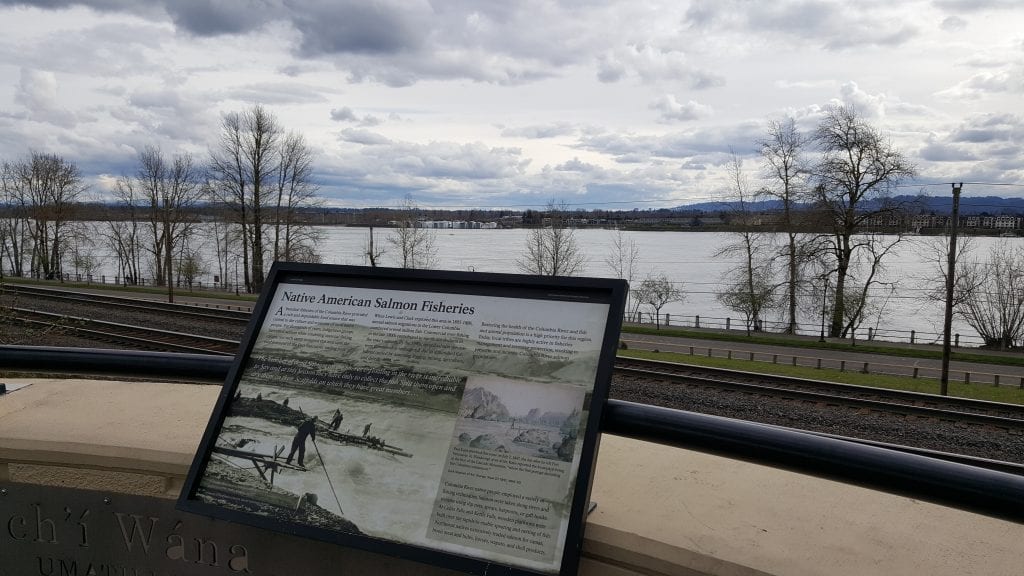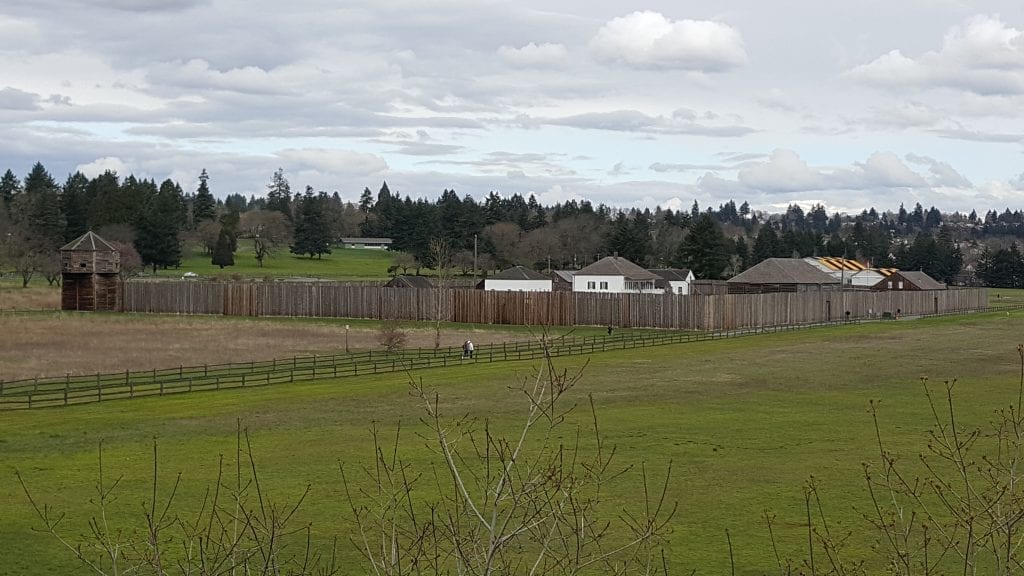 On my way back across the Columbia River, I came across an American War Memorial art mural that was very impressive! It had depictions of wars from WWI to the Korean War to the Afghanistan War.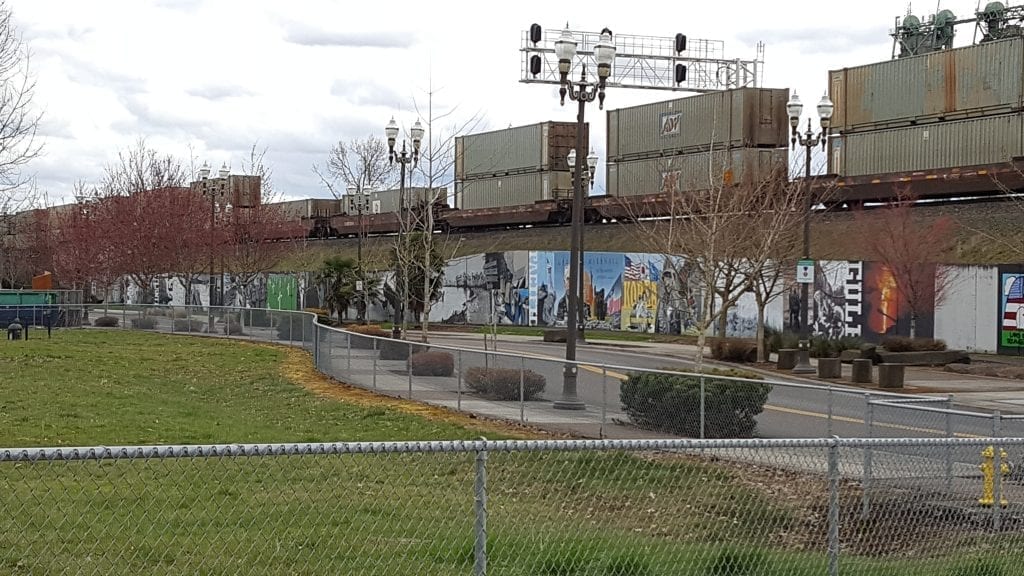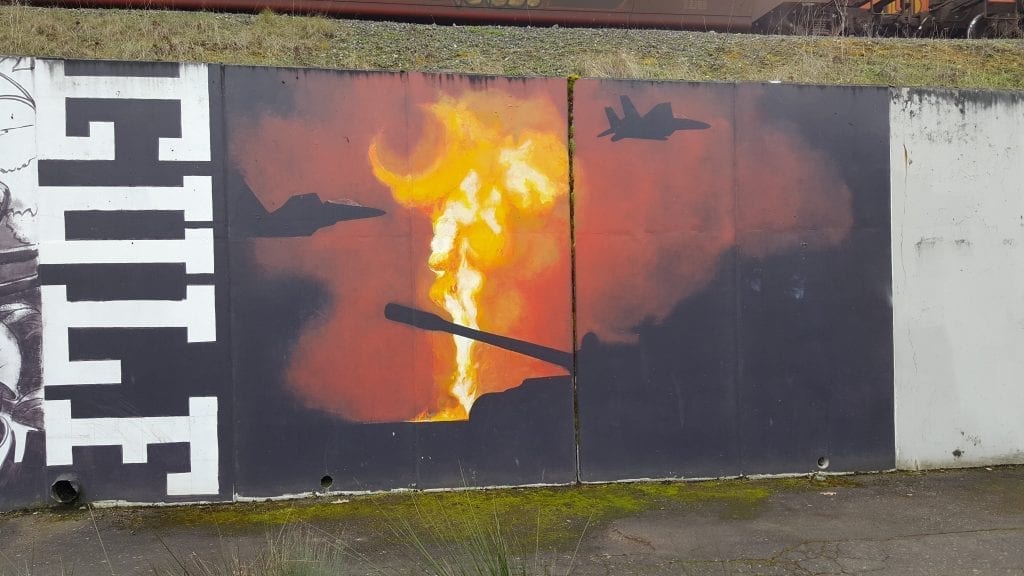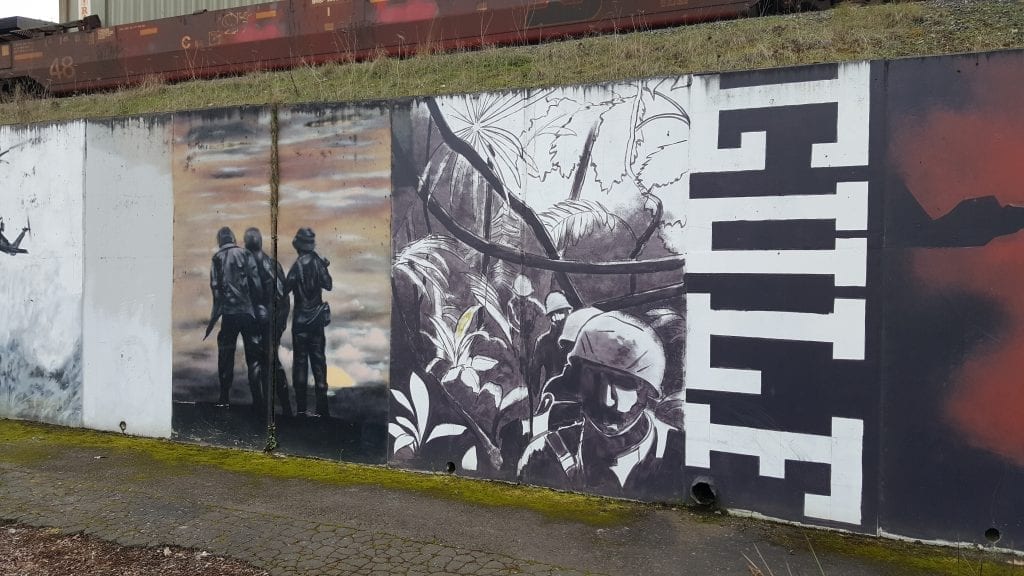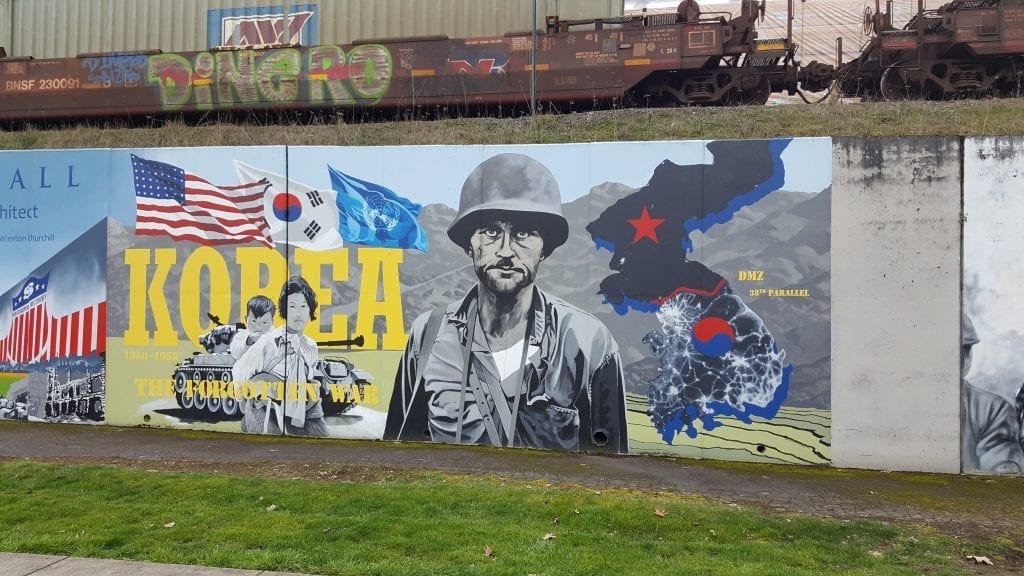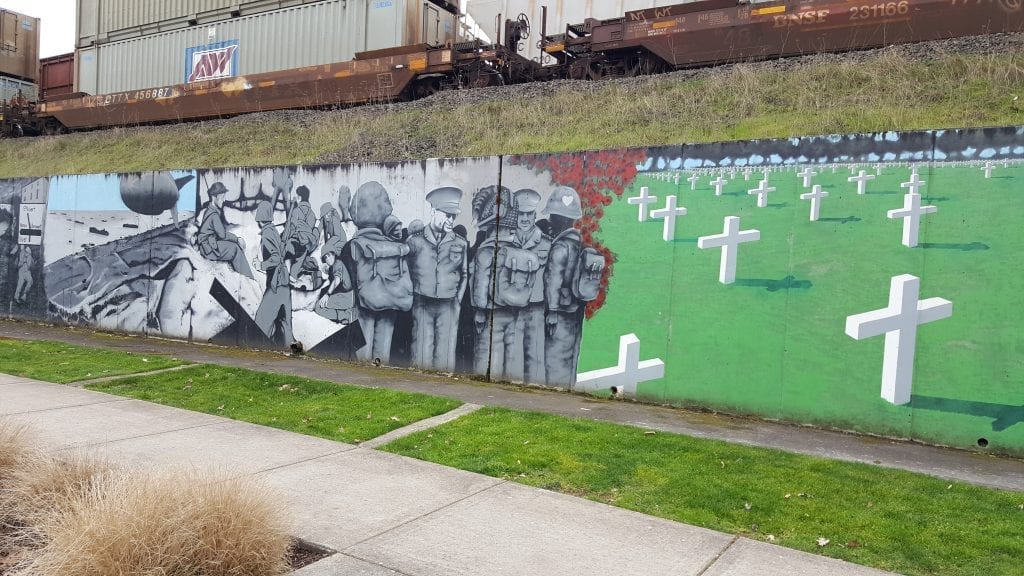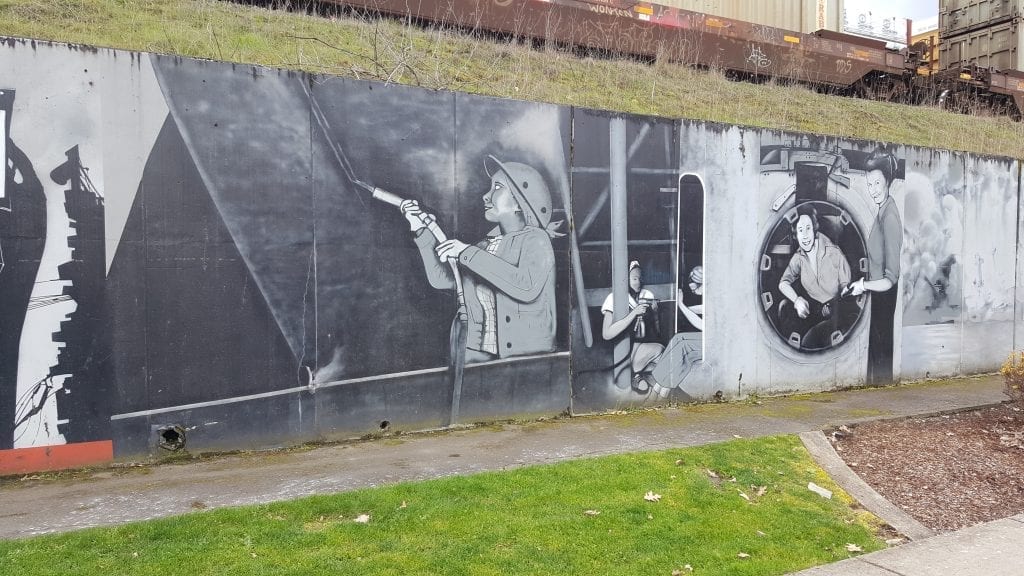 The next day I finished my latest round of tie-dye shirts and bandanas, which I would give as host gifts on my travels back to Texas. (That was such a great idea!) And this was the first time I got to process the tie-dyes from design to wash to dry, so I felt really involved with making these tie-dyes!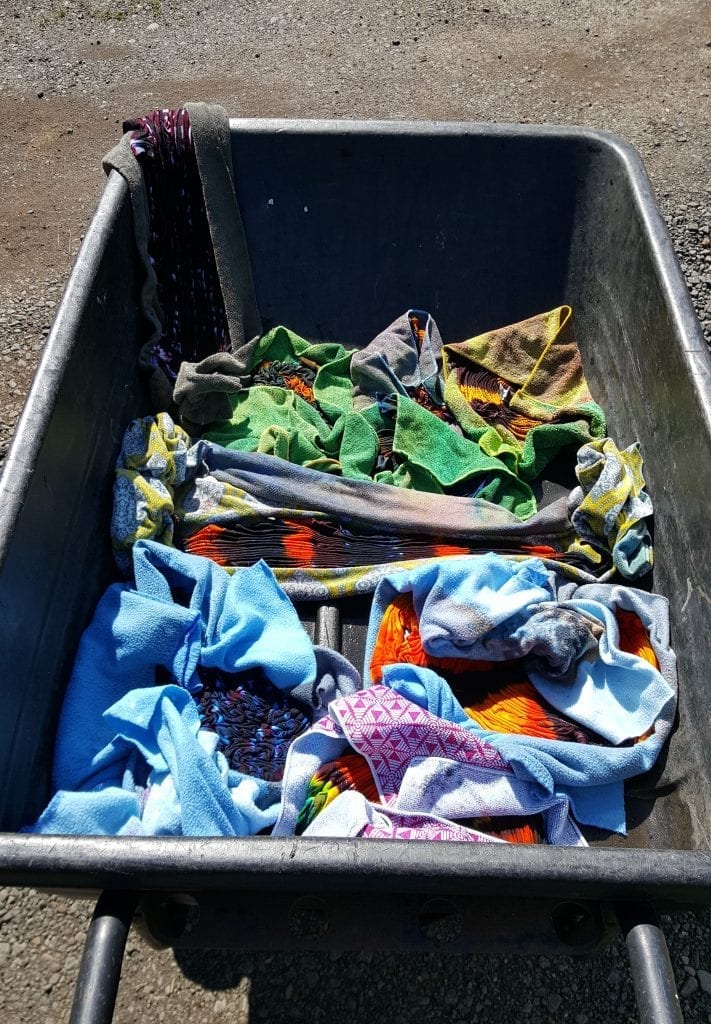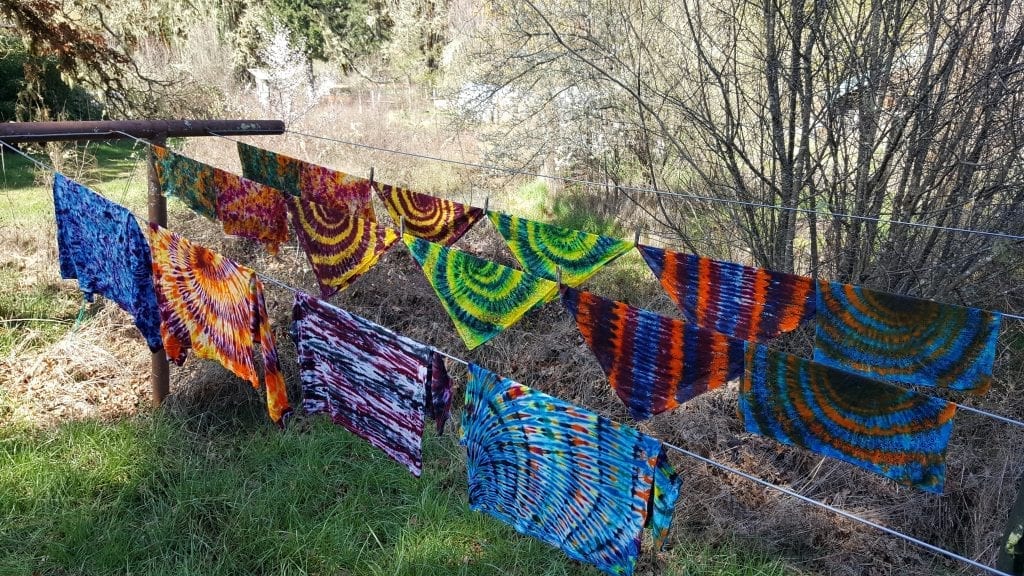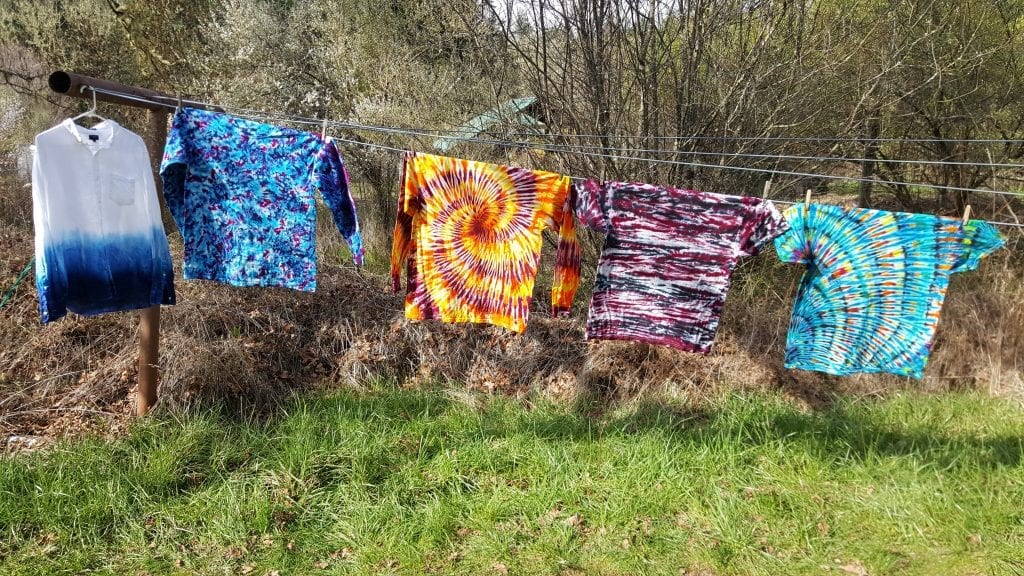 For my final "Potluck Tuesday," I picked Whirled Pies, a pizzeria in Eugene I passed by on one of my adventures in town. We had a great turn out that night, including the locals from town like Bethany and Mike, Josh, Weston, Ashley, Caleb, and the lovely Lalita! It also just happened that I picked "open string night," where patrons brought in their stringed instruments for a jam session. What a way to end my "Potluck Tuesdays!"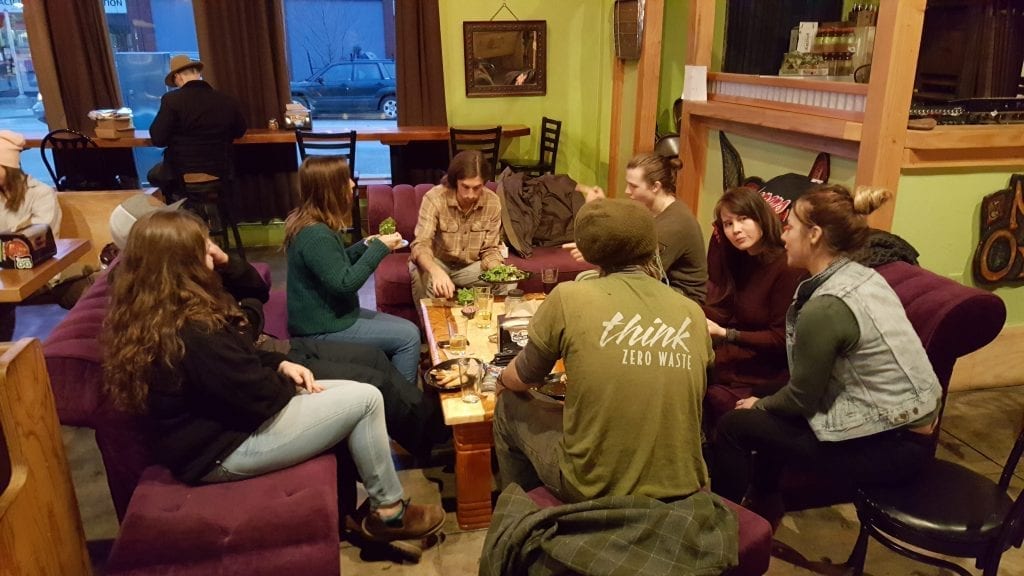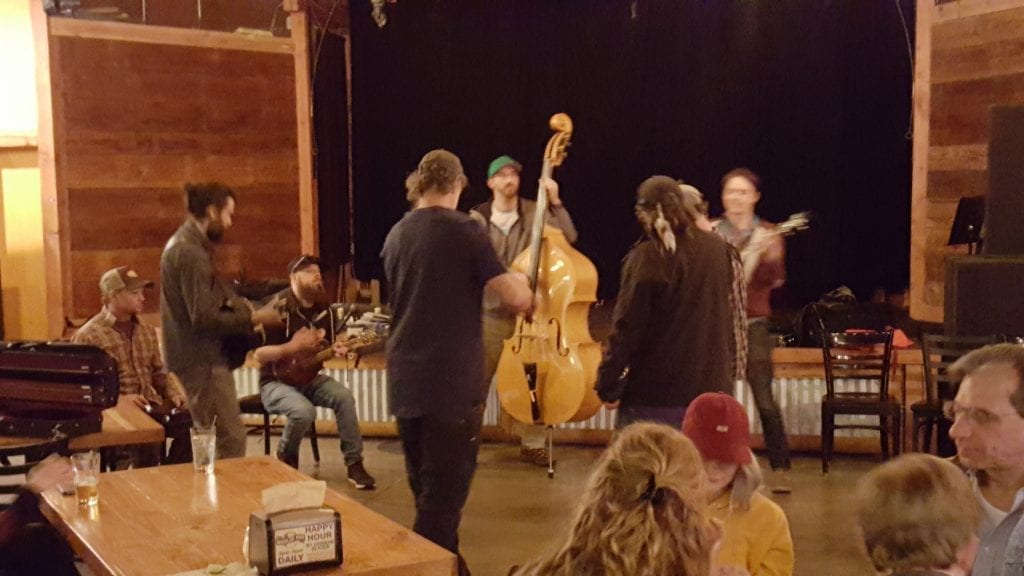 The next night was my farewell dinner and the cooks went all out for that! It was vegetarian AND meat Italian night with American apple pie for dessert! So I got my fill of tempeh and meatballs with pasta and spaghetti squash, with several slices of pie as the night went on! I even invited Lalita to dinner and she came out to celebrate – only we didn't get to spend any time together because I was the center of attention that night and couldn't escape the loving praise for my contributions to the community.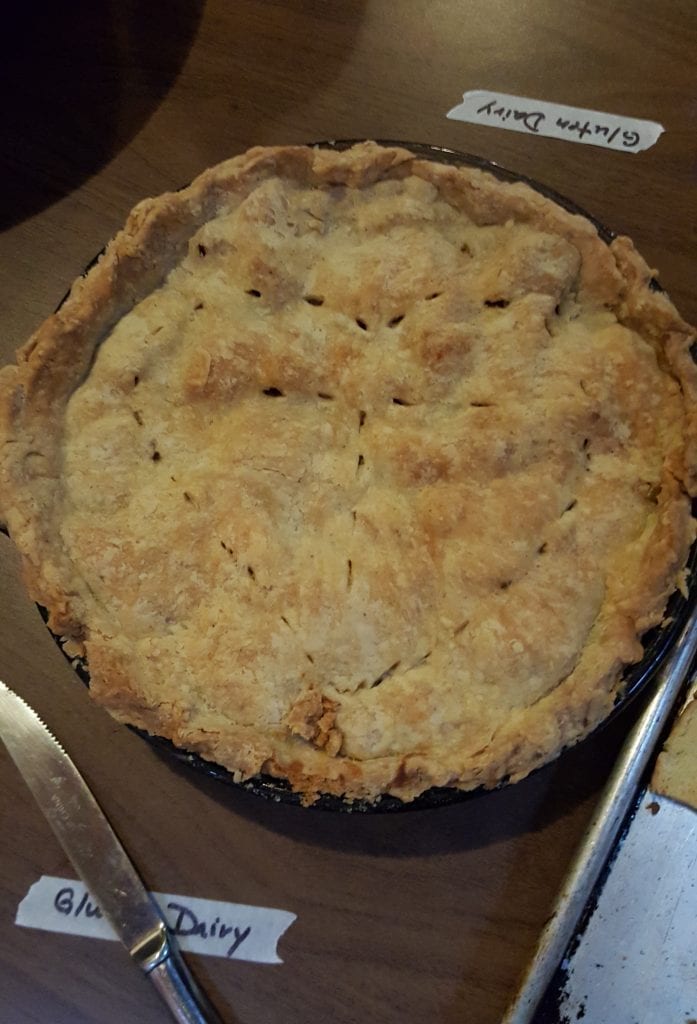 Before I left, I was determined to see Lalita again, because each time we were together – somehow we didn't get to spend time together. So I asked her out and we went to the Wandering Goat to have some one-on-one time and say our goodbyes. We hadn't known each other very long, but I felt a deep connection with her that I couldn't explain and wanted to explore it with the little time I had left. I gave her one of my recently made bandanas as a going away present, and she gave me a gem she's had for years that has brought her luck and wrote me a very kind note to take with me on my travels.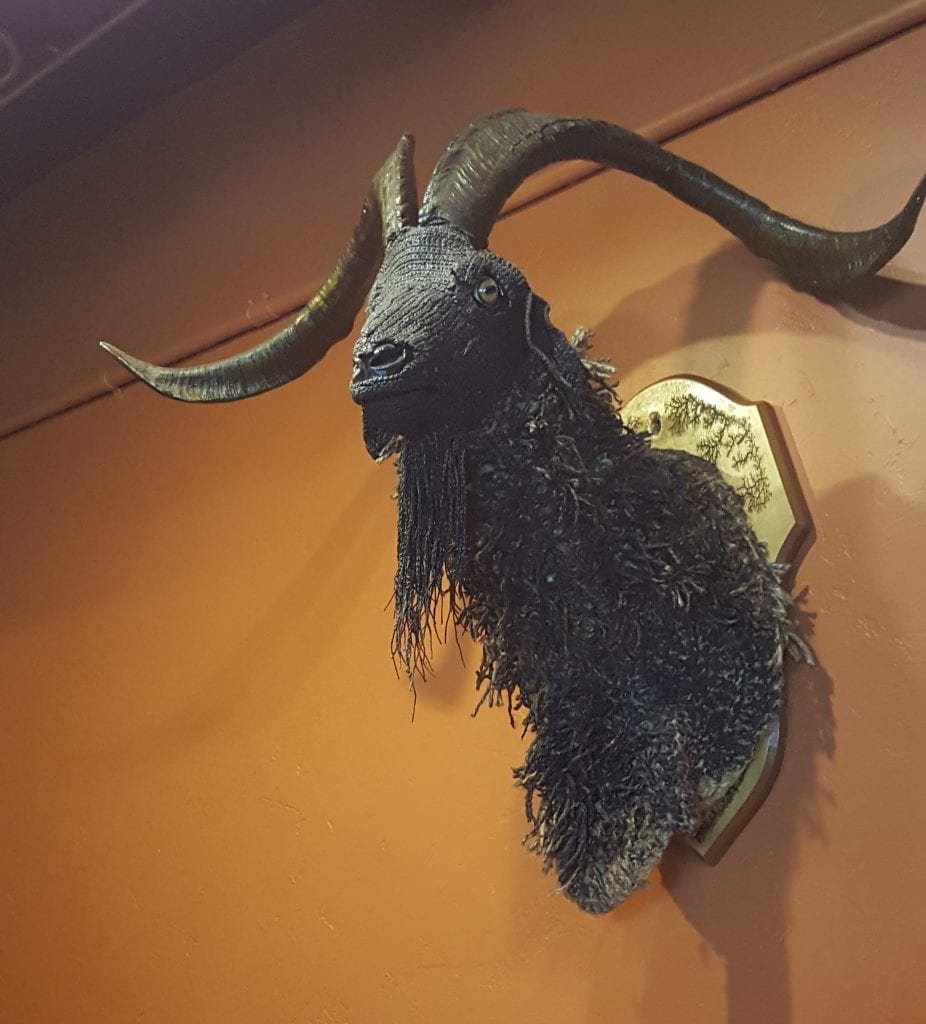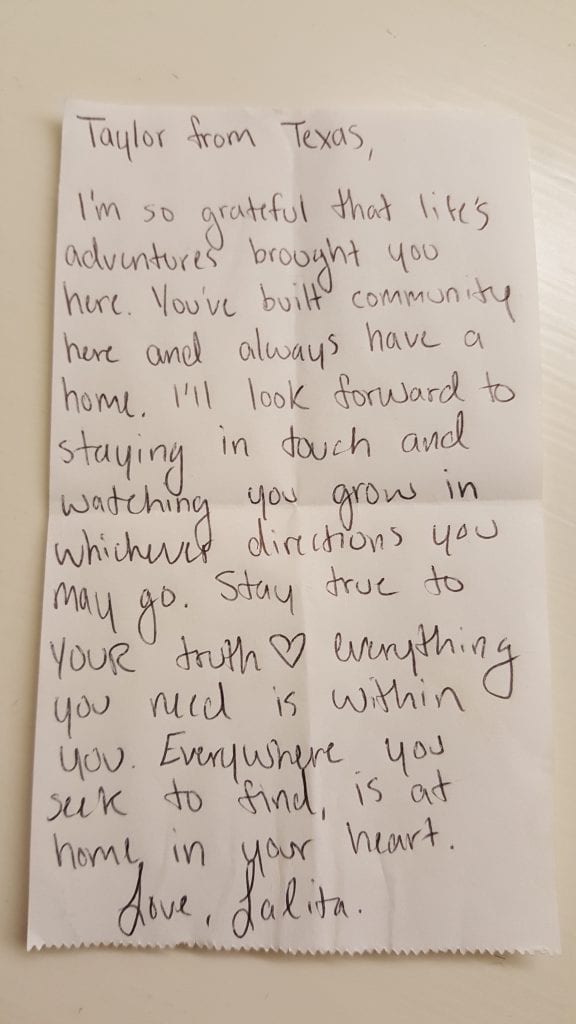 I left Lost Valley on March 26th, after giving Lost Valley one final gift (a Texas state flag hung up in the Lodge) and needing a jump-start from Sam that morning. (Not only was I feeling emotional for leaving, but not knowing if my car would start added more emotions)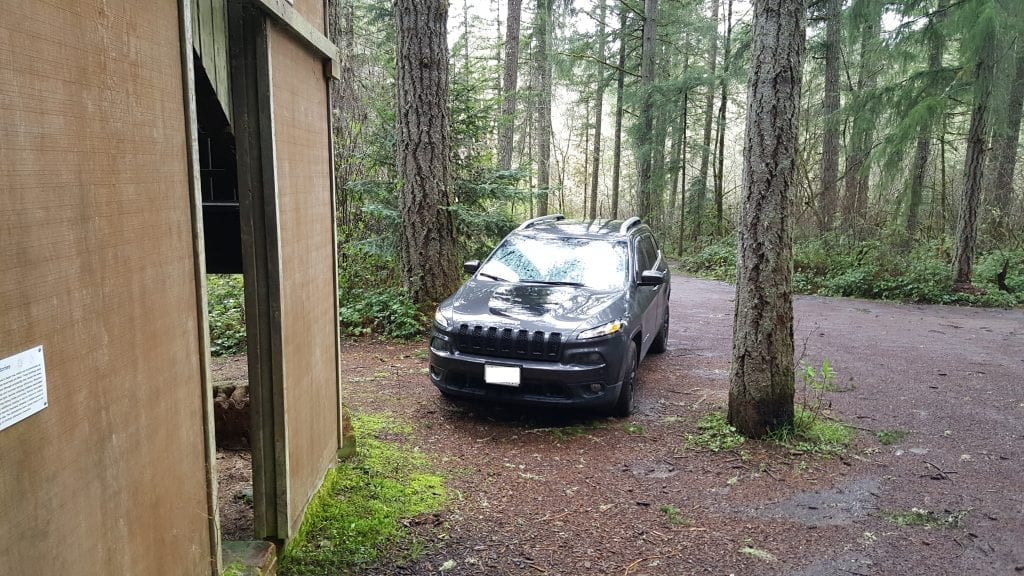 I took my final pictures at the Lost Valley entrance sign, and started my eco-inspired road trip back to Texas!