HSS Week 5
We started off the week with Justin, who explained the history of Lost Valley from its original land use to its current state, with plans for the future of the ecovillage. Having arrived at Lost Valley as an apprentice years ago and eventually took the position as executive director, Justin had great knowledge and context that we didn't know about Lost Valley.
Also that Monday, Colin shared with us our second major assignment as part of the program curriculum, the 'Social/Economic Project,' in addition to the PDC design project. This second project fulfilled the "Ecovillage Design Education" (EDE) course aspect, and had students choose from one of the five spheres of sustainability. The projects panned out to be: "Going greener, to save green,"  "Building stronger community through activities," "Interacting with the world," "Radical kitchen re-think," and my group, "Community cottage industries," which included Josh Noonan and Bri Hofmann. I initially wanted to do a couple of ideas, including on-site beekeeping and reclaimed woodworking, but realizing we didn't have those skills or interest from anyone besides me – so I chose working with Sam Bascom to develop a tie-dye business so he could get back into making money with his tie-dye!
Tuesday was Sasha's birthday, and we held a small song circle for her by the fire pit in the Meadow to celebrate. Someone gifted her 'magic' pinecones that changed the color of the fire when they burn. (I had never seen them before so I was impressed.)
And on that topic of change, over the weeks Sasha's energy drained and I could see and feel a change with her…depression had hit her – hard. I only mention this because I myself have been in her situation, I have experienced depression (seasonal & extended), and we had gotten close so I wanted to help her out any way I could. That process, though I could only do so much to help, it really showed me how far I've come in my own life and that I don't need to set myself second to help others – I can still put myself first and help.
PDC Wednesday was tree day, and boy we were we in for a "tree-at!" Our guest instructor, Hazel (formerly known as Tom Ward), is a famous permaculturist in the realm of social forestry and tree care, who teaches at Siskiyou Permaculture. Hazel, a self-proclaimed bad auntie, took us around campus with plant identification books so we could name trees along the way. Our personalities and views conflicted at points, so Hazel wasn't my most favorite guest instructor, but I have to admit 'they' are the 'queen' of permaculture posters!
Our permaculture design team met with Tim for a tour of Moon Meadow Farms that Thursday, and we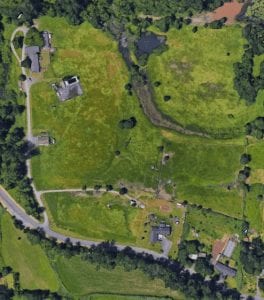 documented the grounds for design reference. The property belonged to a former politician back in the day, so it's laid out similar to a 'personal compound' complete with a swimming pool, tennis court and giant pirate-radio antenna. From what we gathered, the main goals for the property were:
Increase on-site food production
Encourage residents to go outside and interact
Emphasize aesthetically pleasing design (for the eccentric owners)
We also found out that the couple likes to hold onto things (a.k.a. hoarders), so we planned on working 'upcycling' into our project design – with consideration that we were only working on 25% of the entire property, and the other 75% of the actual property was leased to cannabis farmers.
That same day, I found a Craigslist ad online for free planters in hopes of giving them to Moon Meadow Farms to start some of their plants, or at least donate them to Lost Valley. Llyn Peabody and Chris Burns, founded Monroe's "Sharing Gardens," which was who was selling the planters.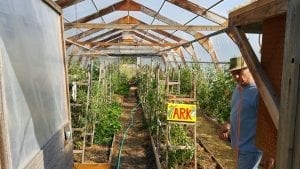 The gardens are located right behind the community food pantry that is part of the local church, which was across the field from the local schools. Meaning all those entities are directly involved with the farm, whether they received food, gave supplies or provided volunteer labor. I let them know I was coming from Lost Valley and they knew of it, so that was my pass for a personal tour of their green houses and garden beds!
Not only did they donate food to the food pantry and school events, the local students have a leaf-raking initiative where they go to houses of the elderly and disabled to rake their leaves, which is then given to the farm for mulching. I left with stacks of planters, but I was also inspired on how a small community can work together like that.
Marc Tobin was our guest instructor on Friday, and he spoke about international intentional communities, like the subterranean caverns of Damanhur in Italy, and his work with CityRepair in Portland, developing community initiatives. His knowledge about communities and ecovillages worldwide was impressive, and I hope to run into him at some point again – either in Portland or VerdEnergia in Costa Rica!
And to top off this week, one of the Wednesday PDC commuters, Weston Zaludek, invited us out to his property for a 'Conscious Kegger.' And for context, Weston's background is making mead and brewing alcohol, so the design on his family's property is to build a sustainable meadery/small festival venue ('ascension camp'), where the majority of his ingredients are grown and harvested onsite. Weston took us on a tour of the property and explained his plans before we all had dinner. Then after dinner, we tried some of the local craft beers he helped inspire and make at breweries in Eugene. Weston is definitely are character unlike anyone else I've met, but his alter ego he created to separate himself from being the 'property client' and the 'site designer,' "Space Eagle," was a hoot…