Wind Spirit Community – Summary:
Who: "Don"
What: Visited the Wind Spirit Community
When: Thursday, April 5
Where: Winkelman, AZ
Quick Resources:
My Route:
Planning my Eco-Inspired Road Trip Blog Post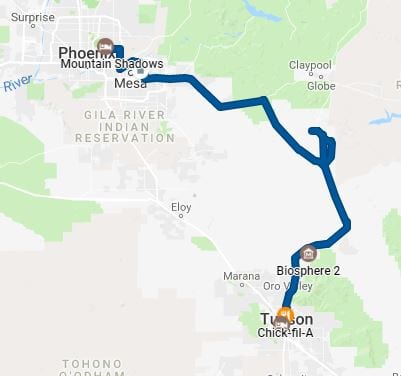 My Travel Story:
My second stop of the day after The Bee Oasis was after a long drive through the desert canyons and mining towns to Wind Spirit Community (WSC) in Winkelman, AZ. (This was another community with a long road seemingly to nowhere, but I pushed on and finally made it without any GPS navigation.)
A picture from my drive to Wind Spirit Community, which resembles the general terrain I was driving through.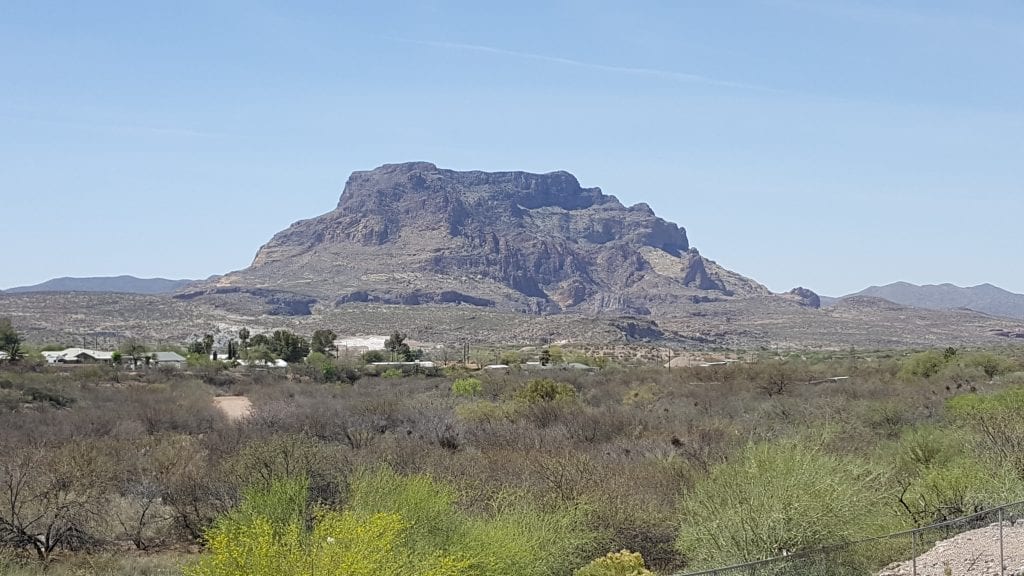 I stopped in a mining town rest-stop and took a picture of the old refinery factory on the hillside.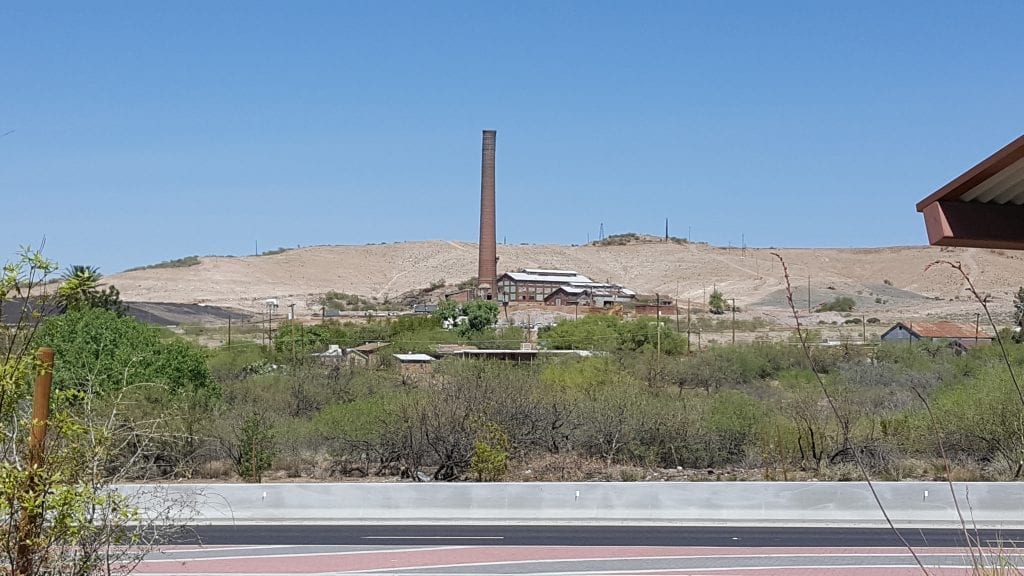 The hand-painted welcome sign to the Wind Spirit Community, which features their coyote rock statue right under the word "community."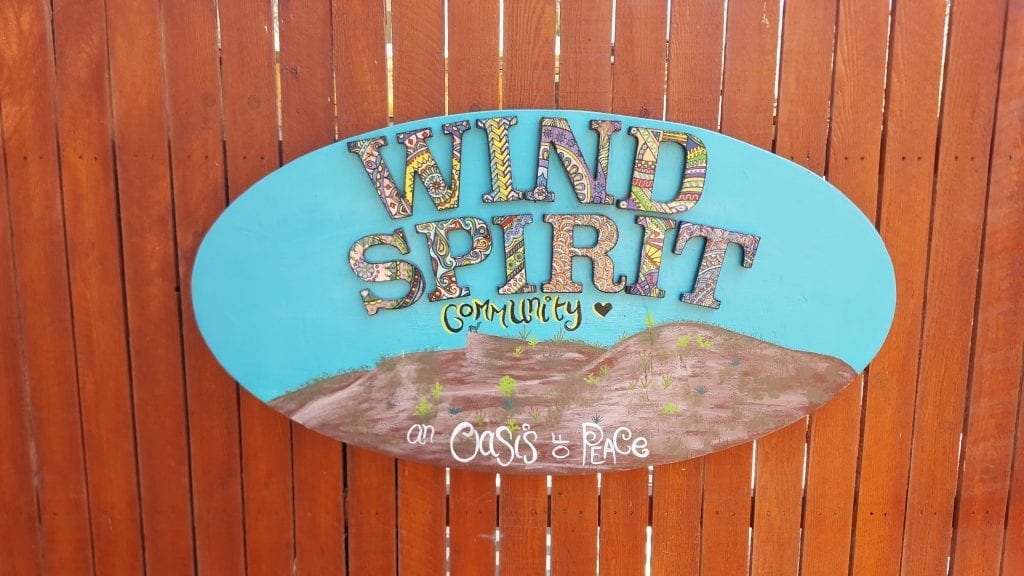 This is the map of the community on the inside of the entrance fence, with most of the infrastructure and buildings closer to the road as the back of the property was higher in elevation with mountain hiking trails.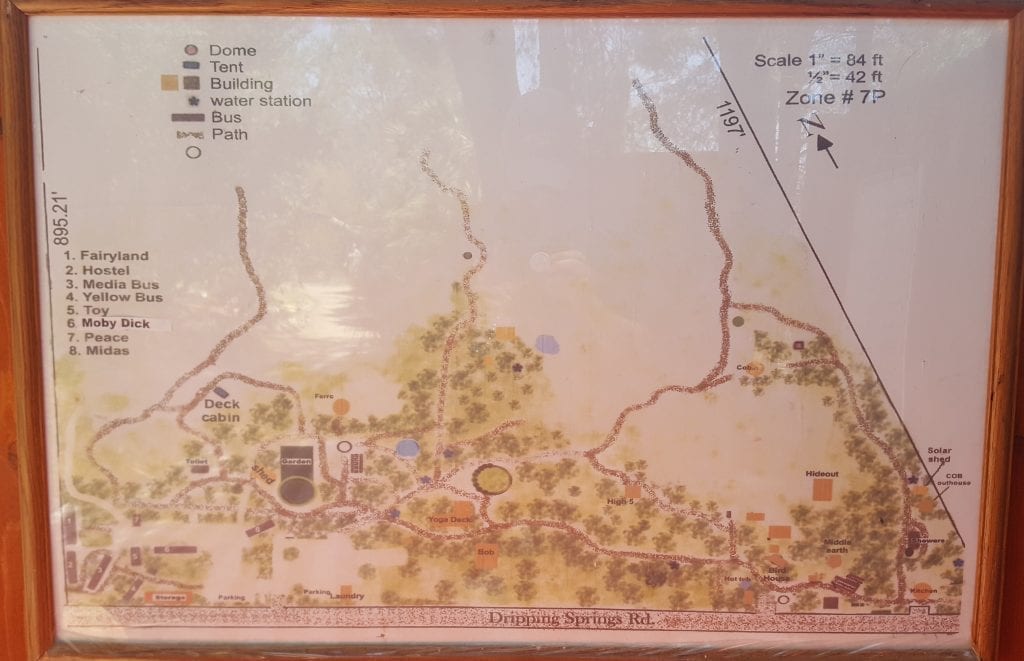 "Wind Spirit is an Ecovillage located in a narrow valley surrounded by mountain ranges. The closest town Globe is 20 miles away. We continue to nurture the community land, an AZ non-profit corporation, and update our bylaws and vision as we experience and grow. We are committed to 100% organic methods of food production along with continually working to bring our 16 acres more in line with permaculture practices. A canopy of thousands of mature fruit, nut and native trees feed and shelter us, several gardens provide us with more food. All this bio-mass also creates a sanctuary for a large bird population as well as for many other animals.
We aspire to live in harmony which is not always easy, be good stewards of the land and be as sustainable as possible, while also being realistic about what we can afford to do with the resources we have. Community is really all about our relationships with each other everything else is secondary. Along with this we are committed to keeping WSC affordable through simple living without the poverty mentality that can often accompany low cost living. We are not a cult in any way, we have no leaders but feel it is wise to except wisdom found through experience. We honor diversity of thought and spiritual practices.
We do encourage people to eat a healthy diet of whole fresh foods as opposed to a denatured food diet. We have an outdoor gas barbecue for cooking meat/fish/fowl but occasionally someone will use the community indoor stove to cook certain dishes. We are not dogmatic about eating, there are people here who like to eat meat/fish/foul. If you are very strict about what you eat you will need to find the space within to allow others their choice as well.
The Co-Creators Agreements are a great way to bring about transformation in a society where most of these agreements or values are not incorporated or discussed. We value them as a foundational body of work that will help foster better communication and hence a better place to live." – Wind Spirit Webpage
Coincidentally, here's a WSC video of my friend – Apollo Wilson of Green Fire Ecoministry – who I met during my stay for the program at Lost Valley.
Wind Spirit is a 20+ year old ecovillage, located on the same land as the old Christmas Star Community (1979-1993), which practices permaculture principles on 16 acres, houses permanent and seasonal residents, and serves as a hidden eco-gem venue for yoga retreats and artistic events.
Don took me on a tour of the community, starting at the kitchen and main facilities, then making our way through various gardens, hot tubs, and chicken pens to the core retreat area with a yoga deck, above ground pool, large fire pit, hand-built sauna, and open camping spaces and cabins.
Near the community entrance is this communal prayer post, which is made from a carved out rotten tree trunk.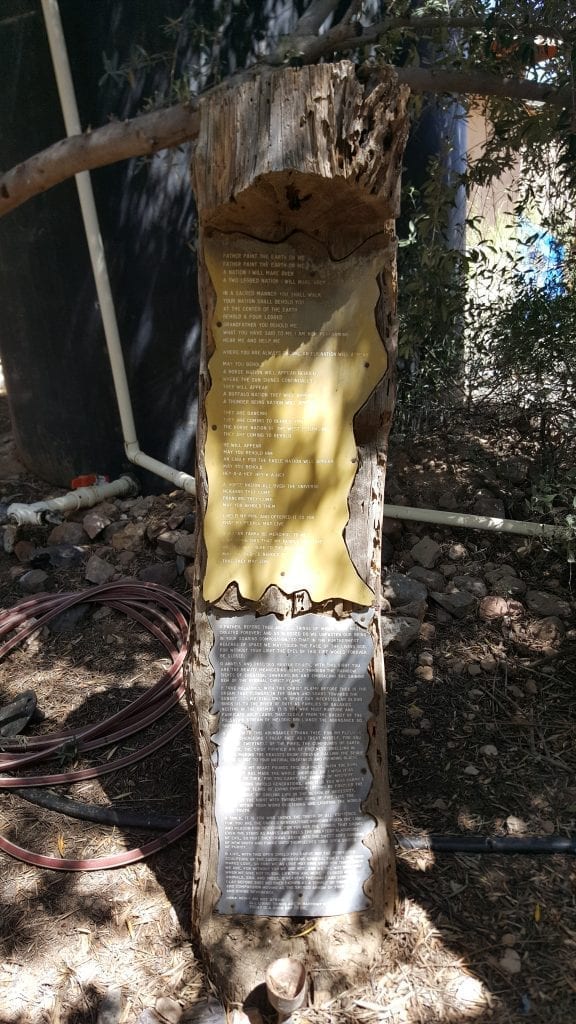 Behind the main community kitchen and dining center, the residents had built this cob composting outhouse and were undertaking an terraced dining area project to have as another retreat amenity for guests.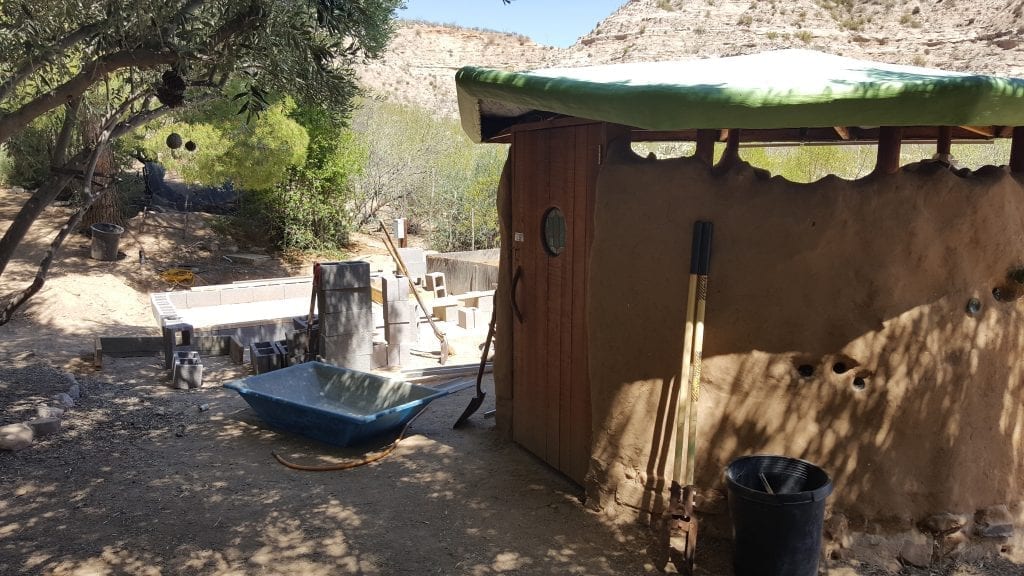 Caddy-corner to the kitchen was a sunken greenhouse, next to the community tool and bike repair shop, with a solar water distiller in front. (See more on-site solar technology here!)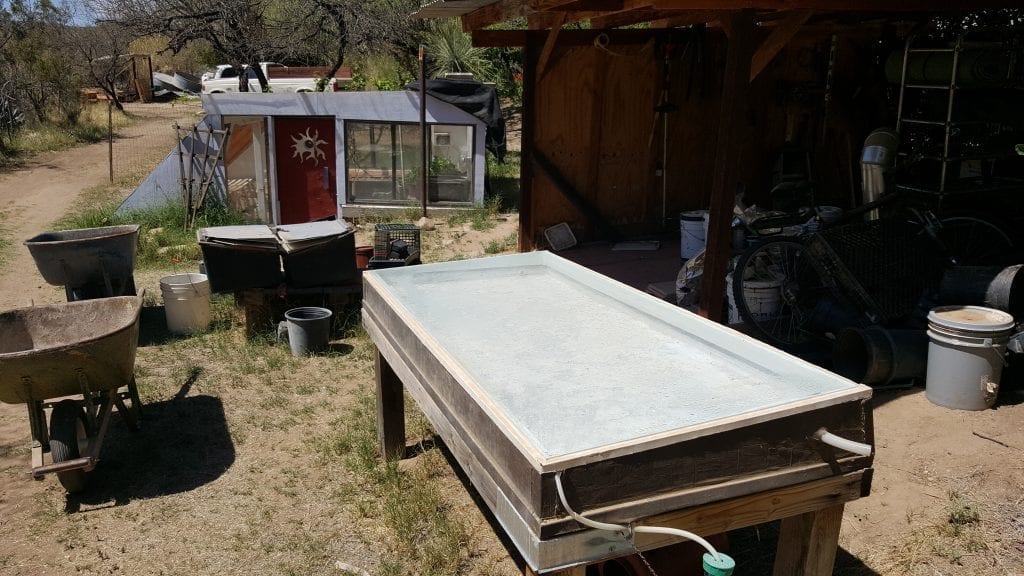 This is the community gift shop/store, with a beautiful ecologically-focused mural on the side!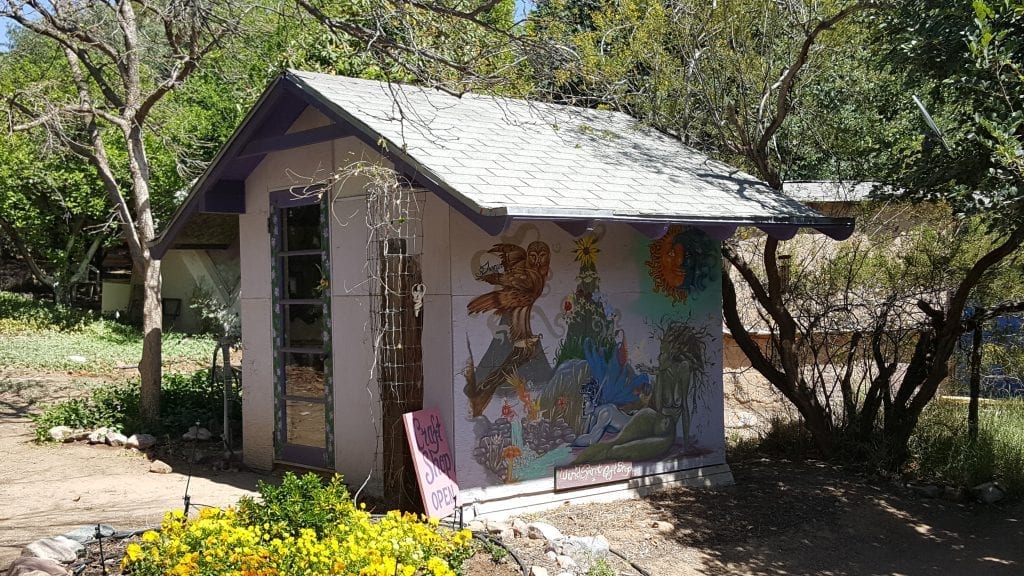 The chicken pen goes further up the hillside, but I took this picture to show permaculture in action with the orange tree providing food for the chicken, which in turn, fertilize the tree!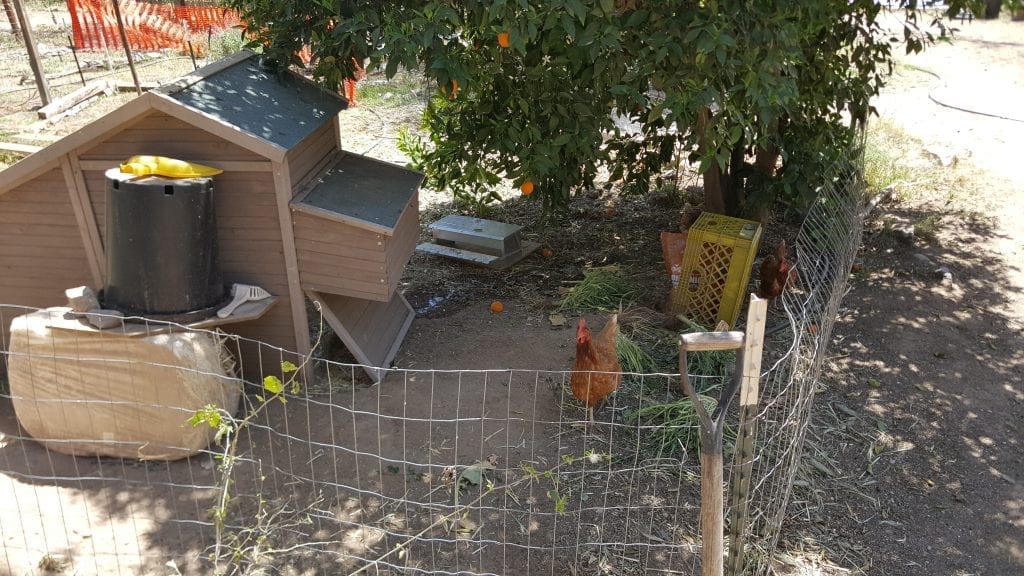 In the center of the community is the main yoga platform for retreats – a fairly recent construction addition within the past couple of years. It also has yoga pose prayer flags strung in the trees around it.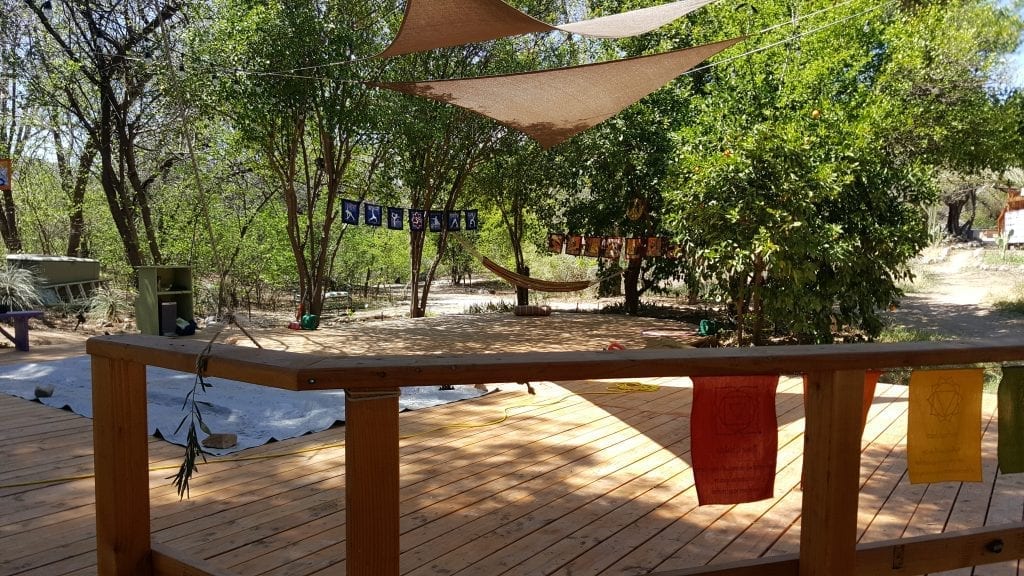 Here's another "May Peace Prevail on Earth" pole close to the yoga platform, a feature I've seen in several other communities on my travels.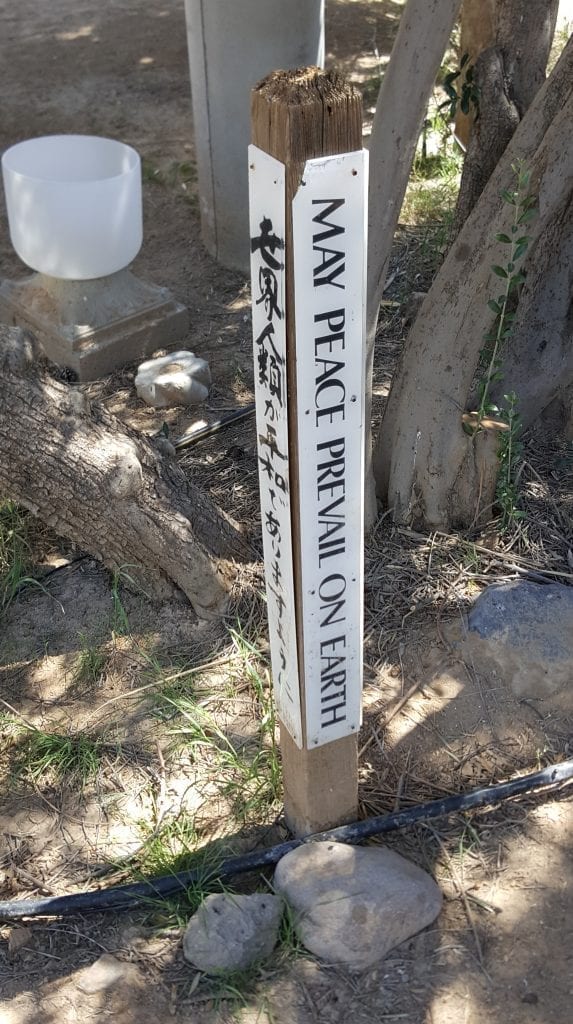 Another onsite amenity is the 24-foot above ground pool, perfect for the retreat guest and for cooling off after working on projects in the heat.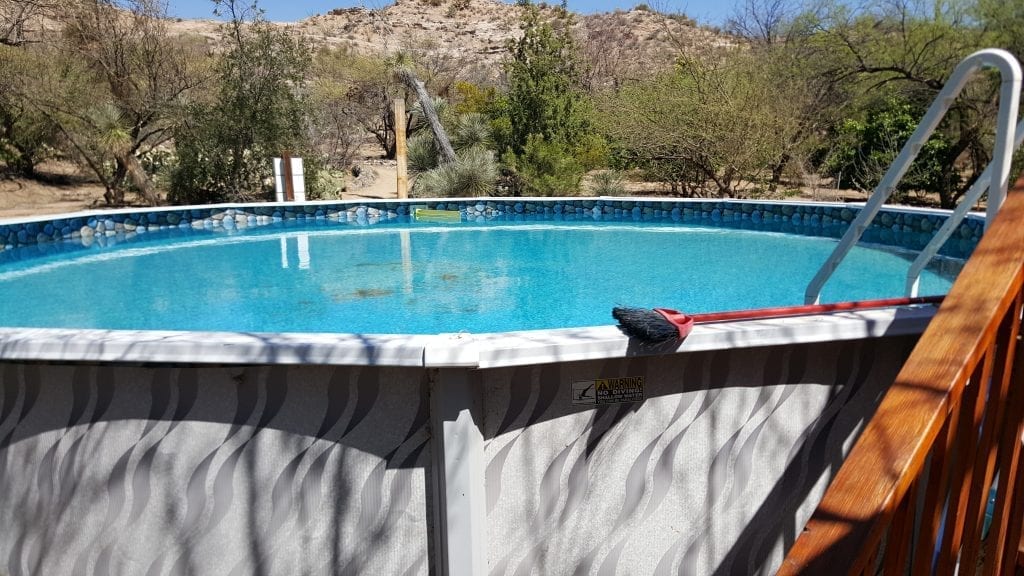 The community fire-pit is also regularly used by the community, especially for solstice and equinox celebrations.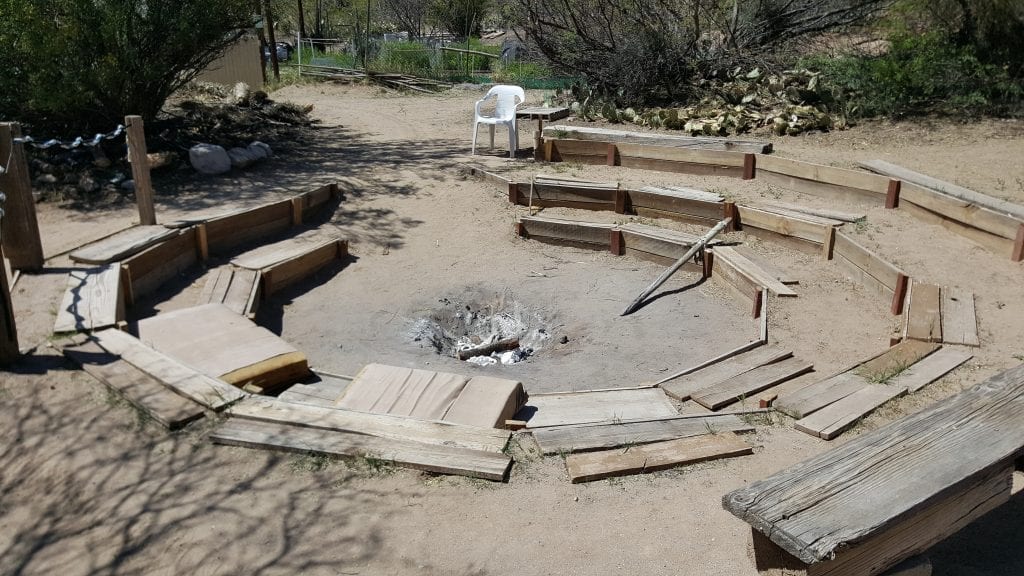 Here's another solar dehydrator that belongs to one of the residents further up the hillside.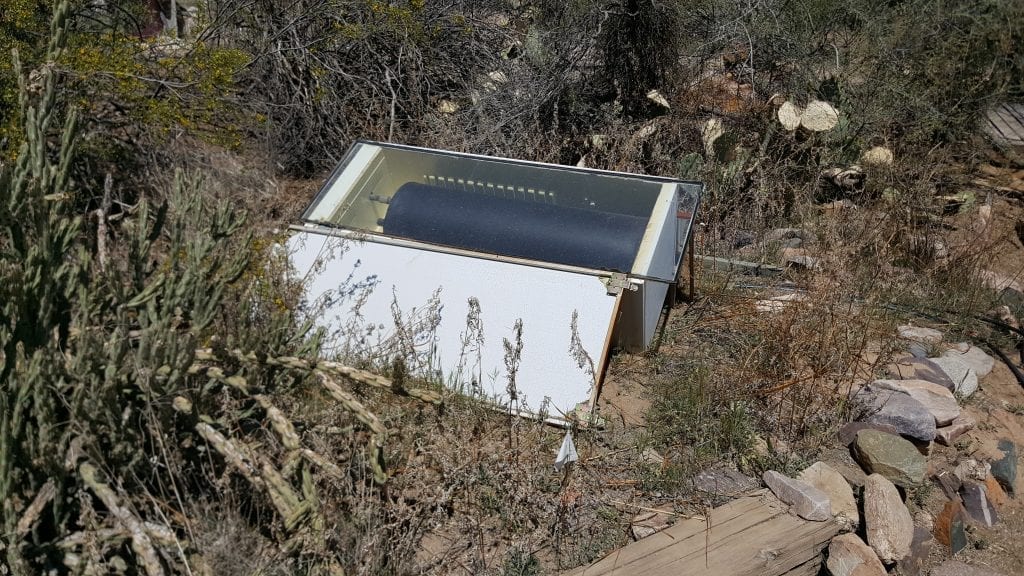 Wind Spirit Community has several styles of alternative architecture onsite, including this concrete semi-underground dome home!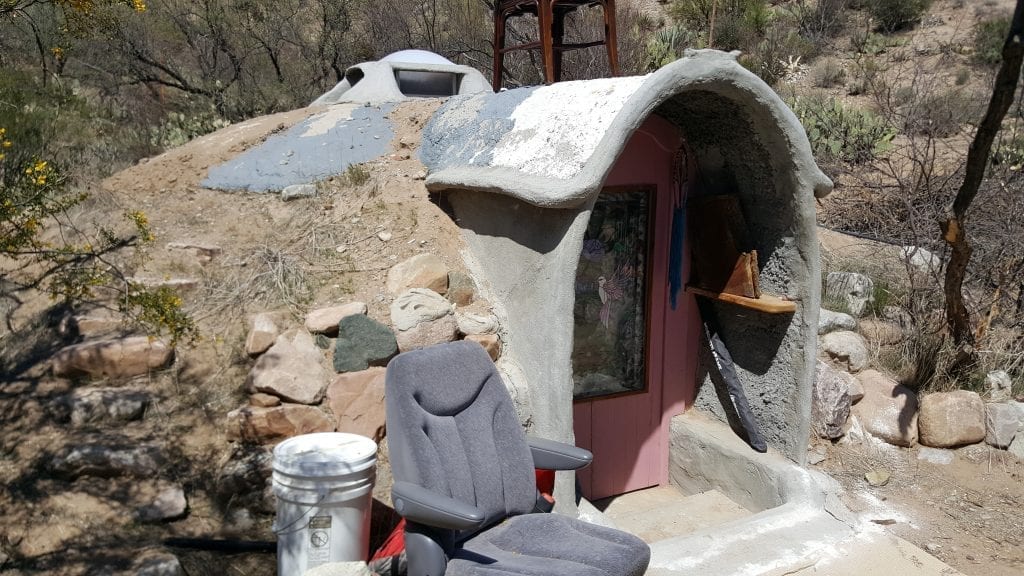 Across from the dome home and the community pool is the sunken stone sauna, which is frequently used by the yoga retreats and other spiritual workshops.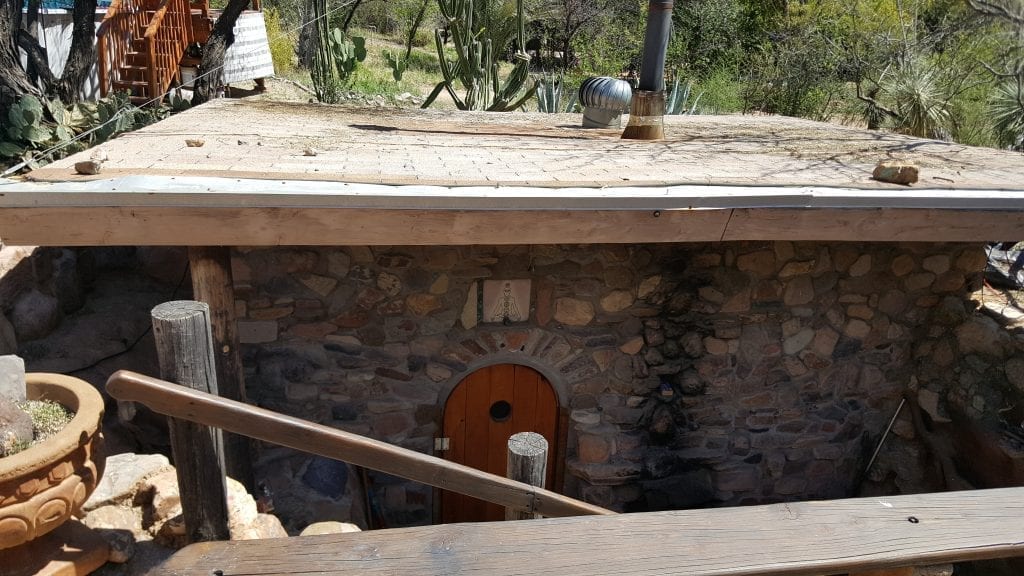 A view of the community garden in the center of the Wind Spirit Community!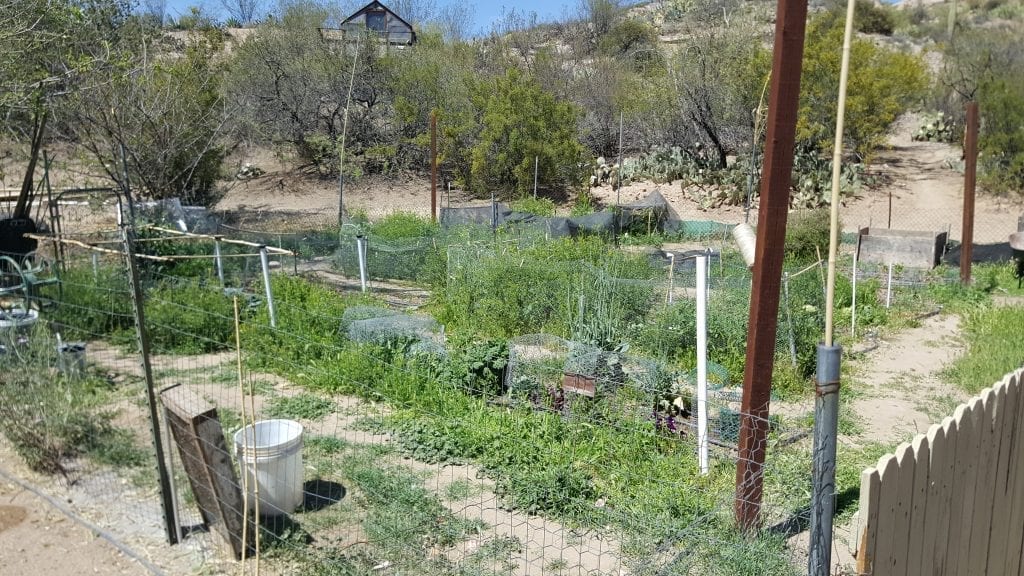 This is the garden entrance marked by two concrete pillars that were salvaged locally!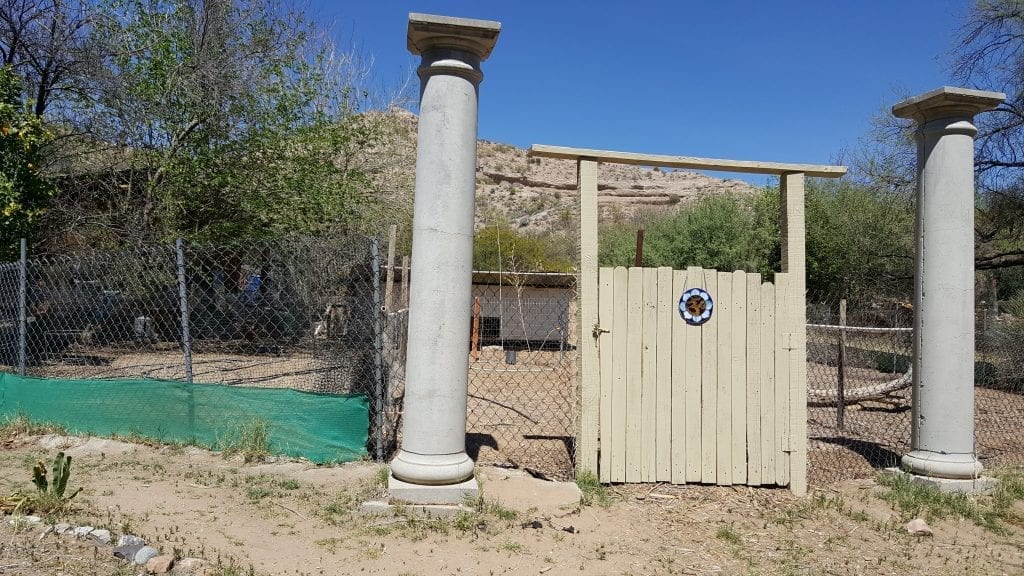 Towards the back edge of the community is the multi-stall composting toilet, which is raised high off the ground to make changing compost barrels easier.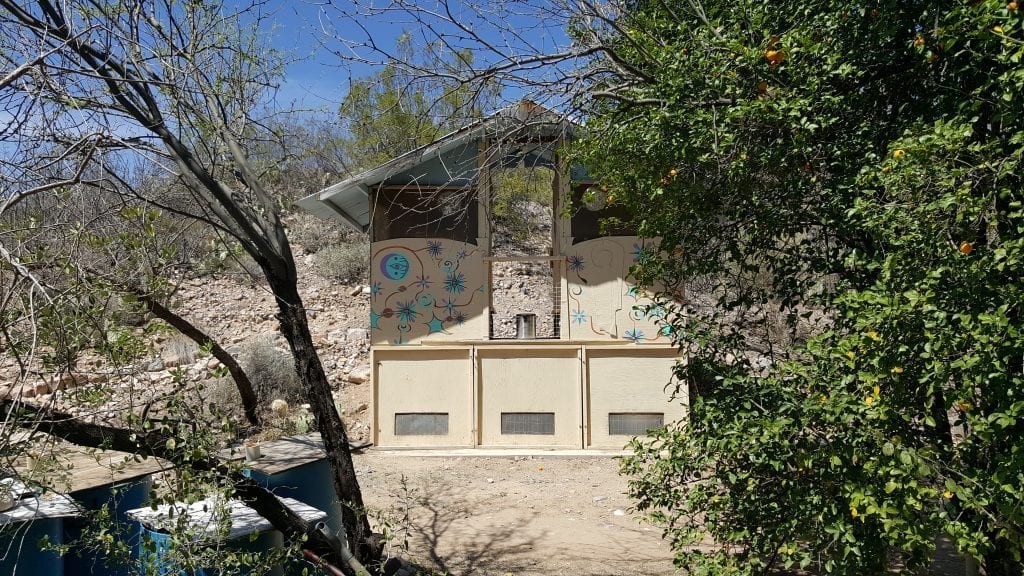 After checking out the retreat area, we went over to the bus yard – where many of the current residents were living in converted buses or RVs.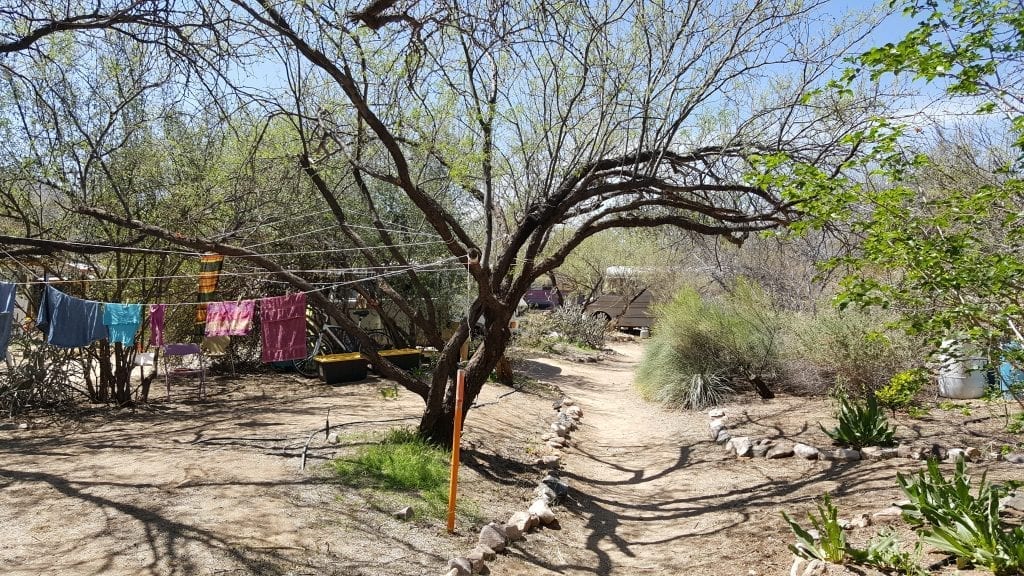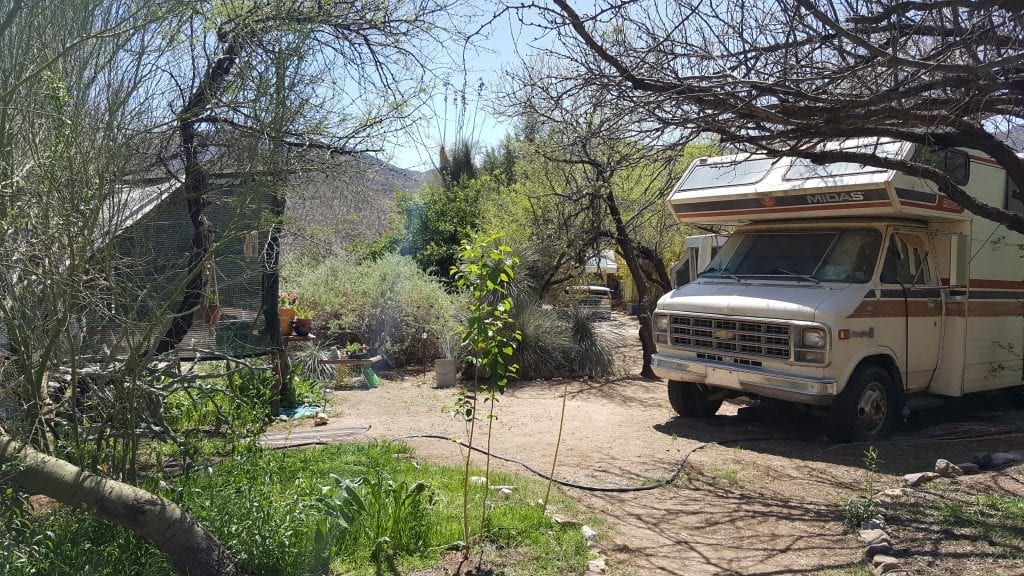 While the community had made great strides in building the current infrastructure and implementing permaculture practices, they were still constantly working on new infrastructures and structures – so Don said there's an "always under construction" vibe within the community.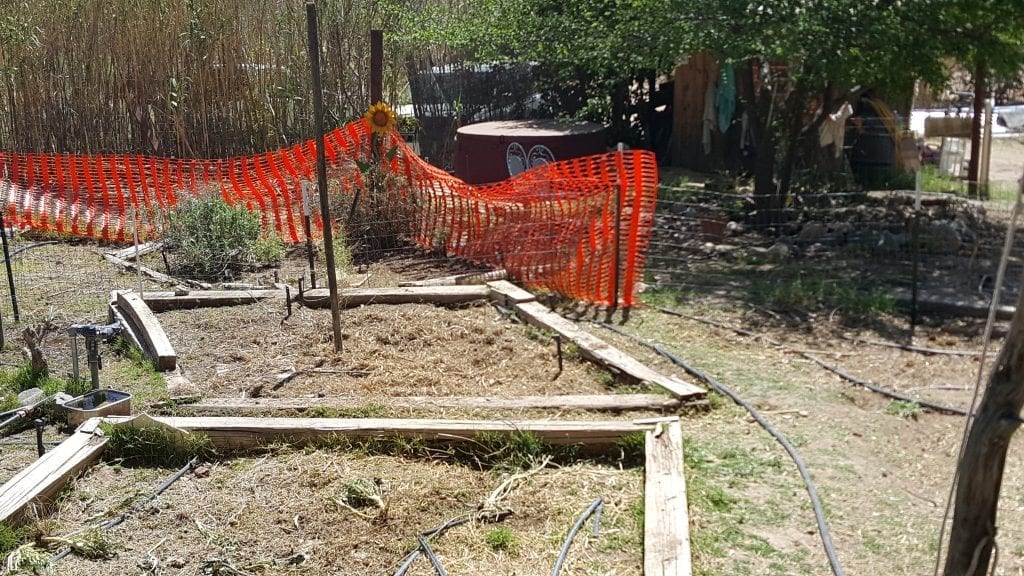 Once we toured the grounds and made a full circle, I had to leave to rush over to make the Biosphere 2 tour.