The Canelo Project – Summary:
Who: Bill Steen
What: Got lost without GPS/Cell reception; Visited the natural buildings of the Canelo Project community
When: Friday, April 6
Where: Elgin, AZ
Quick Resources:
My Route:
Planning my Eco-Inspired Road Trip Blog Post
My Travel Story:
After leaving Avalon Organic Gardens & Ecovillage, I spent the day driving to The Canelo Project in Elgin, AZ. While it was a beautiful countryside of grassy plains and desert parries with mountain ranges dotting the horizon – I had no cell phone reception to call or search for my GPS location – so I spent several hours lost in the area, going down wrong roads, waiting for free-range cows to cross the road, and circling back to high hills to get one or two cell bars to make calls.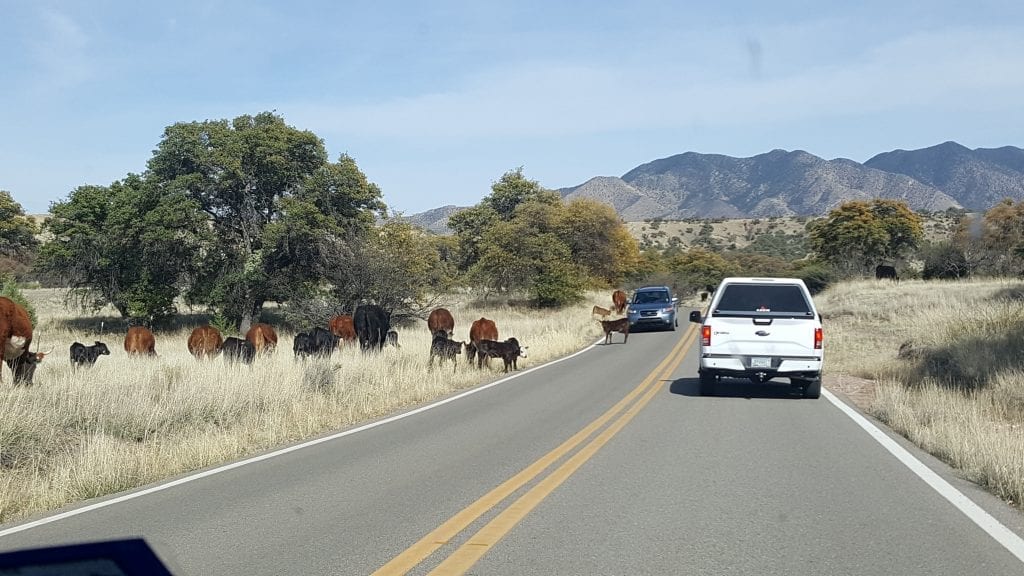 I finally find the right road a few hours later, much to the exasperation of my host, and this was another destination with a long road seemingly to nowhere – passing camping grounds, a ranger station and over several cow pastures.
However, this was one of the most impressive sites on my trip in terms of interest in natural architecture and building smaller communities.
"The Canelo Project is a small non-profit organization, which we, Bill and Athena Steen founded in 1989 and whose work centers on the theme – Connecting People, Culture and Nature.
The small town of Canelo, in southeastern Arizona, is home to The Canelo Project and the center of many of our activities.  We rebuilt the old adobe ranch house and complex of buildings to function as a place where people of different backgrounds and cultures could come together to share in an ongoing exploration of living, building, the arts, music and regional foods.
We have developed it as a center for learning, research, demonstration and cross-cultural gatherings.  Our ongoing annual activities revolve around workshops, tours, intern programs and writing. The focal point of our work is handcrafting simple, small-scale and comfortable shelter that is built primarily with local and natural materials. In that pursuit, we have evolved a unique straw bale and clay wall system that is finished with beautiful clay and lime plasters, sculptural wall carvings, earthen floors and clay ovens.
We, Bill and Athena Steen, as the founding directors of The Canelo Project, have also taught and worked extensively in Mexico, taught workshops and lectured throughout Europe and the United States." – Canelo Project Webpage
I rounded a steep hillside and drove into the community parking lot and entered the main adobe ranch house in the complex where I met my host, Bill Steen (who embarrassingly I had no idea what his name was at the time because it wasn't in my correspondence emails, didn't write it down beforehand, and no internet reception to look it up on my phone), and he was a very wise and spiritual man with a yogi background and many years of earthen building experience.
Read more here: Connecting People, Culture and Nature – An Interview with Bill Steen
This is the Canelo Project's Main House, which was originally built in 1930 and had been renovated over the years on several occasions by the previous owners.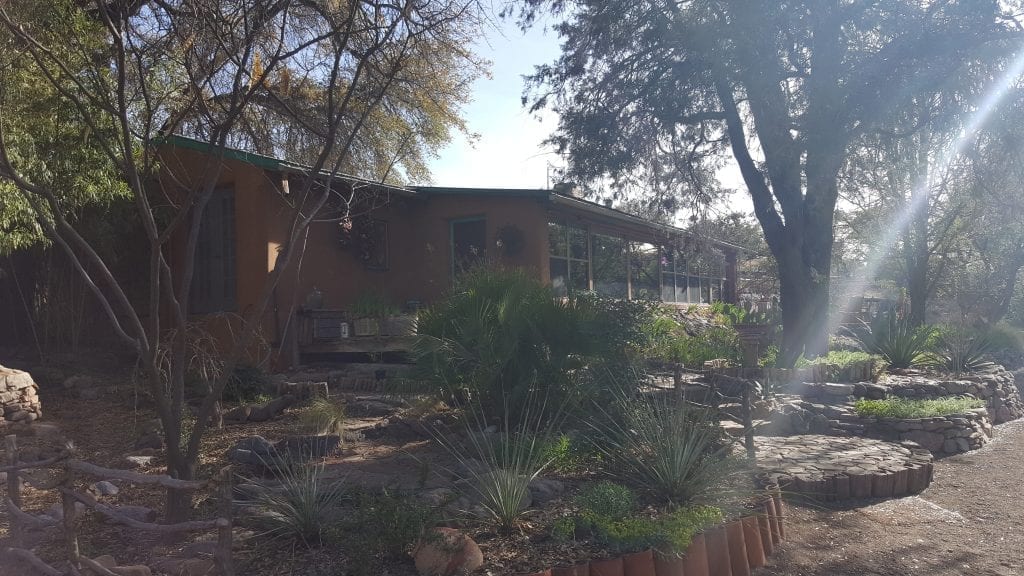 Here's a view of the main house living/meeting room, with clay painted and plastered walls with Mexican saltillo tile floors!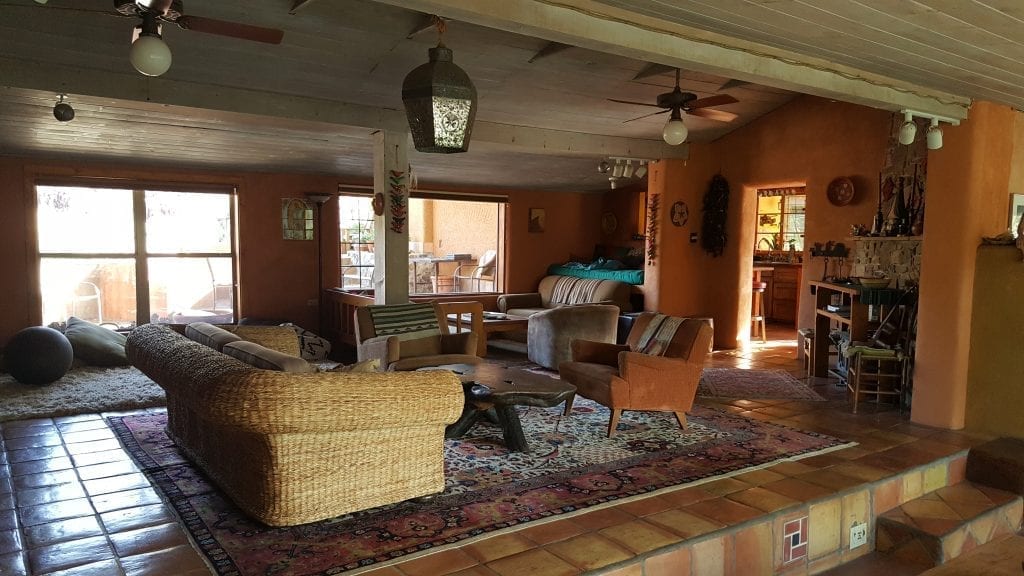 Bill was working on his computer researching filming equipment, and told me I had free-reign to walk around and look at the complex he built with, and for his immediate family, and to return before I left and ask any questions.
I left the main adobe ranch house, and walked through the gardens towards the Guest B&B houses in that immediate area. Those residences were some of the original structures built after remodeling the main ranch house, and included rainwater catchment cisterns, solar panels and large stone patios with sitting areas and fire pits. There was also a small sand box built around a tree with an earthen built retaining wall.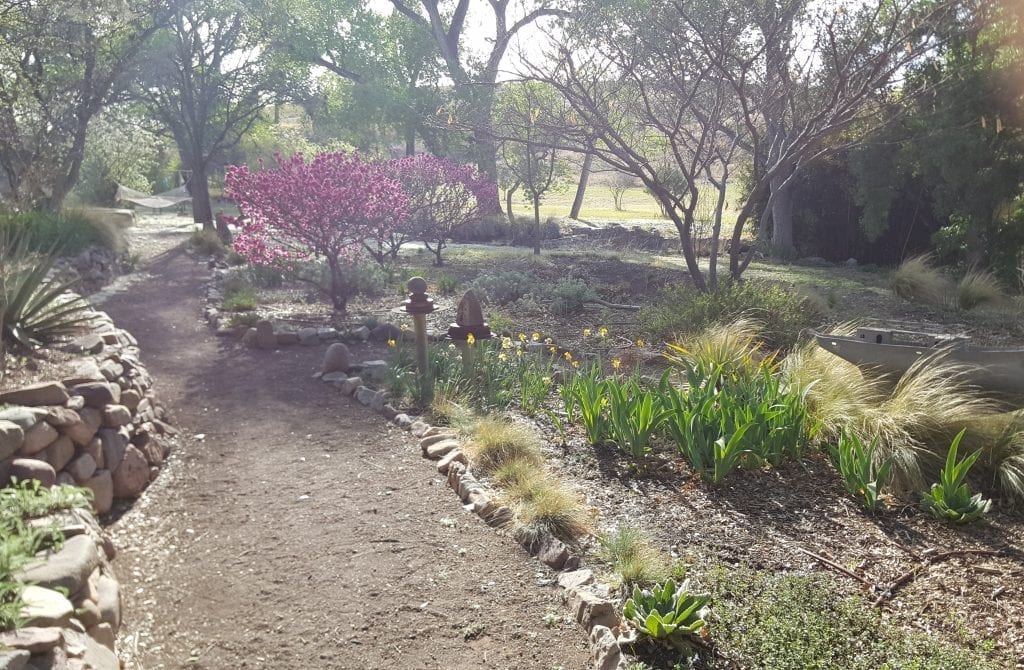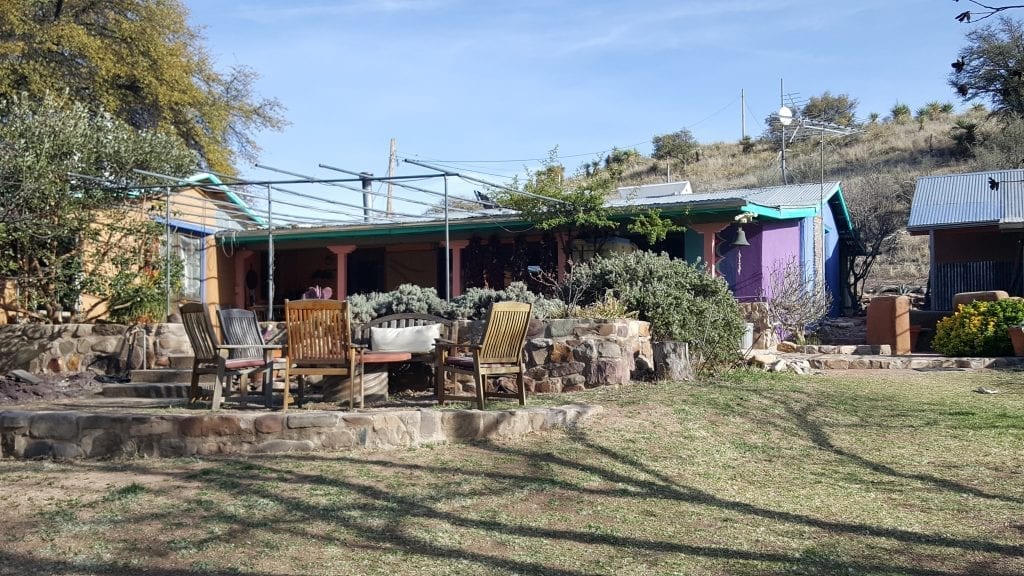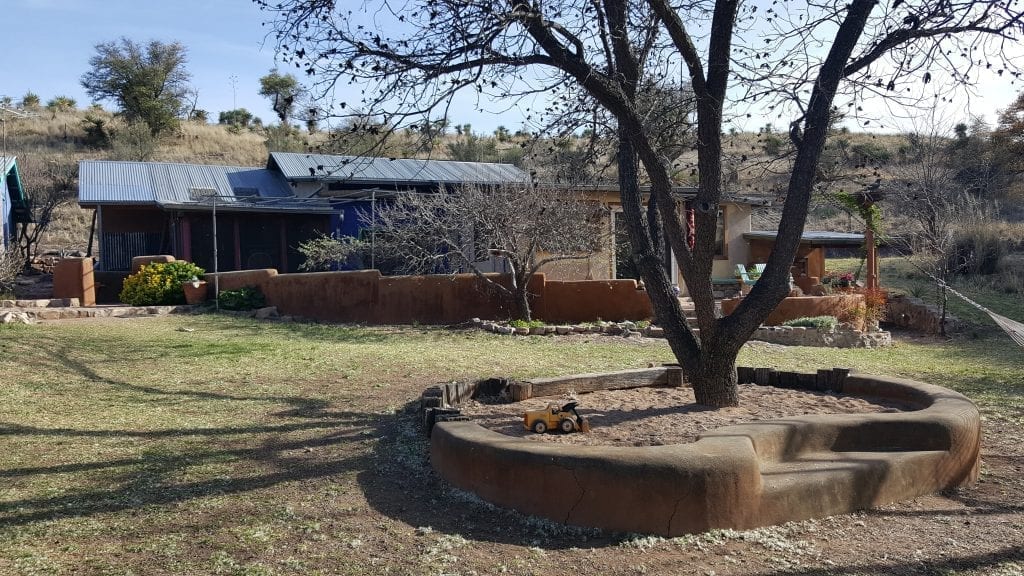 I crossed the creek that cut through the property to a large open field with an unoccupied house,which had been previously used by Bill's children and their spouses, and the community pump house. The structure in the foreground was designed as portable strawbale building!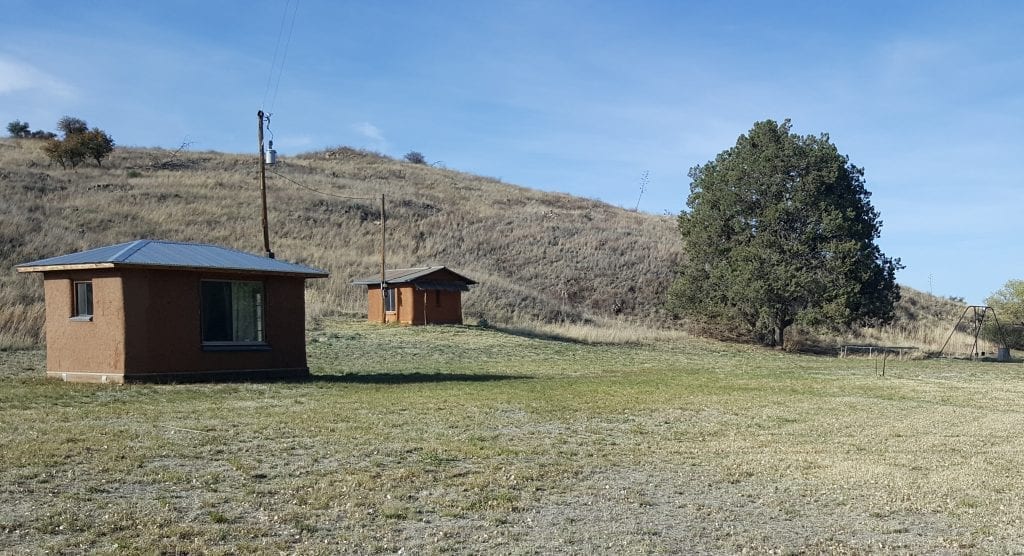 Going back across the creek, I strolled into the heart of the community, where most of the earthen experiments were done, like earthen pillars, a bike/mower shed, a beautiful outdoor shower, several maker workshops, an open-air art gallery, cob cooking ovens, covered benches and seating areas, and the outdoor learning classroom.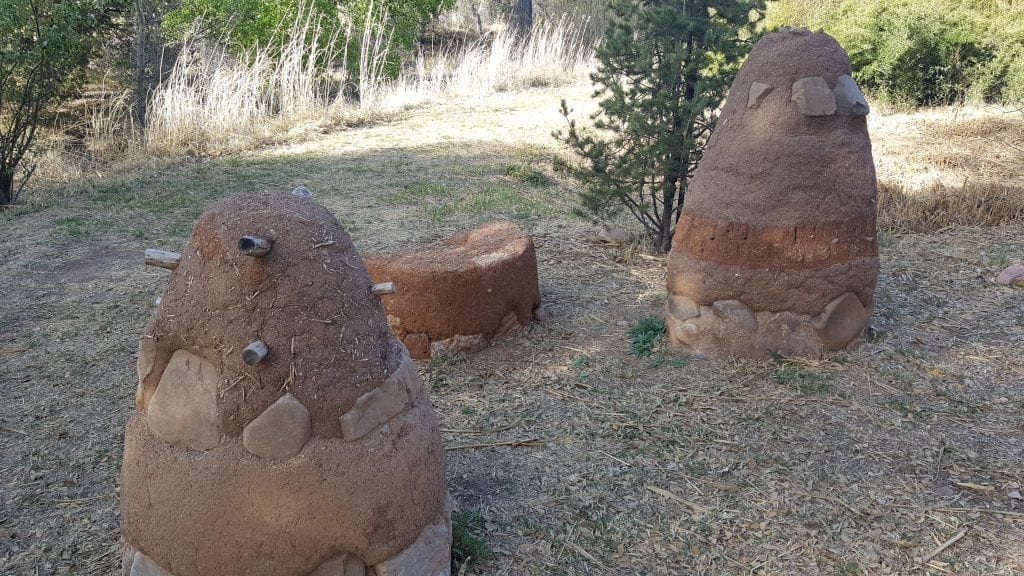 This is the Bike House, which has been turned into a mower and tool storage shed. It's a strawbale structure with straw-clay plaster on a rammed earth foundation with a red fresco lime plaster coating.
Here's a view of the Stone and Cob Outdoor Shower between two blossoming trees!  Not only does it provide privacy, but also features several niches and nooks for storage.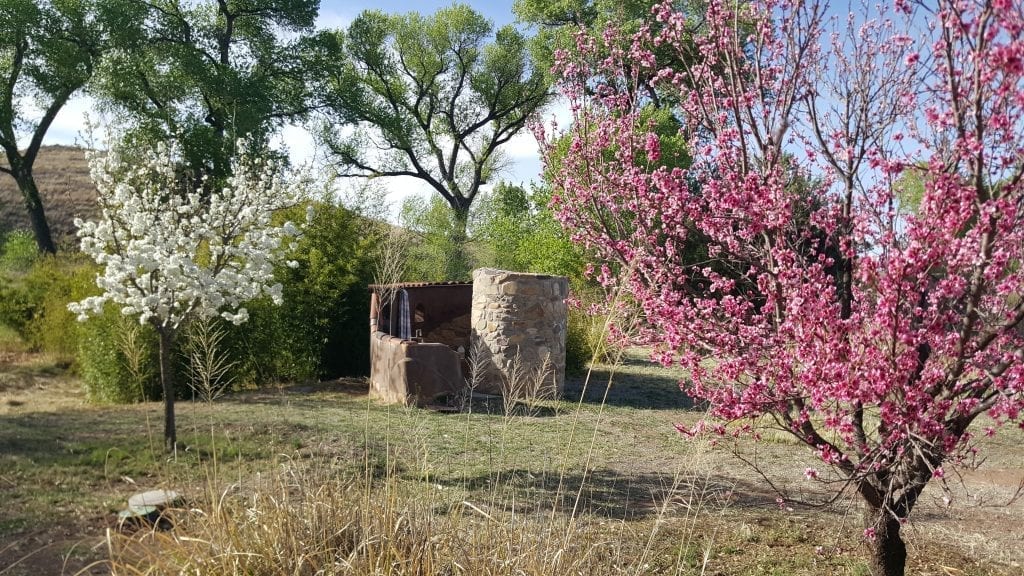 A glimpse inside Benito's Blacksmith Shop! The shop includes and earthen forge and a propane forge built by Benito, along with many of the tools and hammers being hand-forged by Benito himself too!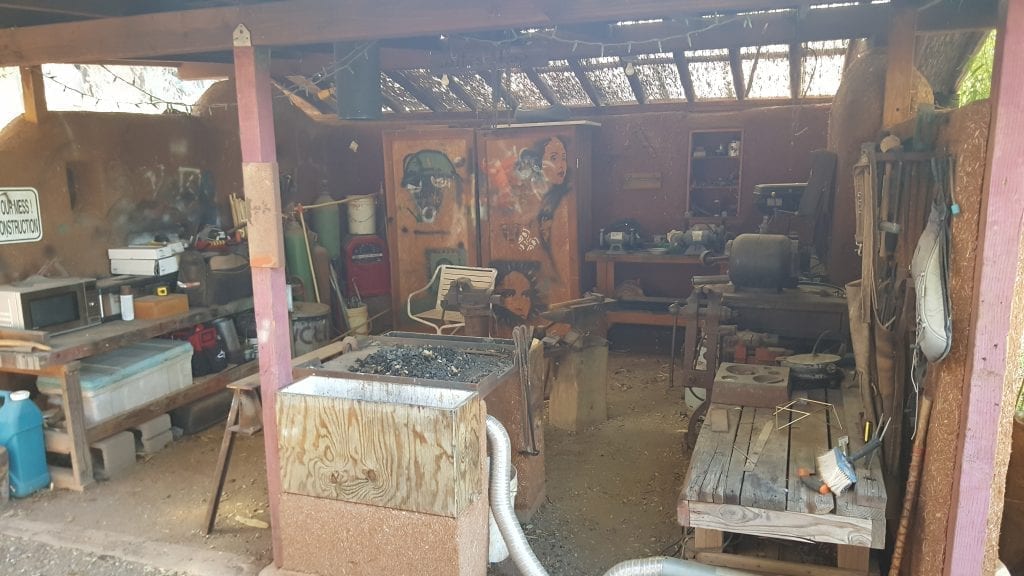 In the center of the community is the garden, which grows a good percentage of their food seasonally.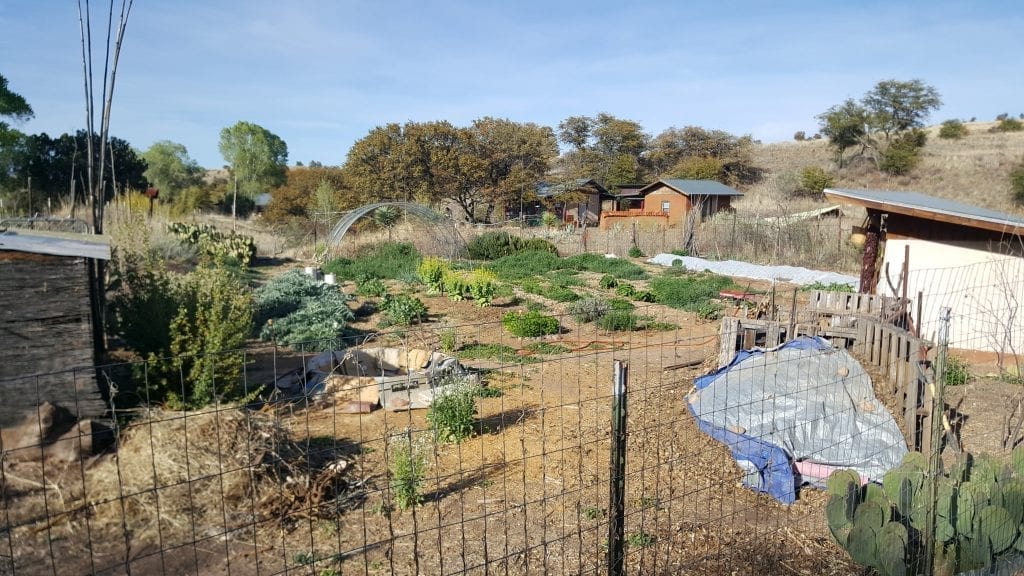 This is the large outdoor classroom built in 2008, which is supported by strawbale columns that were used for plaster workshops and sample experiments. Now the columns feature art and plaster designs!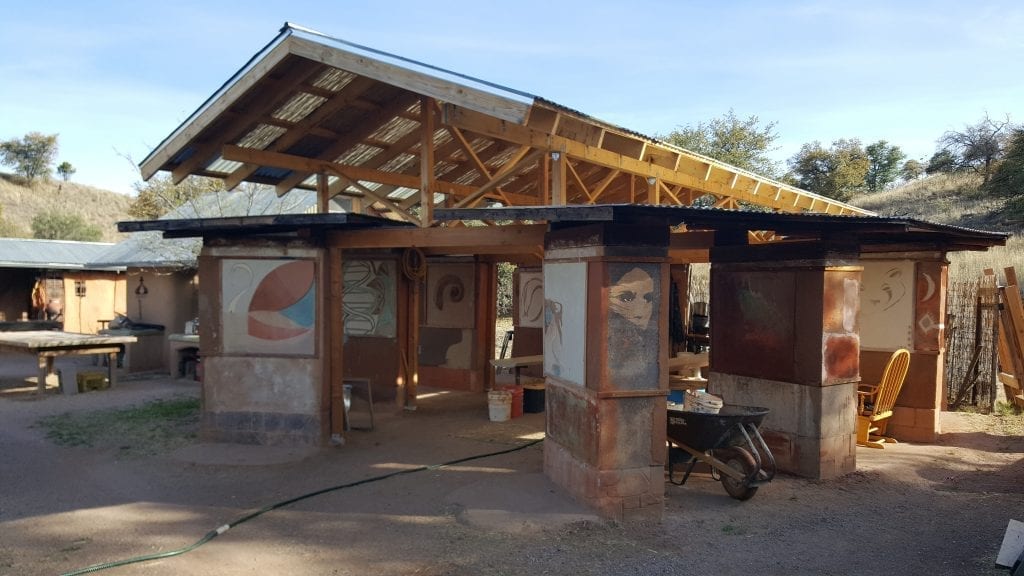 Here's a view of the Mandala Shed, named after the carving of lime frescoed plasters to expose various colored clay layers. This structure also uses green bamboo to shape the arched doorway leading into the shed.
On the interior wall of the Mandala Shed are these photos of various interior work projects.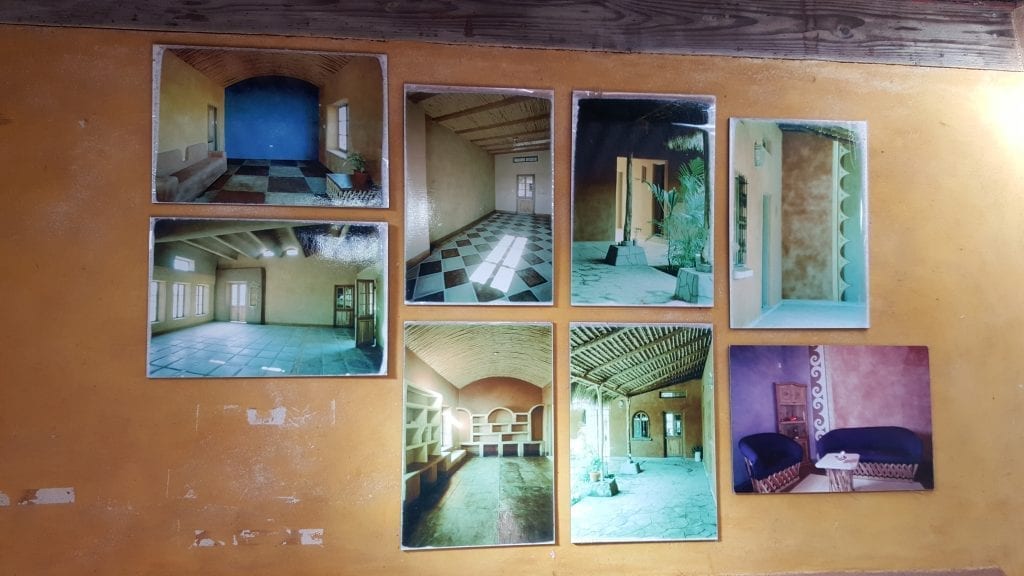 In addition to the large outdoor classroom, this was another outdoor space for working on designs on the covered project board, and preparing earthen materials for projects!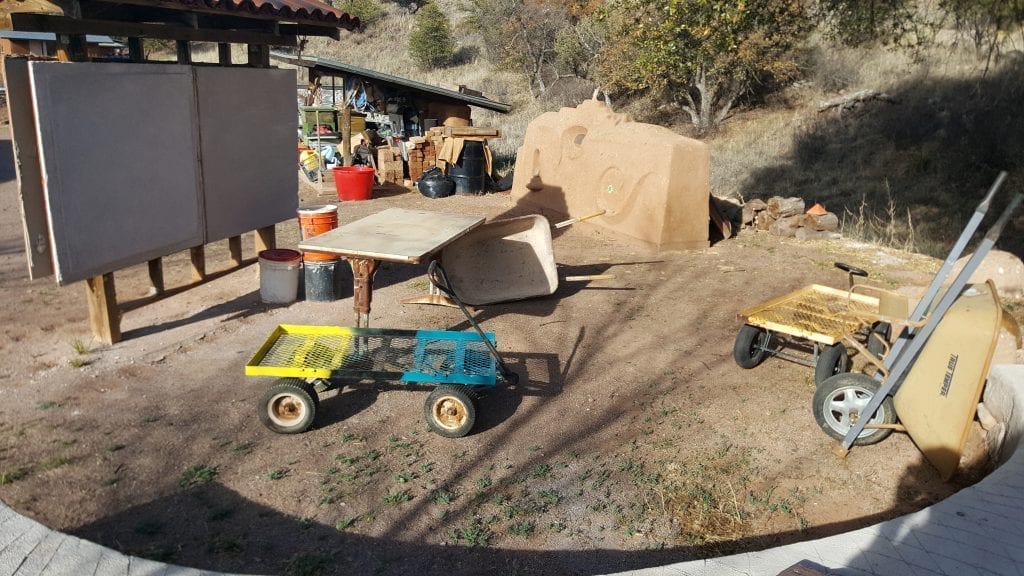 On the back side of this outdoor space were some cob oven domes that were drying in the sun.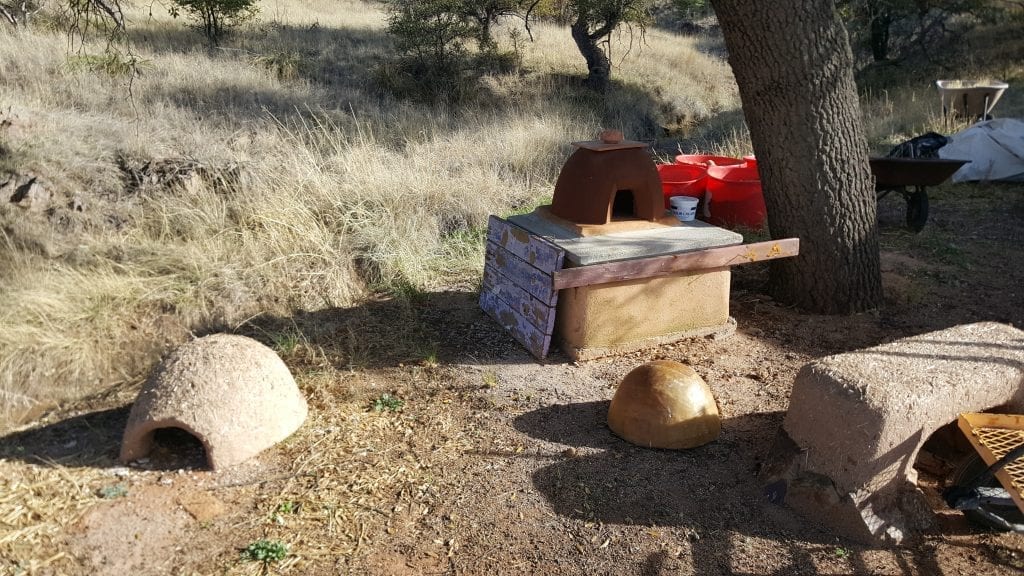 One of the more recent aesthetic additions to the Canelo Project is this cob bench, one of the many benches and walls built as part of workshops. Unlike the other cob benches I saw at my other destinations and communities – this one had spaces for insect hotels to attract bugs and pollinators! (Cob benches are a community must have!)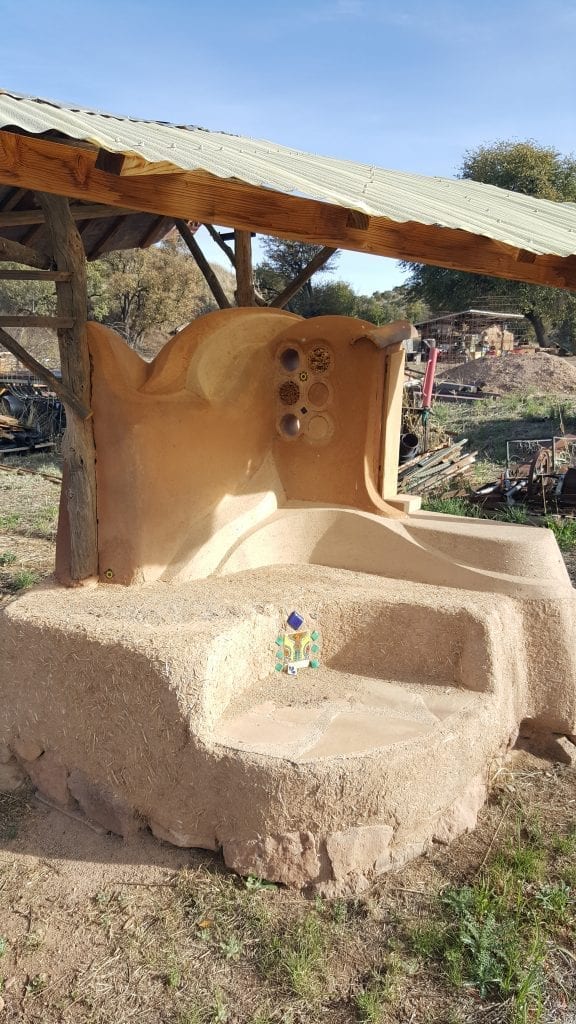 Including the building projects, I also got to see several experimental homes and huts that could replicated at low to no cost around the world.
The Cottage at the Canelo Project is a 'post and beam' style strawbale structure, complete with a wrap-around porch and interior loft!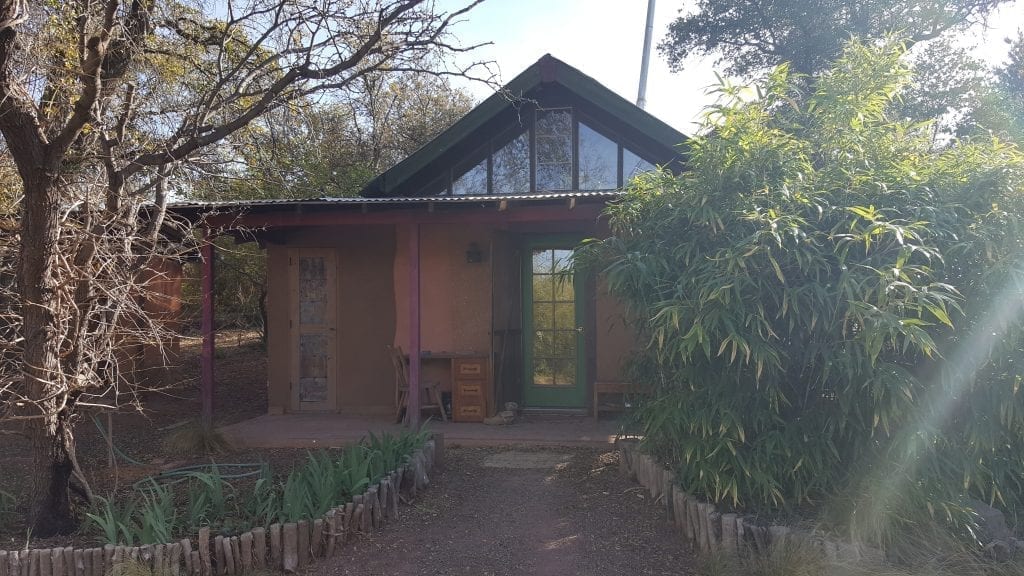 The blue agave thatched house was a structure that could be replicated across the world!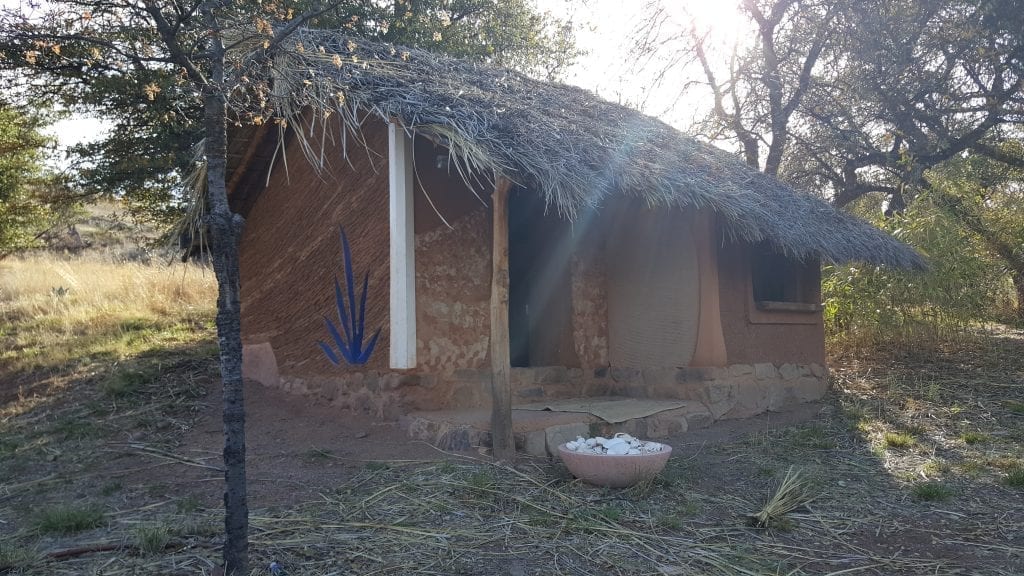 On the far side of the complex was the children's and spouses Don Juan Compound, where I met one of the husbands who gave me permission to look inside of the houses and bath areas.
Here's an exterior view of Don Juan's House, occupied by one of Bill's married children.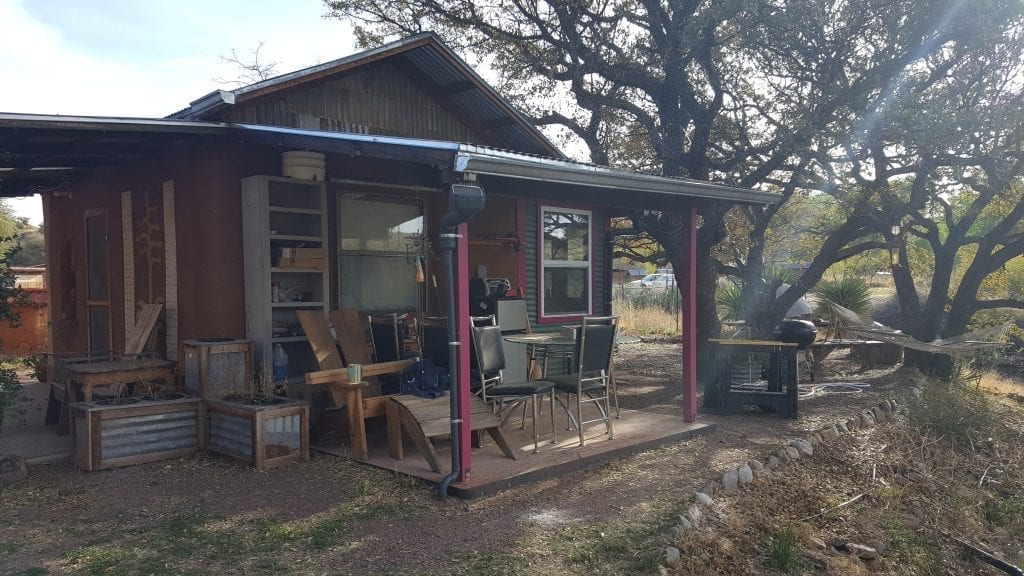 An interior view of the one-bedroom house with plastered walls!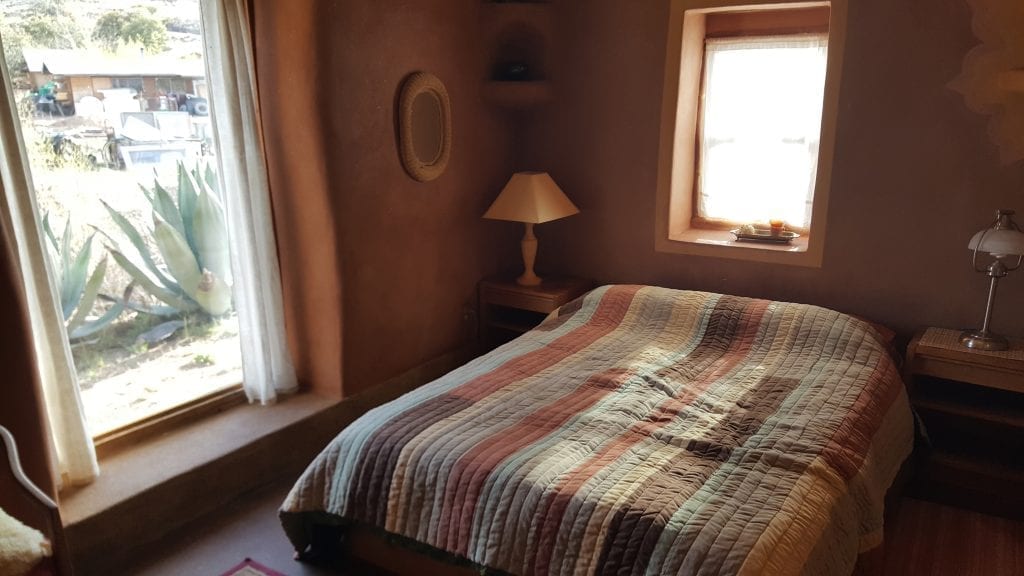 An interior view of the built-in desk and storage nooks!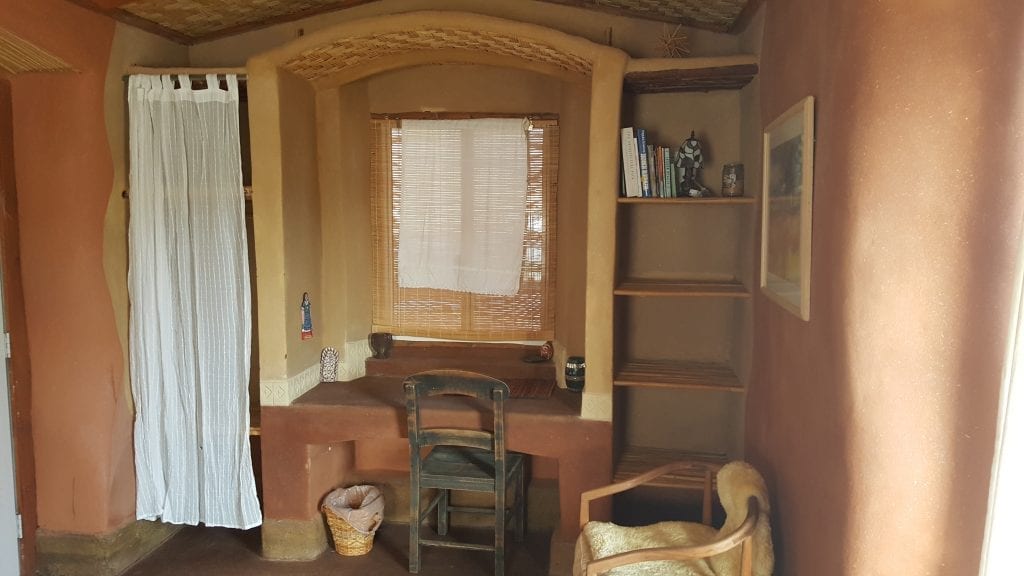 I also got to see inside of one of the bathrooms, which has a special lime plastered shower that water resistant!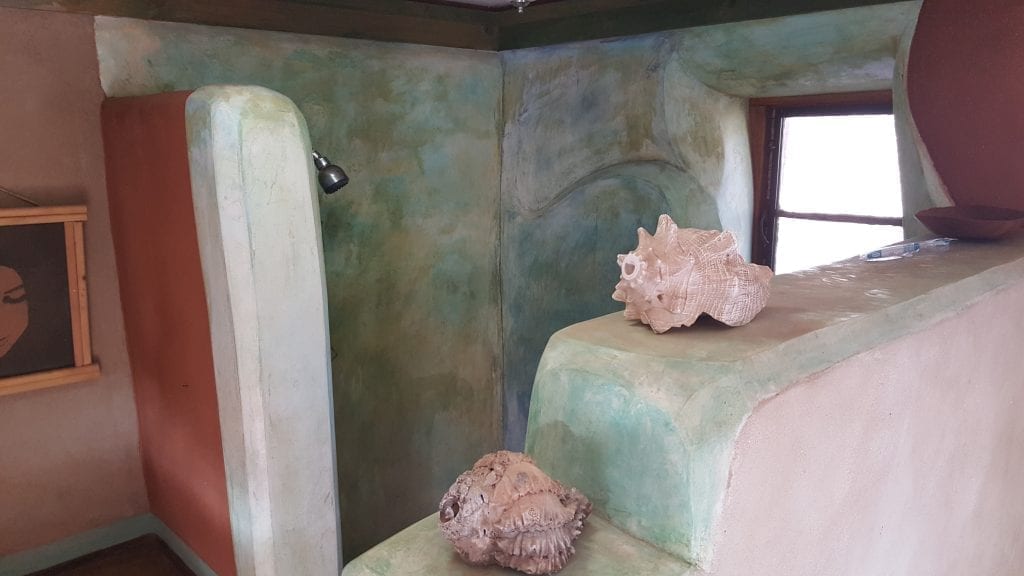 A view of the bathroom sink with gravel floors!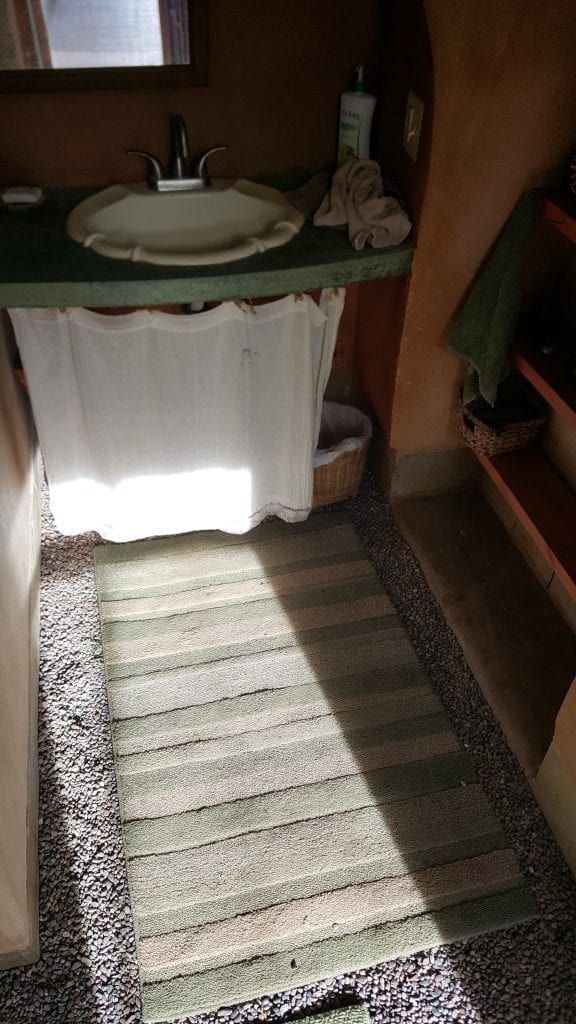 Further down the property was a new construction project for a standalone strawbale private guest house, Poems House, also used for upcoming workshops – which I thought was pretty cool to see a house in-progress at various stages of completion.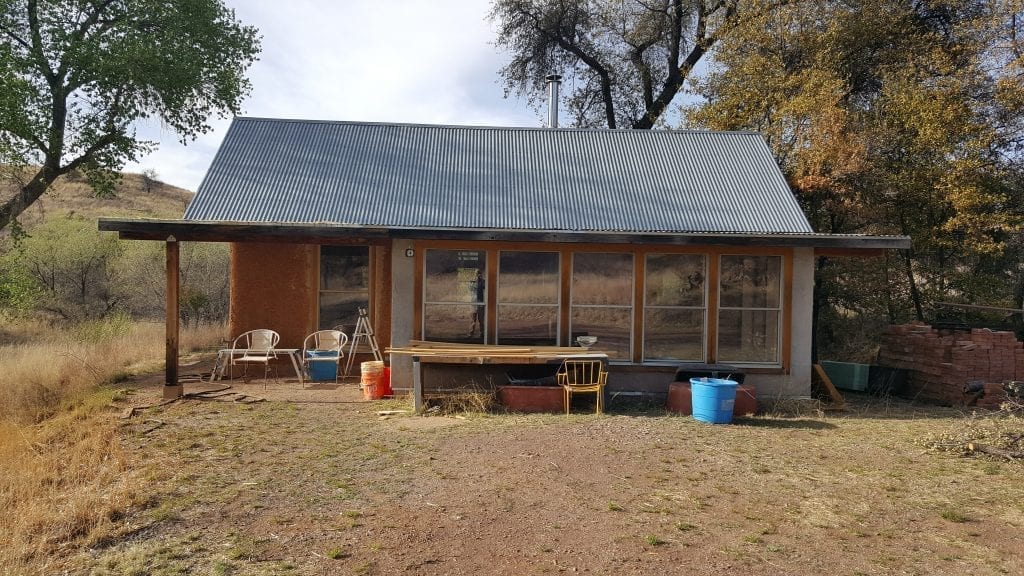 Here's an interior view of the sunroom with a gravel floor!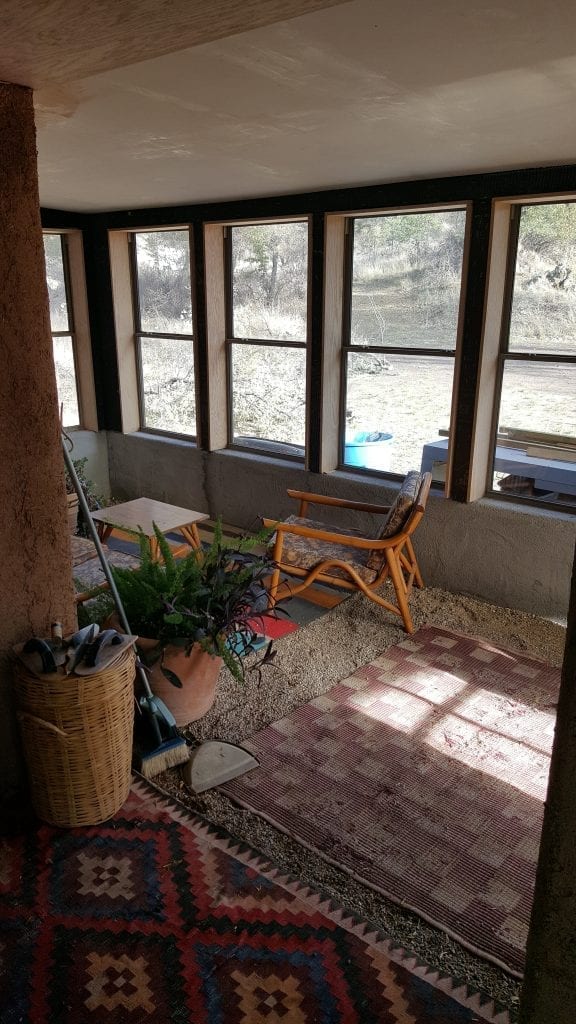 Another view inside the building of the bedroom loft and living room heated by a wood-burning stove.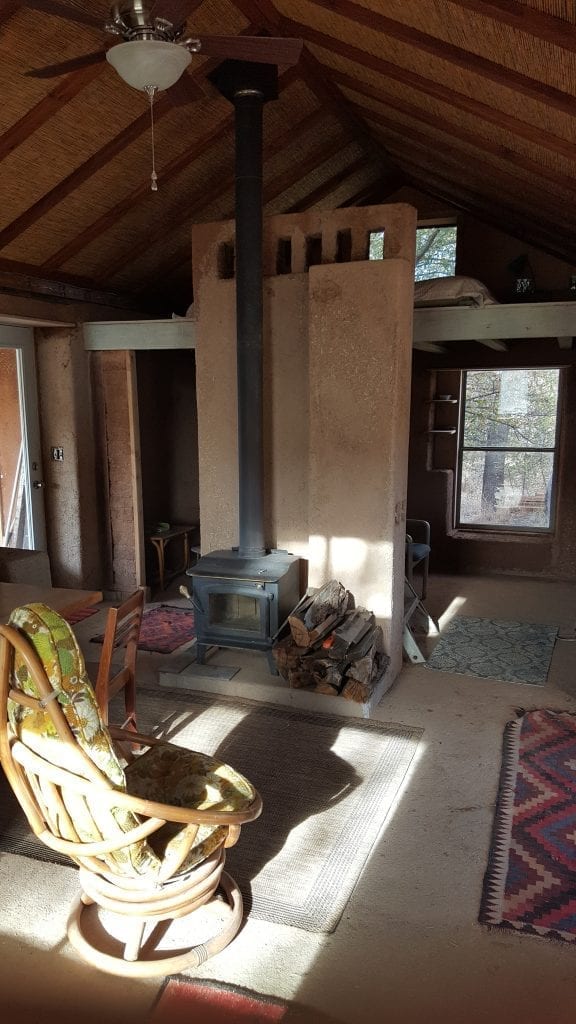 I circled back to talk to Bill about what I saw, and he explained what some of the structures were and the history behind them, including the onsite agave fermentation pits for making tequila! I really liked talking with Bill because he is a very cultured, spiritual and seasoned soul. And I especially admire how he built this community with the primary goal for his family, instead of building something for the larger public to join, but still offering public workshops and education courses.
After I talked with Bill, I walked toward the parking lot and came across this strawbale studio. Taking it all in, I feel like this picture encompasses my entire eco-road trip adventure because in it there's a camping hammock, a terraced permaculture garden, a naturally built home, garden art decor, and a Soleri windbell – all of which were common themes of my travels!