Permaculture Skills Center & Frogsong Cohousing – Summary:
Who: Erik Ohlsen; Anila Roberts
What: Stumbled across the Permaculture Skills Center; Stopped by Cali Kind Clothing Co. tie-dye shop; Visited Frogsong Cohousing community
When: Wednesday, March 28
Where: Sebastopol, CA; Cotati, CA
Quick Resources:
My Route:
Planning my Eco-Inspired Road Trip Blog Post
My Travel Story:
Leaving Occidental Arts & Ecology Center (OAEC) that afternoon after volunteering in the plant nursery, I headed towards my second planned destination – FrogSong Cohousing Community in Cotati, CA.
However, I was unaware of how saturated the area was with permaculture, ecology and sustainability – not only in terms of businesses and organizations, but also as the local and cultural mindsets.
Which is how I coincidentally stumbled on the Permaculture Skills Center, which I had followed online while I was initially learning about permaculture, and its onsite partner company, Permaculture Artisans.
"The Permaculture Skills Center is a 5-acre demonstration site and educational institution dedicated to sharing regenerative land development and management practices. We are located in the Laguna de Santa Rosa watershed just south of Sebastopol, in Sonoma County, California. The site is also the home of our partner organization, Permaculture Artisans.
This site began as a neglected, yet fertile farmland and has been under restoration and cultivation since it was purchased in winter 2012.  Since purchasing the land, we have installed over 2000 feet of storm water harvesting earthworks, four habitat ponds with constructed wetlands and two acres of rotational grazing pasture lined with contour hedgerows. We planted 250+ heirloom fruit and nut trees with hundreds of medicinal, soil building, insect attracting and edible plants as an understory. We now have one acre of vegetables, strawberries and cut flowers, plus an outdoor classroom and market stand." – Permaculture Skill Center Webpage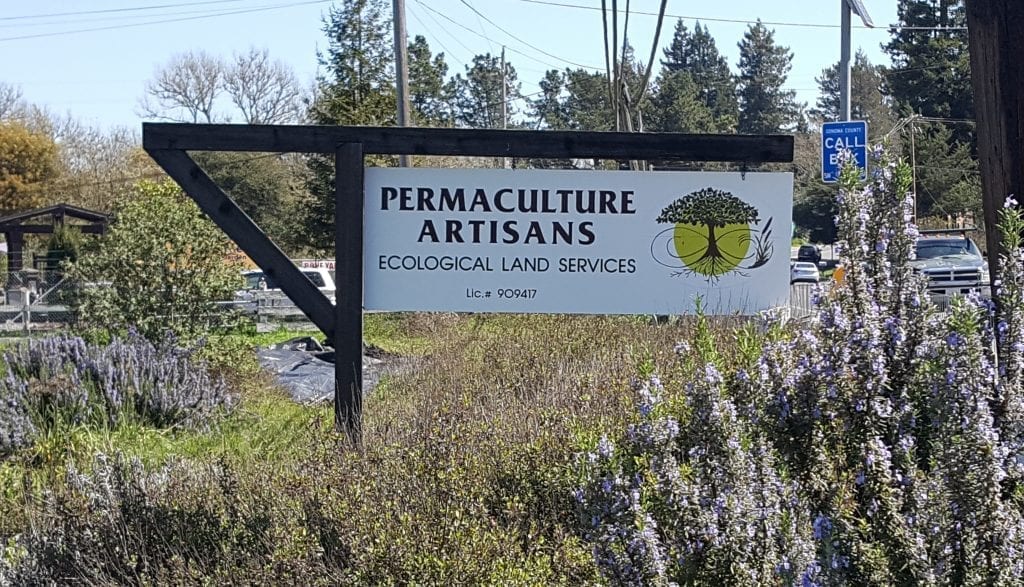 During my planning, I managed to include some buffer time between OAEC and FrongSong. So I pulled over into the Permaculture Skills Center and went inside to see what I could learn.
None of the instructors were onsite, like co-founder and co-director Erik Ohlsen, but the office manager was, and she was really helpful by answering my questions and letting me explore the grounds.
"Erik is the Executive Director of the Permaculture Skills Center, a vocational training school which offers advanced training in ecological design, landscaping, farming and land stewardship. He is also the Founder/Principal at Permaculture Artisans, a fully licensed contracting firm specializing in the design and installation of ecological landscapes and farms throughout California." – Erik Ohlsen Bio Webpage
After visiting with the office manager, I toured the center grounds and checked out some of their educational classrooms and demonstration areas.
This is the rear courtyard behind the main offices next to the employee/student parking lot, which features a picnic table and a small fire pit.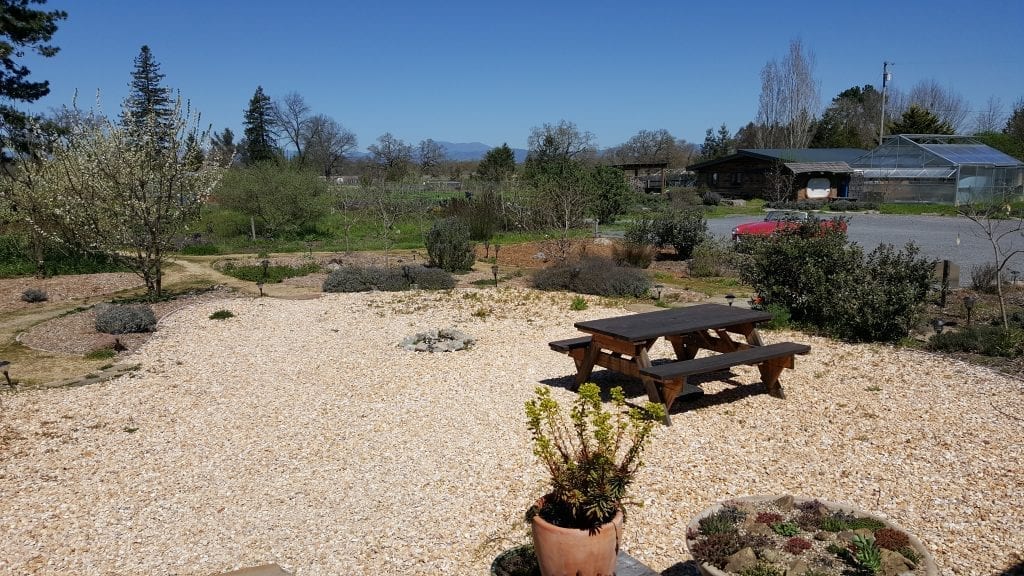 This covered shed capitalizes on the permaculture principle of "stacking functions," meaning it serves as a tool shed, a tinkering workshop, a covered outdoor classroom, the farmstand market headquarters, as well as an advertising structure!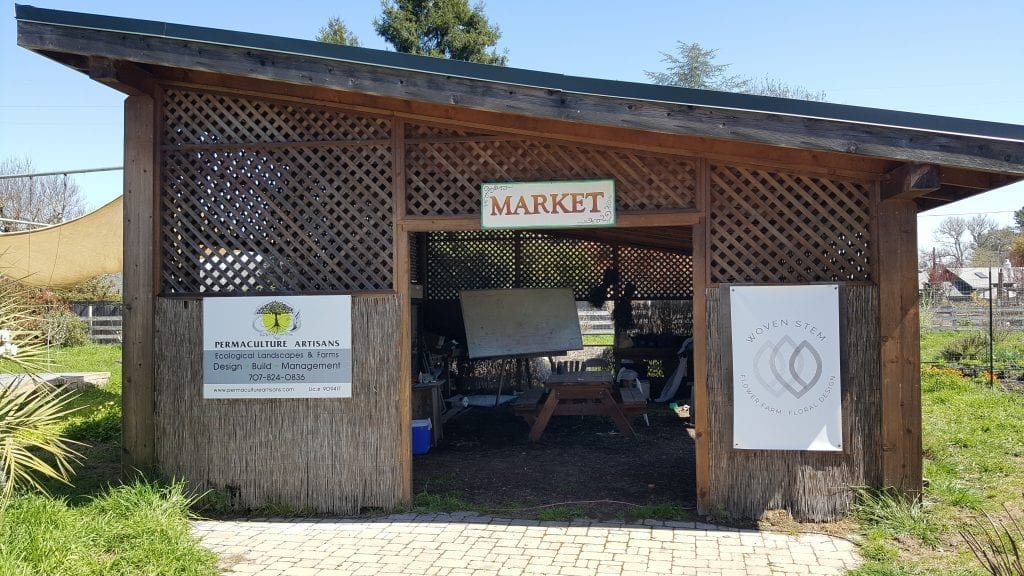 Gardening fields that are shared by Permaculture Skills Center and Permaculture Artisans, with a small glimpse of one of the onsite ponds in the bottom corner.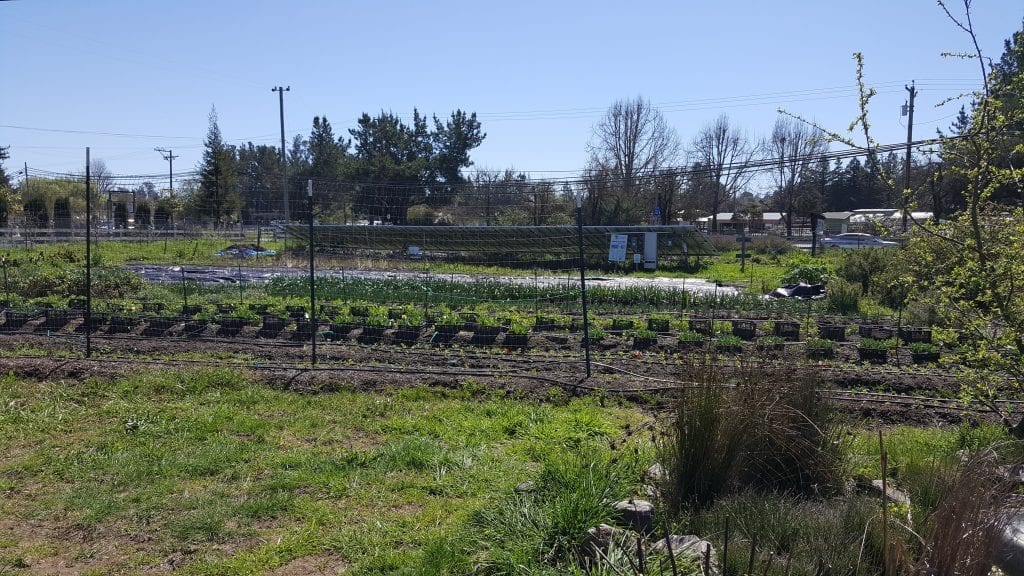 The outdoor classroom situated next to the fire pit circle is also used for cooking produce for events and educational courses. The large barn next to the outdoor classroom serves as the large indoor classrooms for onsite courses and events.
Like any good ecological practice center, there is also a decorative cob bench built by prior students!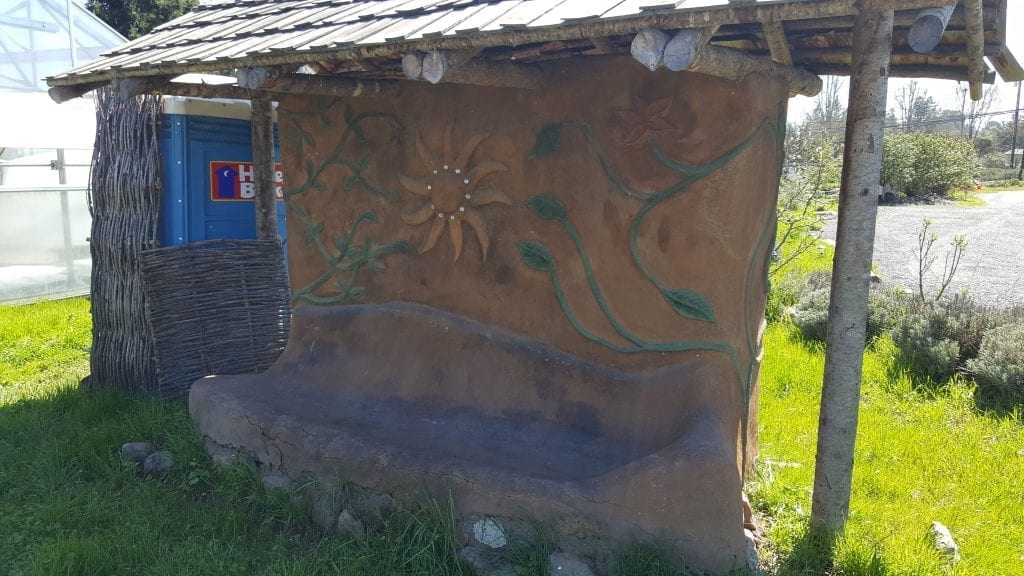 A view of the growing fields, as well as the various onsite greenhouses and the work tool/trailer storage storage area situated behind the offices and the office courtyard.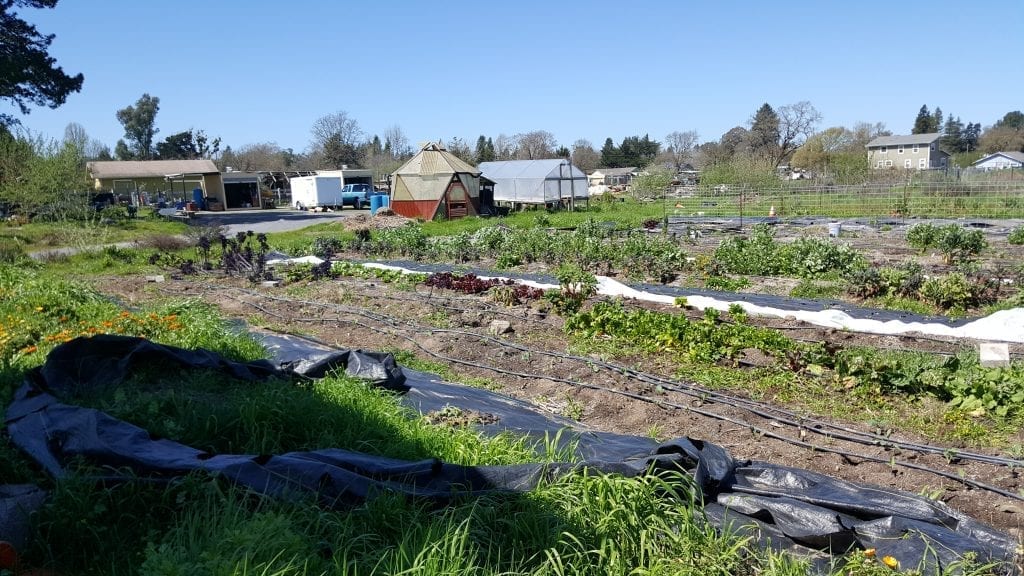 Here's a short clip of the rear fields of the Permaculture Skills Center.
Before I left the Permaculture Skills Center, I circled back to the offices to thank them for allowing me to visit and tour the property.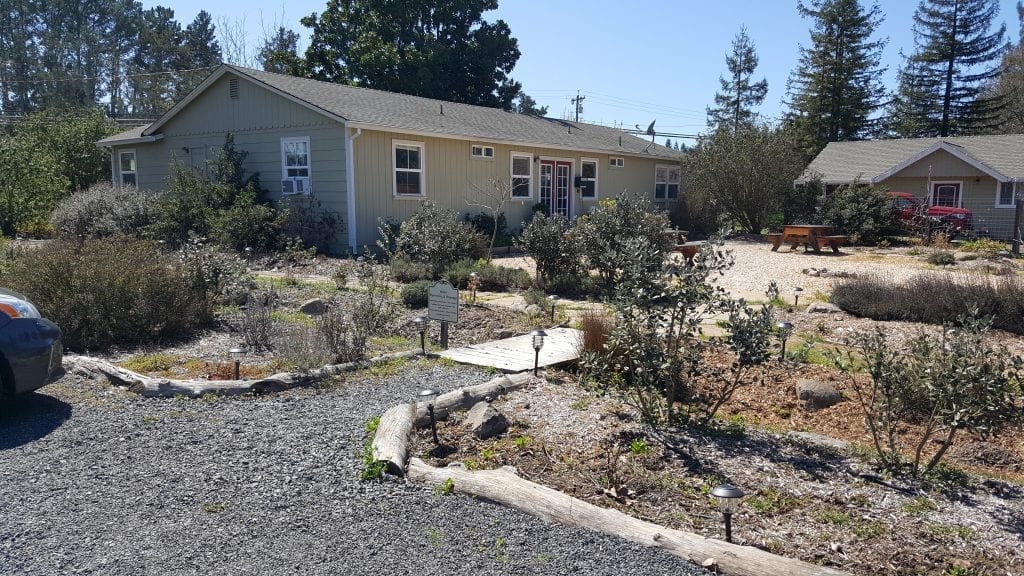 On my way out, a book rack caught my eye – which were all books written by Erik Ohlsen himself, including "StoryScapes," ecological children's' books and coloring books for all ages. So since I didn't get to meet Erik in person, I bought his book – "Activate Your Joy."
I had some more time to kill before arriving at FrogSong, which I spent at Cali Kind Clothing Company – a family owned tie dye clothing company, selling one-of-a-kind handmade clothing and accessories.
I really appreciated the artistic designs and vintage Grateful Dead and Bob Marley t-shirts, as it reminded me of my tie-dying days at Lost Valley and the general culture of Oregon.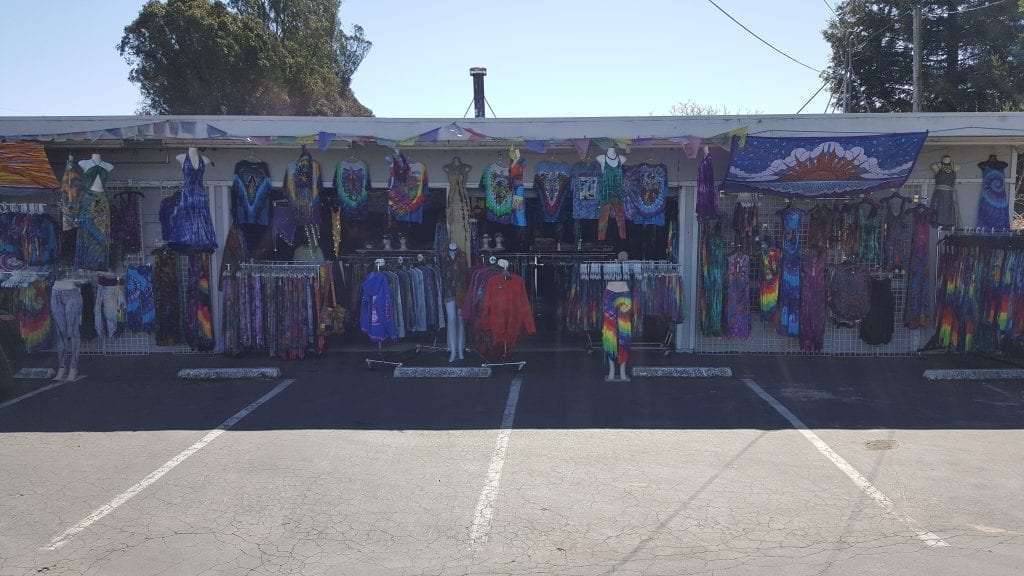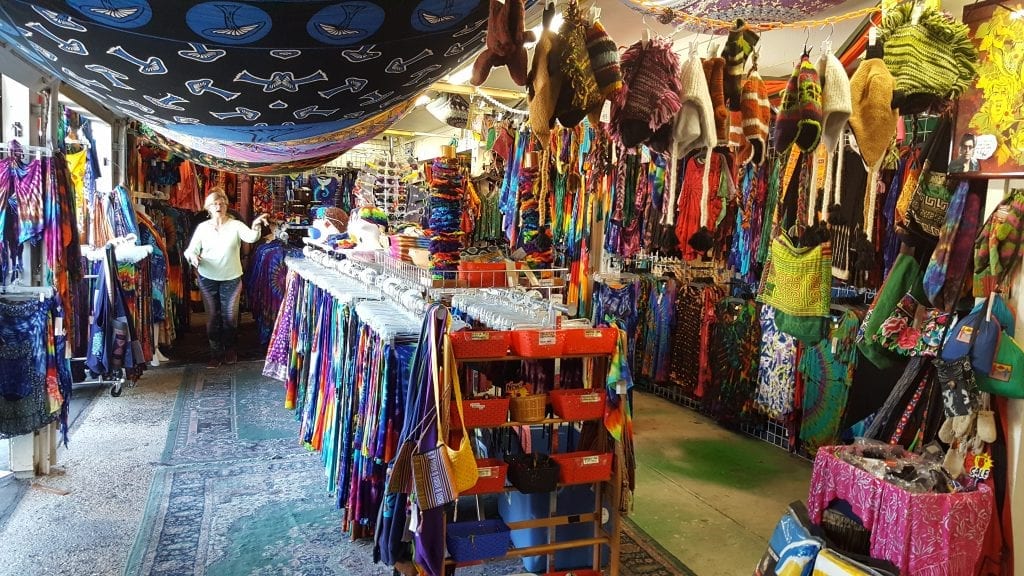 FrogSong Cohousing Community:
After my unscheduled pit-stops, I arrived at my second scheduled stop for the day at FrogSong Cohousing Community in Cotati.
"FROGSONG COHOUSING is an intentional community of 30 households located in Cotati, California, a small city roughly one hour north of San Francisco.
Though we still have private lives, we've chosen to reside in this tightly knit neighborhood. We share 12-16 meals per month in our common house, which also provides laundry facilities and meeting space. We work together to maintain our lush landscape. We govern ourselves by consensus and resolve our conflicts through dialogue. Each household occupies a private on-site residence with its own kitchen. The residences are mostly owner-occupied, not rentals. FrogSong is not a commune or co-op, nor are we affiliated with any religious organization." – FrogSong Webpage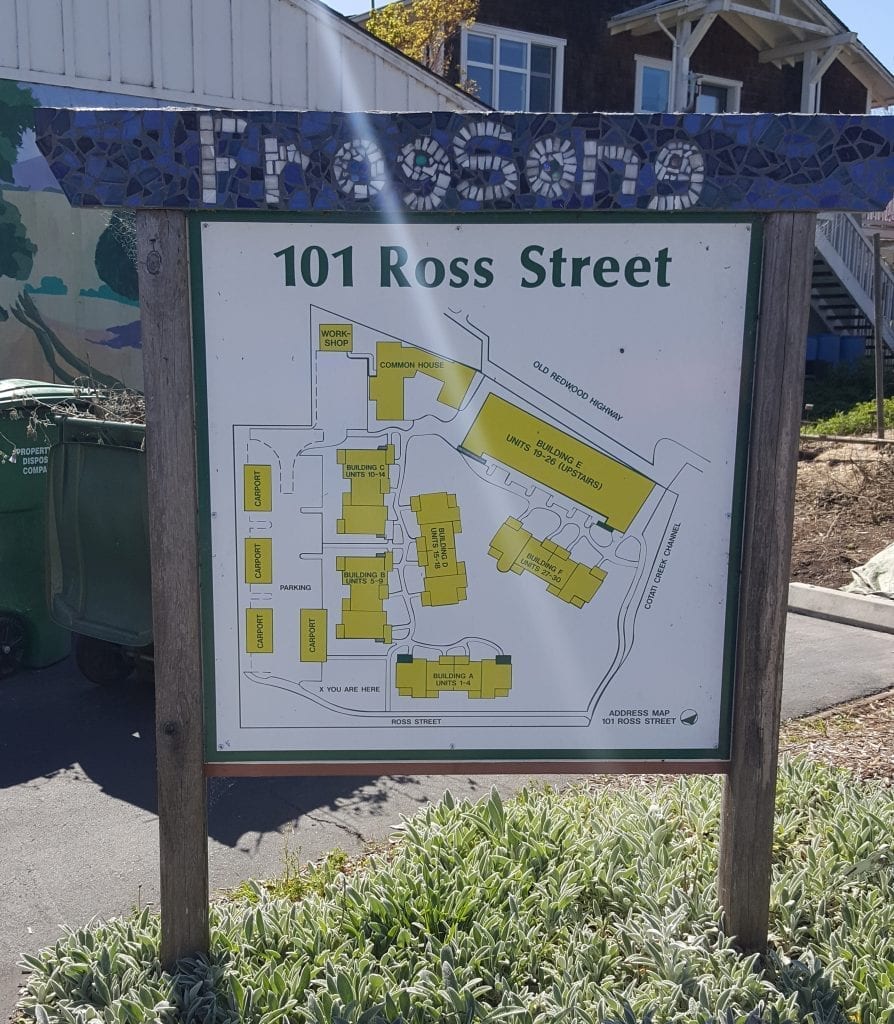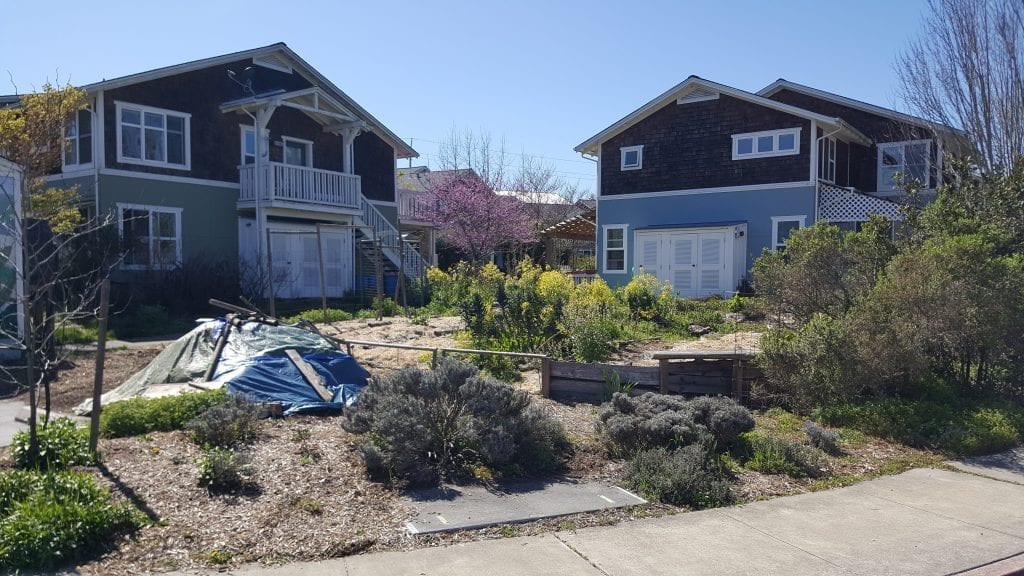 I met my hostess, Anila Roberts, next to the back entrance near the communal parking lot, and she took me on a tour of the community.
(See the FrongSong FAQ Webpage and the Photo Gallery Webpage for more detailed information & images.)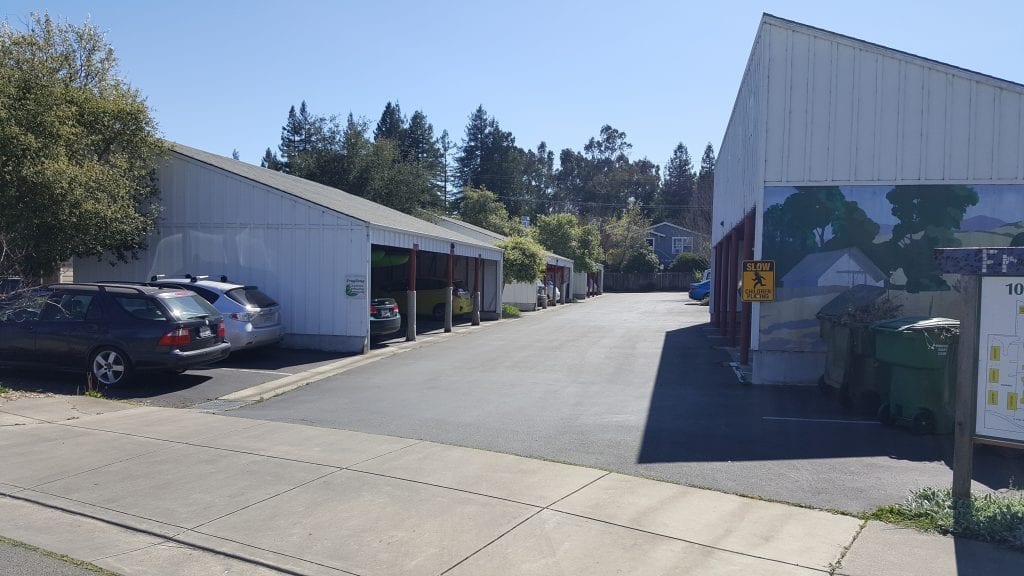 This was the initial community courtyard we walked into from the street. As you can see, it is beautifully landscaped, offers plenty of seating anywhere you want to sit, and the kids enjoy this space for playing with their toys.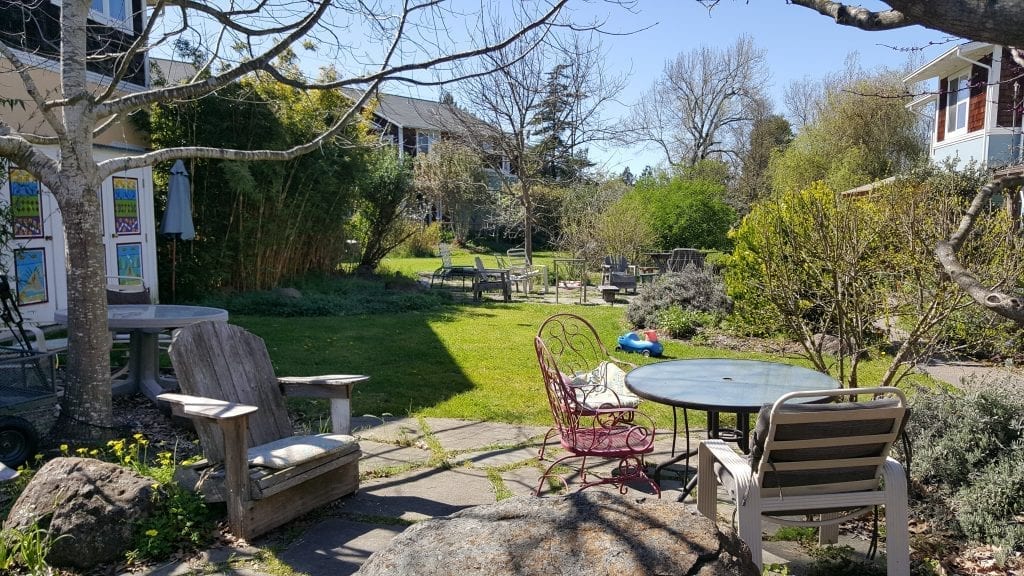 Near the main community building is this artistic jungle-gym, aka "the tot lot," which resembles a water tower. It was made by a local artist – Michael Christian, in June 2007. (His other works are very impressive too!)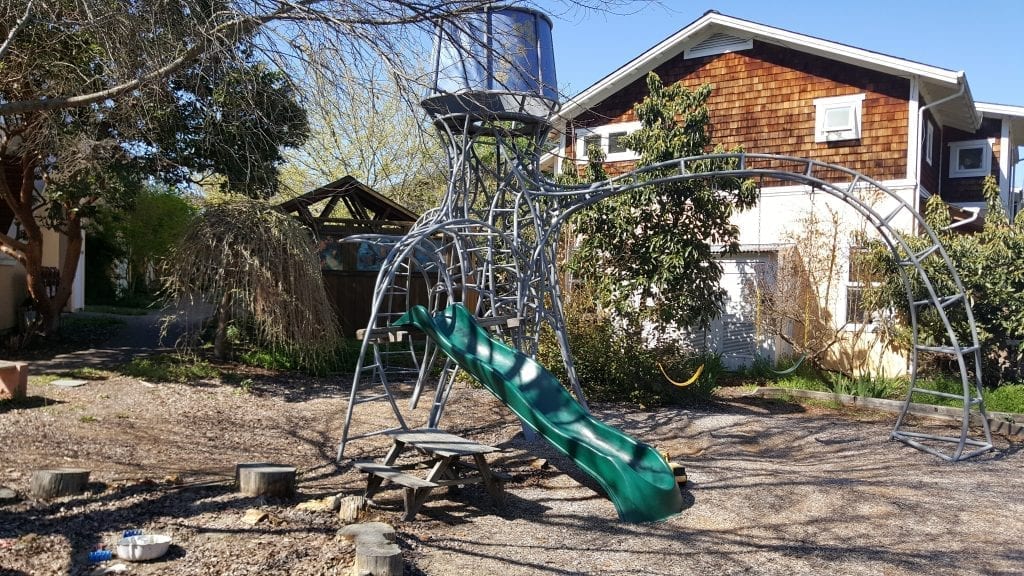 Here is the main courtyard and outdoor dining space near the community center, which includes plenty of seating, a ping pong table, and the pergola posts are decorated with tiles painted by residents.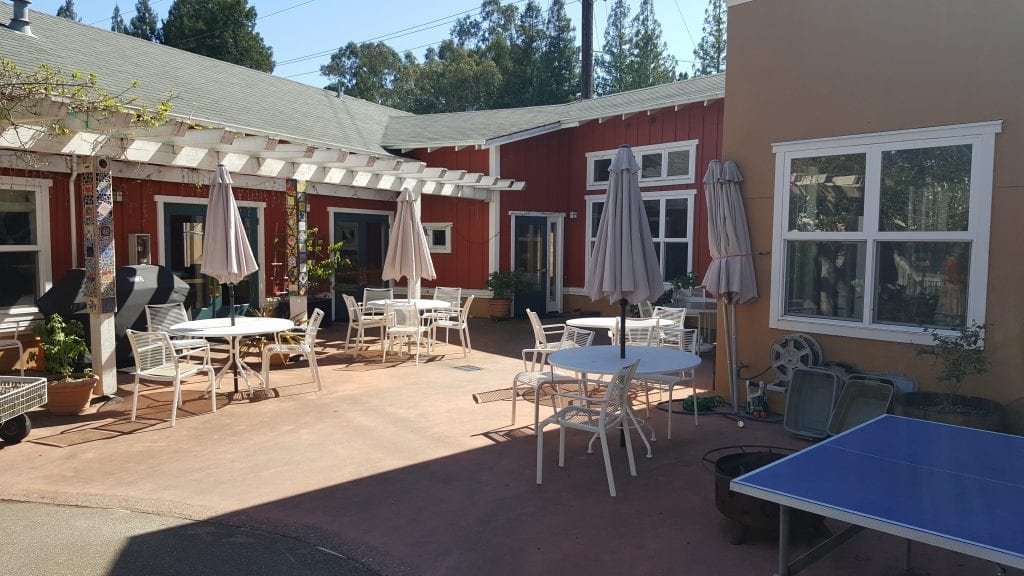 "How do "common meals" work? As of June 2014, we share 12 to 14 family-style meals a month in our common house, mostly dinners. A complete vegetarian meal is always offered, and we sometimes provide meat as an option. We use mostly organic ingredients.
A team of three, headed by a lead cook, prepares and serves each meal and cleans up afterward. Each adult signs up to serve on one meal team per month. Diners sign up for meals two to nine days in advance. With the help of a web-based system, we pay our share of ingredients costs for each meal we sign up to eat." — FrogSong FAQ Webpage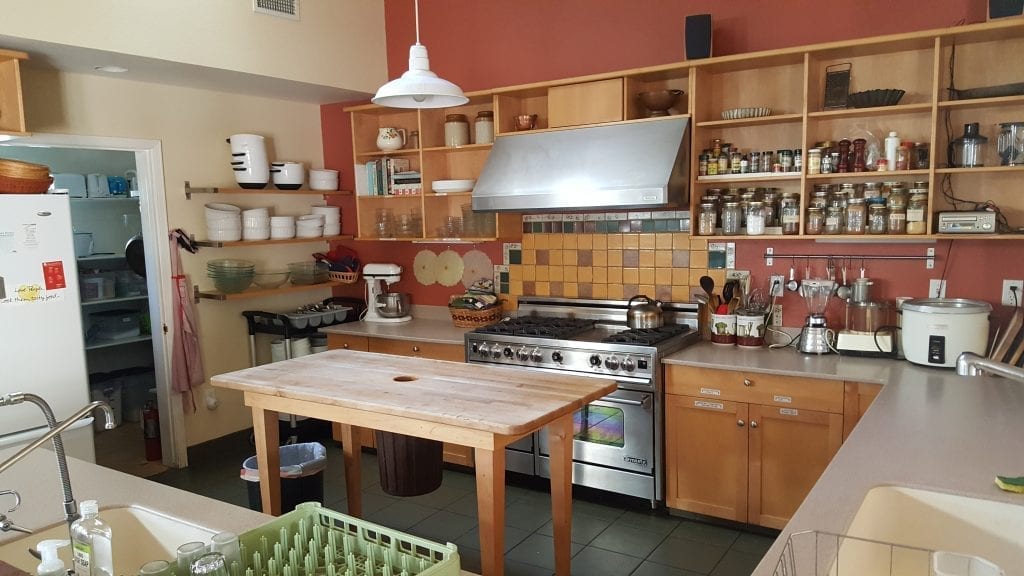 This mural is on the inside of the community center, on a hallway that leads to the playrooms and guest rooms. It was also painted by a local artist, depicting community life during multiple holiday seasons.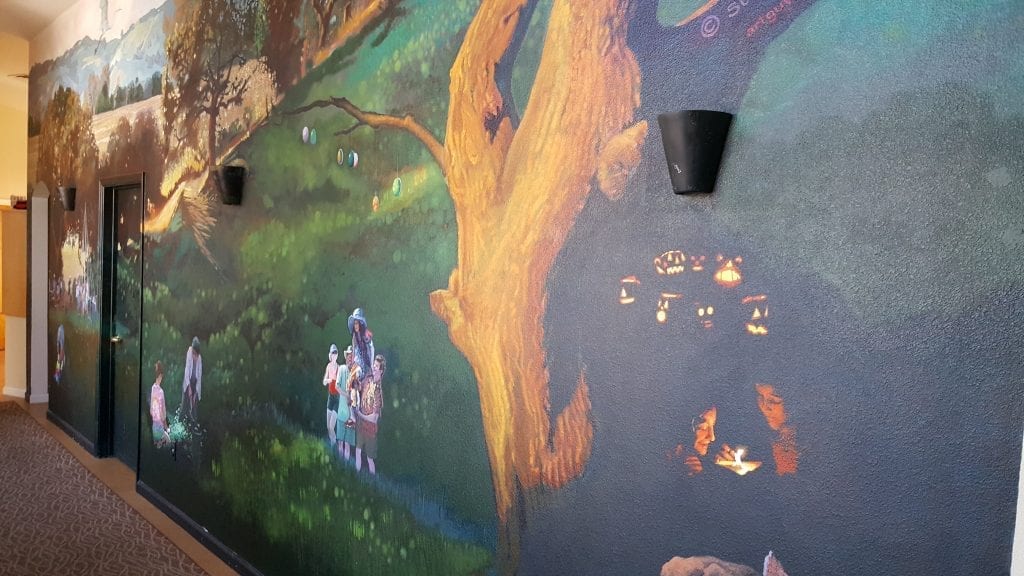 The kids playroom is two-floors, which has a Foosball table upstairs and movable mats downstairs – which can be easily moved if this space is used as a meeting room.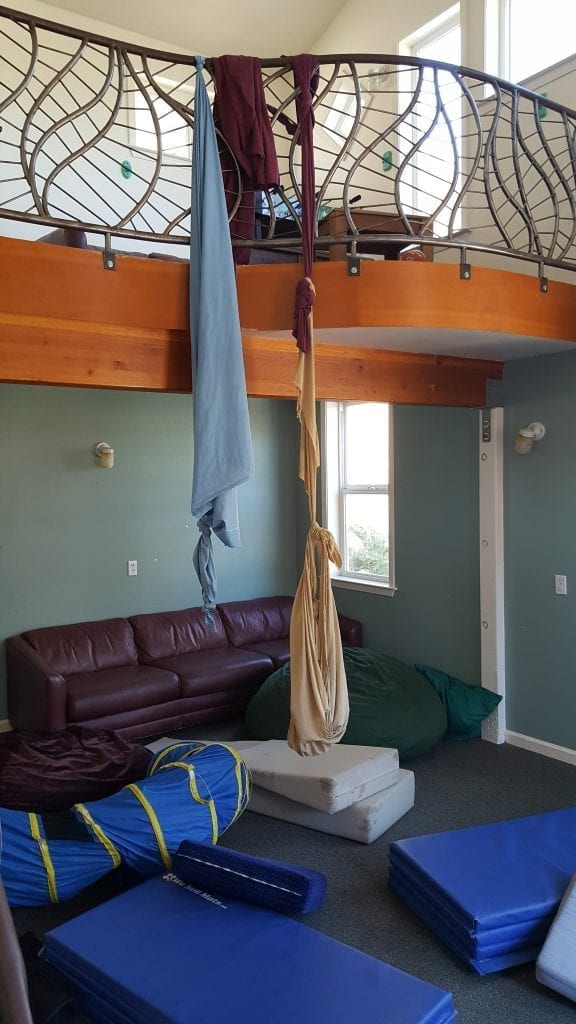 One of the most recent additions to the community was the in-ground hot tub, with high privacy walls for clothing optional hours.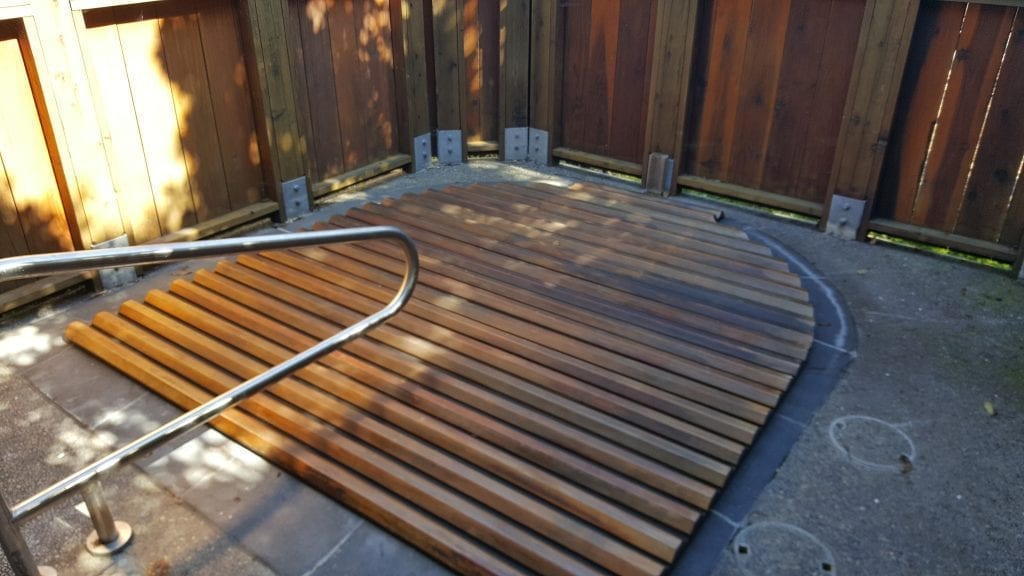 "We're a little different from many cohousing communities in that we were required by the city of Cotati to include 6700 square feet of retail space as part of our development. We decided to keep ownership of this retail space as a community. We now live next door to a handful of small businesses, which are locally owned." – FrogSong Cohousing Profile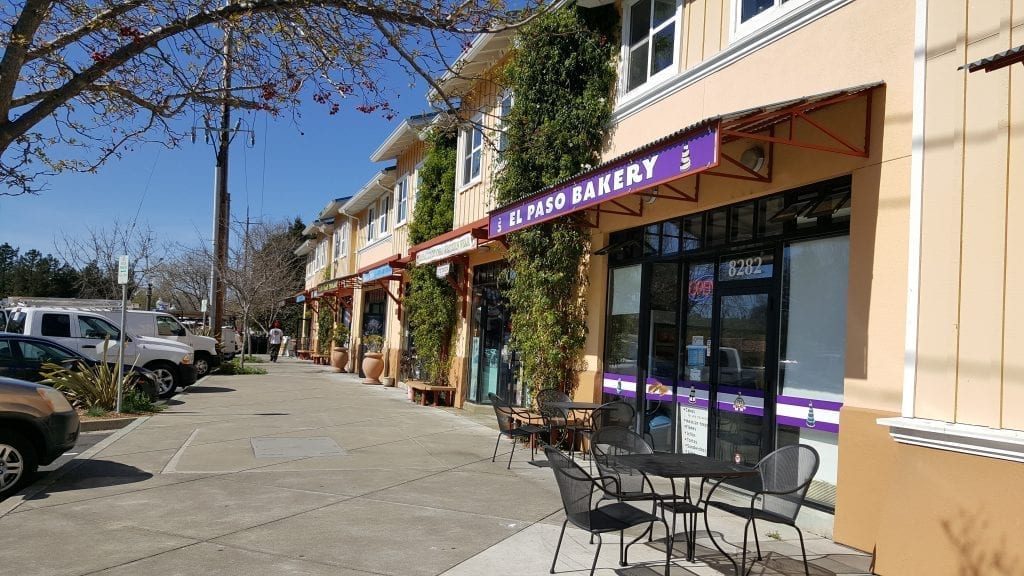 What I found very ingenious was the community's use of colored cards for voting/polling thoughts during the consensus process – which Anila explained has contributed to the efficiency of their meetings.
"What does "consensus" mean? Consensus is a decision-making process that empowers all participants to comment on proposed decisions and block them if necessary. Contrast this with voting, in which a majority can impose its will upon an objecting minority, with or without discussion." — FrogSong FAQ Webpage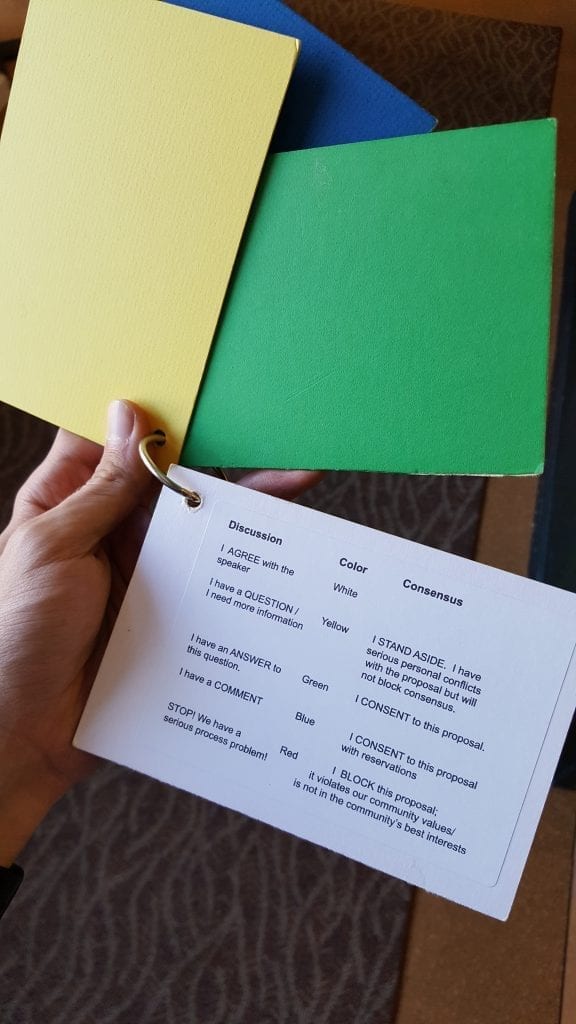 Here's a short clip from a view inside of the residential space.
Once we finished the tour of the communal spaces and commercial strip, Anila took me to her home where she lives with her partner, so I got to see one of the layout designs of the various townhomes.
After the private townhouse tour and saying my goodbyes, I left for my final scheduled stop for the day – Russian House #1 on the Russian River in Jenner, CA.
More about FrogSong Cohousing Community:
"Cohousing is a form of cooperative living that combines private residences with extensive common facilities. Cohousing recreates the sense of togetherness, physical security, and community found in an old-style neighborhood while providing the privacy and stability of individual home ownership.
Common characteristics of cohousing communities include:
• Residents participate in the planning and design of the community to ensure that it reflects their needs.
• The physical design creates a cohesive neighborhood and promotes individual interaction.
• Extensive common facilities designed to supplement the private living areas on a daily basis.
• Residents take responsibility for the ongoing management, cooperating to address their changing needs.
Cohousing architecture promotes interaction between individuals, breaking down the isolation typical of suburban developments while maintaining the privacy valued by most Americans. Individually owned homes cluster around common facilities, with automobiles relegated to the periphery." — FrogSong Webpage
FrogSong Cohousing from Community Solutions – Antioch student Leah Newton grew up in the FrogSong cohousing community in Northern California. She shares her story of life inside a co-housing village of 75 people