Meow Wolf – Summary: 
Who: N/A
What: Had my mind-blown at Meow Wolf
When: Monday, April 9
Where: Santa Fe, NM
Quick Resources:
My Route:
Planning my Eco-Inspired Road Trip Blog Post
My Travel Story:
I left Valverde Commons late in the afternoon, with enough time to get back to the Commons on the Alameda and eat dinner with the community – OR – check out Meow Wolf, an interactive art exhibit, which I stumbled across the day before. (I didn't regret my choice!)
"Meow Wolf is a Santa Fe, New Mexico based arts and entertainment group that established in 2008 as an art collective and is rapidly growing into a leader in the immersive art world.
The company is composed of nearly 200 artists across all disciplines including architecture, sculpture, painting, photography and video production, virtual and augmented reality, music and audio engineering, narrative writing, costuming and performance, and more. Basically everything.
Meow Wolf creates immersive, interactive experiences to transport audiences of all ages into fantastic realms of story and exploration. The group's first permanent installation, launched in March 2016 with support from Game Of Thrones creator George R.R. Martin, showcases the THEA Award-winning House of Eternal Return, where guests discover a multidimensional mystery house with secret passages, portals to magical worlds, climbing apparatus, and surreal, maximalist & mesmerizing art exhibits along with a children's learning center, top ten in the U.S. music venue and cafe area." – Facebook Page
I arrived at Meow Wolf right after the food trucks closed shop, but walked around the parking lot looking at the permanent statures, a word truck and snow cone shack.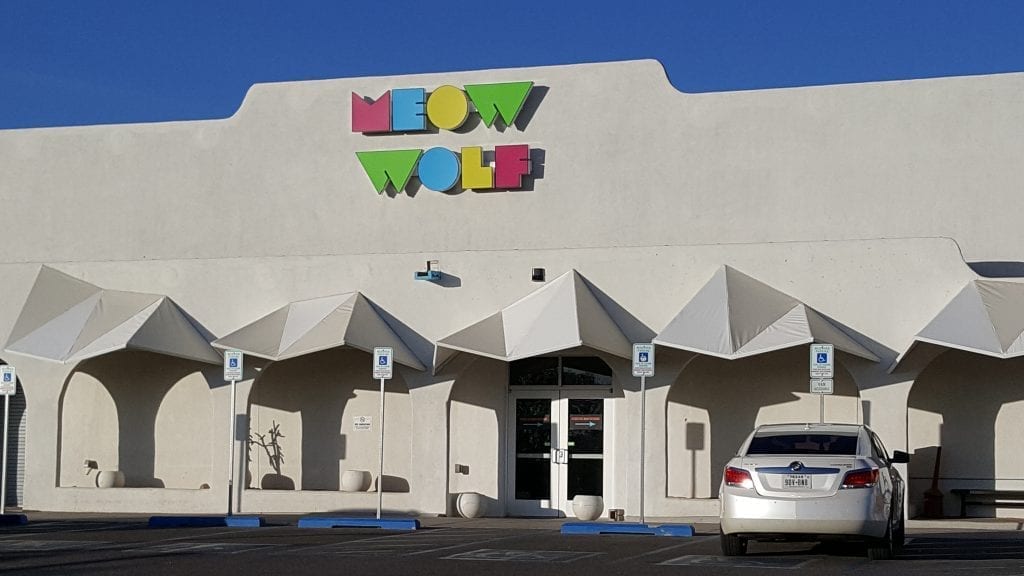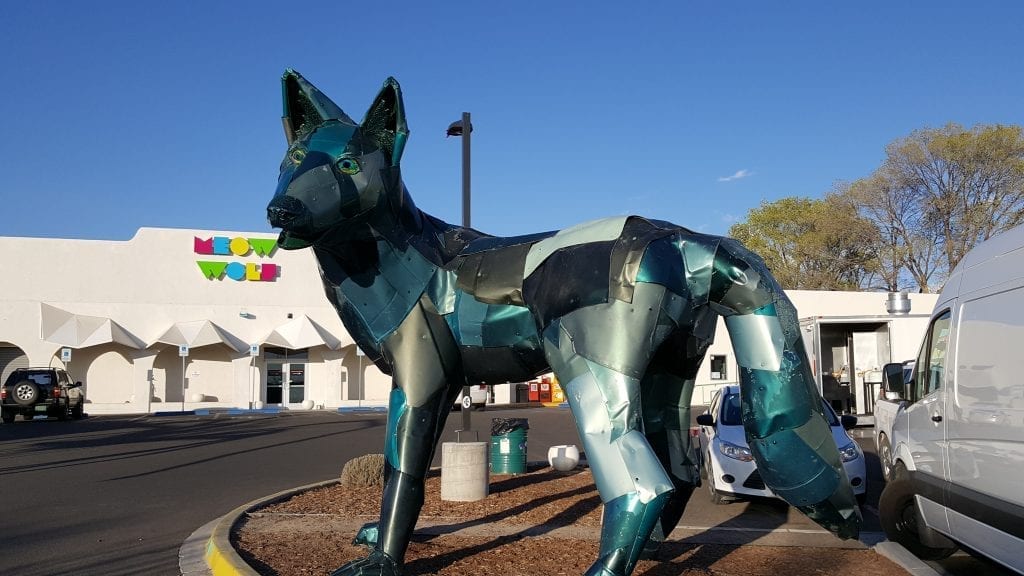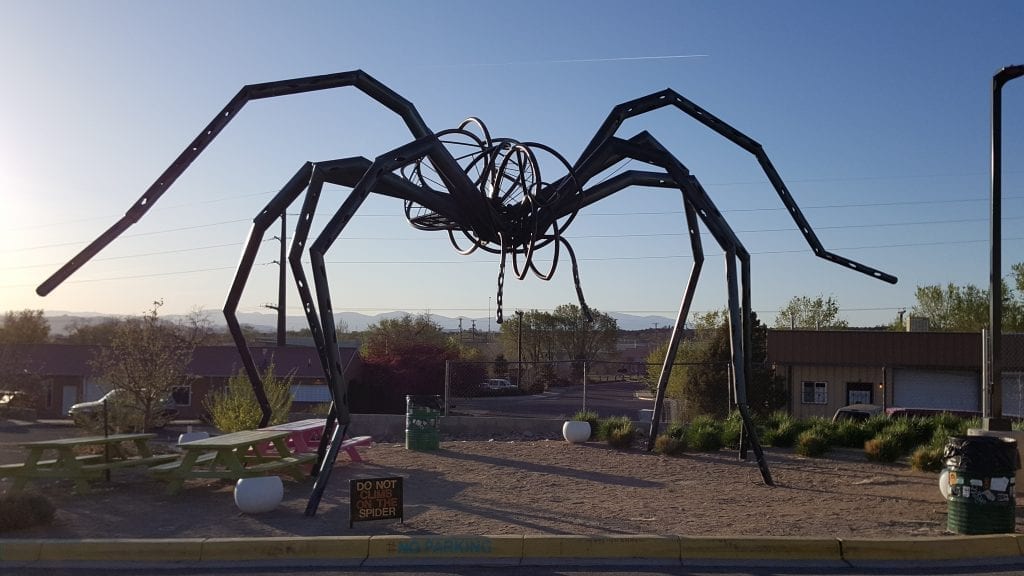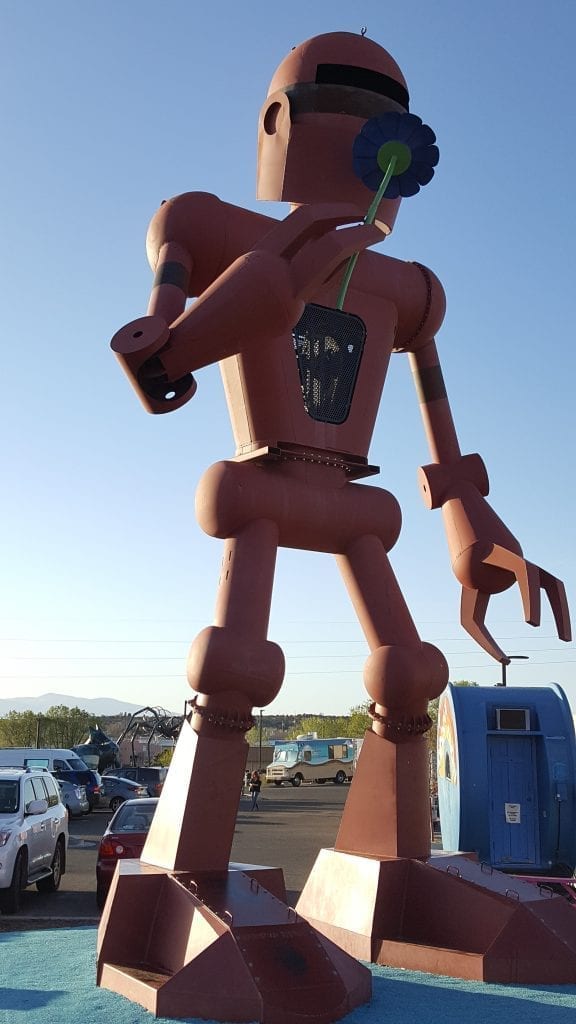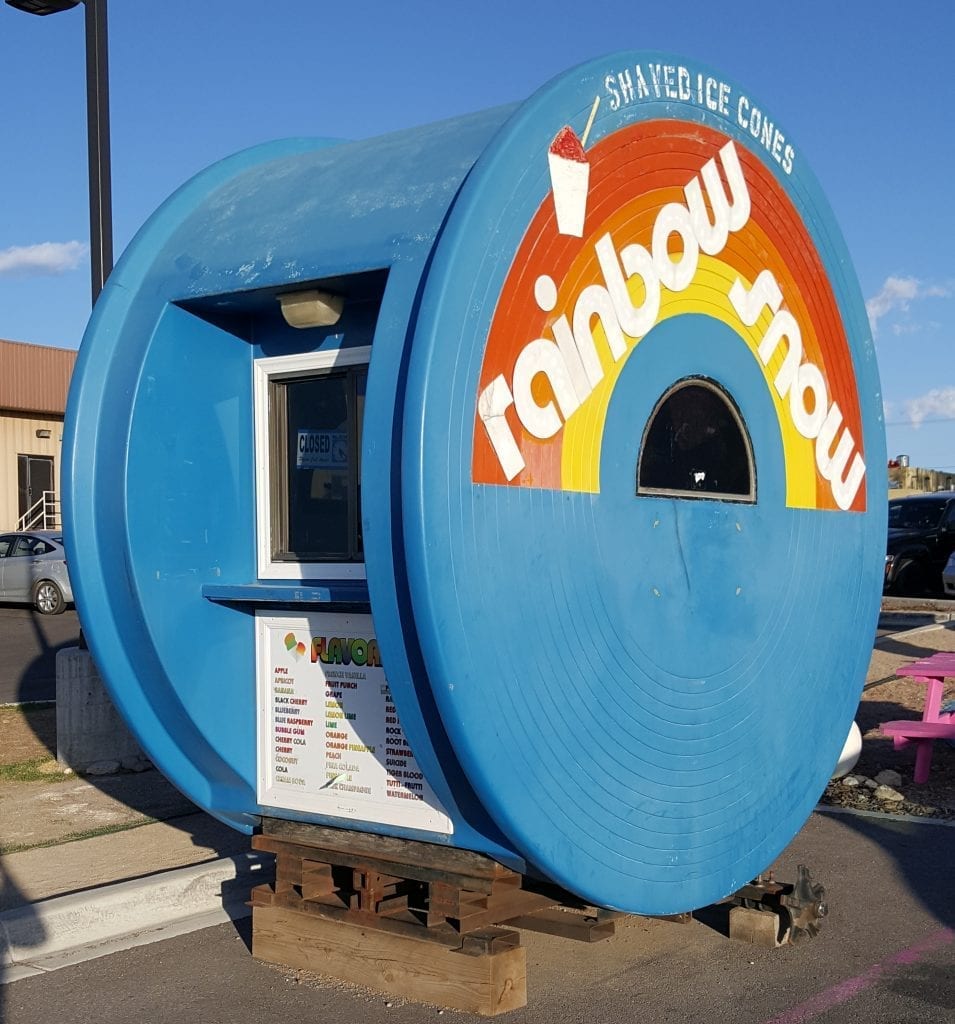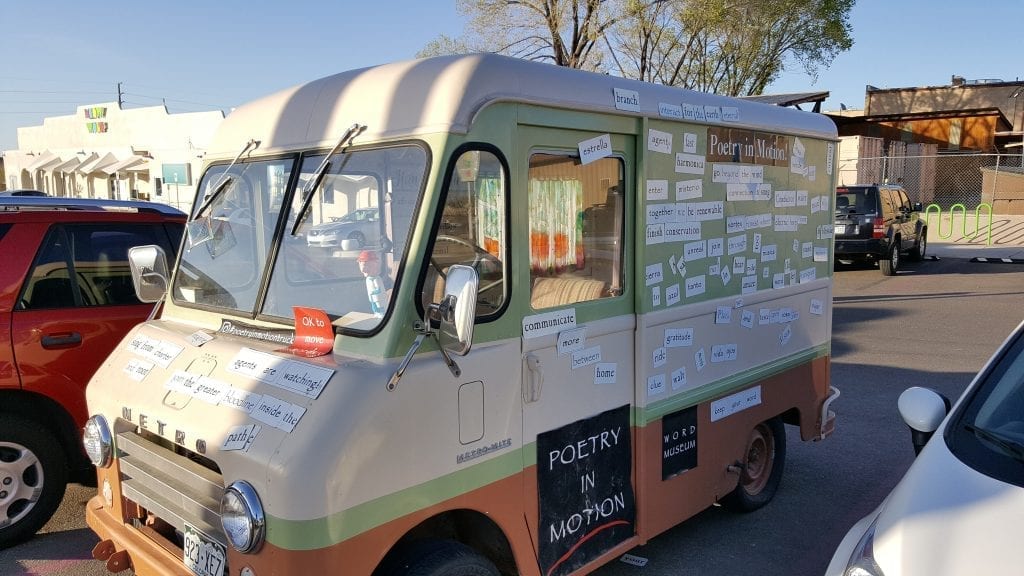 I walked in and immediately knew this was place was going to be interesting, especially since they sold color enhancing glasses!
After I got my ticket, I swung by the bathrooms (a hallway of artwork itself) and I walked by the CHIMERA maker studio.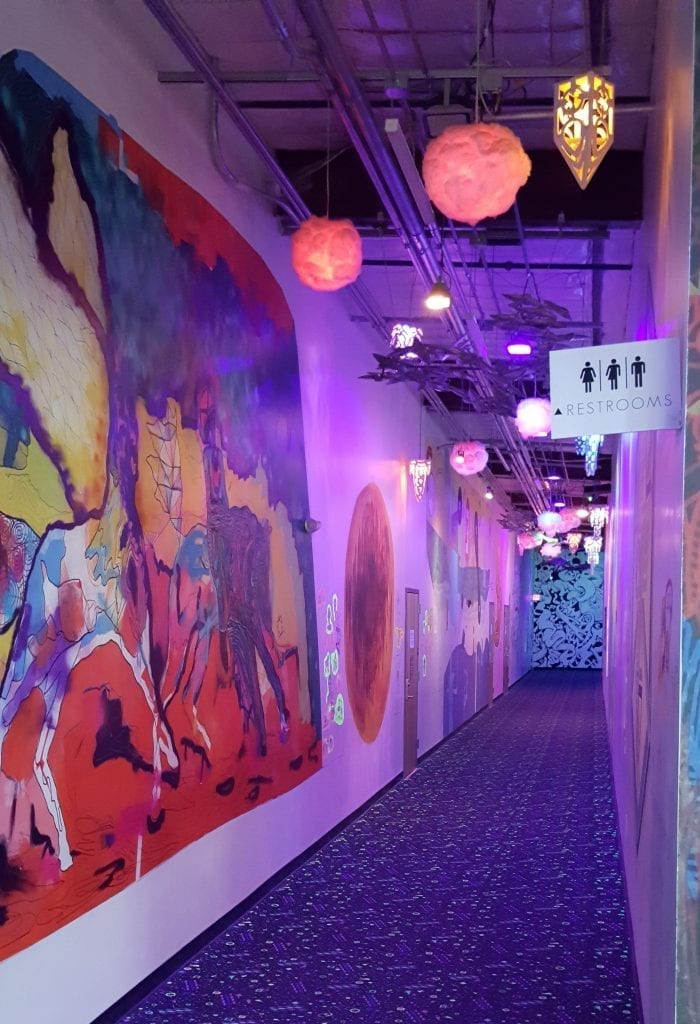 As I walked by the the maker studio sign, I saw Meow Wolf also has video-game tournaments in their free arcade!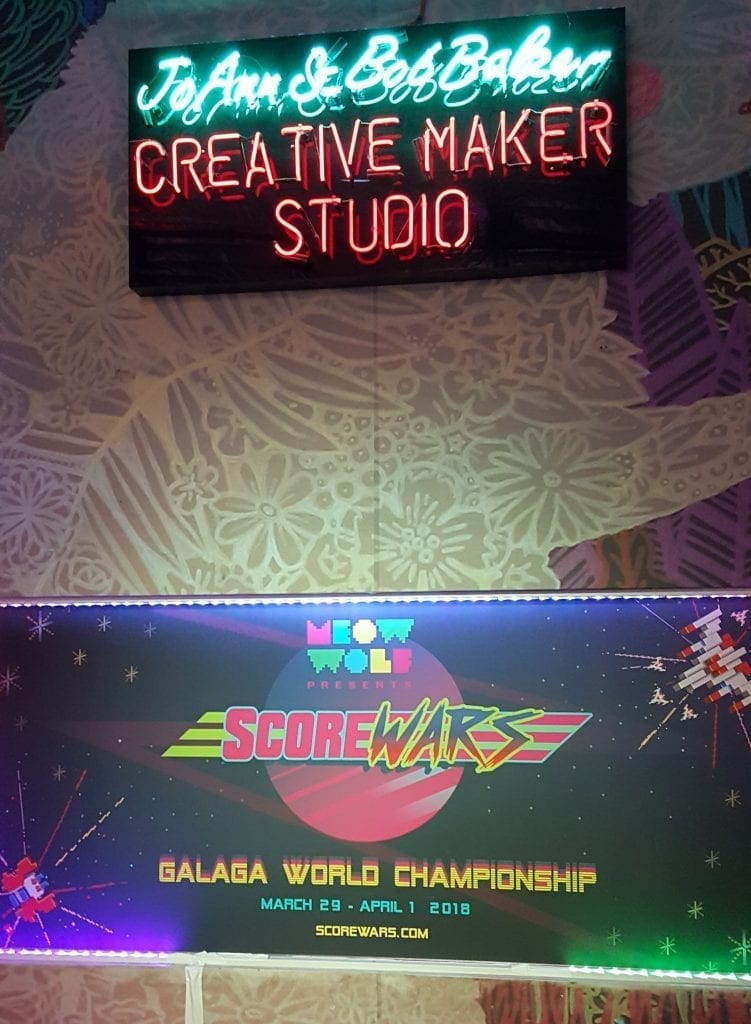 I entered the exhibit, which takes you to the front of a house! Everything is interactive, so I checked a nearby mailbox and read one of the letters. Another guest came up and asked if this was my first time here, as he read the other letter in the mailbox. I told him it was and put my letter back, hoping the one he was reading would give me more context. He said I'd really enjoy it and walked off with the letter! (I later found out that there are different levels of interaction, those for casual interaction and others for secret missions that require access to the internet!)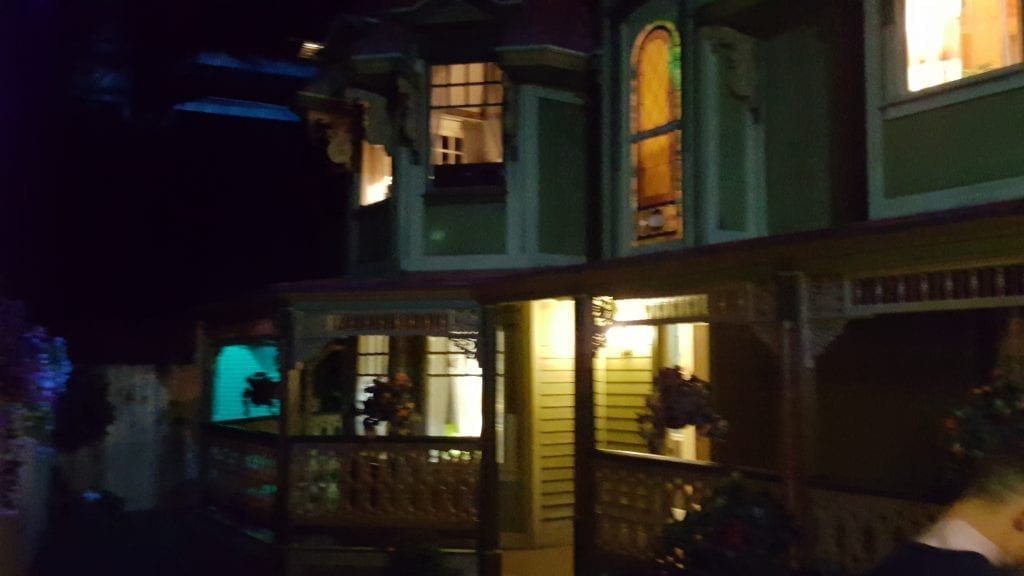 I went in the house, which started the mystery of what happened to the family – which only escalated in in mind-blowing detail and outer-edge thinking as I continued to read notes, watch home videos, flip through journals and photo albums of this fictional family and their hamster!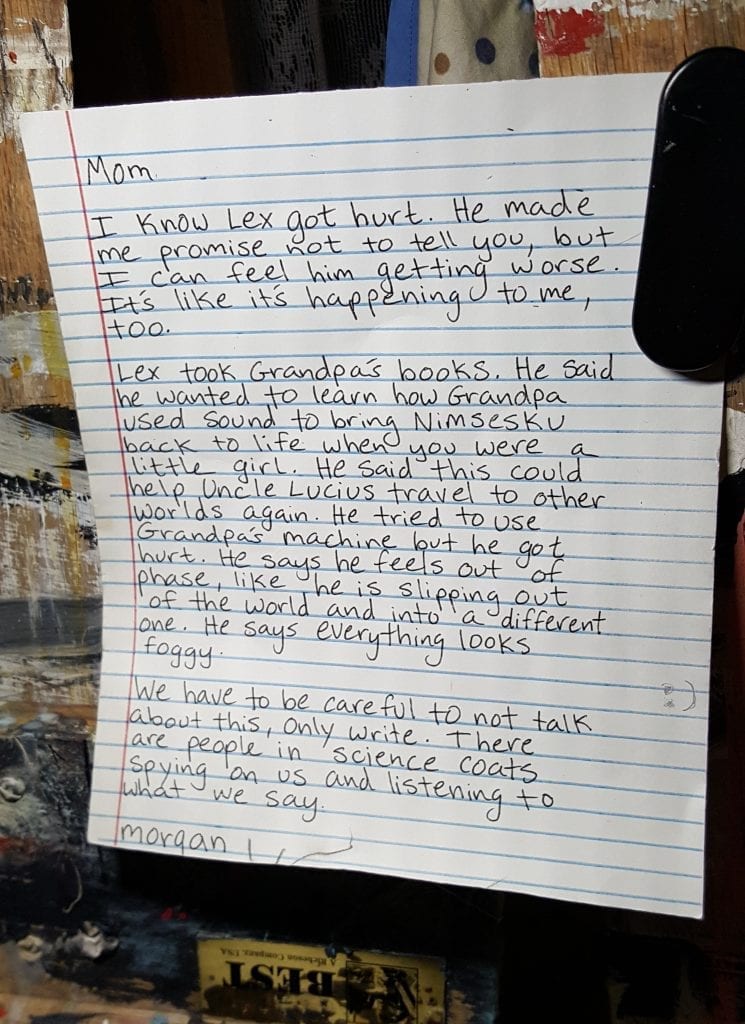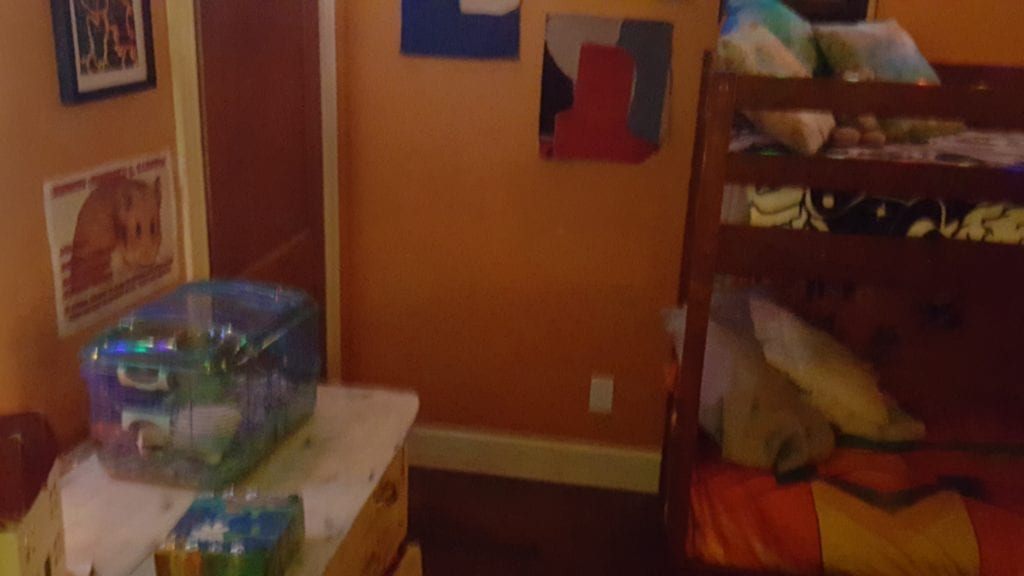 I left the house through the refrigerator and entered a space-age teleportation room that opened doors to themed dimensional rooms!
I continued exploring the exhibits interacting with everything I could to figure out what happened to the family – which turns out to be a surface story to a bigger story plot about aliens and the destruction/creation of the universe!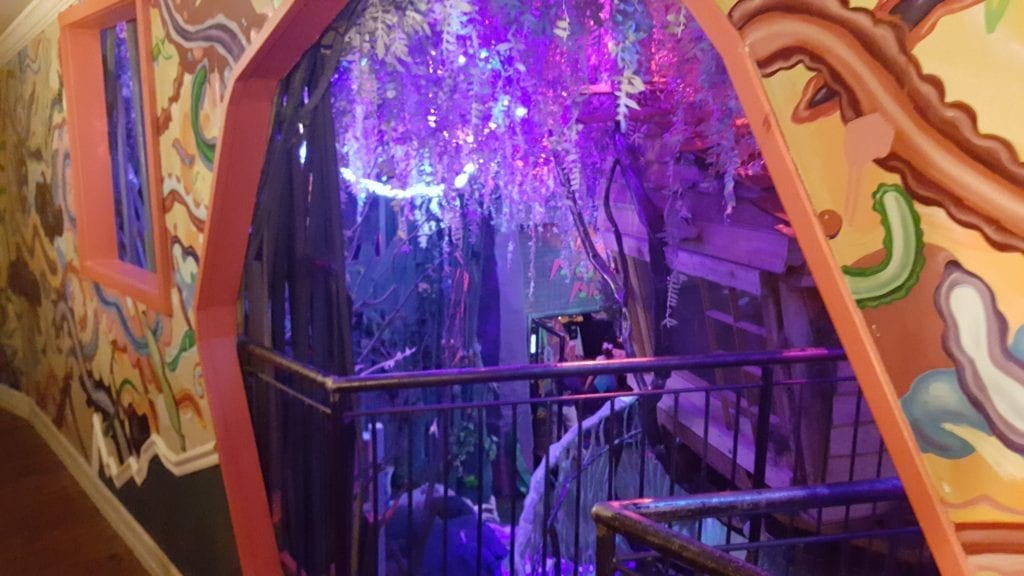 Many of the interactive displays and art exhibits were themes from the main family house, like this musical mammoth that you could play his rib cage – which was the same model the kids had in their bedroom!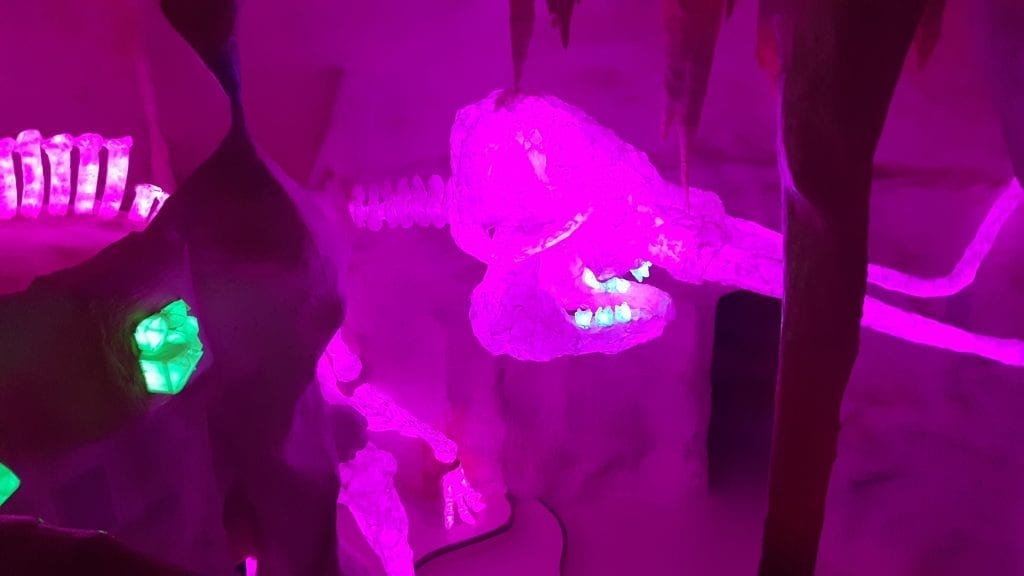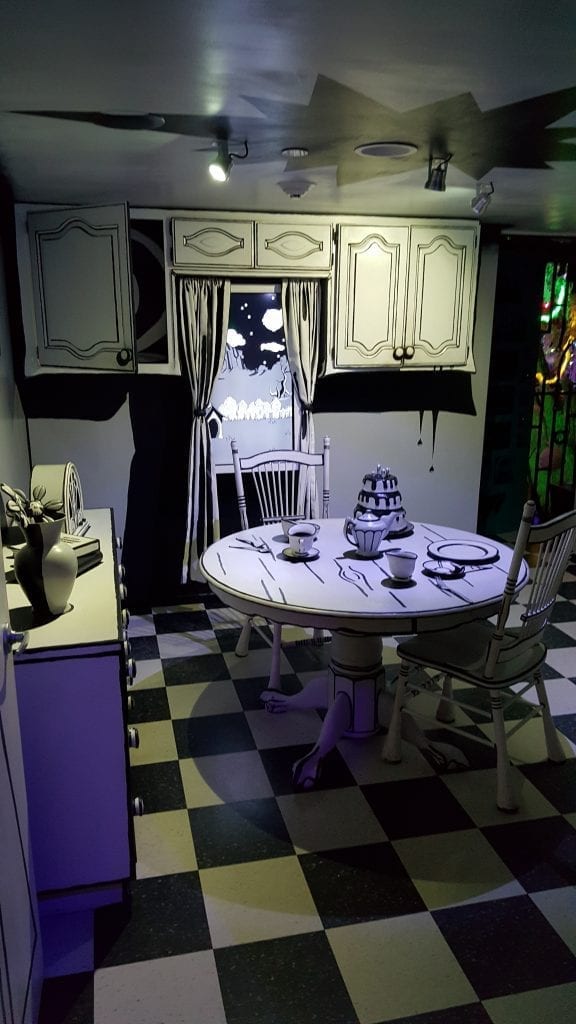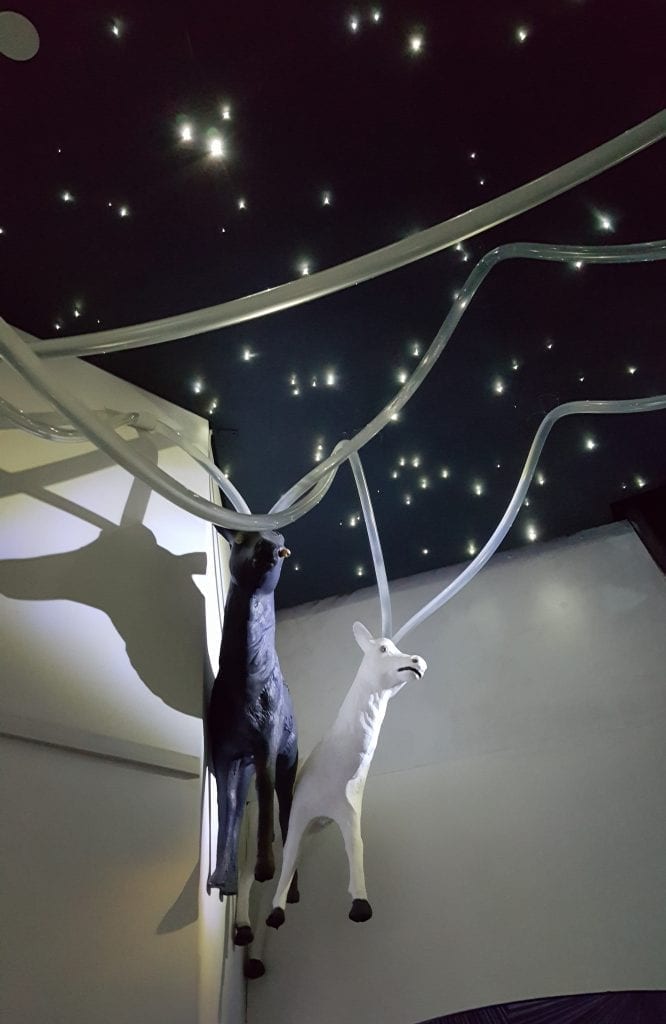 I found out where the hamster went off to – but I almost missed it because this wall was full of mini-art models from floor to ceiling more or less!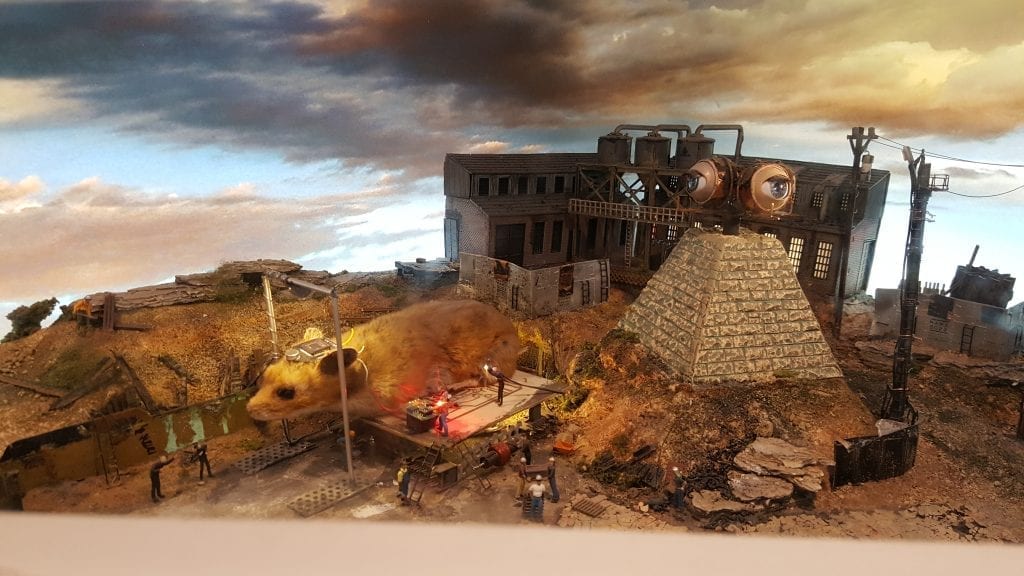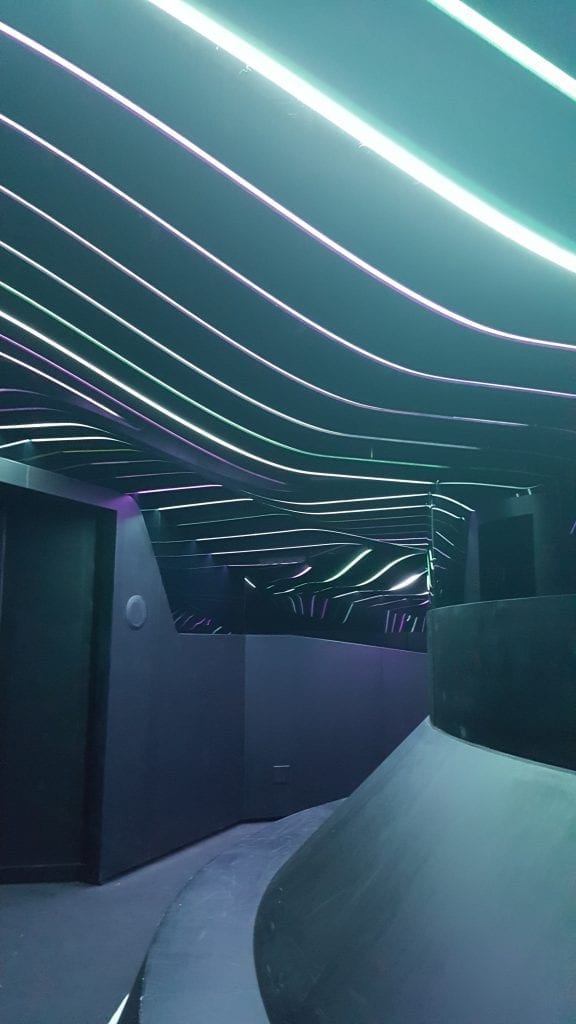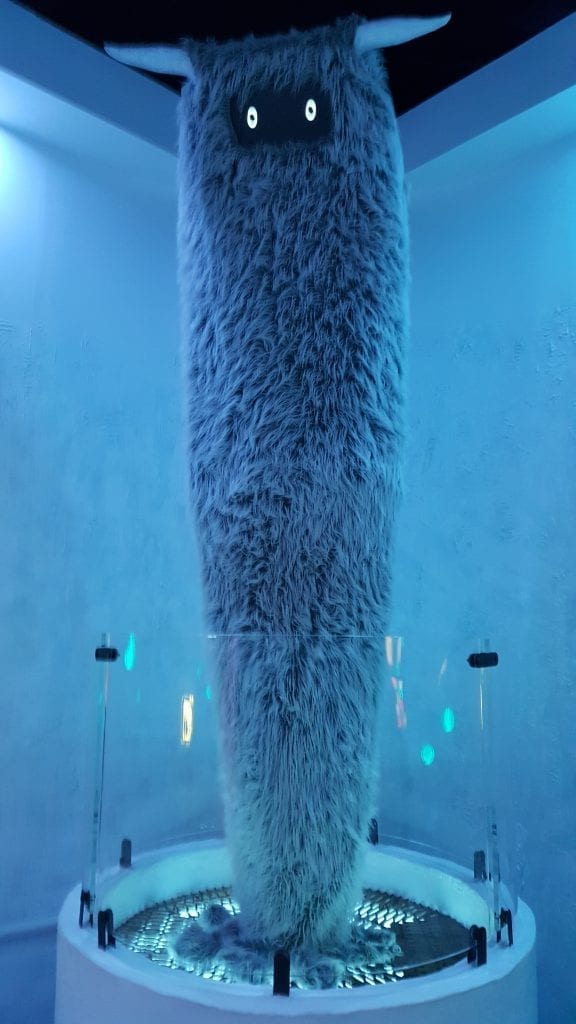 This is the melting couch area, which has the fabric from all of the couches in the house combine into one melded area.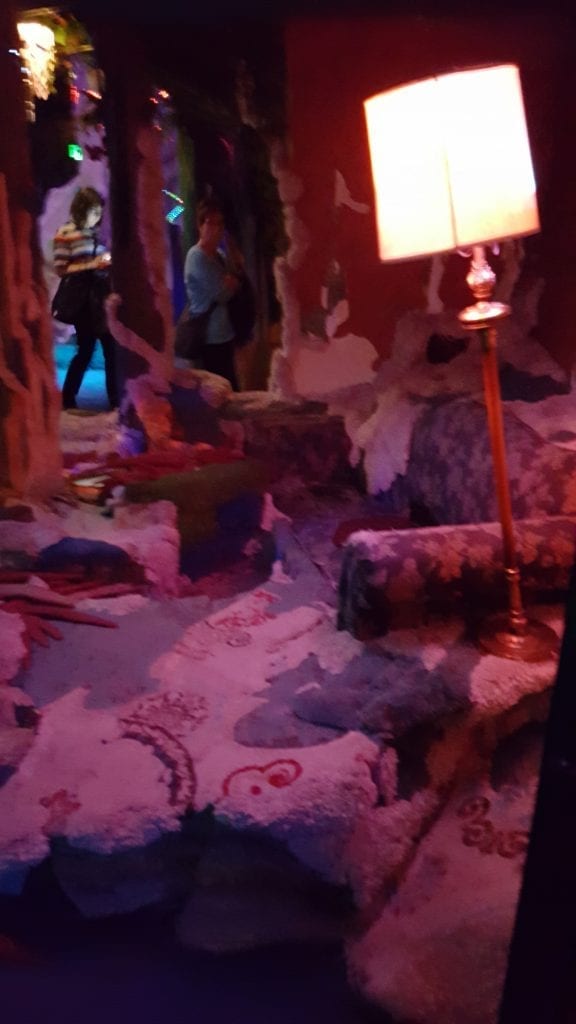 This is one of the exits, which resembles the fish tank aquarium inside the family's house!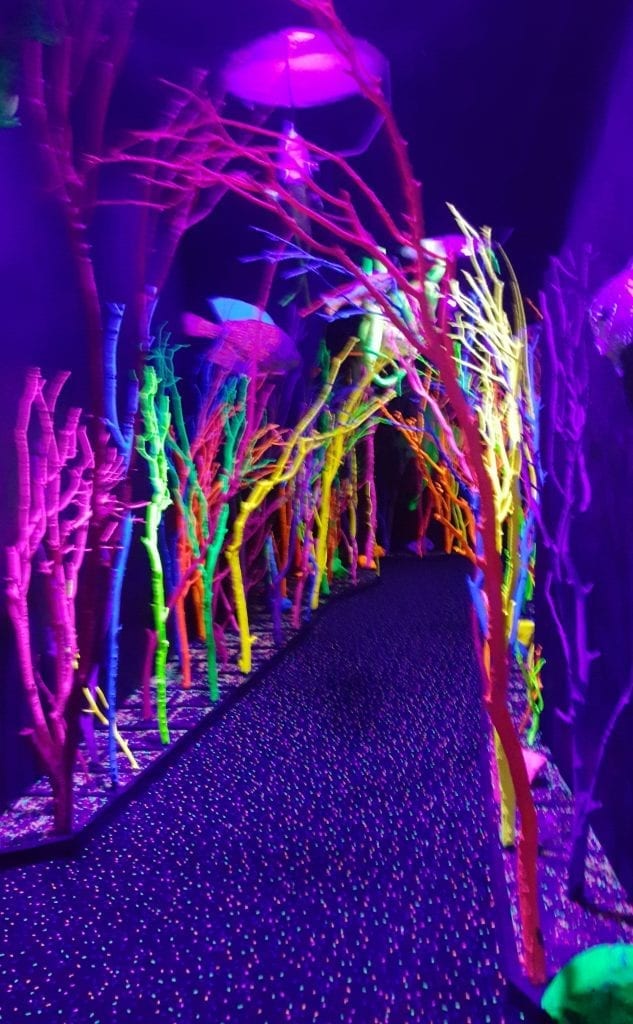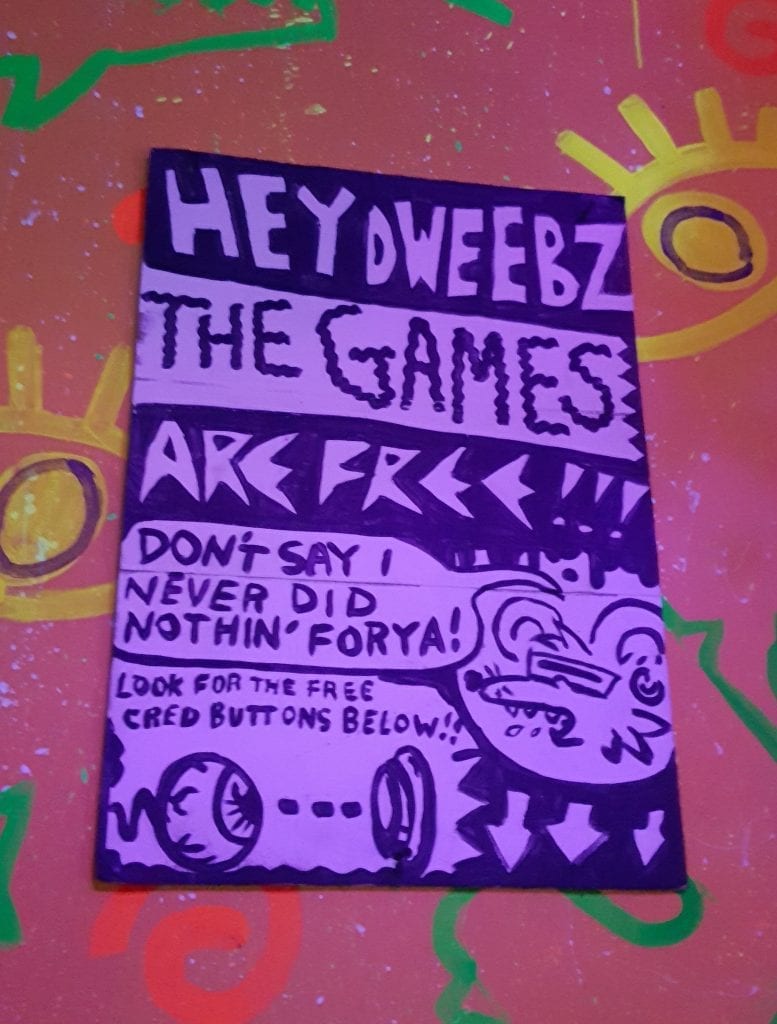 And yes, I got my fill of free arcade games!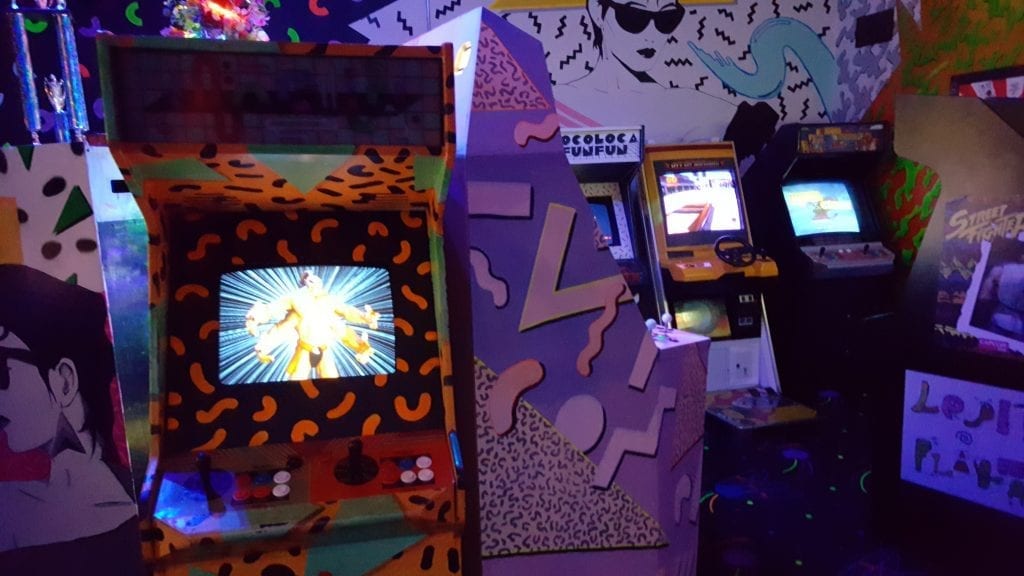 Meow Wolf's gift shop and bar area were also pretty trippy, in case you didn't know what to expect in the exhibit!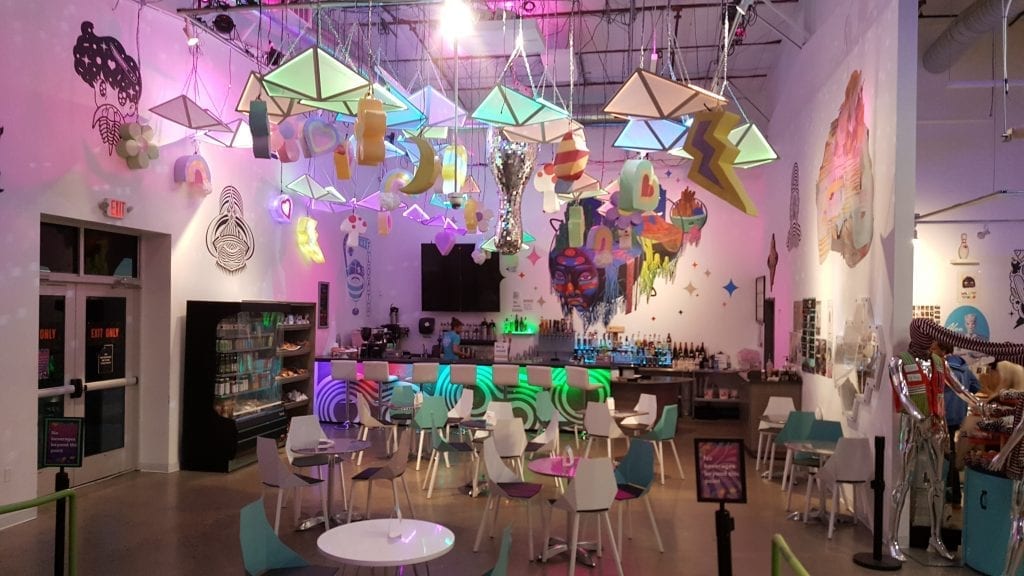 The exhibit was closing and I was not anywhere close to figuring out the mystery of what happened to the family. With my mind blown, and a feeling so unsatisfying confusing, I talked with one of the front desk employees and she explained to me what had happened to the family and their hamster. I was relieved to have an answer before I left, because it would have bothered me for the rest of my trip!