Maitreya Mountain Village – Summary:
Who: Dan Schultz
What: Visited the Maitreya Mountain Village
When: Tuesday, March 27
Where: Gasquet, CA
Quick Resources:
My Route:
Planning my Eco-Inspired Road Trip Blog Post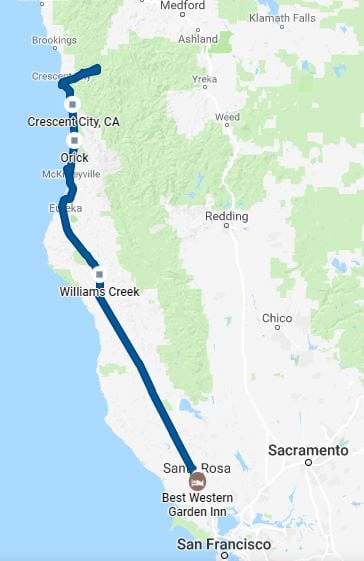 My Travel Story:
Waking up in my hammock from a freezing night with little sleep – I was up early and ready for my first ecovillage stop of the day at Maitreya Mountain Village (MMV), deep in the Siskiyou Mountains of California.
At this point, I still did not have cell reception or access to my GPS to figure out which direction I needed to go. So I asked the park attendants if they heard of MMV, and they had no clue what I was talking about, but directed me to head south to the closest town of Gasquet, CA, to ask for directions and get possible cell reception.
I drove to the Gasquet Market and luckily the clerk knew exactly what I was talking about, because he had volunteered there a couple of time. He told me I was going in the wrong direction and needed to drive about an hour in the opposite direction, and gave me directions for following the park roads to reach MMV. After the various right and left turns on these backroads, I'd know I was there when I came across the smiley face tree sign.
So I made my way back along the highway I had driven down the day before, and came to the park road entrance. Following the directions from the market clerk, I made the various rights and lefts for what seemed like ages – especially with less than a quarter tank of gas in my car. I was close to calling it quits and turning around until I came across a small American flag in a little field outcropping, and had a feeling I was close. A few hundred feet later I found the smile face tree sign and crossed the creek over a handmade bridge, then climbed a steep road where residents were clearing roads, passed a big foot crossing sign, and entered the heart of the village.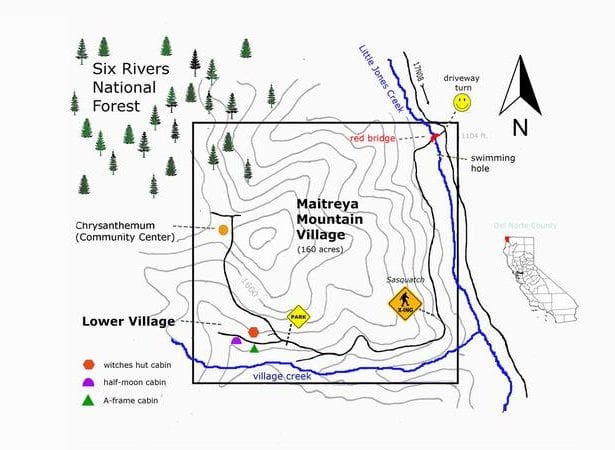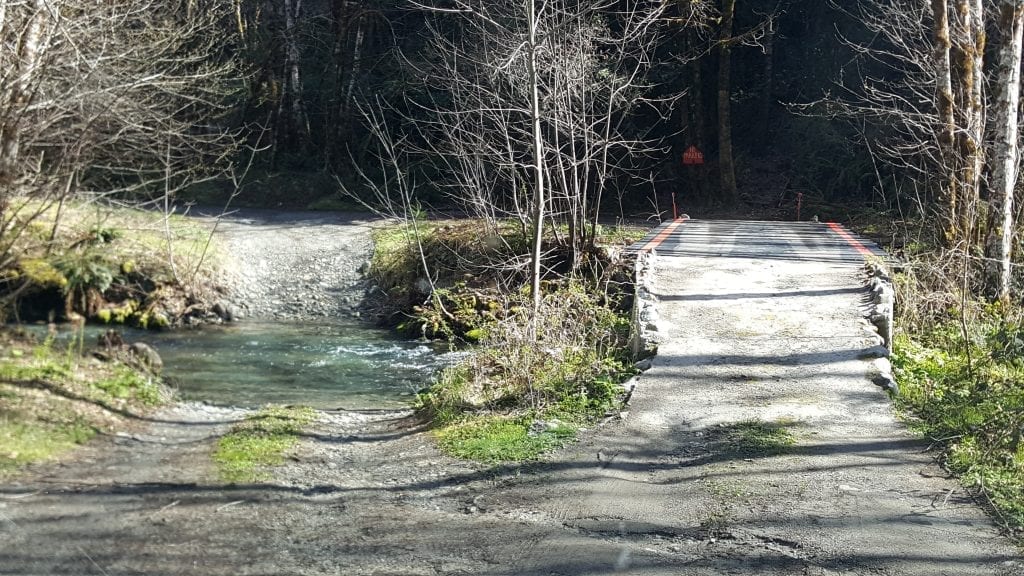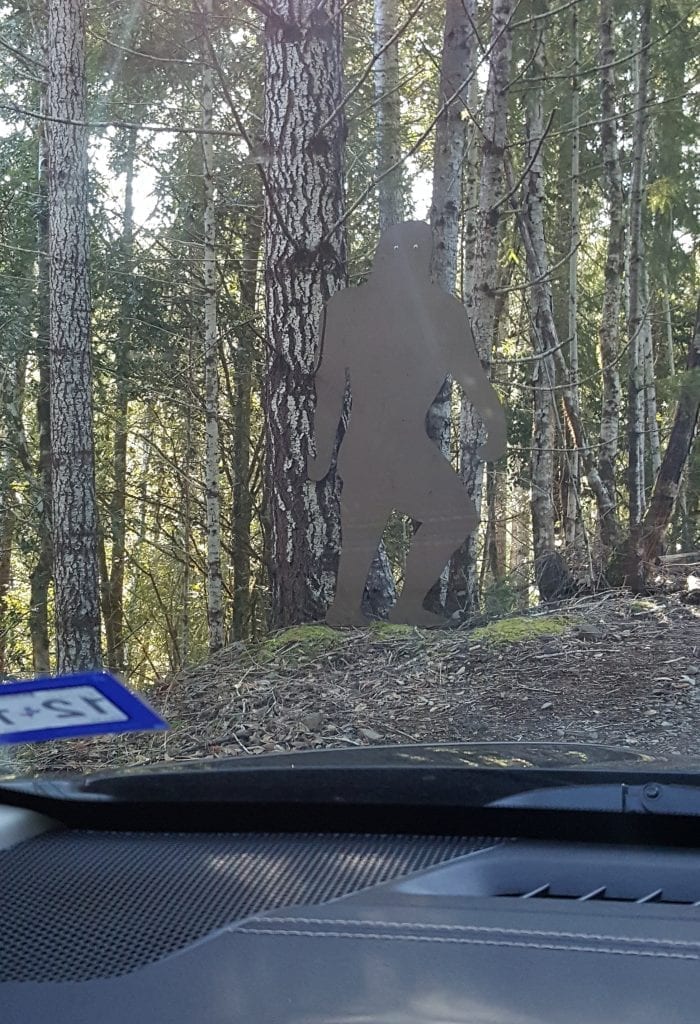 On my drive up, I stopped and talked to a lady with her pack of dogs about where I could find Dan. She told me he was probably on chainsaw duty for the day, and had me park in a spot along a Cliffside. She showed me a few of the guest lodging spaces that weren't occupied, like the treehouse, and some of the community spaces before she made her way up to her house near the top of the hill.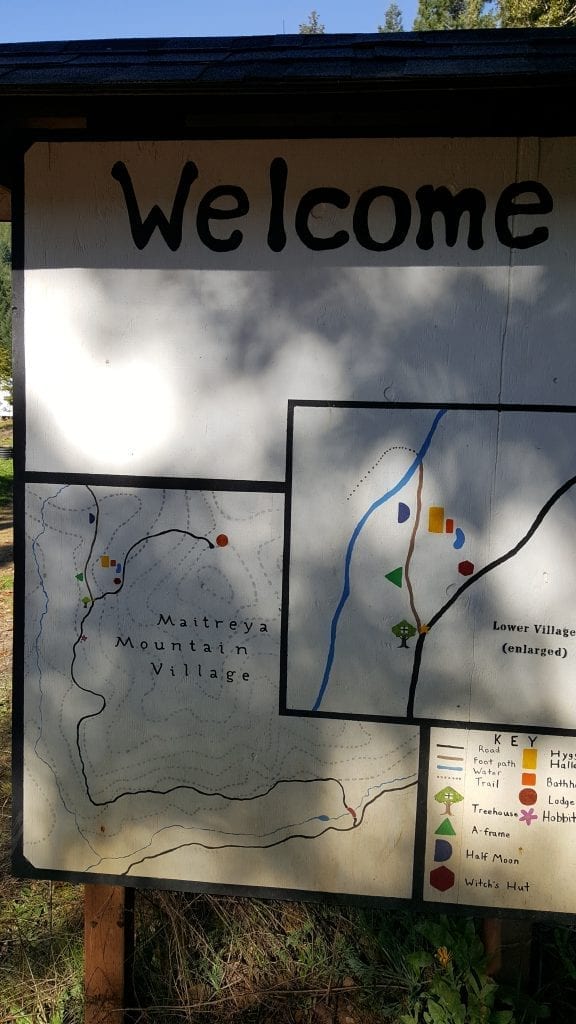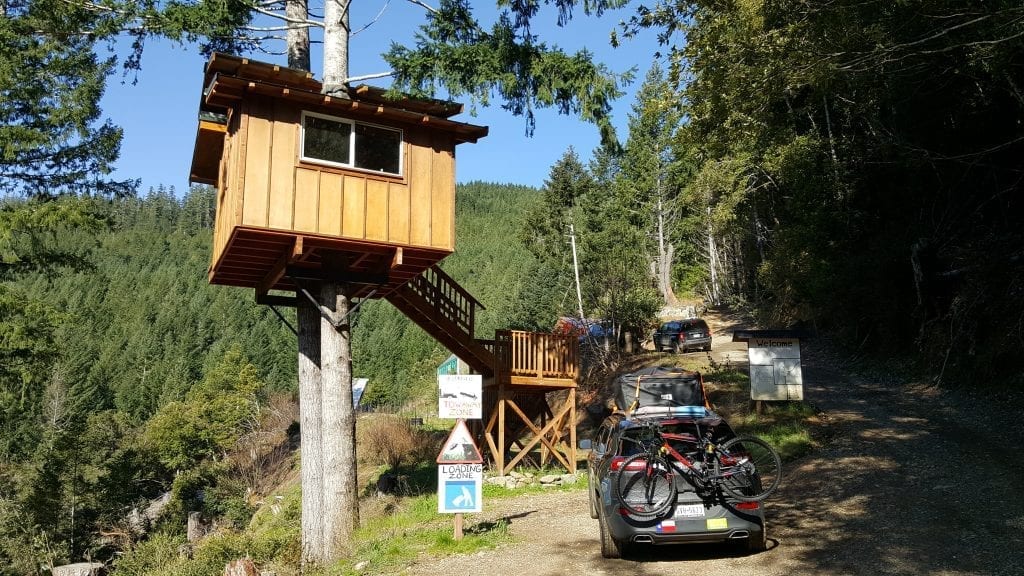 After she left, I looked around the Lower Village and then met Dan on the other side of the village. He was working the chainsaw cutting logs on a hillside for firewood, so we only had brief introductions so he could keep working and I could keep exploring.
On my way to Dan, I passed through some of the gardens and along side a greenhouse turned guest house, right next to a covered patio with Tibetan prayer flags.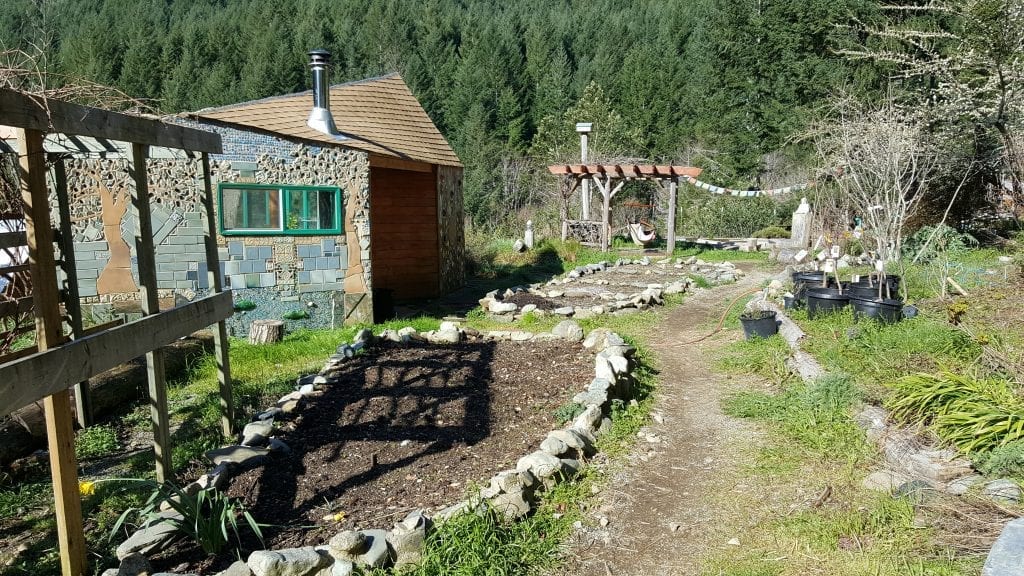 This is a resident's house in the Lower Village with a Batman themed bat box and a white picket fence.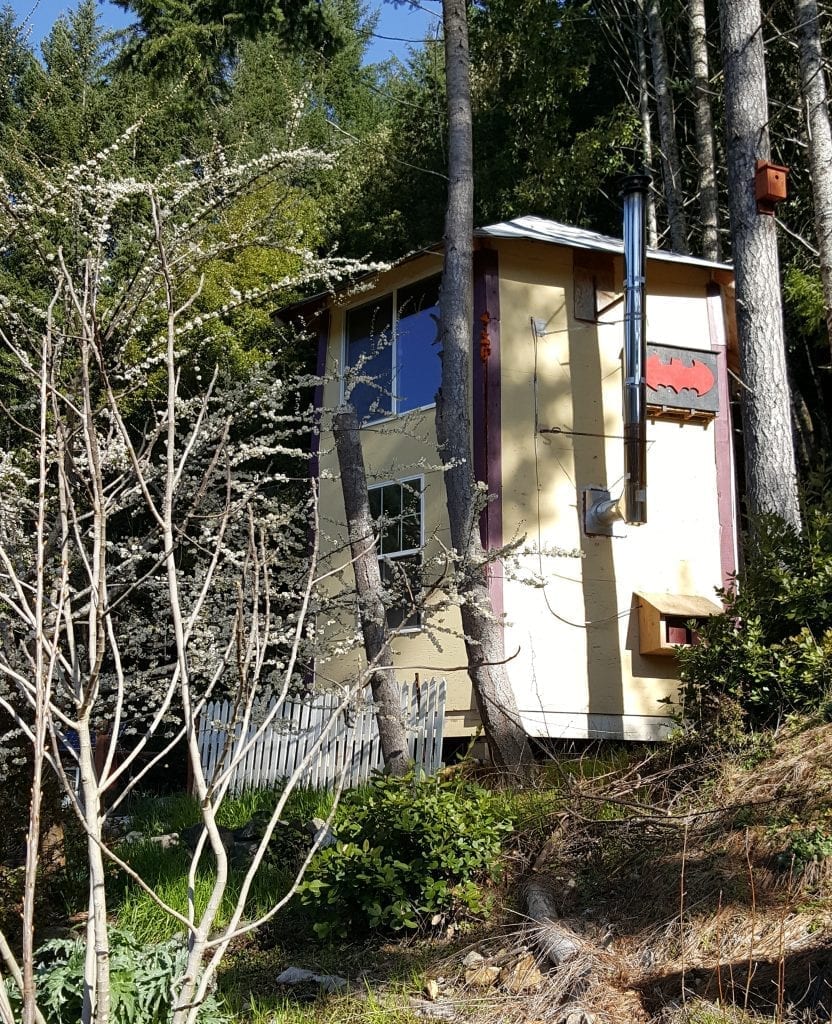 The heart of Maitreya Mountain Village's Lower Village is the main kitchen and restrooms powered off solar panels, as well as an extension of the main, raised-bed vegetable garden watched over by a Buddha statue.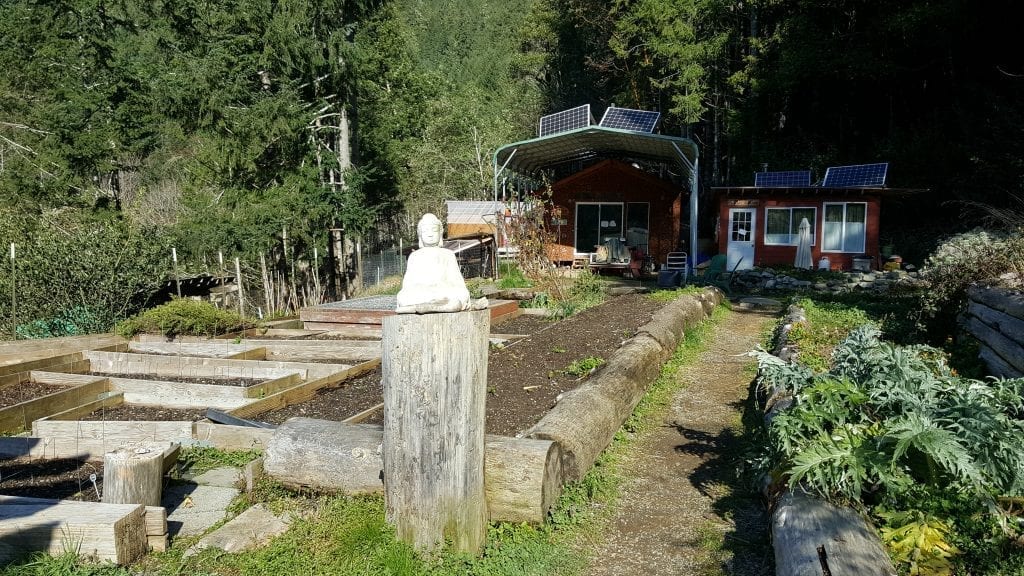 On the far-side slope of the Lower Village, you can see Dan hard at work cutting up logs for the firewood supply.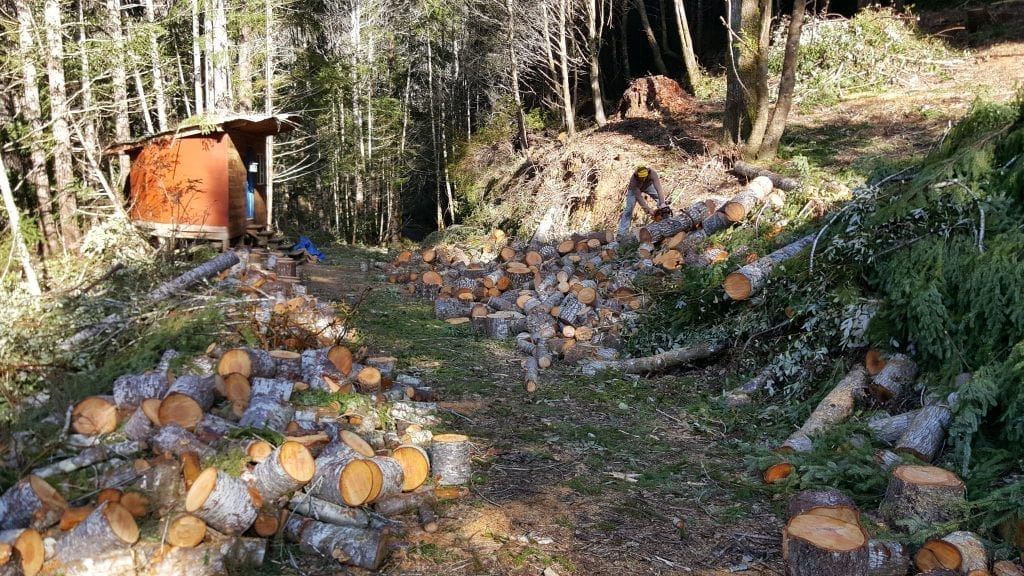 In addition to the treehouse guest house, there were several other lodging structures – including this A-Frame Cabin this family stayed in for the weekend. (excluding the kids, who were in tents outside)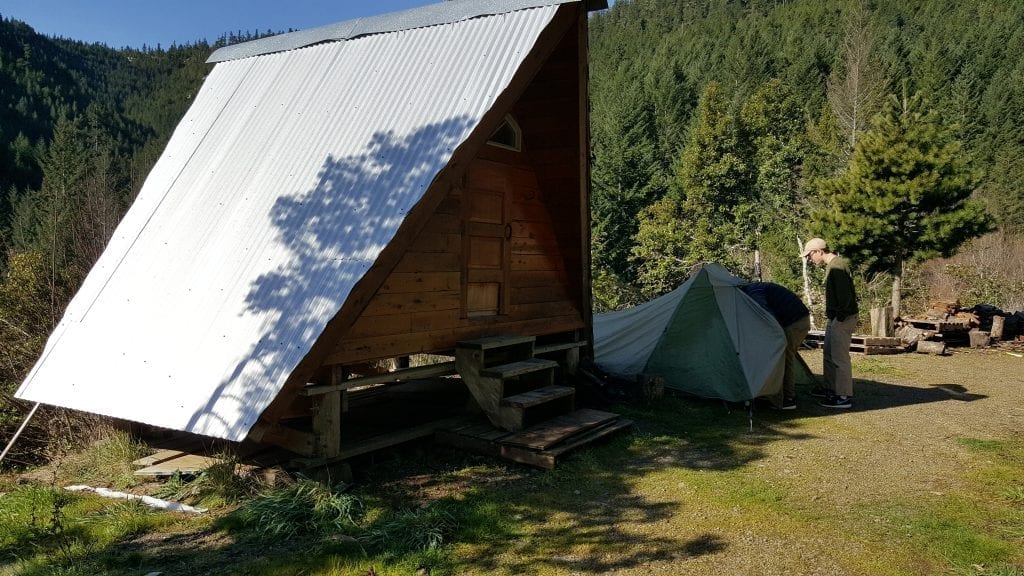 Here's a backside view of the Greenhouse guest house, which was pretty hot and humid on the inside – good for those cold nights and close to food!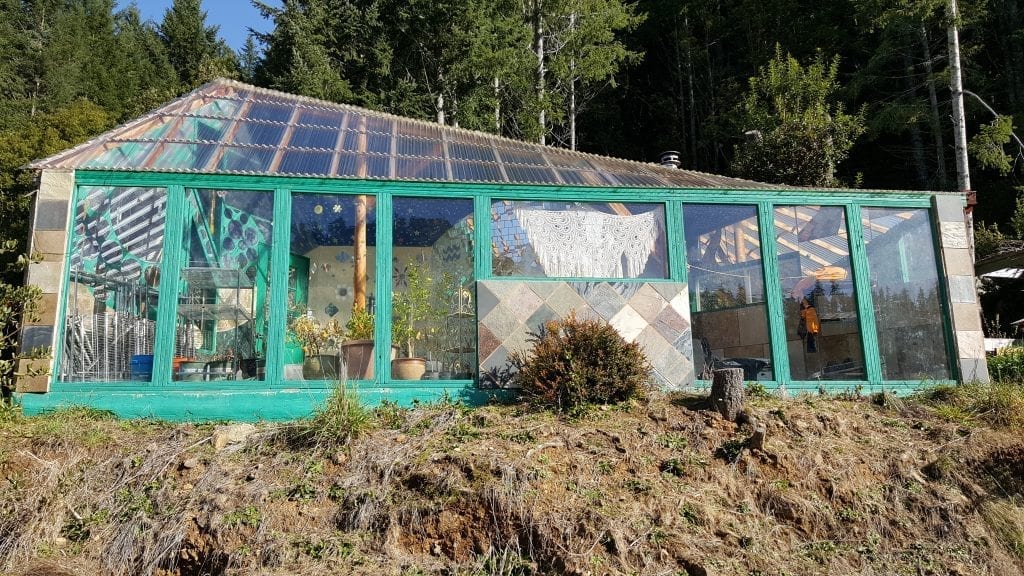 I also met some of the guests, including a couple from New Zealand who move to California in the past couple of years for IT jobs. Together, we hiked up a steep hill to the hilltop community center called the "Chrysanthemum." This three-story building was more than impressive and had anything and everything a community could need!
An exterior shot of the Chrysanthemum, surrounded by raised garden beds, fruit and nut trees!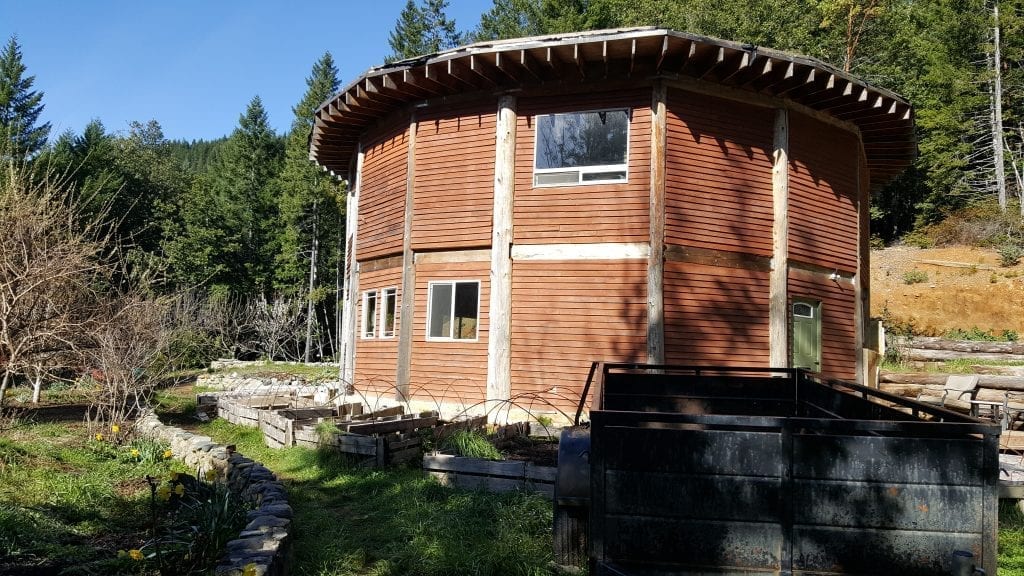 Back side of the Chrysanthemum, with a rain pond that acts as a reflection pool to help with heating and holds a few fish. You can see the top of the solar dish that is used to heat the outdoor hot tub.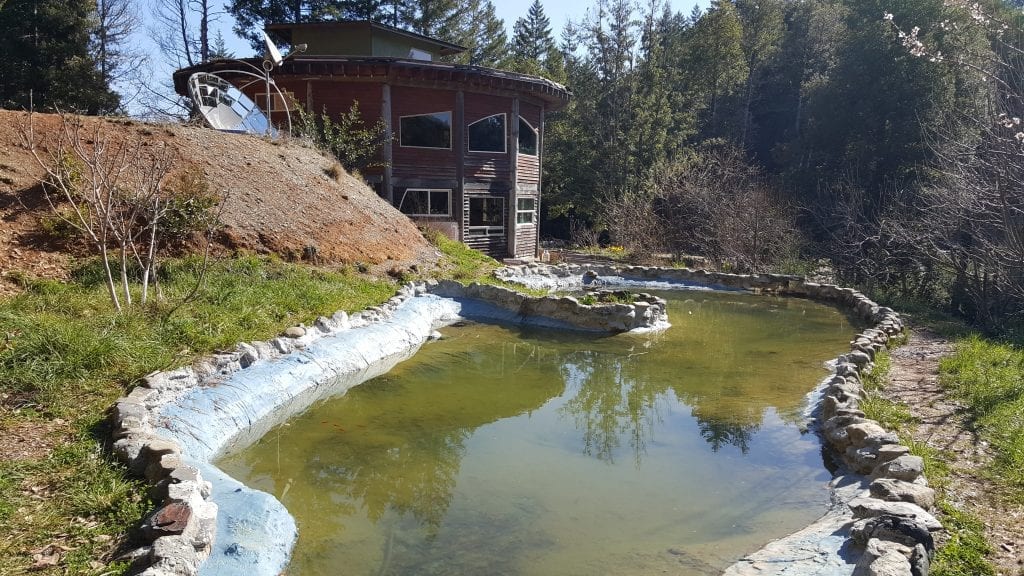 On the back side of the Chrysanthemum is the outdoor hot tub and a converted satellite dish to heat the hot tub – similar to Bart the Nudist's solar inventions at Lost Valley!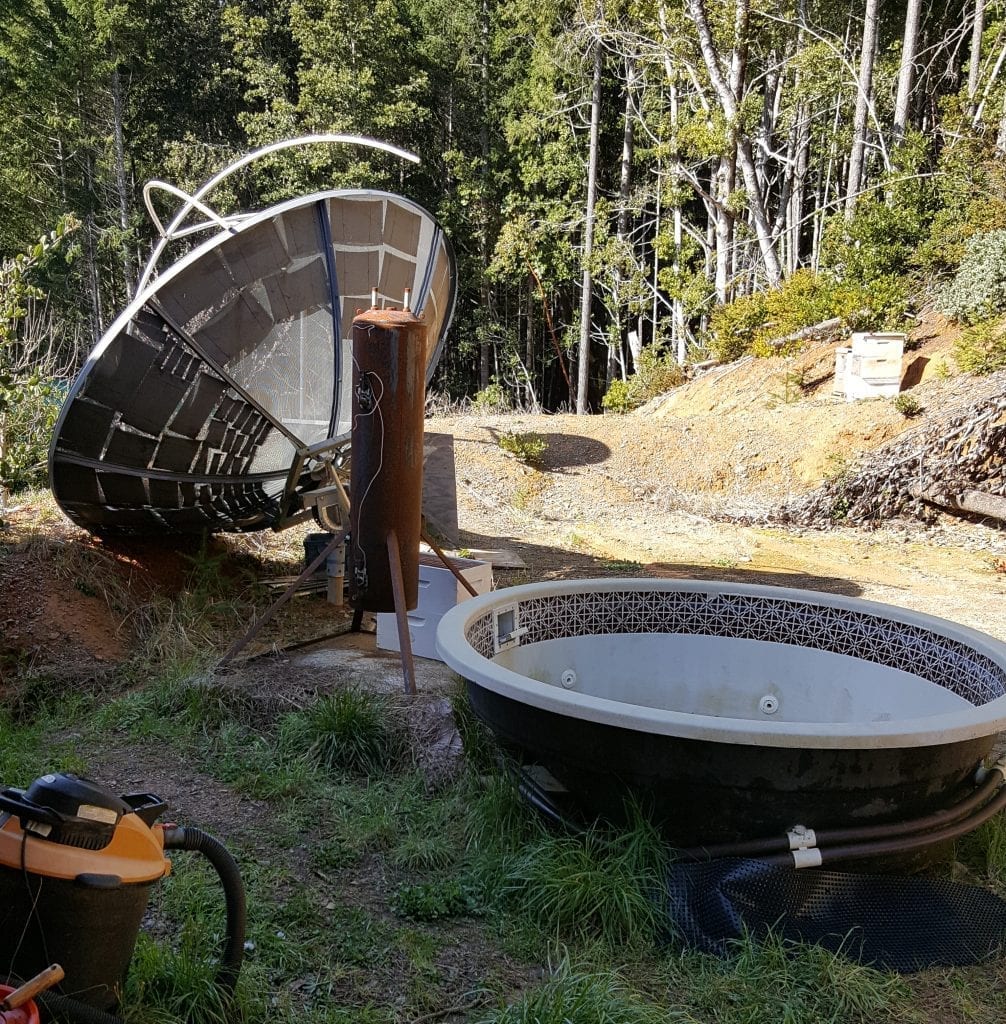 Here's a few second video of the first floor of the Chrysanthemum, including a sunken fire pit and a large kitchen.
This is the main bedroom for guests on the first floor, many of the other beds are on the second floor or the third floor loft space.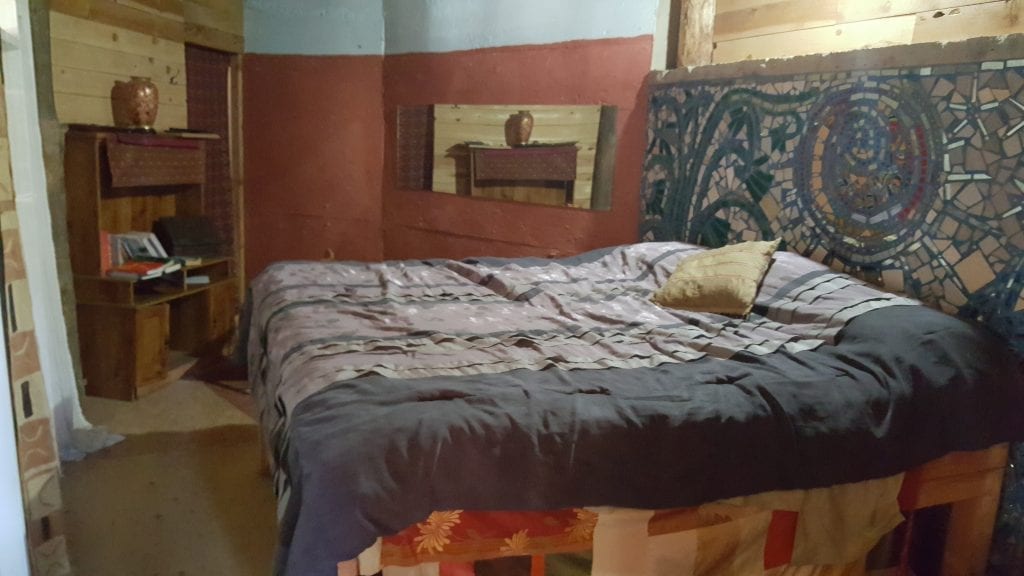 Here's a few second video of the second floor of the Chrysanthemum, with some work out equipment and more beds.
The second floor was also the community library and study space.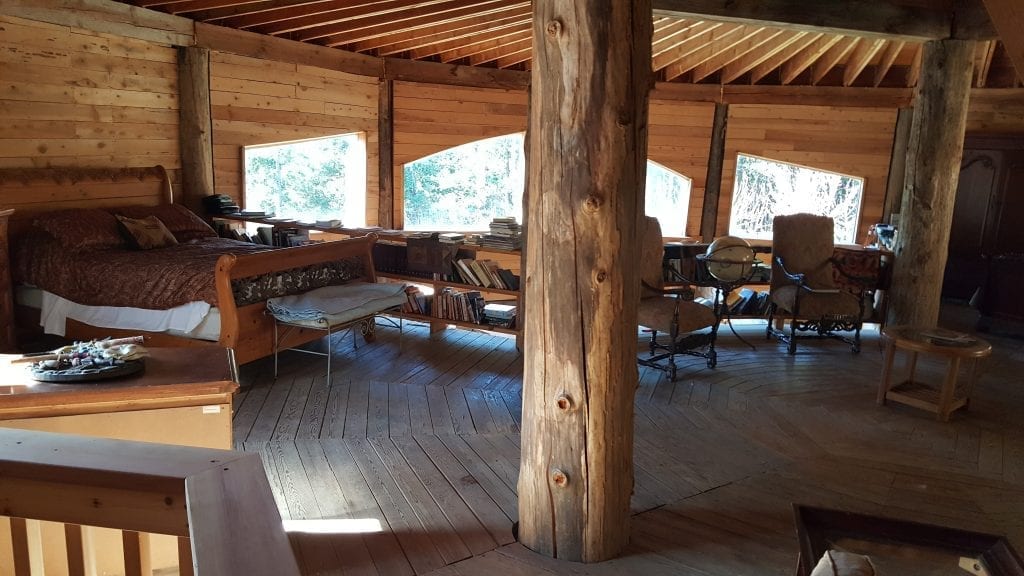 The third floor of the Chrysanthemum was a small loft space with a view of the living green roof!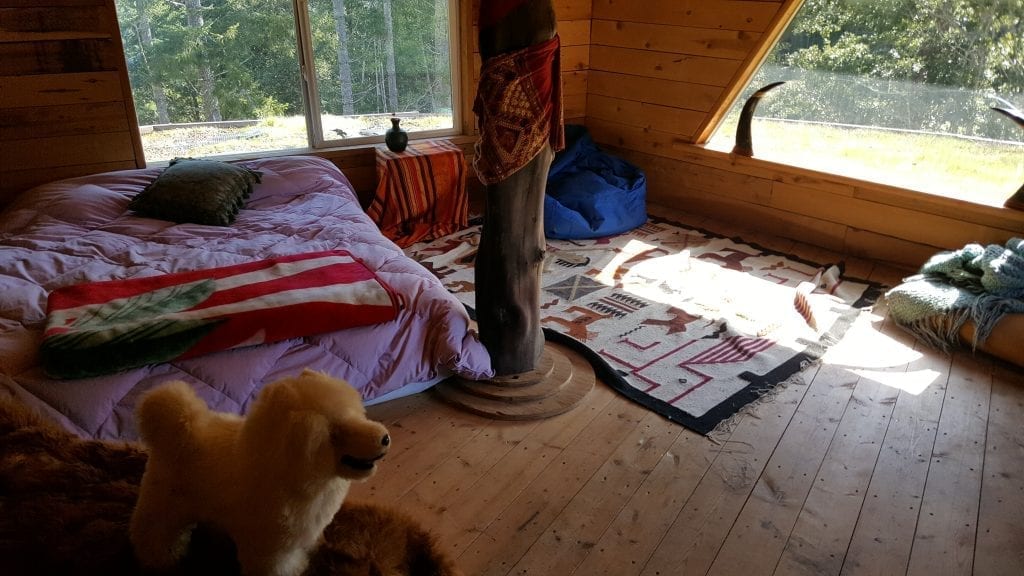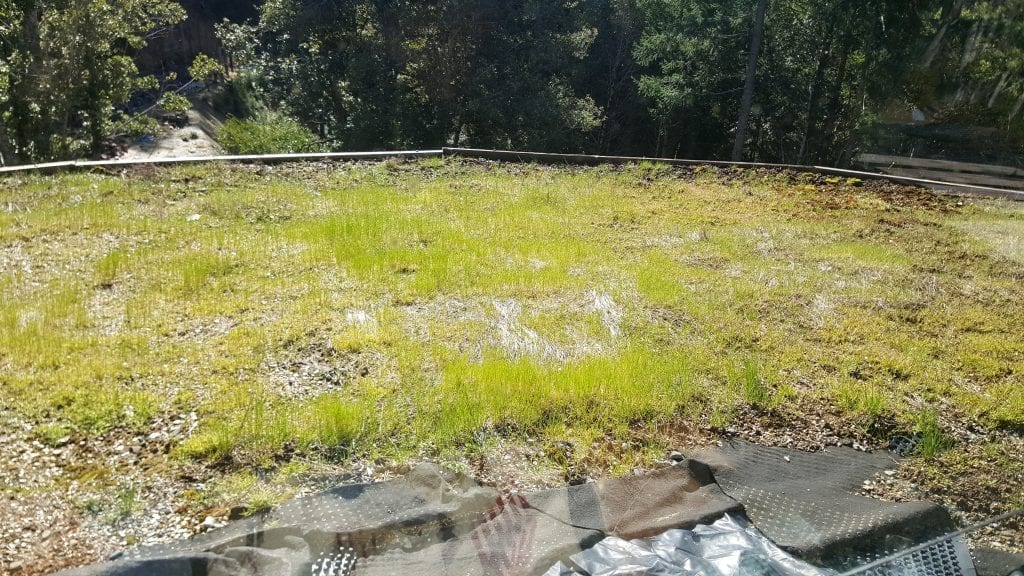 Below the Chrysanthemum was the woman's home and art studio, with depictions of fairies and toadstools on the exterior walls.
After exploring the upper village, I went down the steep road back to the Lower Village for one more look around and to say goodbye to Dan and thank him for his hospitality of having me visit.
Here's a clip of the view from the center of the Lower Village, in the middle of the raised-bed gardens, residences and community areas.
Here's a clip of the inside of the community kitchen, including their musical instrument wall and laundry facilities.
Here's a clip of the chicken coops on the hill-side before I went to say goodbye to Dan, which you can hear chainsawing in the background.
His parting words to me were, "it's easier to find than found a community." (Off-Grid, and In Community: 'Tis Easier to Find than to Found)
He told me he had been working on average 12 hour days for the past 7 years building MMV, but it's what he wanted to do. Not everyone needs to have a community of their own, because it's a lot of work that tends to led to failure as he had seen in other places. Many people could thrive and flourish in a community with their own set of skills, provided they research, try out and join a community they are compatible with – which was the essence of his message, "find over found."
This was pretty profound for me, because I had been on the "found instead of find" mentality. And this really had me re-evaluate where my head was at, and how I wanted to share my talents with others.
Before I left, I said goodbye to the New Zealand couple and they said I should check out the Hobbit Hole if the new guests were up for a visitor.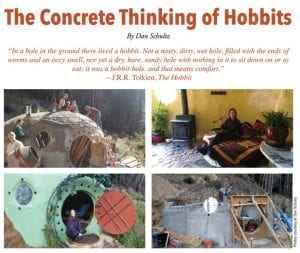 I went over to the hill-side, concrete hobbit dome and was welcomed by the new guests to check it out. It wasn't exactly like the Hobbit Homes from New Zealand, but it was still an impressive structure with Lord of the Rings themed décor throughout.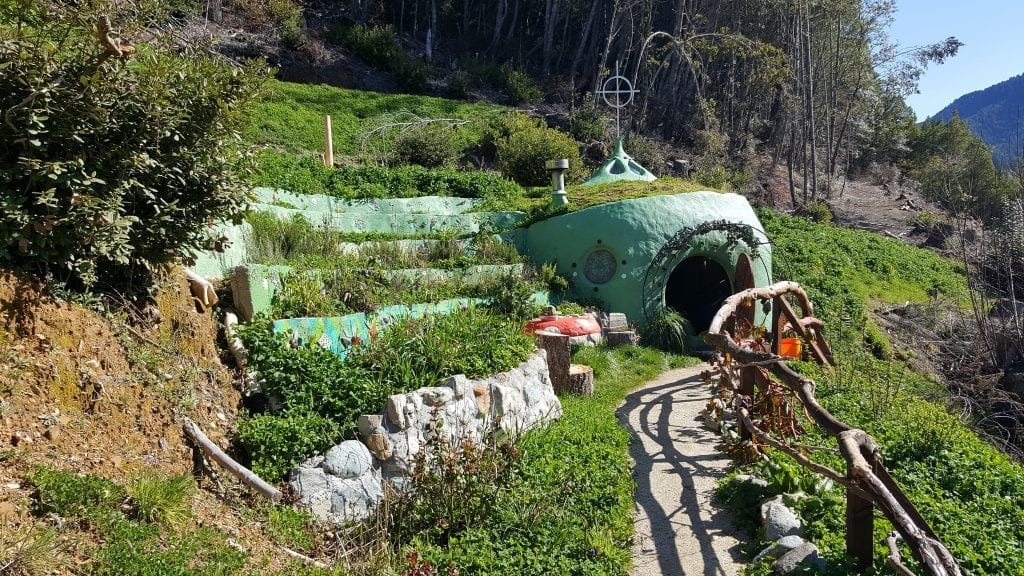 Inside the Hobbit Hole were colorful plasters, hand-made toadstool seats, and a large support beam disguised as a tree with a Lord of the Rings reference sign hanging and facing the entrance.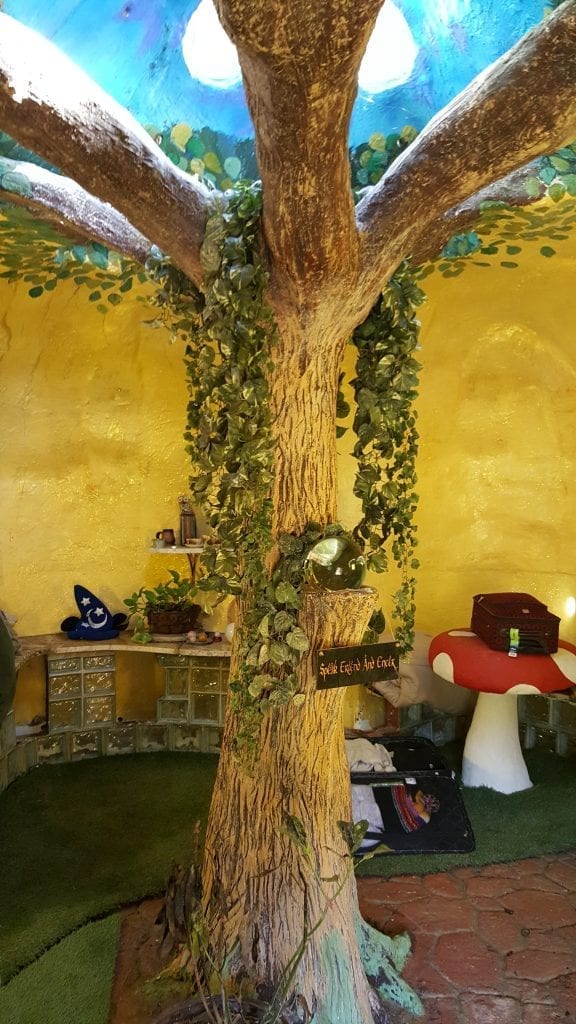 The main sleeping area was off to the side of the Hobbit Hole with a nearby stove for heat during the colder seasons.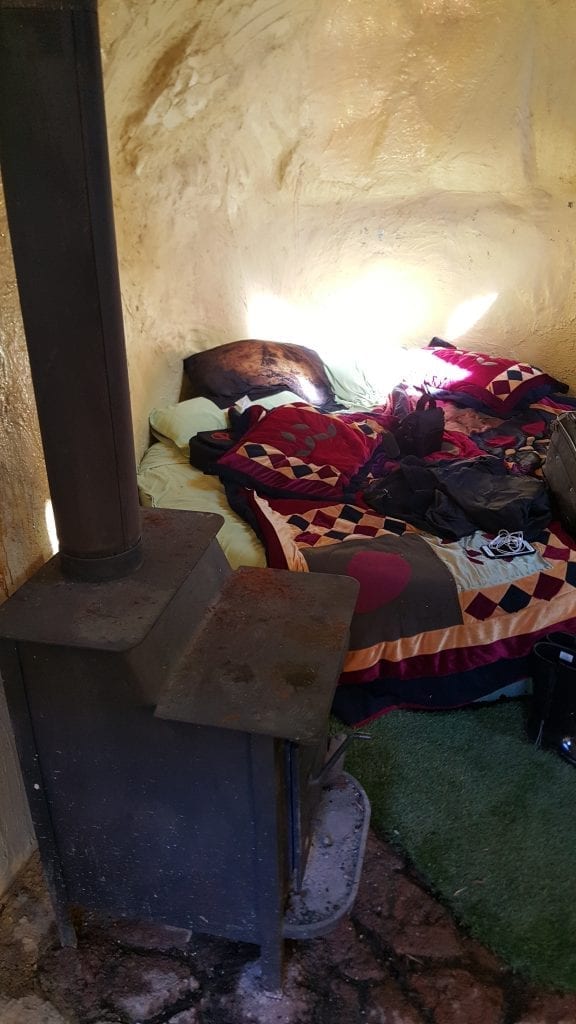 The sink area was gravity fed from up-hill, and sounded like a babbling brook 24/7! Do you see Mickey's Wizard Hat too?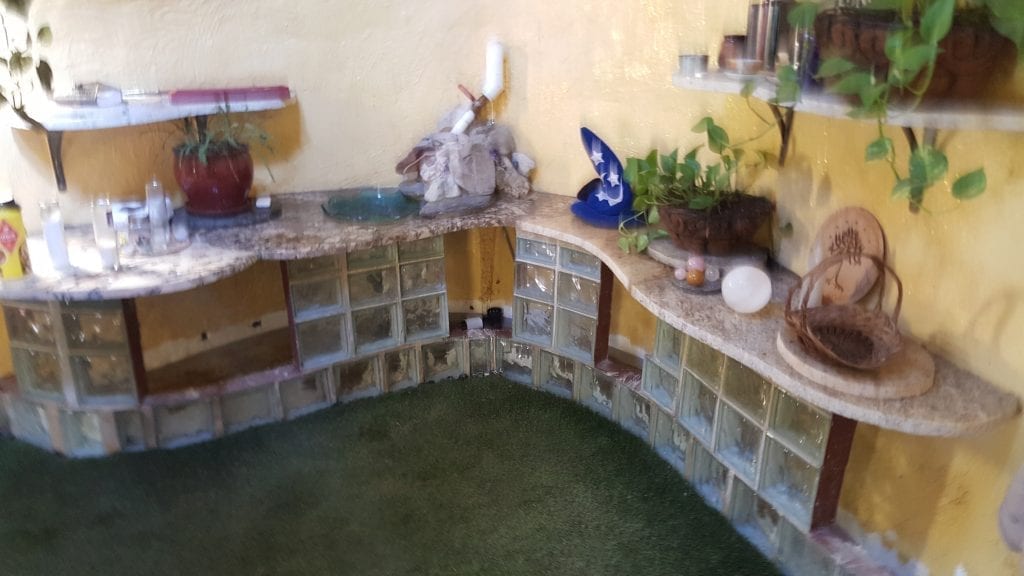 Once I finished in the Hobbit Hole, I hoped in my car with less than a quarter of a tank for the long drive out of the forest, reach a gas station, and continue my adventures towards the Red Wood Forests.
More about Maitreya Mountain Village:
"The word Maitreya is derived from the word maitrī (in Sanskrit) meaning "loving-kindness," which is in turn derived from the noun mitra (Pāli: mitta) meaning "friend." Buddhists and non-Buddhists have also used the term to refer to a collective consciousness, allowing the construction of a new and better world, while others make reference to a man whose presence will usher in a new society of tolerance and love. It is in the Loving, Kindness and Friendship sense in which Maitreya Mountain Village takes it's community name and intention." — (Webpage)
Vision: "The reality of people making healthy, constructive choices, facilitating personal growth, and social evolution, replacing ignorance and fear with understanding, compassion, and love.   We envision human beings living together in dignity, respect, trust, and kindness; working together to create a new and better planet. We envision a world where everyone wins." — (Webpage)
Mission: "We are dedicated to becoming the change we want to see in the world by anchoring to and sharing of the tools of a promising future: community thoughtfulness, environmental sustainability, self-sufficiency, economic independence, grounded spiritual intention and holistic, and healthful living practices." — (Webpage)
Top reasons for joining a community: (I can personally vouch for all of these)
You'll impact the planet with a smaller ecological footprint.
You'll feel safer.
You'll most likely be healthier.
You'll save money.
You'll grow as a person.
You'll experience connection and support with like-minded friends and colleagues.
You'll have more fun.
Ten most common fears about joining a community:
(taken from Diana Leaf Christian's Finding Community)
I don't want to live out in the boonies
I don't want to live with a bunch of hippies
I don't want to live a "poverty consciousness lifestyle" with limited resources
I don't want to live with counter cultural types who are trying to avoid responsibility
I don't want to have to join a religion or take up some spiritual practice i don't believe in.
I don't want to live in a hierarchical system or follow a charismatic leader
I don't want to have to think like everyone else. What if it turns out to be a cult?
I'm afraid I won't have enough privacy or autonomy.
I don't want to have to share incomes or give all my money to the community
What if we can't all get along. I don't want to live with a bunch of bad-tempered, dysfunctional people.
Here's the rub:
It's good to talk about the ideas of permaculture, holistic, organic, alternative, etc.and I like to talk about these notions, value the ideas, and implement them. And we do. But as I outlined in the Communities magazine article Indiginous Peoples, we hope to bridge the gap between the old systems and the new (and old) sustainable ones.
So let me list my many transgressions of impurity for all the starry eyed idealists lest they may not leave emotionally frustrated in disappointment that we did not measure up to their standards:
I LOVE to use concrete. It lasts decades, centuries, maybe longer, is maintenance free, all that kind of stuff.
We don't eat all organic. More organic every year — as we provide more of it from our land — but we still buy groceries and some of it isn't organic
We eat meat, at least I do (Dan), and other visitors and residents will surely/possibly eat meat, too.