This was my first experience at Rodeo Austin. My fairground passes were free through my job at Texas Disposal Systems, since we were a major partner offering waste and site services. The site services being restroom units and trailers, along with handwashing stations. I did not attend the official rodeo events, but I did enjoy the carnival foods, exhibition shows, and livestock competition judging. I also took photos of the restrooms and handwashing stations to use for social media, webpages, and general sales materials.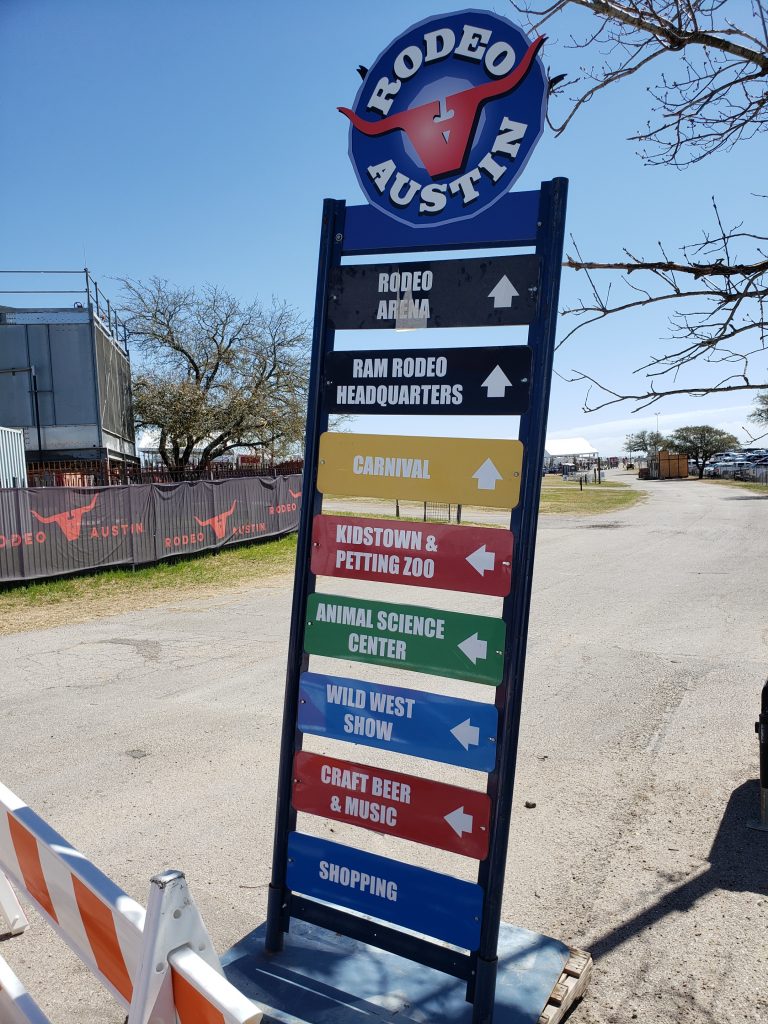 Check out this short commercial about the 2022 Rodeo Austin event. See highlights from the live music concerts, rodeo competition events, carnival attraction rides, and fun livestock interactions!
I entered near the carnival rides and Ferris wheel. My stroll through the fairgrounds took me through this area first. I was impressed with the number of rides available. I was even more impressed with some of the rides I've never seen before, like the "fire ball," – a roller coaster on a closed circular loop! Throughout the carnival rides area were numerous TDS restrooms and handwashing stations also.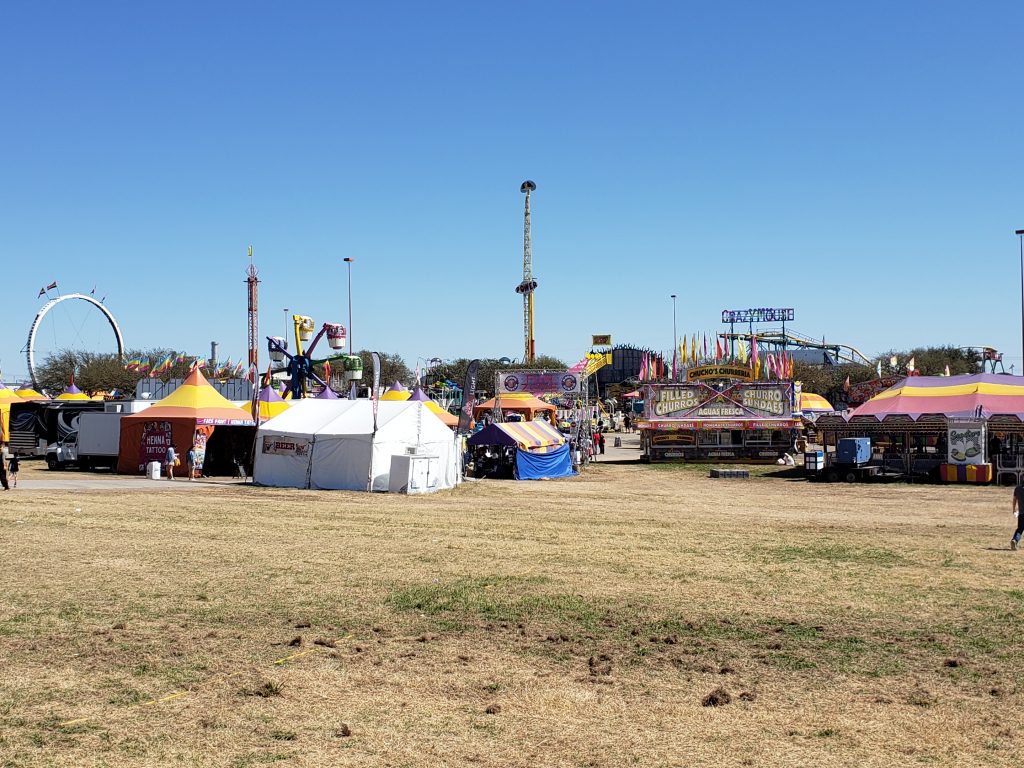 After the carnival rides, I made my way over toward the beer garden and petting zoo area. I thought it was brilliant TDS put multiple handwashing stations next to the petting zoo area. This allowed families and kids to quickly wash their hands and not wait in a long line. Inside the petting zoo tent were dozens of animals from deer to pigs and goats to camels!
Near the petting zoo were the agricultural educational exhibits. The biggest exhibit was the Dairy Discovery Zone. These booths and trailers offered interactive education highlighting nutrition science, dairy-based recipes, and localized dairy farm stories. The main attraction was the centralized milking cow, where guests could simulate milking an udder.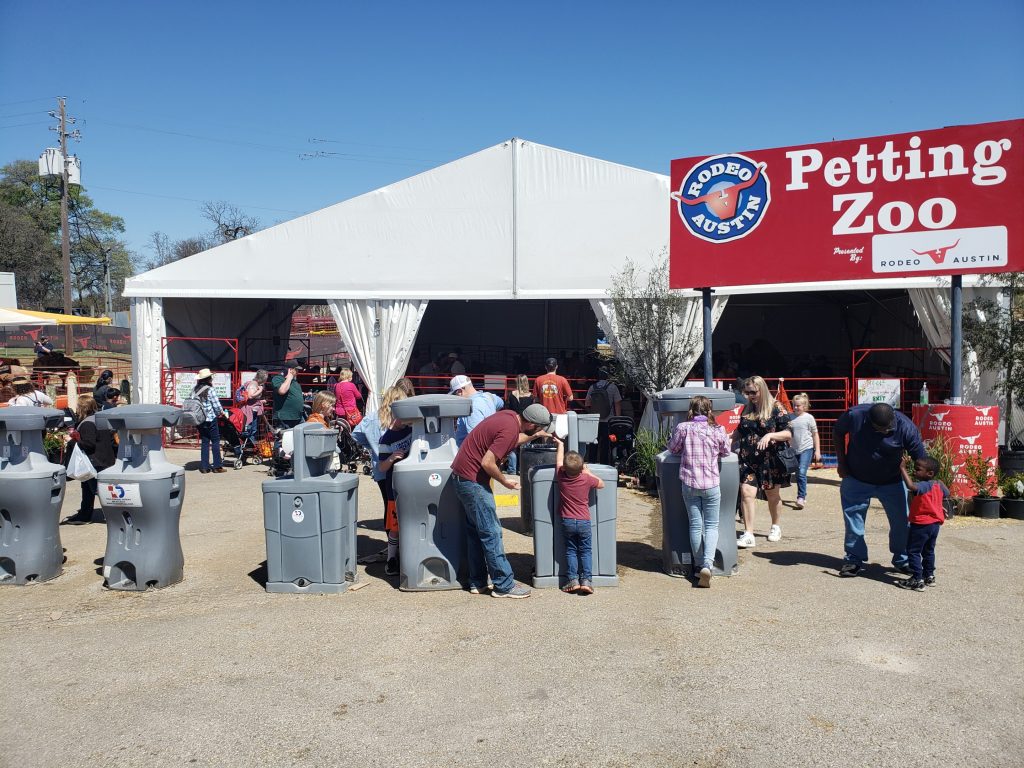 After the petting zoo and agricultural education area, I walked over to the Animal Science Center. I was hoping to see more educational exhibits, but I accidently stumbled across livestock judging competitions! This was a lifestyle I wasn't familiar with, but it's almost comparable to families supporting their children at sporting events. I sat down to watch some of the pig judging. I was very impressed with the size and stock of the pigs in the arena. However, I had no idea what the judges were looking for other than weight, muscle tone, and ear shape. This was definitely a tense competition for the agriculture student competitors, their families, and their pigs.
After the competition ended, I walked the stalls looking at other animals awaiting their competition turns. I also came across some interesting educational signage. One side of the shack signage highlighted dietary habits and digestion biology of certain animals. While the other side pointed out various veterinarian facts and health features of livestock animals.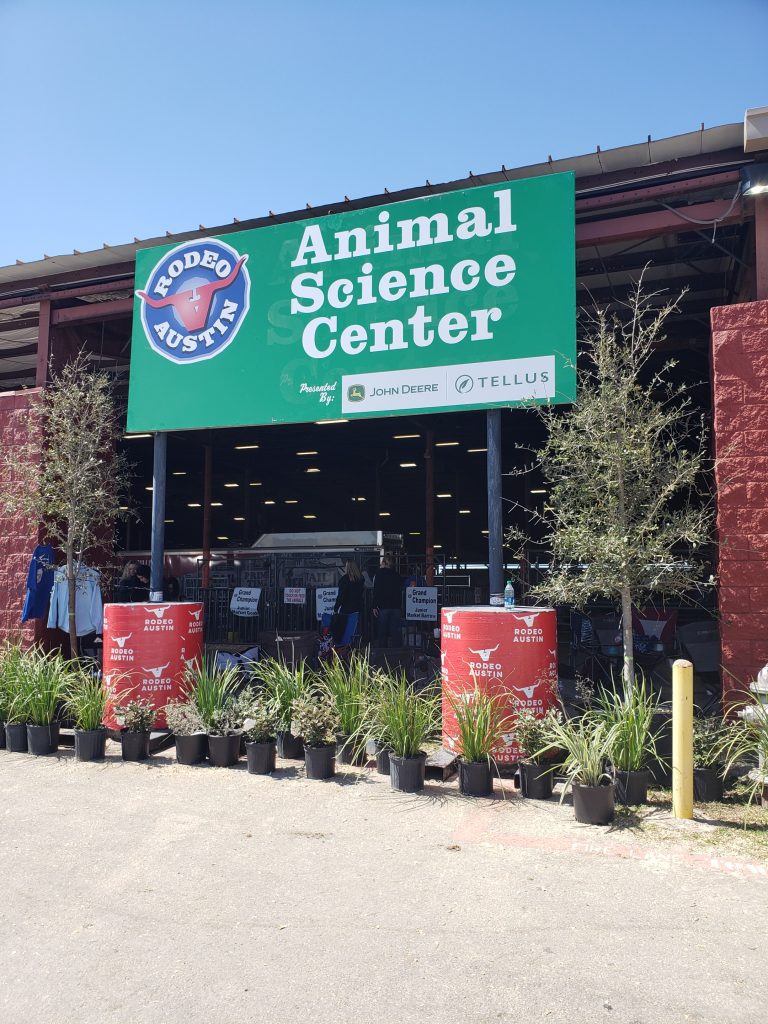 It was then time for the skills exhibition shows at the Wild West pavilion. The first show was Tomas Garcilazo – The Charro. He's a world-renowned trick rope artist and showed off his La Charreria horsemanship. He was very impressive and has travelled the world with his skills. He even found a wife in the industry and started a family, who also performs in this show!
Also in the Wild West pavilion was the Dynamite Dames riding skills team. These ladies were of various ages, and very talented riders. They've also showcased across the nation and have competed on nationally televised variety talent shows.
My time ended at the rodeo with watching several rounds of Mutton Bustin', which is small children riding sheep. It's one of my favorite rodeo-style events. I also caught one of the last Swifty Swine Pig Races. Cute little piglets with puny names raced around a sod track to win an Oreo cookie at the finish line!
Aside from offering waste disposal services, TDS also provides site services. Waste comes in many forms, including human waste and hygienic-related waste. Restrooms and handwashing stations are also added value revenue generators for the business that pair with trash cans and temporary event infrastructure.
We offer a variety of portable restrooms, ranging from ADA-accessible units to mobile luxury restroom trailers. This side of the business wasn't something I was fully aware of when I joined TDS. However, over time it made more sense from a revenue growth perspective for the business.