The School of Permaculture
My experience with the School of Permaculture (SOP) started before I left for Lost Valley Education and Event Center in Oregon, where I earned my Permaculture Design Certificate (PDC) and Ecovillage Design Education Certificate (EDE) as part of LV's Holistic Sustainability Semester (HSS) program. (See past blog posts)
I officially met Nicholas Burtner and his wife, Kristi Burtner, at their suburban home demonstration site in Plano, Texas, for one of their free 'Intro to Permaculture' classes — which was the Friday before the start of their in-person PDC class weekend from Saturday to Sunday at the Plano Environmental Education Center.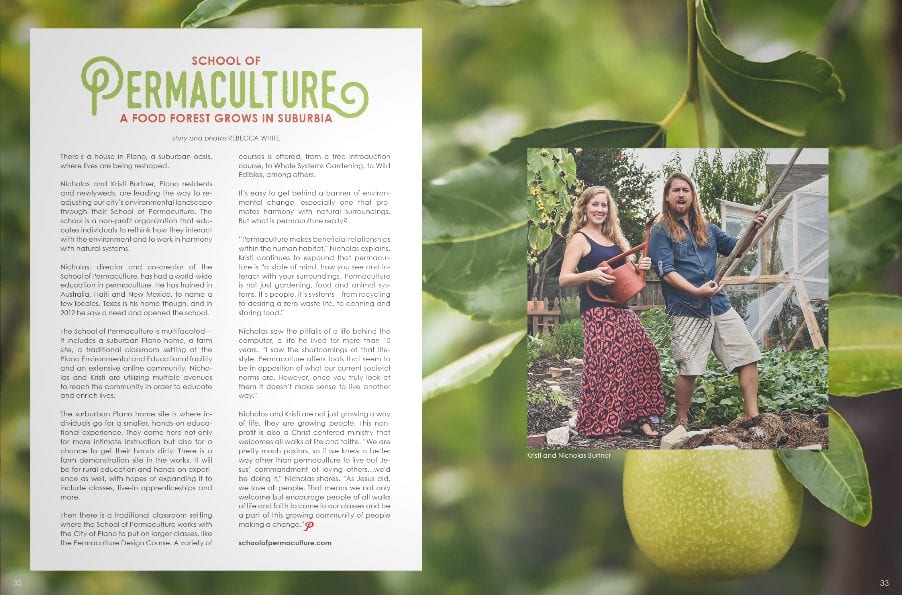 Here's a black and white view inside of the Burtners' home, where they host the 'Intro to Permaculture' classes for the public. While this wasn't the session I attended, it is very similar to the one I attended before enrolling in the initial PDC weekend courses.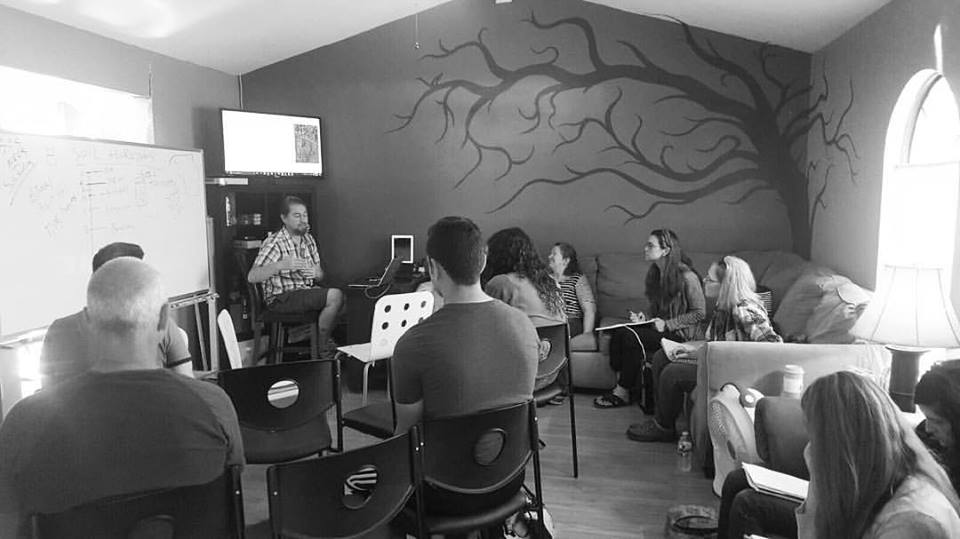 This video tour provides a look into the Burtners' suburban homestead site, where they grow some of their own food, host indoor and outdoor classes, and invite people to visit and learn about permaculture!
I've also included some pictures of the exterior of their suburban demonstration site, including more recent pictures when I volunteered for the school!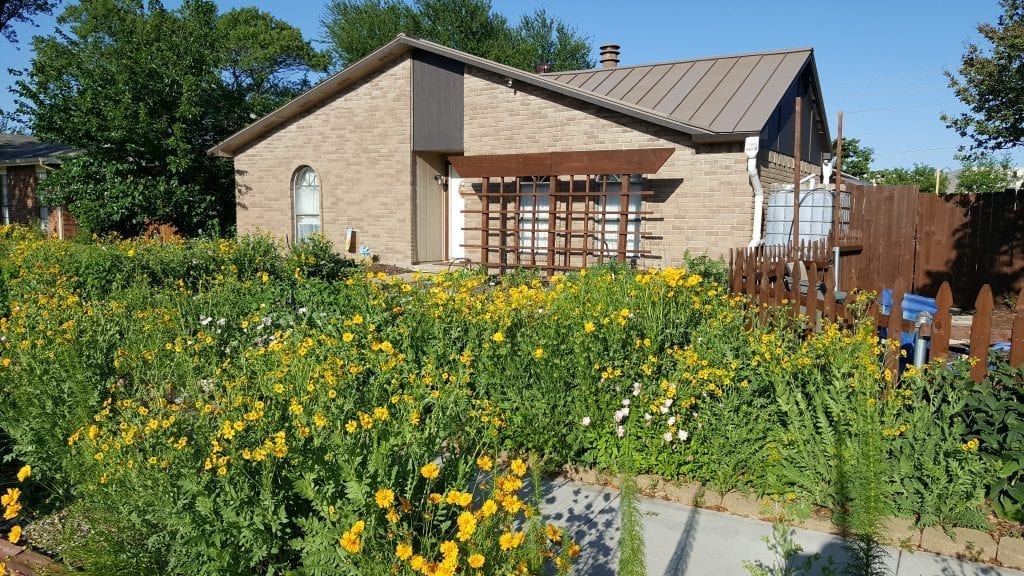 This is a view of one of the front yard mandala gardens, an energy and space spacing design!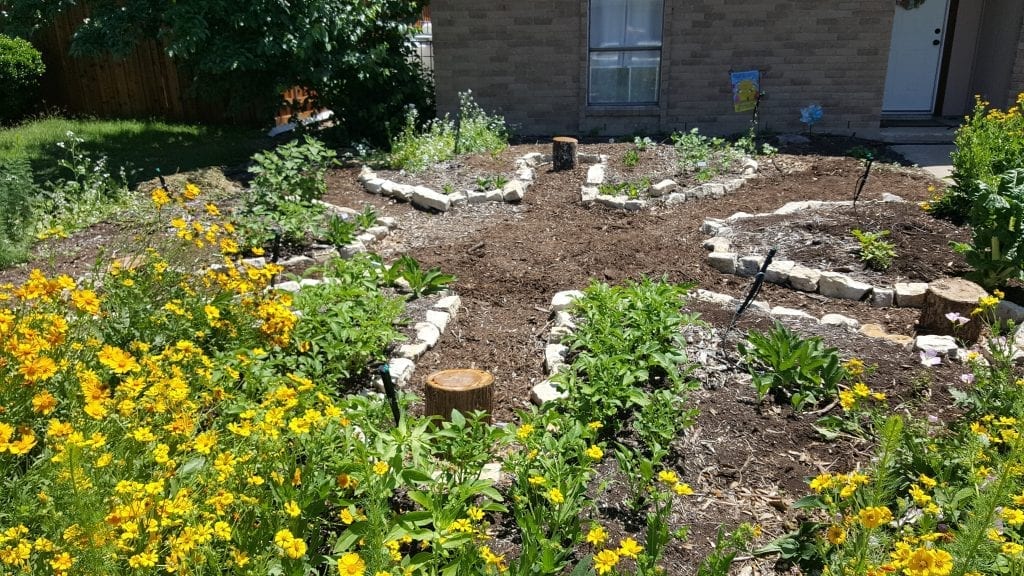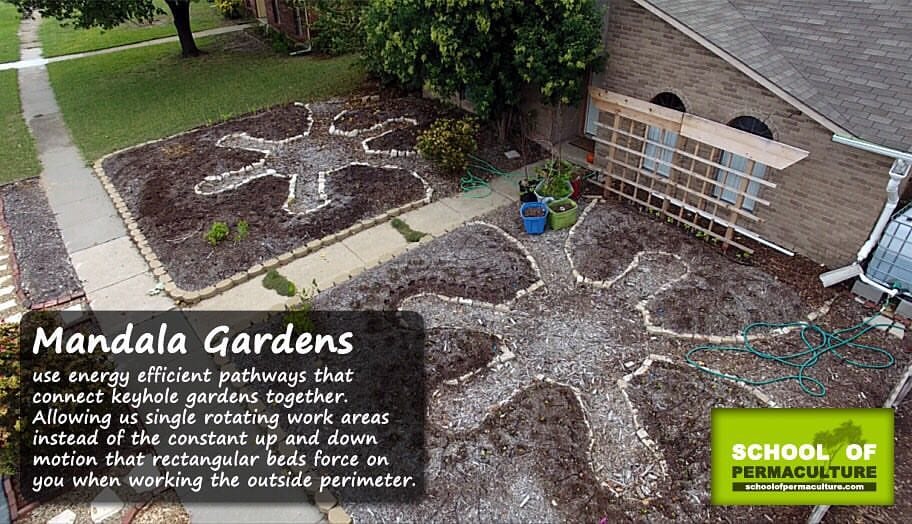 Because of this synchronicity in timing, and not knowing if I had been accepted into the Lost Valley program yet, I enrolled in the first four SOP classes – which were separated into one weekend a month for two full days, and each day being a certain curriculum topic for the PDC.
This is a view of the Plano Environmental Education Center, "built in 2010, the [center] is one of the City of Plano's first green buildings and is certified Leadership in Energy and Environmental Design (LEED) Platinum by the U.S. Green Building Council. The design incorporates many sustainable features." — Environmental Education Center Webpage
Architectural site orientation and layout plan for maximum energy efficiency (roof overhangs, east-west orientation, shade)
Use of recycled / renewable / nontoxic materials (low VOC paint and adhesives, reclaimed wood, compressed recycled paper counters, recycled glass terrazzo flooring and fly-ash concrete)
Energy efficient and renewable energy technologies (solar panels, natural lighting, photovoltaics, wind turbine and living green roof)
Water conservation (rainwater harvesting, gray-water recycling, low-flow water system, drip irrigation)
Educational applications (interpretive displays, interactive programs, workshops and public presentations)
This is a picture from one of the previous SOP PDC courses, prior to my class. Overall, the EEC is a beautifully designed educational venue and great for hosting classes, with movable tables and chairs, whiteboards and a projection screen.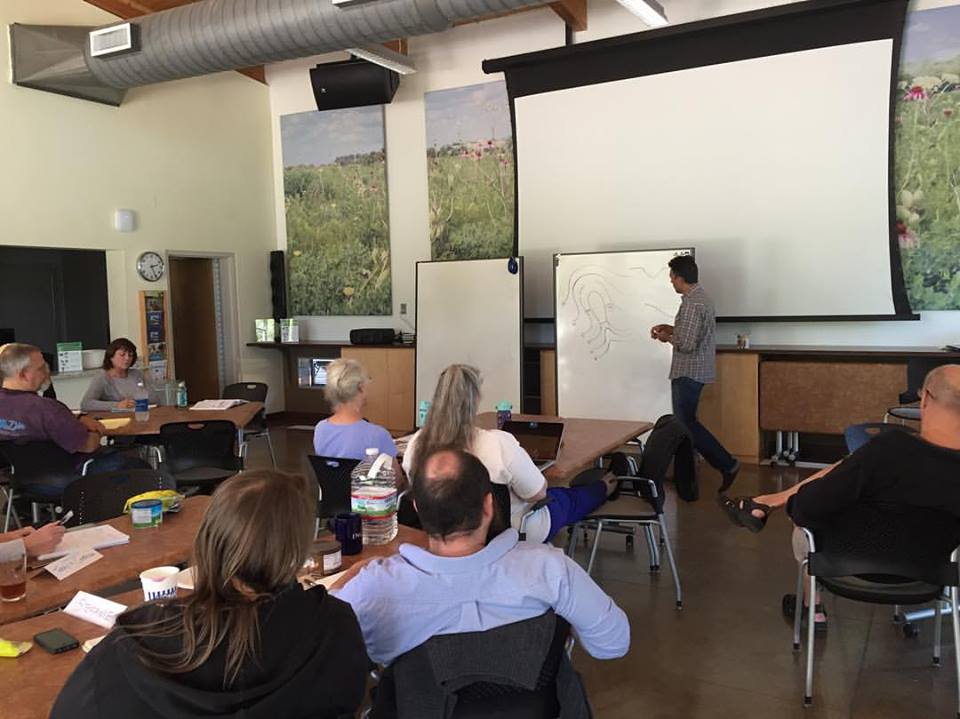 This was my class, where you can see me with the green shirt in the back left of the group huddling around Nicholas walking us through a site map design.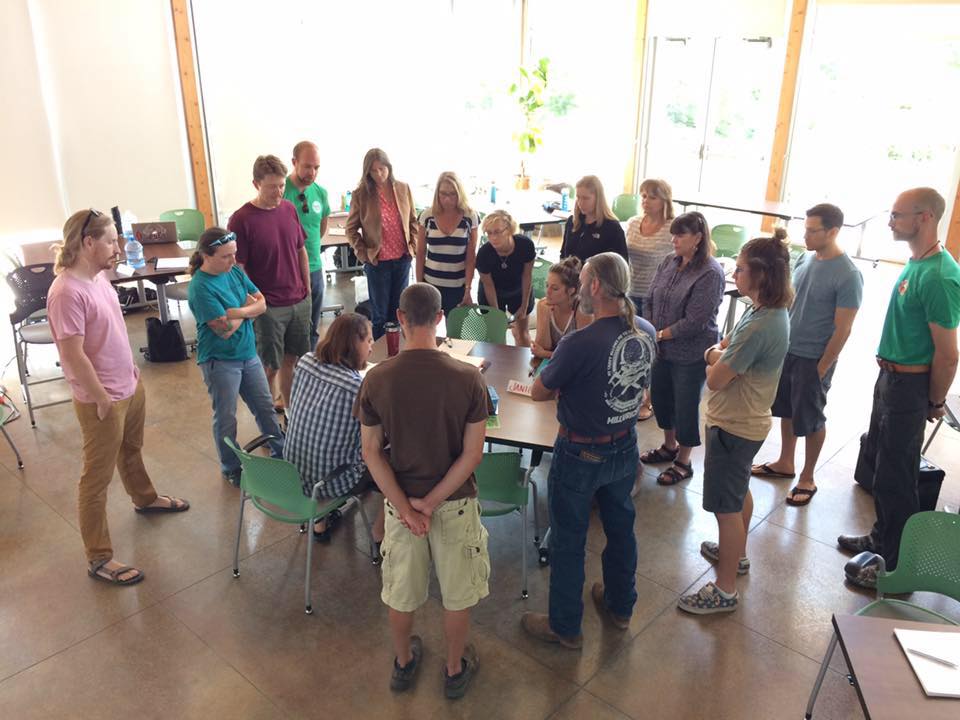 ---
Post PDC – SOP Involvement
After I returned from my time at Lost Valley Ecovillage in Oregon and my Eco-Road Trip back to Texas, I had a hard time getting involved in permaculture and sustainability in my local area – with the exception of EarthX Expo, and a few one-off encounters. (See previous posts)
So I circled back to the School of Permaculture and helped volunteer my time and marketing skills.
Here's a picture of me working the SOP booth at EarthX Expo 2018, where I told guests about the school, explained what permaculture entails, and told them about my own personal experiences in Oregon and my eco-travels back!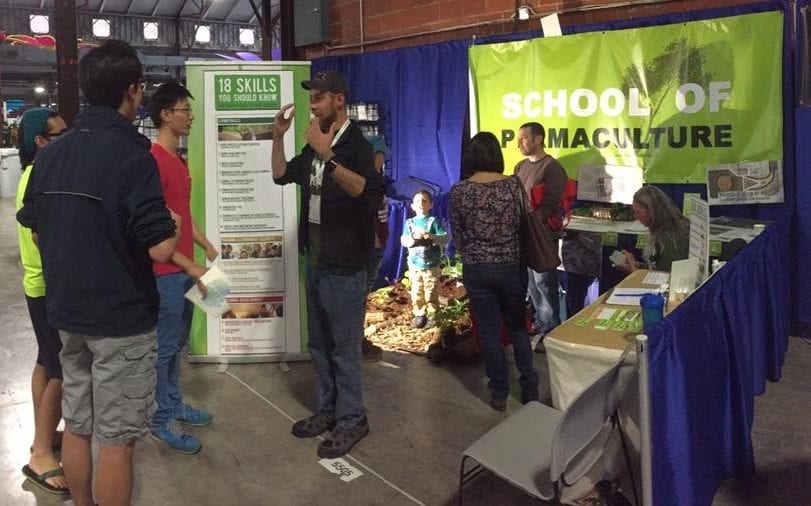 These are some pictures from an 'Intro to Permaculture' class and tour Nicholas hosted at their newly renovated outdoor classroom!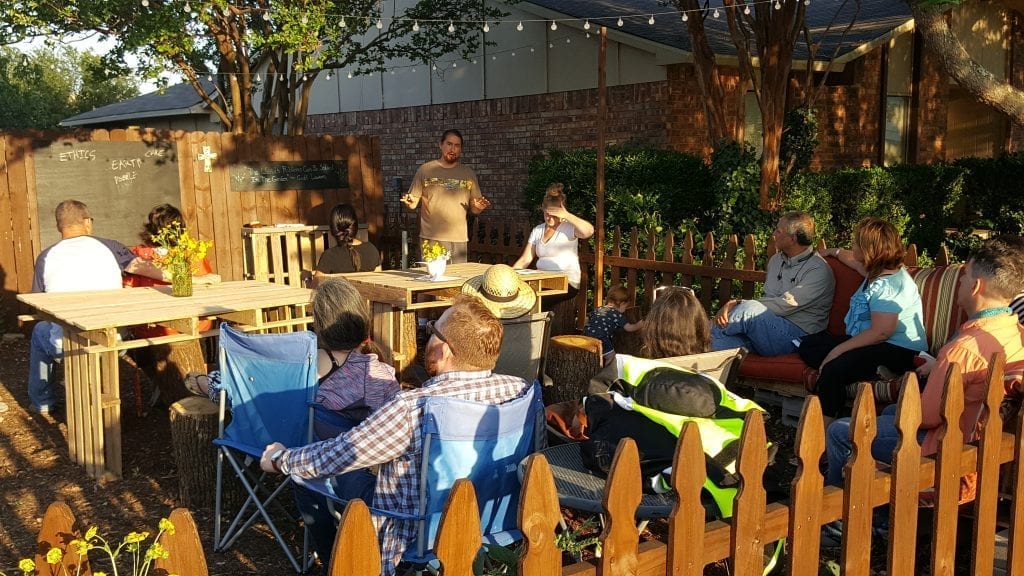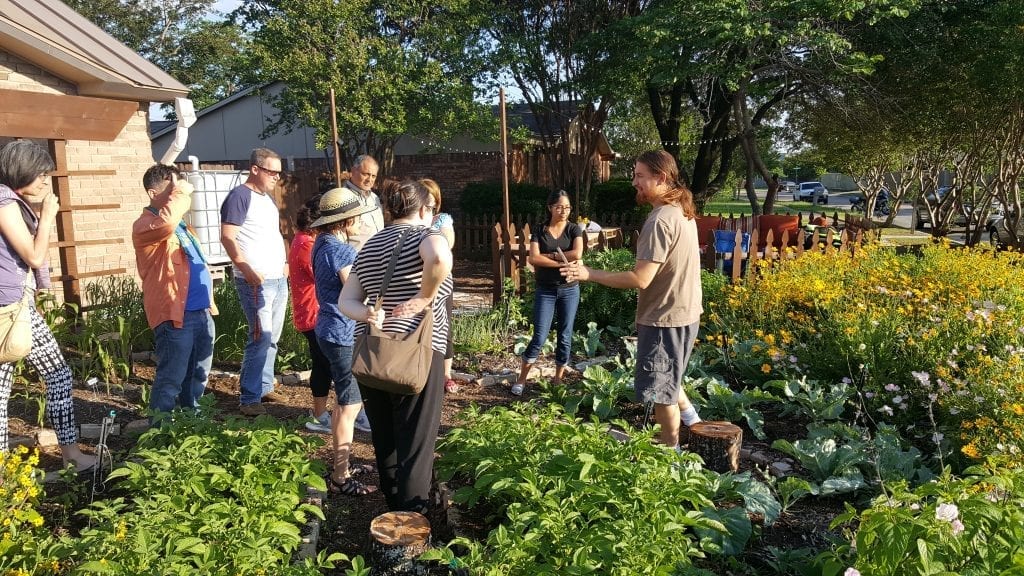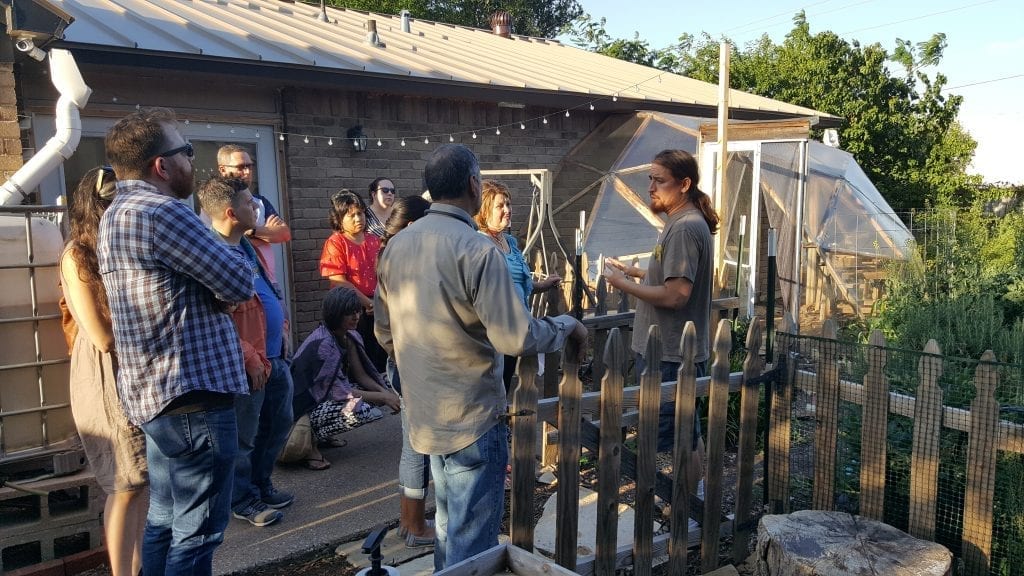 I really admire what the Burtners are doing with their lives, and they have been nothing but great influences on me and showed me how to live aligned with permaculture principles in a setting I'm familiar with.  They even offered me a job to help with marketing, but I chose to decline because that was a pathway I was trying to steer away from.
Currently, they are actively working on bringing the School of Permaculture to the next level, while balancing caring for their young daughter, growing their educational program and classes, furthering their international aid initiatives, selling their suburban homestead to purchase a new property in the Dallas Metroplex, and developing property for their educational farm!
---
Resources: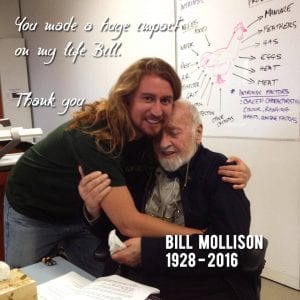 I highly recommend attending one of the FREE ' Intro to Permaculture' courses offered onsite while they still have the suburban demonstration site. However, if that is not an option, definitely check out the online resources below.
Also….
SOP has an online Landscape Assessment Tool that is definitely a wealth of informational resources, I have purchased the tool personally — but haven't gone through the entirety of the video lessons yet to fully utilize the tool.
Here's a video walk-through for better context!