"Pismo" the Surfing Goat & Santa Barbra PT. 1– Summary:
Who: N/A
What: Took a pit stop at Pismo Beach, and met Pismo the surfing goat; Visited Santa Barbra and back tracked to a nearby town for my destination the next day
When: Saturday, March 31
Where: Pismo Beach, CA; Santa Barbra, CA; Lompoc, CA
Quick Resources:
My Route:
Planning my Eco-Inspired Road Trip Blog Post
My Travel Story:
After leaving the Forestiere Underground Gardens in Fresno, CA, I headed back toward the coastal highway and spent the majority of the day driving to Santa Barbra. I made frequent stops along the way to check out the diverse California landscape.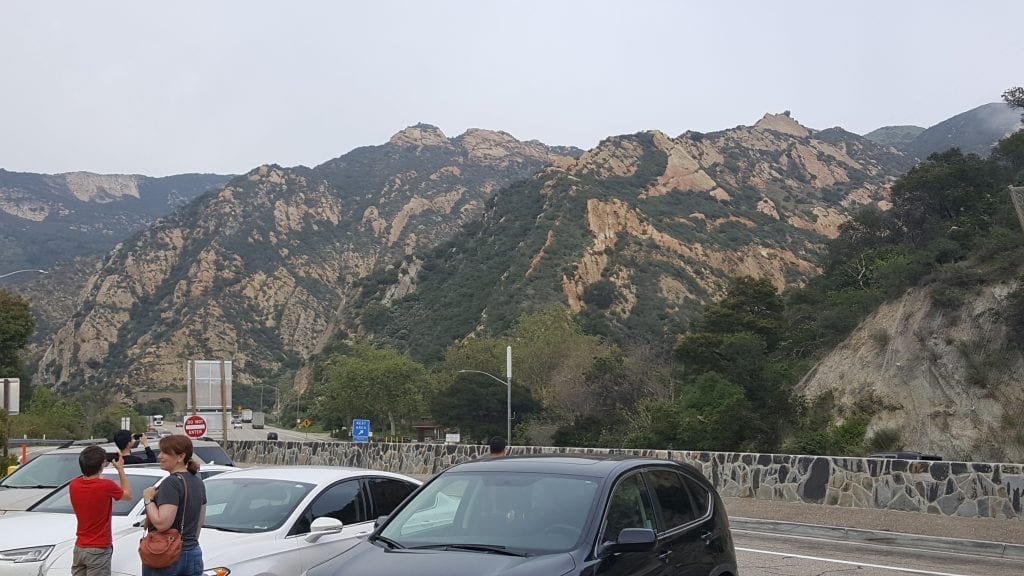 One of my more interesting stops was in Pismo Beach, CA. I pulled off the highway and maneuvered the bustling, touristy coastal town streets to the beach where I came across Pismo the Surfing Goat.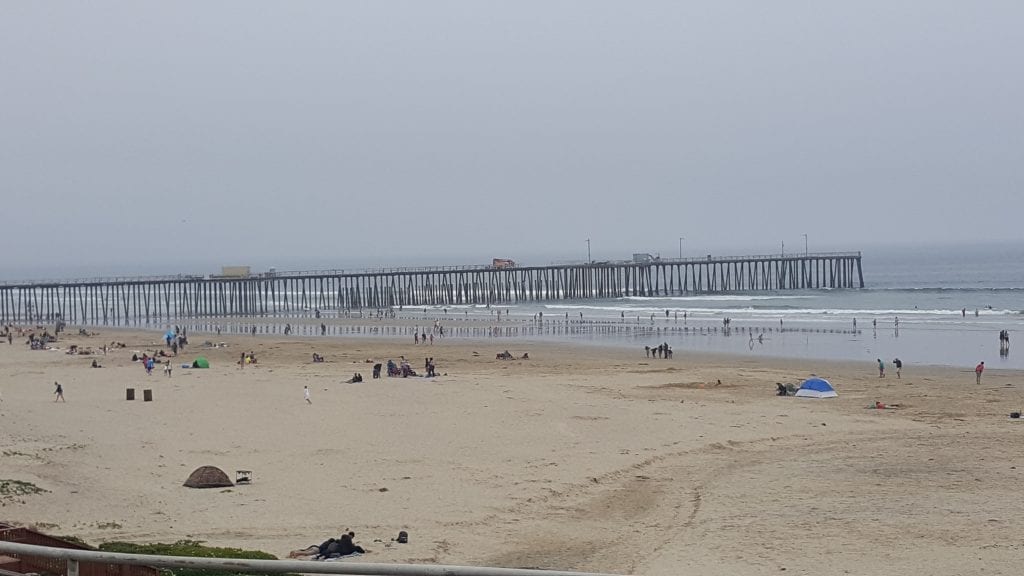 Here's Pismo! And her life story according to their Facebook Page:
"Raised on a Goat Farm with all my brothers and sisters and grazed often with them…..then one day a man came to purchase a goat and I knew I was supposed to go
 with him…..so I walked right up to him and he chose me. He was going to eat me but he got really close to me as we worked together everyday to clean up his yard…..now we are best friends."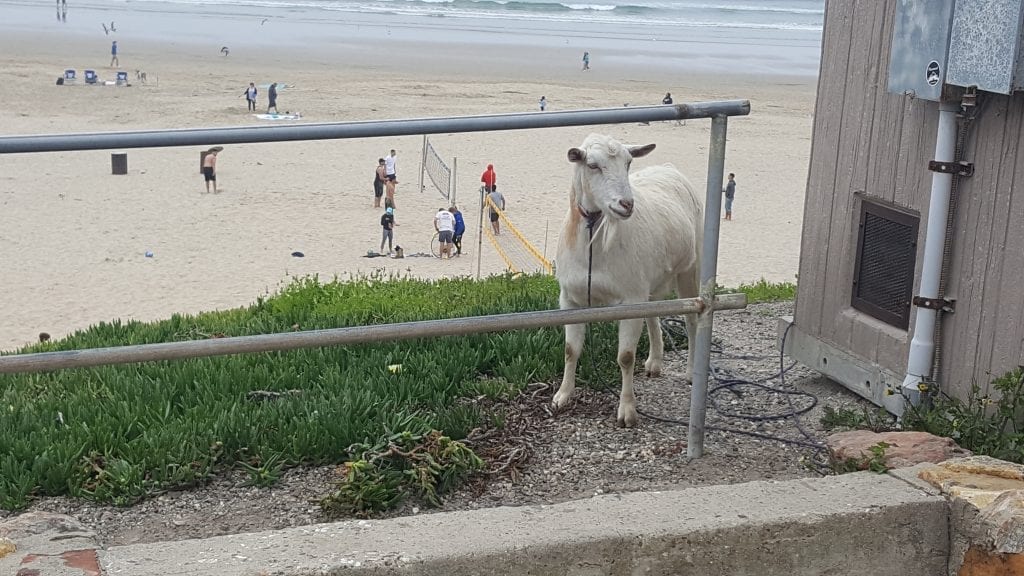 I didn't get to see Pismo surf personally, but I did park next to his owner's car. So at first I was confused seeing a goat at the beach by the public bathrooms, but the car put it into context.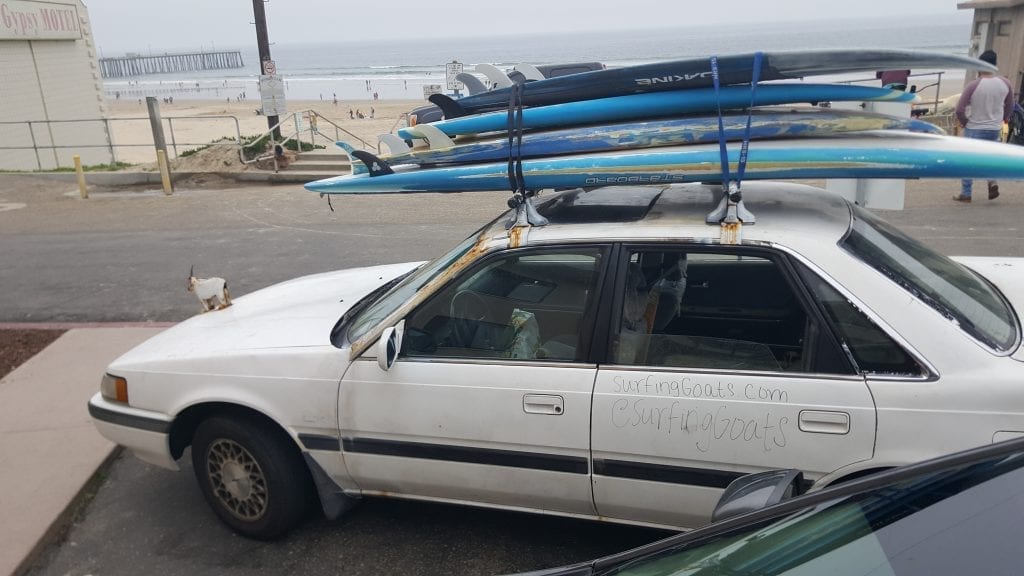 There was also a tense scene where an Australian Shepard came up from the beach with its owner, and its natural herding instinct kicked in, which resulted in a dog and goat stand off – with Pismo rearing up and charging the dog to scare it away.
Another mini-stop that day was at the Arroyo Hondo Fish Passage & Upstream Habitat Restoration Project – an "underpass highway for fish" where I walked across the bridge and took pictures of the coast, mountains and a rental tie-dyed camper van.
"With grants from the Coastal Conservancy and the California Department of Fish and Wildlife, the Land Trust embarked upon a project to retrofit the 300-foot culvert beneath highway 101 at Arroyo Hondo Creek to enhance the downstream lagoon and improve fish passage for the native southern steelhead." – Santa Barbara Land Trust Webpage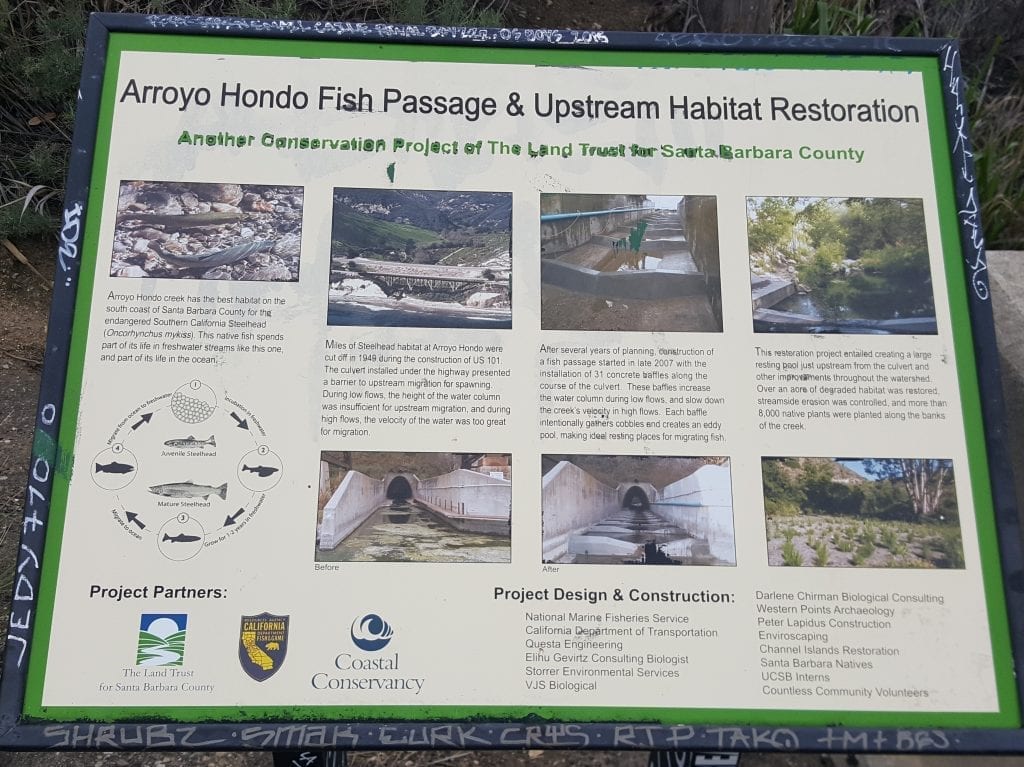 This is a view of the bridge and train tracks that were built over the fish passage.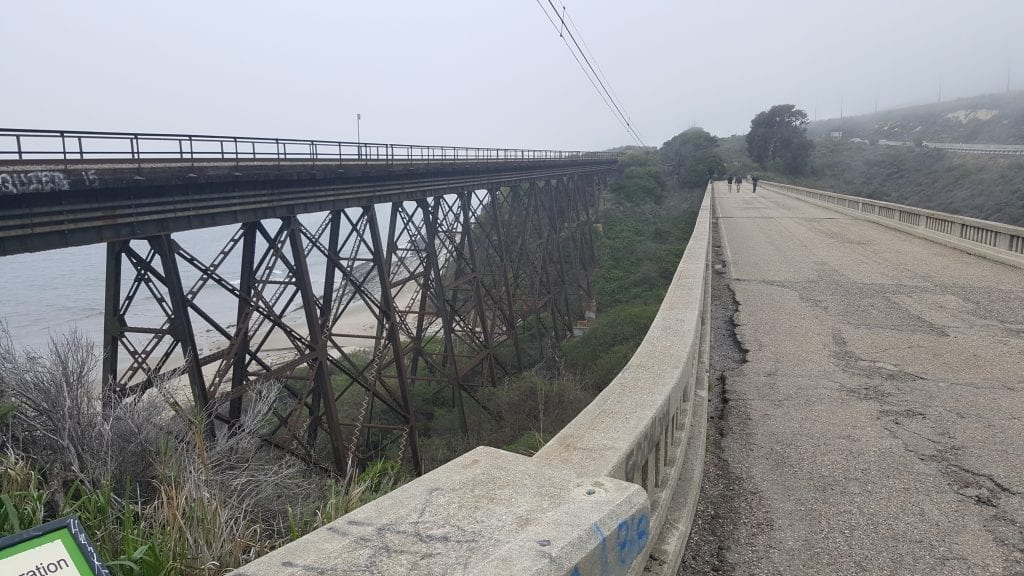 This overlook had displays of the local geography, war involvement, and native american history. Unfortunately the view was fairly cloudy, so I couldn't see but a few miles in any direction.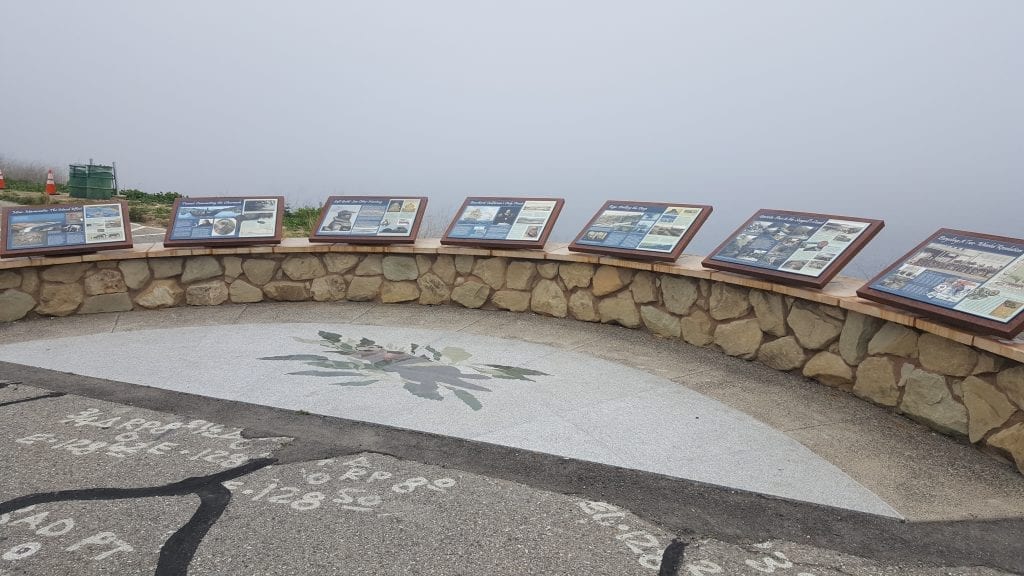 These international travelers had the great idea of renting a tie-dye travel camper-van, complete with a pull-out kitchen, so they could travel the California coast!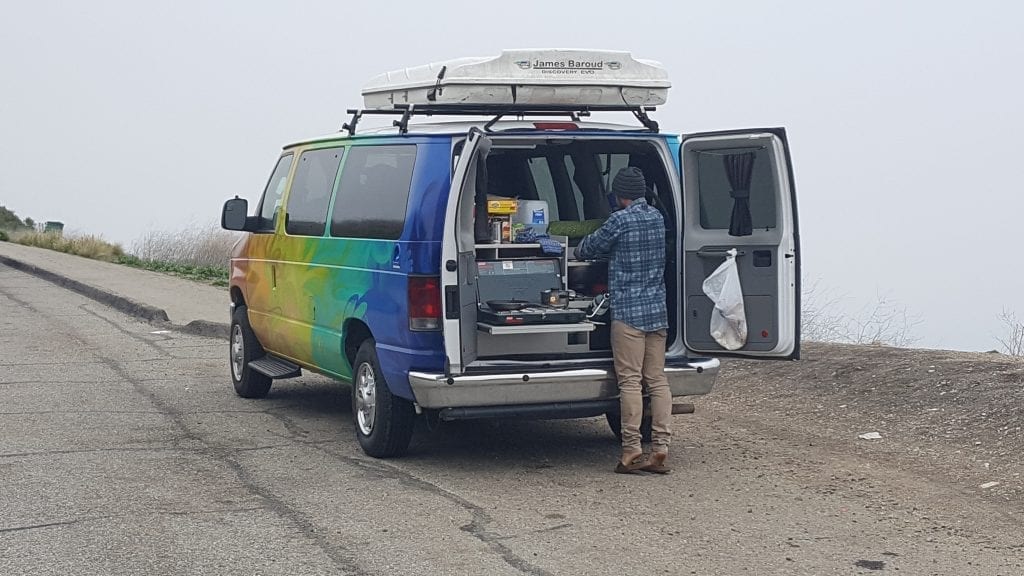 Later that afternoon I made it Santa Barbra, CA, and walked around downtown because most of the local attractions were closed for Easter Weekend, while simultaneously attempting to make accommodations plans for that night.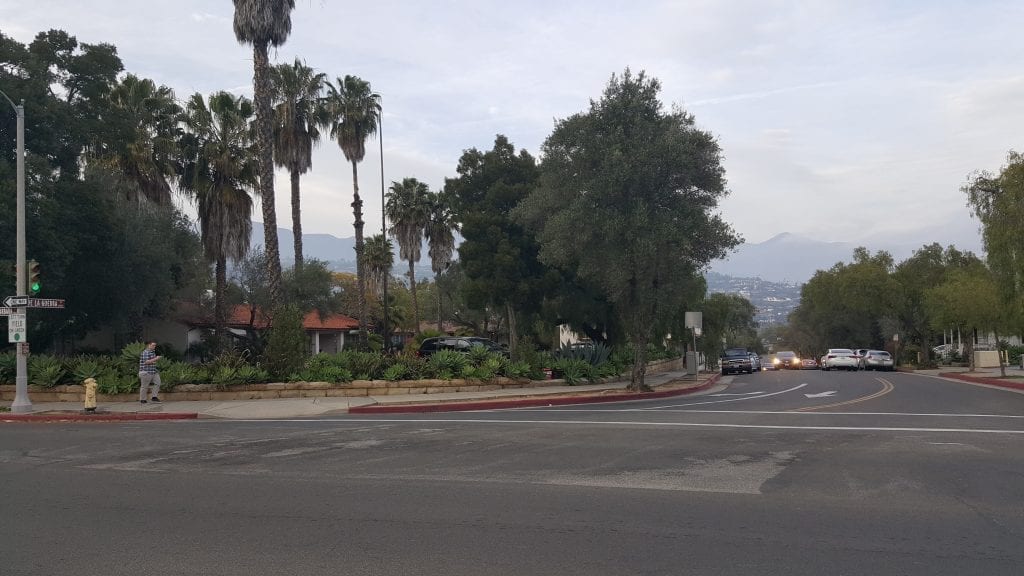 This is the Santa Barbara Historical Museum, which I was looking forward to visiting but it was closed for Easter.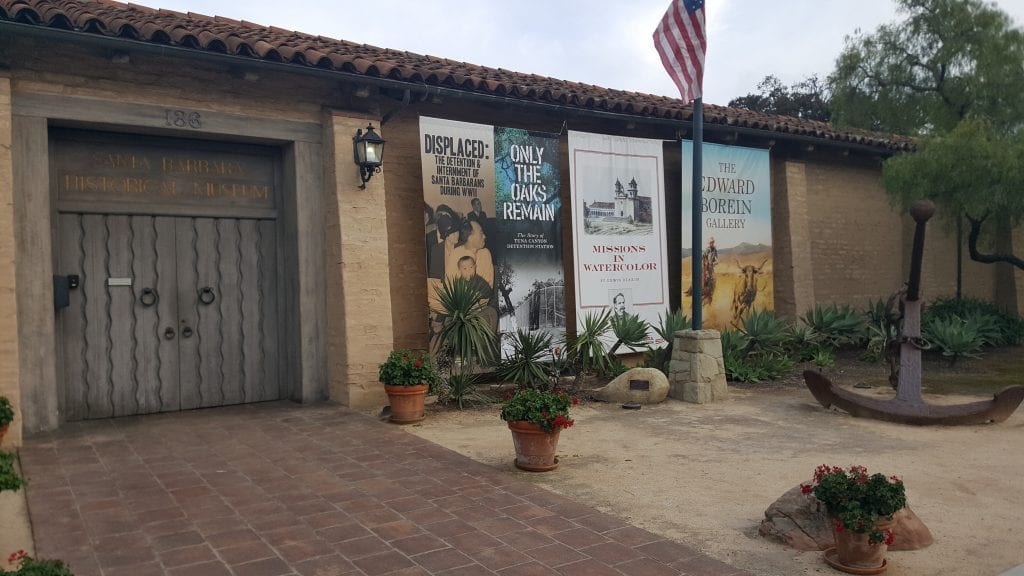 Unfortunately, I was priced out of the town itself for a 'day of reservations.' And in the process of planning where I needed to stay, I realized I overshot my destination for the following day – so I backtracked a couple of hours that night to Lompoc, CA.