Monolithic Dome Institute
My two week adventure to Austin started with a stop at the Monolithic Dome Institute's Dome Research Park in Italy, Texas.
As a kid, I would always travel by Bruco, the giant dome caterpillar, on our family trips to visit my grandparents before they lost their home to one of the Texas fires several years ago. So this was the first time I actually pulled off the highway and took a look at the actual domes and houses that made up this unique dome community!
This is the entrance sign into the Monolithic Dome Research Park, which was tucked away a few miles down a gravel road from a McDonald's Restaurant and a couple of gas stations off the I-35 highway.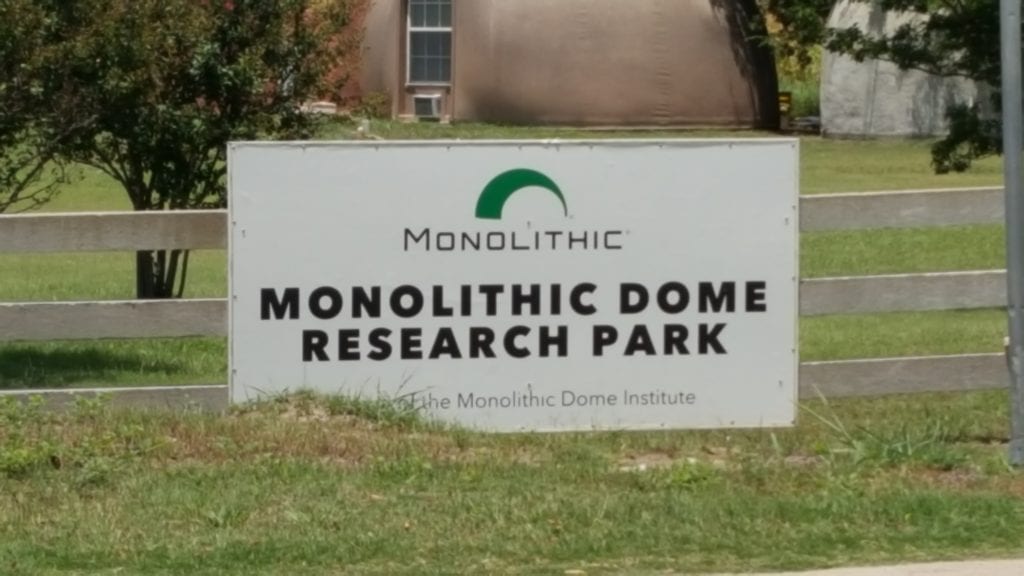 Behind the Monolithic sign was one of the larger dome residences, which was laid out to look more like a suburban home or a house in a planned development, compared to some of the other dome complexes in the community.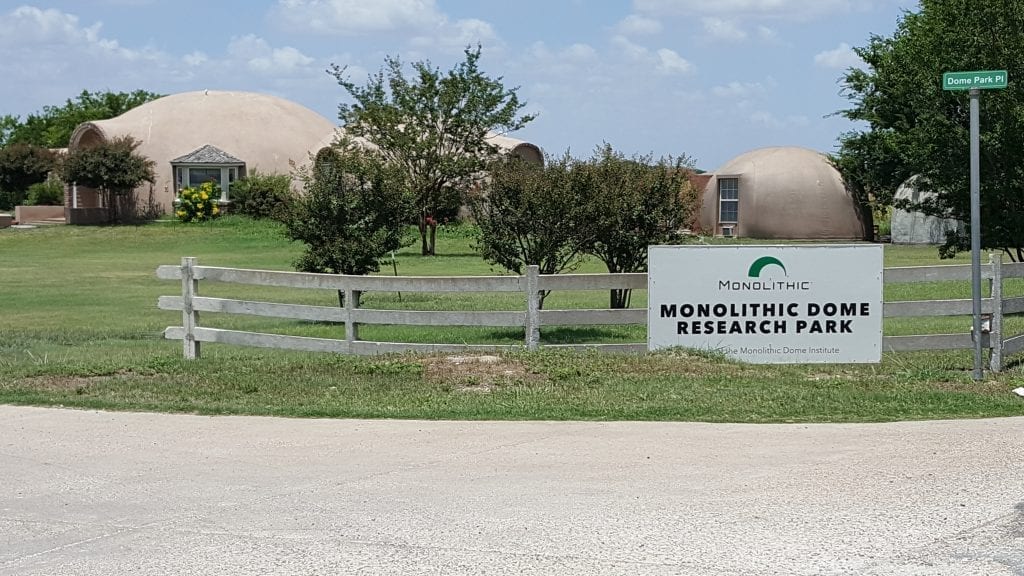 Here is another more "planned development" housing complex layout right across the street from the first dome housing I saw. This home features several connected domes for the main house, with a covered patio, and also includes a separate dome parking garage for cars or additional storage. I also noticed that this house was painted white, and had some original concrete grey domes – which could be recent room additions?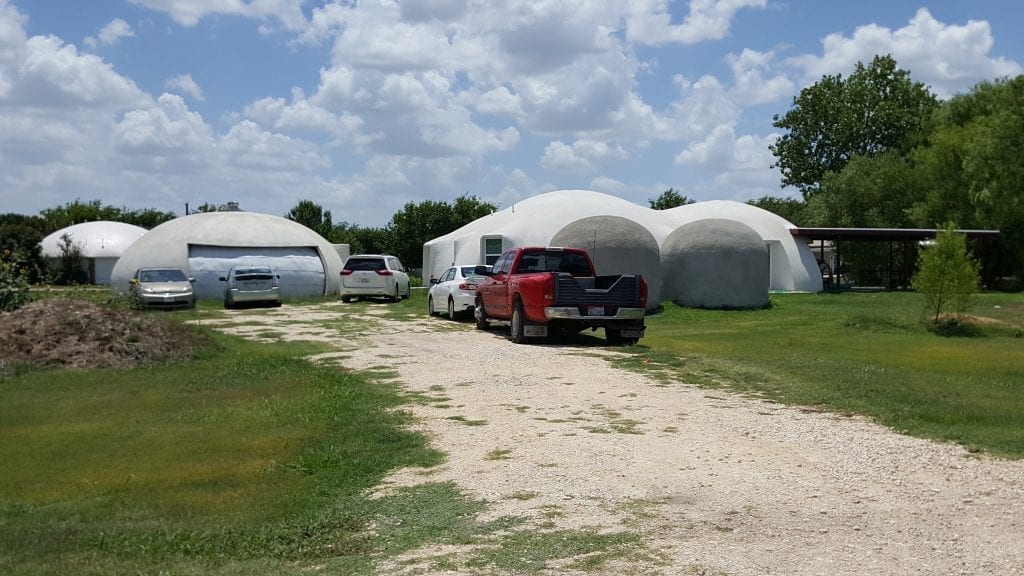 I continued down 'Dome Park Place' road toward the center of the community, and parked across from the main offices and event space domes. Unfortunately, I was traveling on a Sunday, so the main offices were closed and I didn't realize they had official open house dates.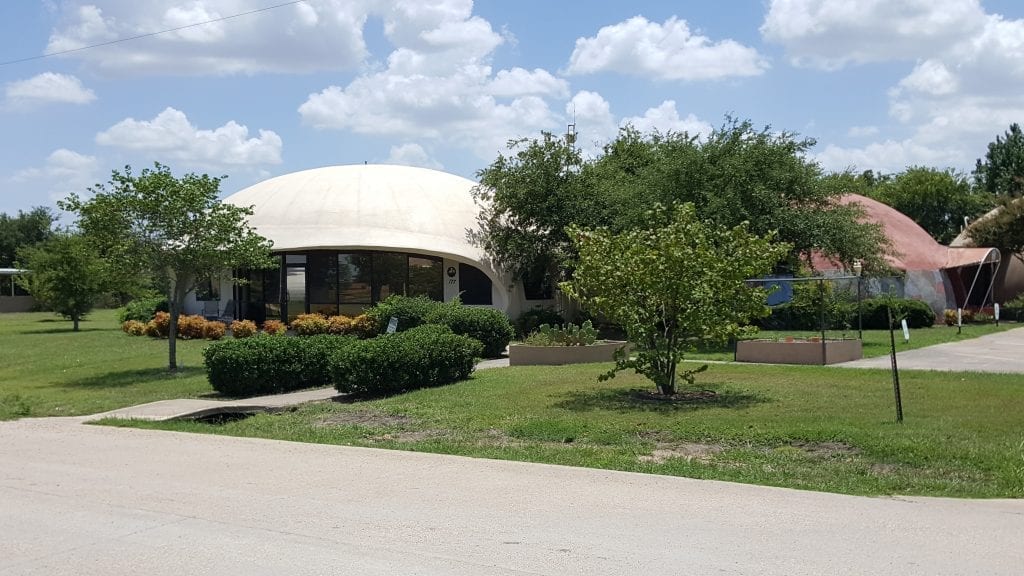 Here's a quick video tour from the center of the community I filmed while walking around.
Across the parking lot from the main office buildings were some of the Oberon Four-plex rental dome homes in the community.
"With a living area of 201 square feet –– about the size of a large, double motel room –– the apartments are designed for one-person occupancy.
Each unit includes a bathroom with toilet, shower and pocket door; an eating area with counter, apartment stove, cabinet, microwave and refrigerator/freezer; a sleeping area with space for a single bed or fold-out couch and a closet." — Monolithic Webpage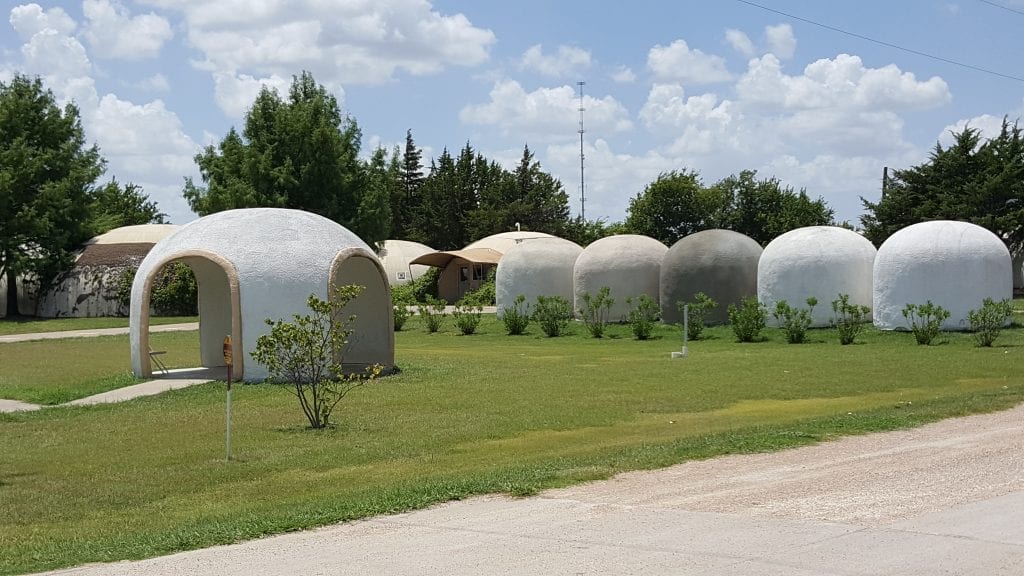 This Io-24 dome and garage/storage dome were right next to the public parking spaces where I parked, so I got to peak inside the open storage dome to see what it looked like inside. The main dome here was also painted with an experimental design to resemble natural rocky terrain.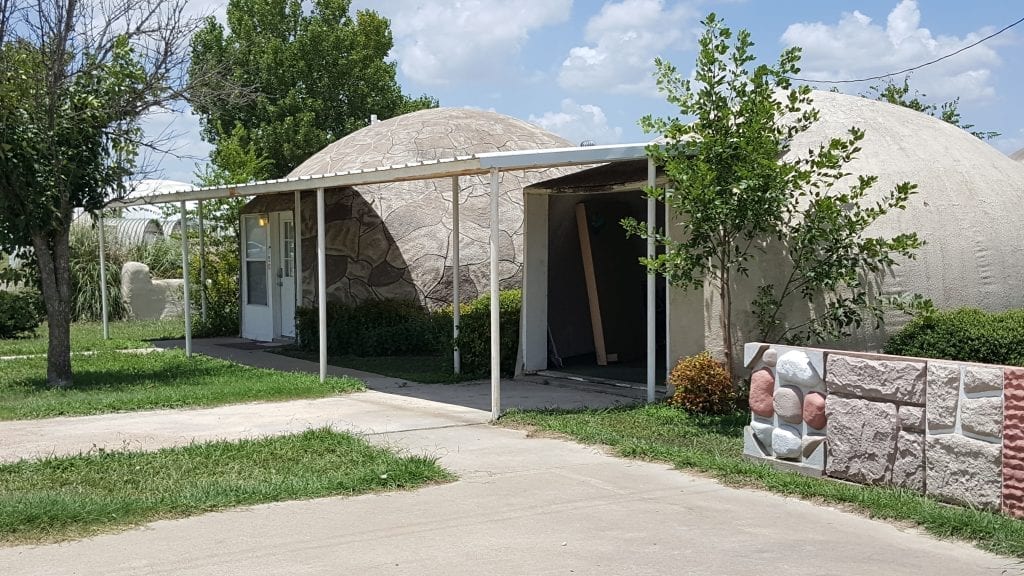 Around the main office buildings were some raised garden beds surrounded with pest netting that included weather-measuring devices for tracking and recording weather patterns. Also in the beds were Ollas watering pots – where the water seeps out and is wicked up by the underground plant roots for efficient watering.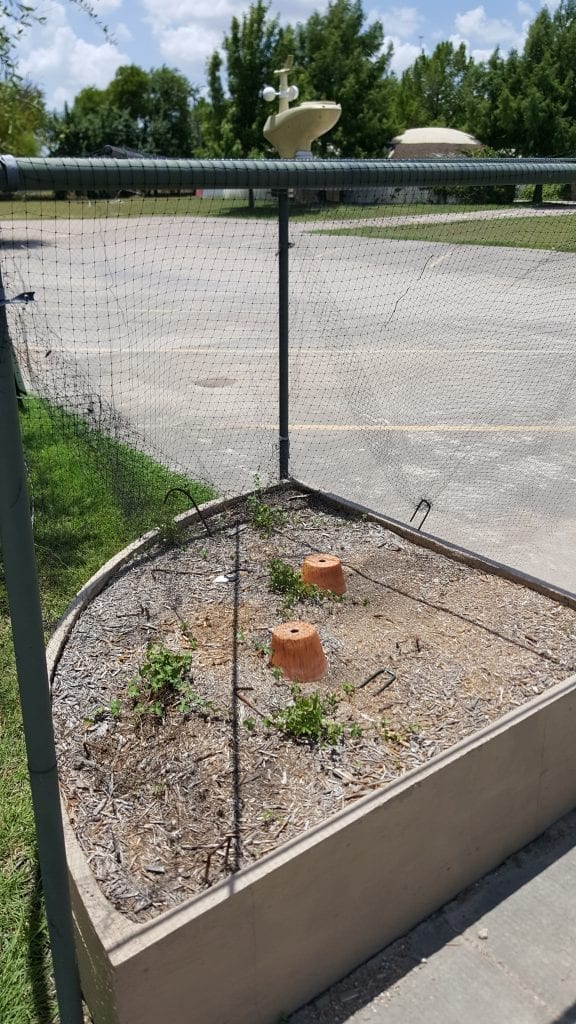 On the other side of the public parking lot was another dome home open to the public, but the neon open sign wasn't illuminated, so I didn't try going in. (In hindsight, it was probably open.)  And I also came across these birdhouses, which somewhat resemble the dome homes in the community!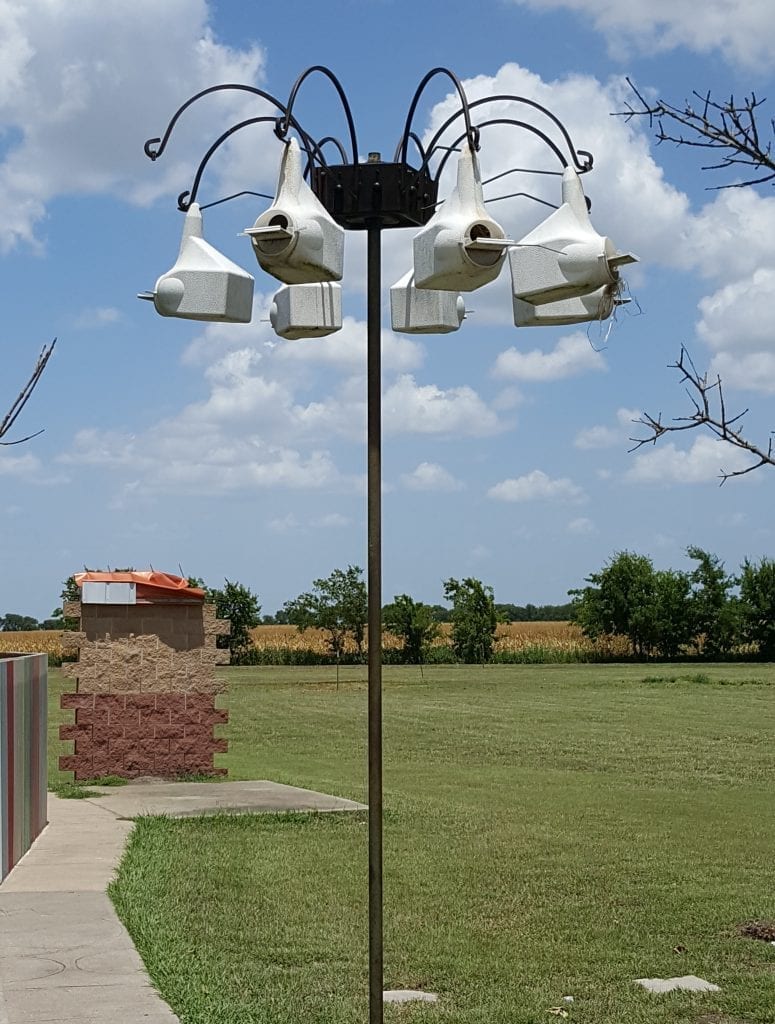 On the far side of the open field across the road from the main office buildings were more rental houses in a dome cluster. These homes are in a tight cluster to maximize space, with insulation and sound not being concerns because of the concrete materials that provide integrated insulation and sound-proofing.
From my online research, these rental houses fall into the I0-20 domes or I0-16.5 domes sizes, which cater to the struggling working class that cannot afford the down-payments and monthly rates of apartments, let alone home mortgages.
"People particularly affected, in both rural and urban areas, included single men and women with minimum wage jobs, single mothers, senior citizens with inadequate or no pensions, and victims of work layoffs or company downsizing." — DomeLiving.com
"Four main reasons account for (I0-20 domes) success:
For low-income singles, the Io-20s put a clean, affordable roof over their heads.
For the landlord, these small domes provide much needed, but easily managed and maintained rentals.
They are energy-efficient – so much so that the cost of electricity could be included in the rental fee.
Because they are Monolithic Domes, the Io-20s have the innate ability to resist natural disasters, such as tornadoes, hurricanes and earthquakes, as well as fire, termites and rot." — Monolithic Io-20 Webpage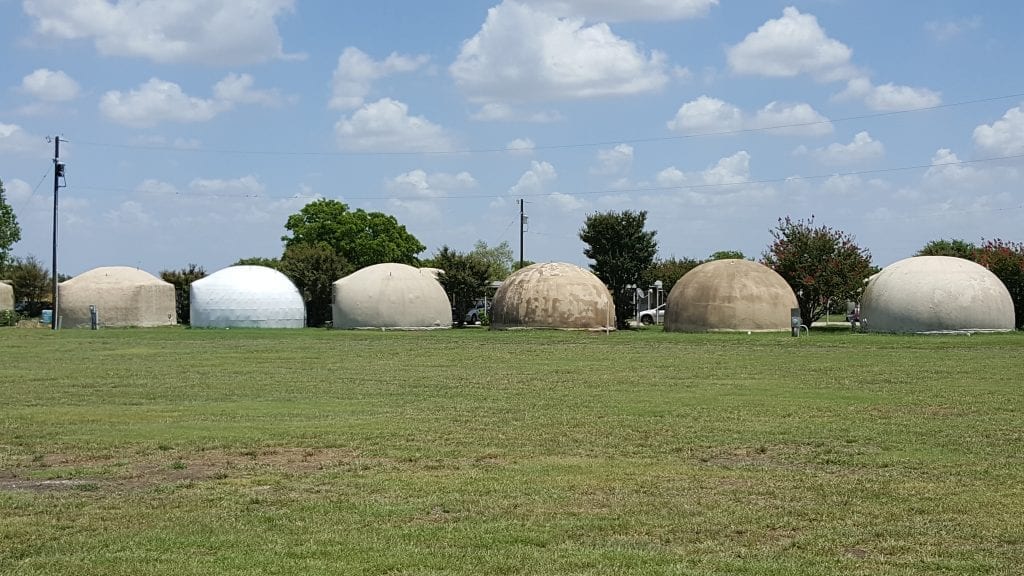 After looking at the housing domes, I made my way to the far backside of the community towards the highway. This area was the commercial aspect of the property, where the Monolithic Dome Institute and its subsidiary companies operate from within Bruco the Caterpillar's seven, 60-foot, interconnected domes encompassing 14,000 square feet of factory space that houses computers, cutting tables and several kinds of machines.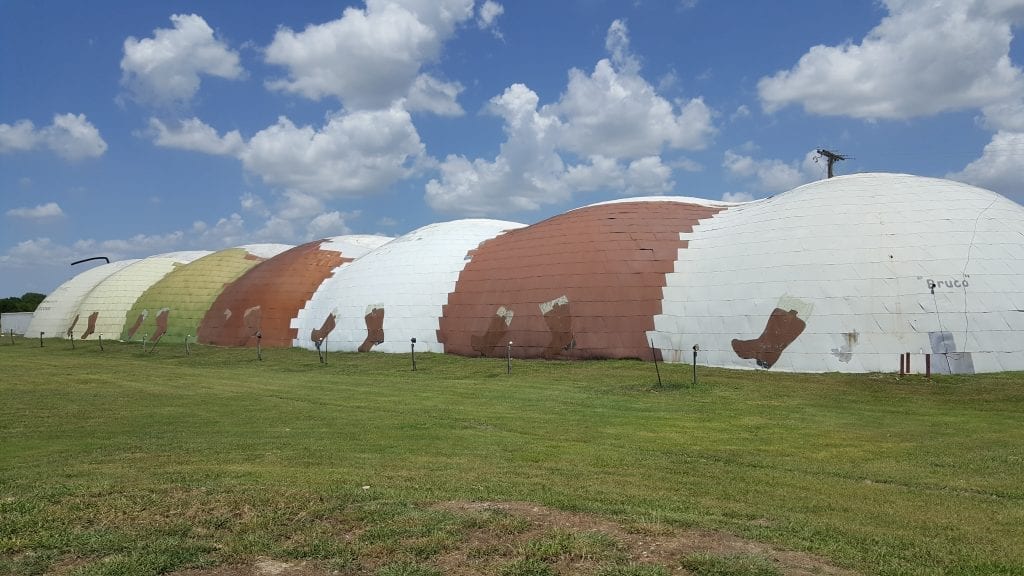 Not too far from Bruco were some additional houses for residents, which backed up to and are immediately visible from the highway. These structures were intermixed in sizes as well as dome colors.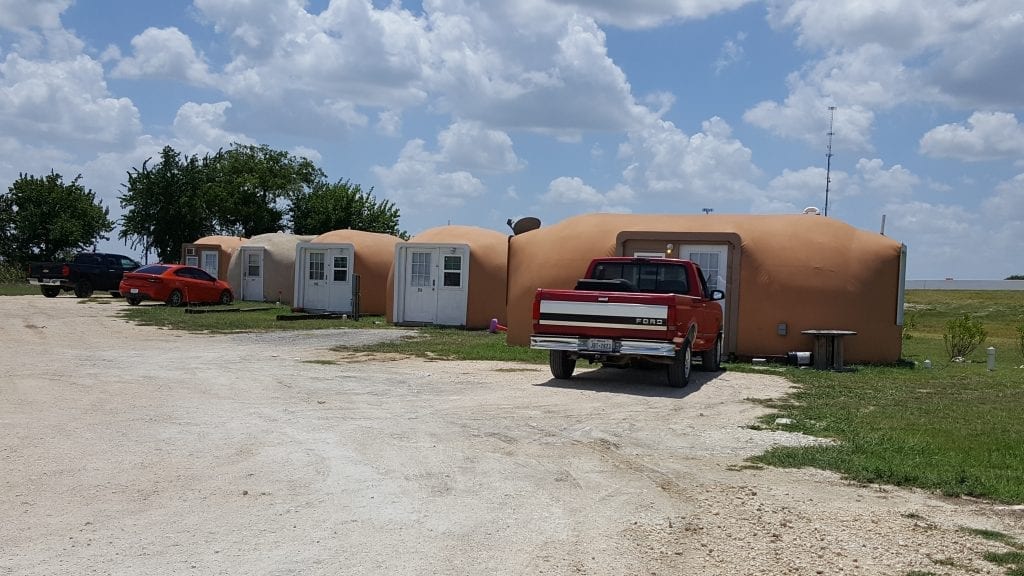 On my way out of the dome community, I took one final picture of the first dome home I saw when I entered the community. Unlike the other dome rentals for the working class renters, this home had custom touches from its entrance to it's landscape, that make me think this style of building can be aesthetic enough to be replicated on larger scales.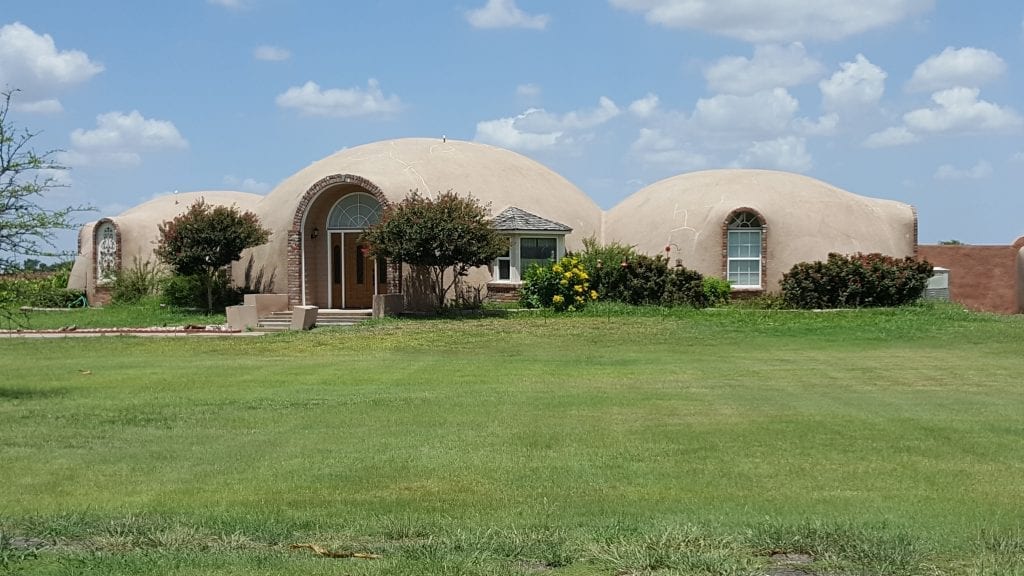 ---
Insights
Overall, I really appreciated the general architectural form of these buildings and saw a variety of shapes and styles throughout my time here. Also through my research, I got to see various applications of domes from international disaster shelters to tropical homes and national examples from school storm shelters to community churches.
Resources
Articles
Videos