Muir Commons Cohousing & Davis Domes– Summary:
Who: Webb Hester
What: Drove from Sonoma County to Davis, CA; Toured and stayed at the Muir Commons Cohousing; Explored the UC Davis Student Domes
When: Thursday, March 29
Where: Davis, CA
Quick Resources:
My Route:
Planning my Eco-Inspired Road Trip Blog Post
My Travel Story:
I left Luther Burbank's Gold Ridge Experimental Farm in Sebastopol, CA, and drove to my next destination for the day at Muir Commons Community in Davis, CA – one of the first cohousing developments in the US built in 1990.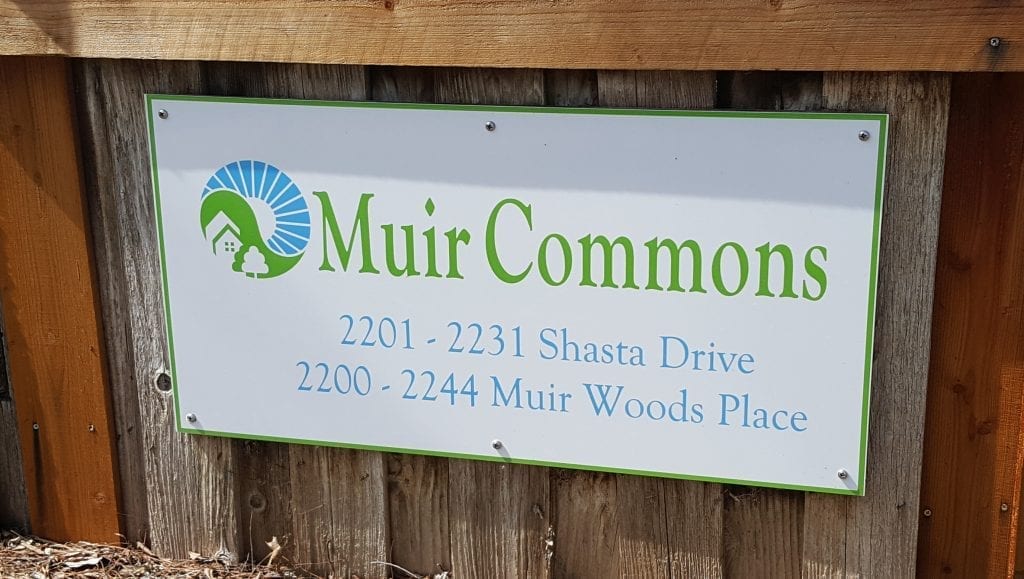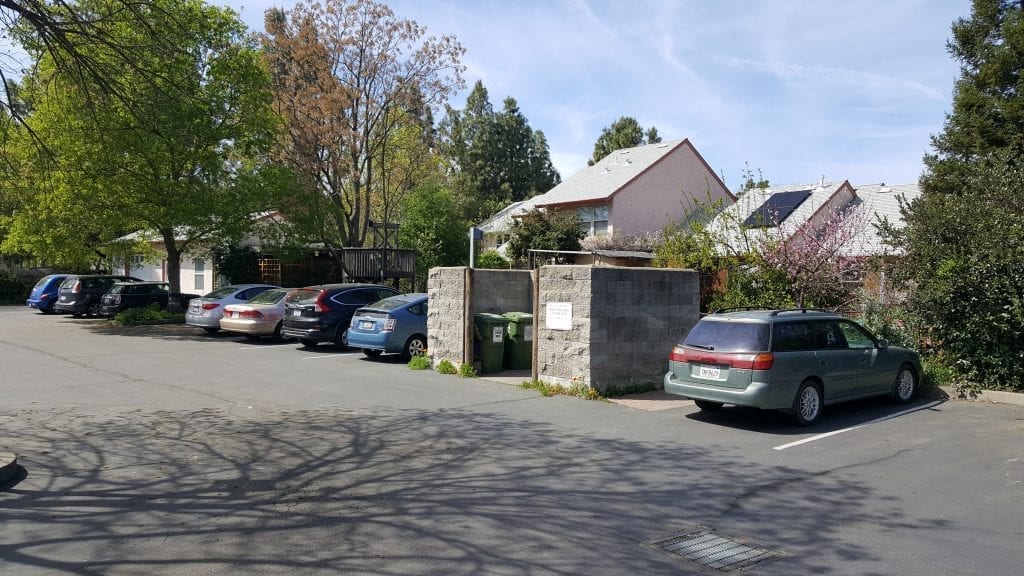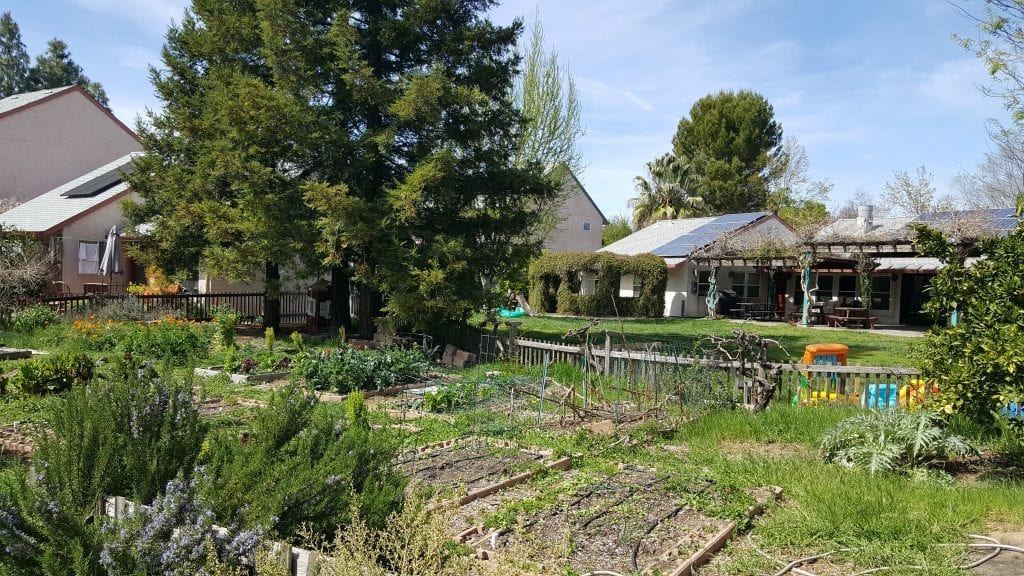 "Muir Commons was the first community newly constructed in the United States modeled after cohousing communities in Denmark. After several years of planning, ground breaking took place on November 1990 with the residents moving in during the summer of 1991.
Who Lives at Muir Commons?   Currently Muir Commons is home to approximately 45 adults and 35 children. Households include a variety of family structures. Most homes are owner-occupied, but several are occupied by renters.
Physical Site Features   Muir Commons is made up of 26 homes on just under three acres. Each individual house includes complete kitchens and private yards. Houses come in three models ranging from 808 to 1381 square feet.
The clustered homes face a central pedestrian pathway while the backyards face the outer edges of the site. Outdoor features at Muir Commons include a garden, an orchard, children's playground, lawns, and "nodes" to facilitate socializing. The extensive landscaping includes many drought-tolerant and native species.
The 3,668 square foot Common House is the heart of the community and includes a large kitchen and dining area to accommodate community gatherings including shared meals. Other features include a sitting room with a fireplace, a children's playroom, an exercise room, a recreation room, an office, laundry room, and a guest room. Other shared facilities include a 900 square foot woodworking and automotive shop, parking areas, bicycle sheds, and a hot tub." – Muir Commons Webpage
Once I arrived, I called my host, Webb Hester, and he let me know he was about to meet his son at a local brewery and we could sync up once they were done. (His son was born at Muir Commons, lives there, and has children of his own – meaning this is a multi-generational community)
So to kill some time, I ventured over to The Domes, (AKA Baggins End Innovative Housing), "which is an on-campus cooperative housing community designed by Ron Swenson. Consisting of 14 polyurethane-insulated fiberglass domes located in the Sustainable Research Area at the western end of Orchard Park, it is home to 26 UCD students." – The Domes Webpage
I didn't get so see inside of the domes, but I parked nearby and walked through the community – getting to see their raised bed gardens and bicycle shop.
Here is the Dome's main entrance sign – somewhat in disrepair with rain damage and the map fallen off the backboard. I really like how it also serves as a public library!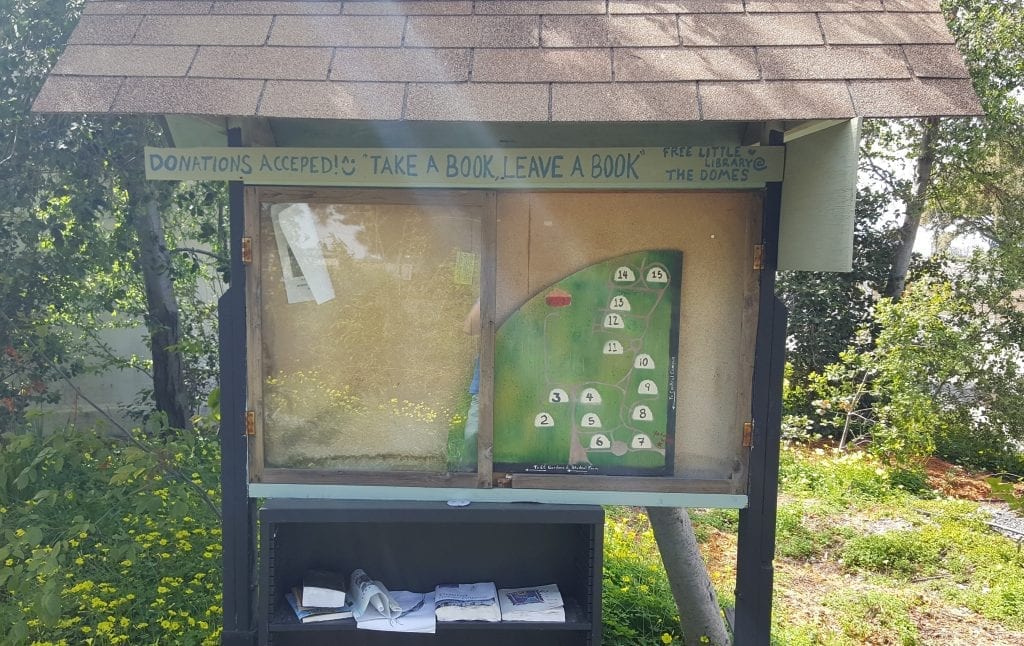 This was the first dome that I saw while I was exploring the dome campus, built right next to the UC Davis greenhouse annexes.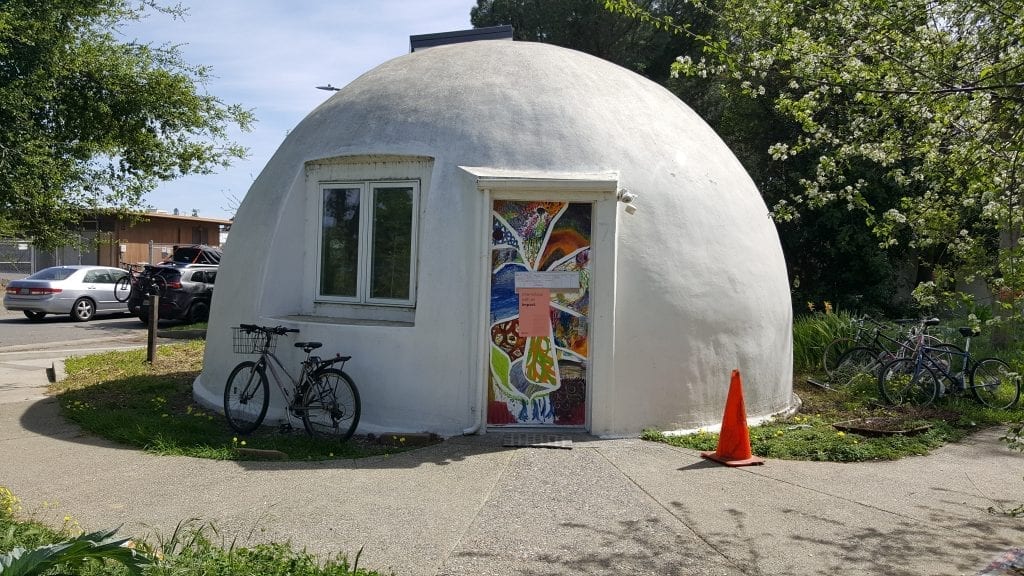 Onsite the residents have several raised garden beds, a hand-painted bicycle repair shop, and several bins for recycling and sorting trash materials.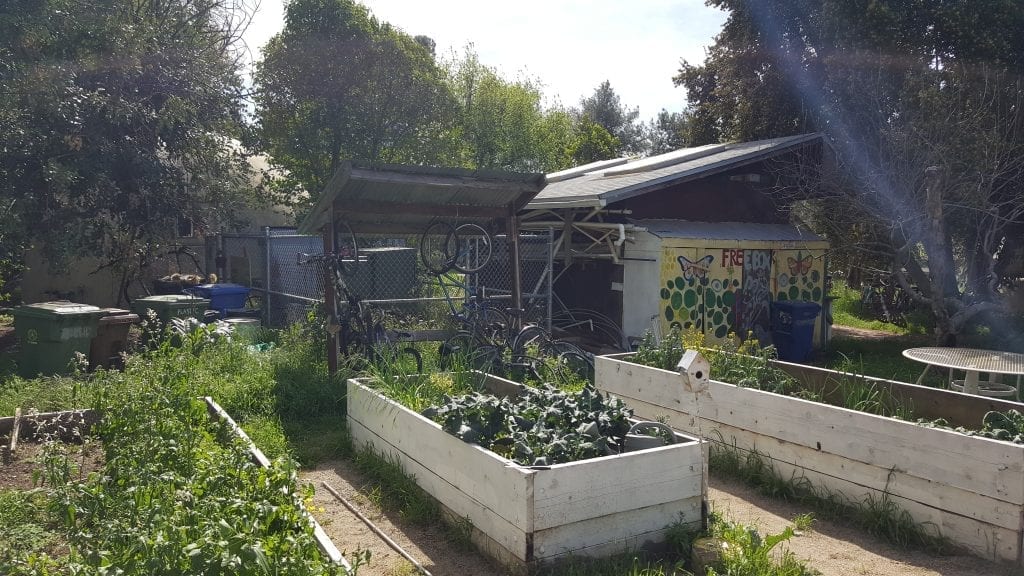 Here are some more domes in a cluster further back from the road, closer into the heart of the dome campus.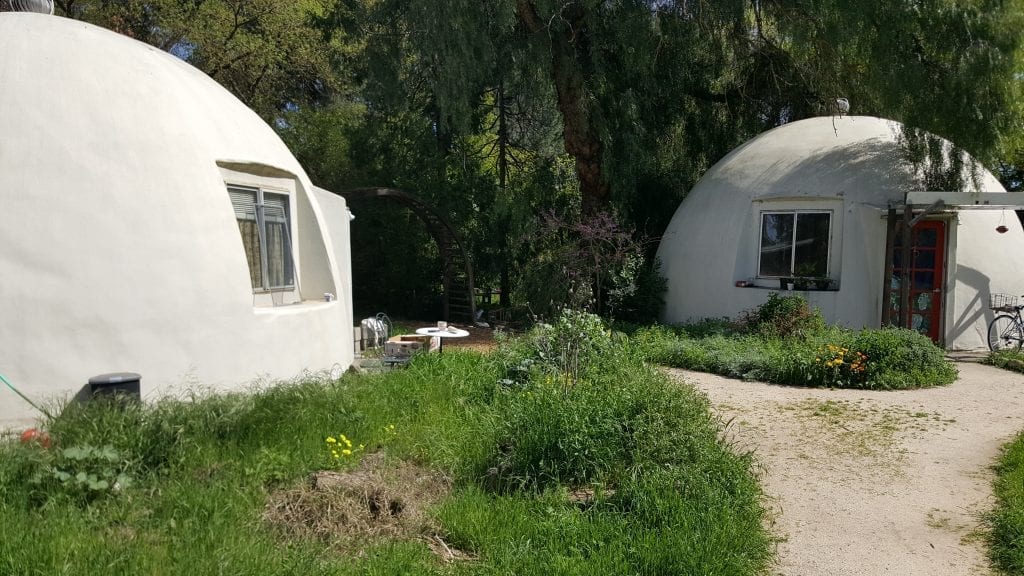 This is the main courtyard/park space for eating together, holding events, as well as where the communal Yurt is located.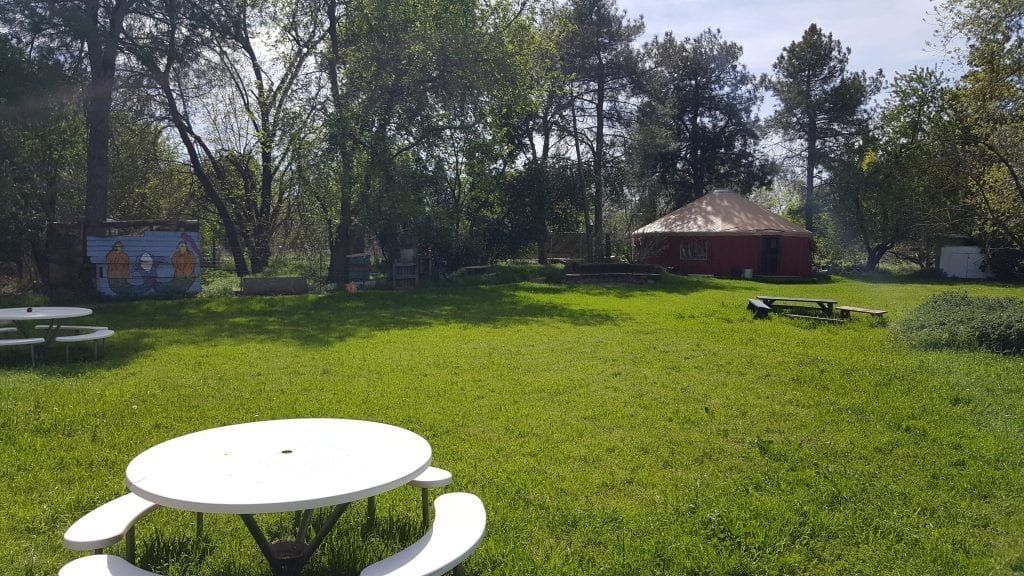 Here's a short clip of the view from inside of the domes campus complex!
I left the Domes after Hester called me and said he'd be back on-site soon. So we connected at Muir Commons and he took me on a tour of the Common House – which included their kitchen and dining area, "community communications corkboard", laundry facilities, office spaces, kids and game room, and two guest rooms (one of which I was staying in.)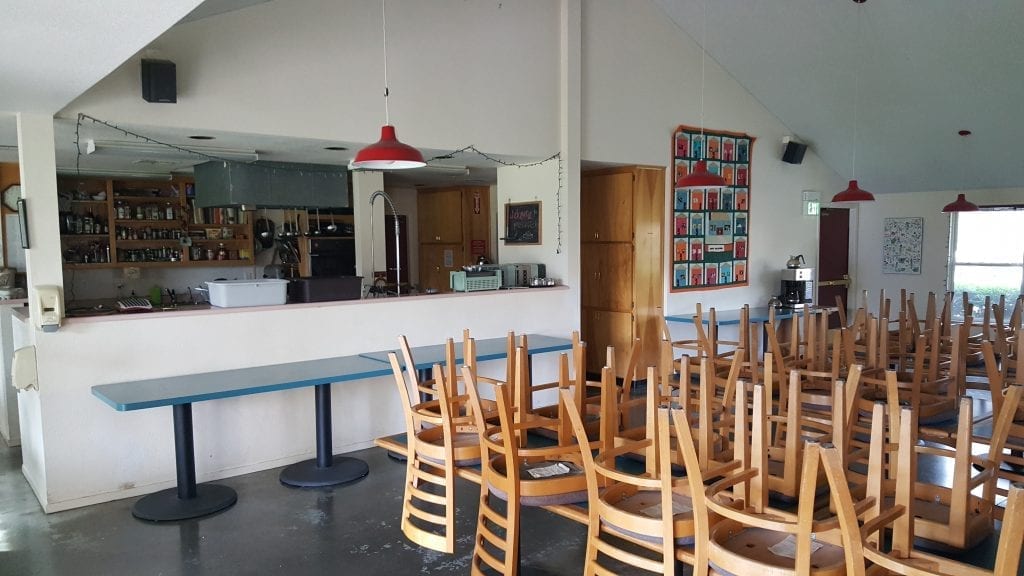 The Muir Common's cork-board was pretty impressive, with certain areas separated into categories with tape, spare keys to certain rooms, as well as committee groups and sign-up lists for everyone to be in the know and propose new ideas.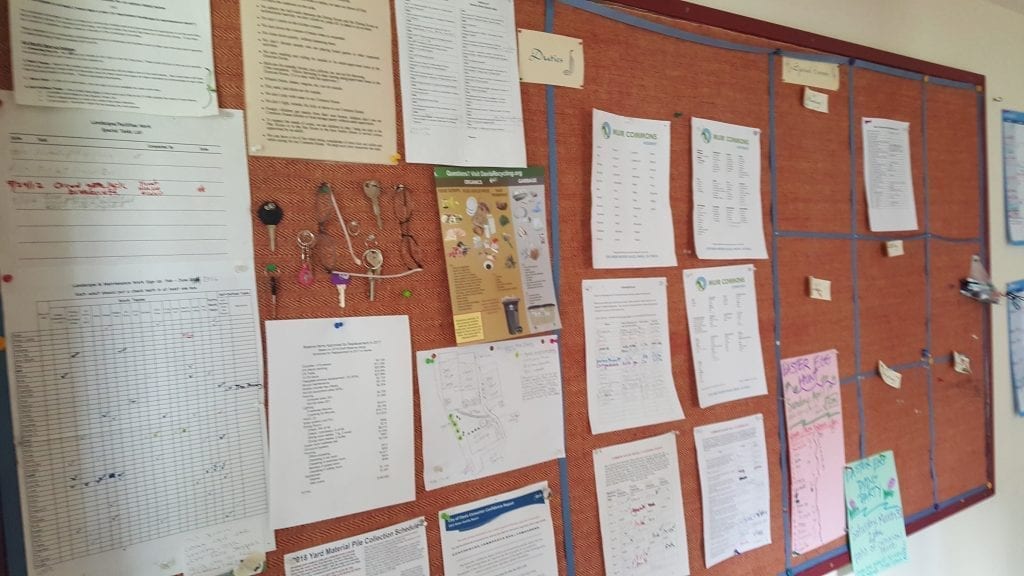 This room is loosely dedicated as the kids room, with a view of the outdoor playground through the windows, but it can easily be reorganized into a workout/yoga practice room from what Hester told me.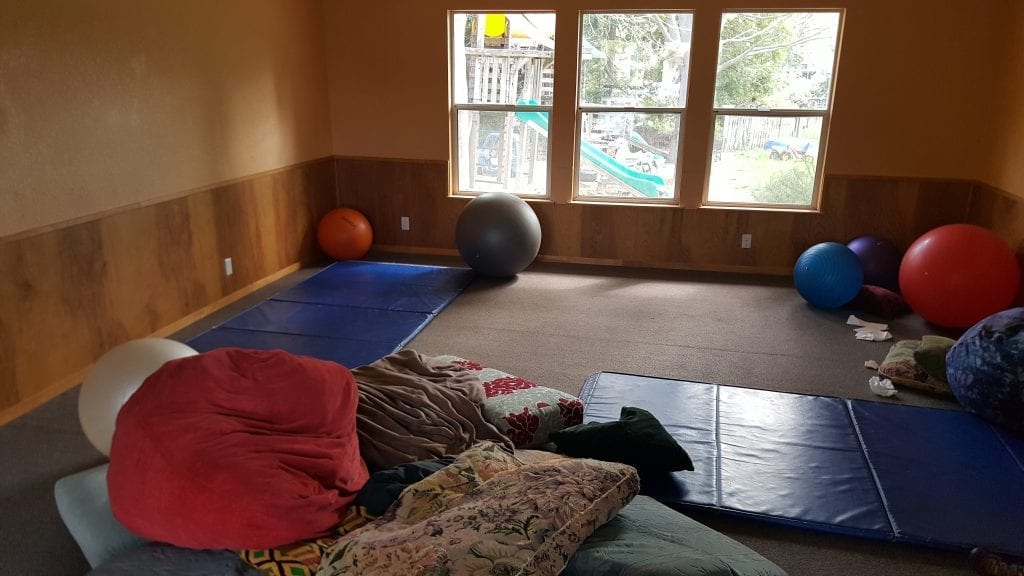 This is the multi-media room, serving as a movie theater, meeting room, and music room with a piano.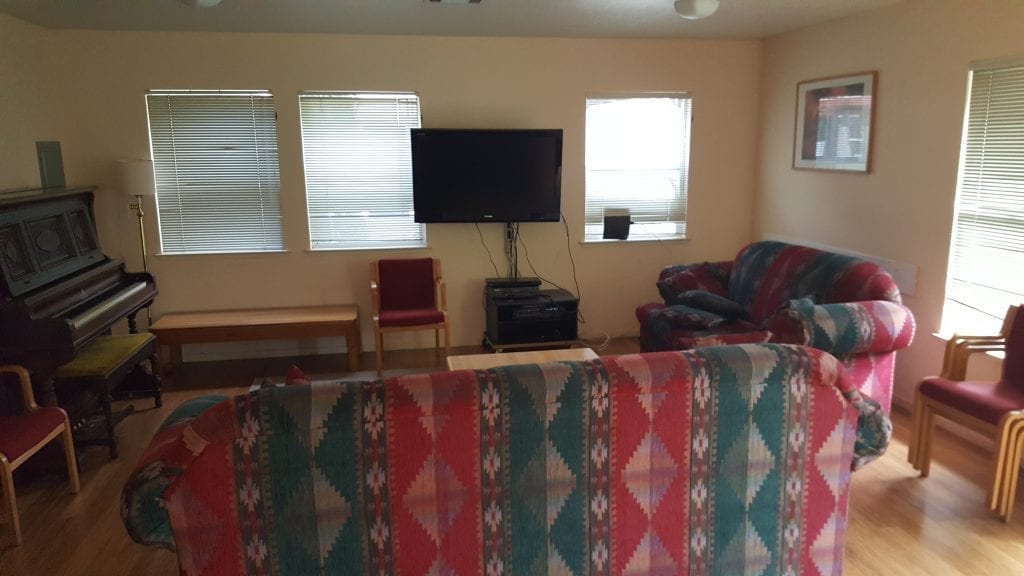 The tour continued outside to the main communal through-way, which included ornamental garden space, kids' playground, a wheelchair accessible treehouse platform, and direct access to the public community walking/biking paths.
Like many other communities I visited, including Lost Valley, I came across a theme of "unified peace" with these "may peace prevail on earth" poles written in 4 separate languages. (Not all the same on every peace pole.)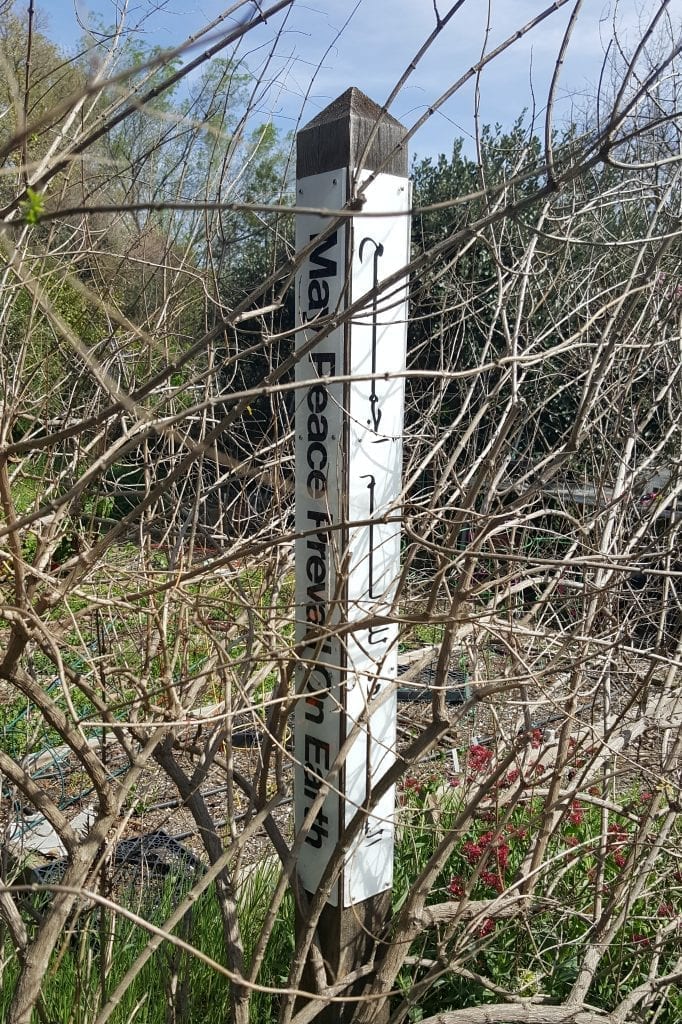 Rounding the community center garden, this was an off-shoot raised bed garden in front of a private residence. And like many other buildings, solar power was the primary source of alternative energy onsite – so much so that grid electricity was used less than 50% of the year.
One of the residents had children, one of whom was wheelchair bound, so with his engineering/technical background, he built a wheelchair-accessible treehouse and pulled lift.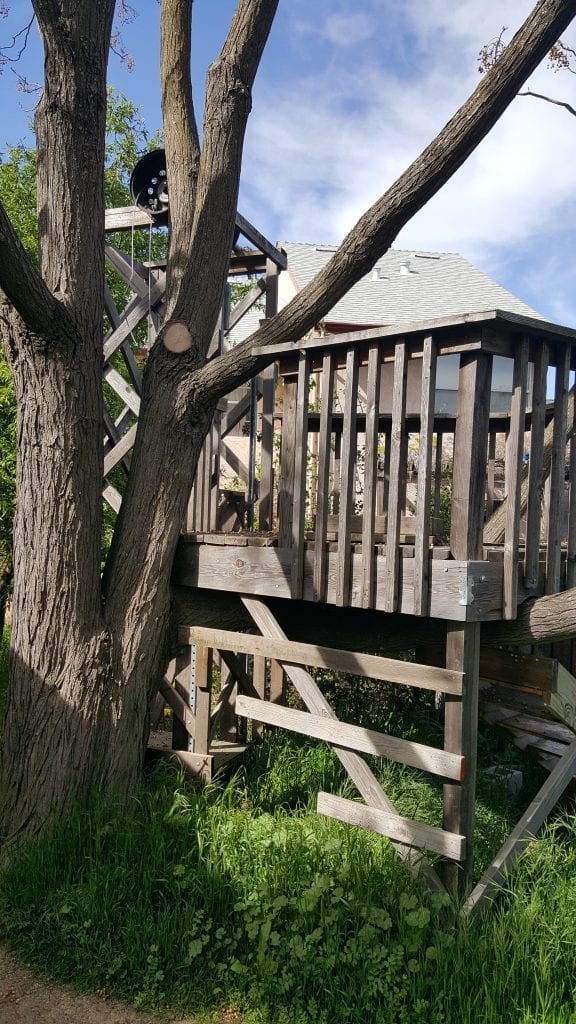 Similar to most of the other townhouse exteriors, they all featured unique landscaping and plants. And true to cohousing design, all the front entrances faced inward to maximize social interaction, while the backyards remained private for personal privacy.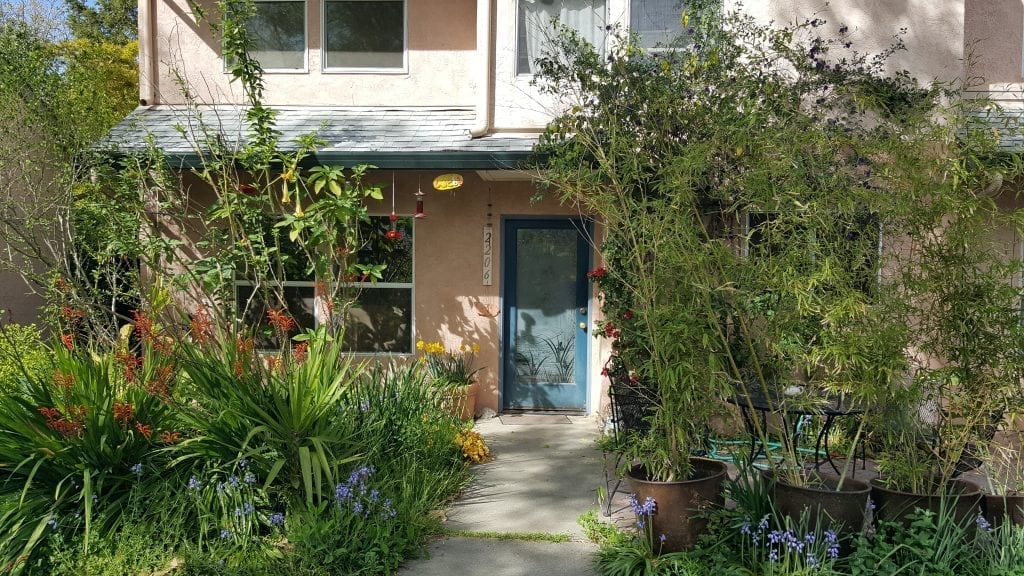 Here's a view of the communal throughway, with many residents owning bicycles for easy transportation. Unfortunately, there had been bike thefts in the past, so leaving them unlocked wasn't as safe as it once was.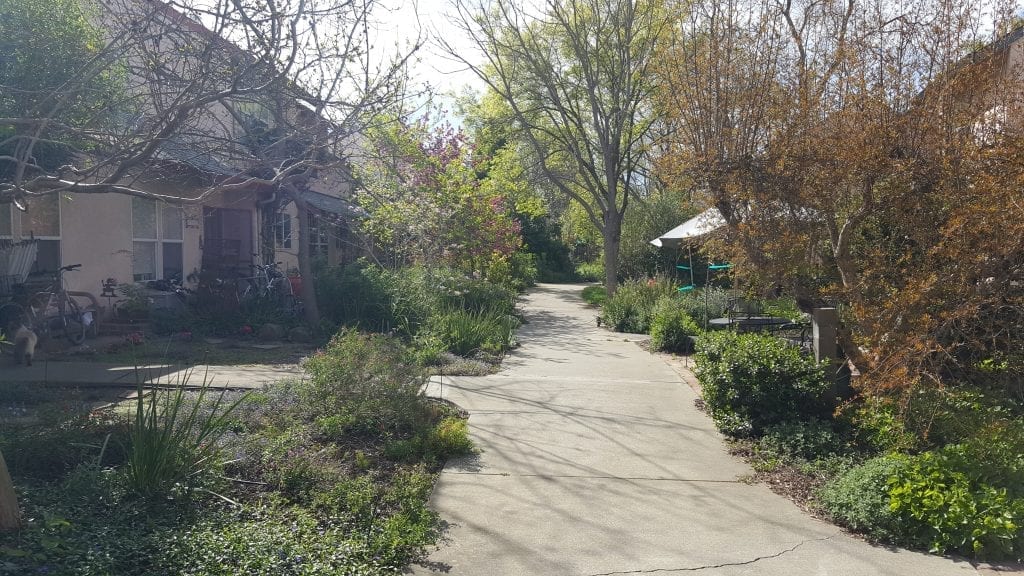 At the end of the cohousing community, the path transitioned into the larger-Davis community bike paths, which allows kids to bike to school without ever having to ride across a single car-accessible street.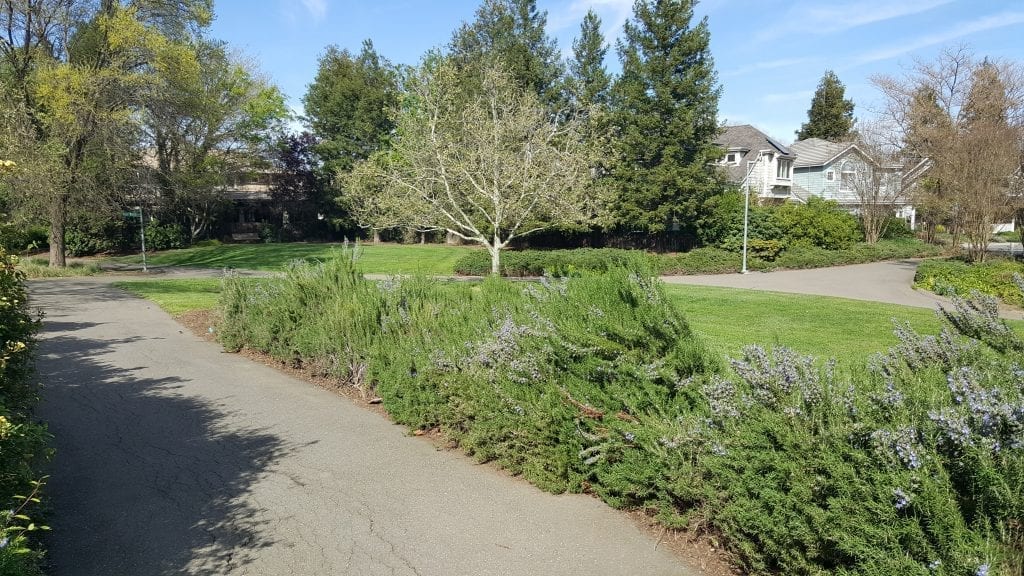 Also outside behind the Common House was a food forest of fruit trees and a chicken tunnel run that bordered the food forest and some of the trees would drop fruit to feed the chickens.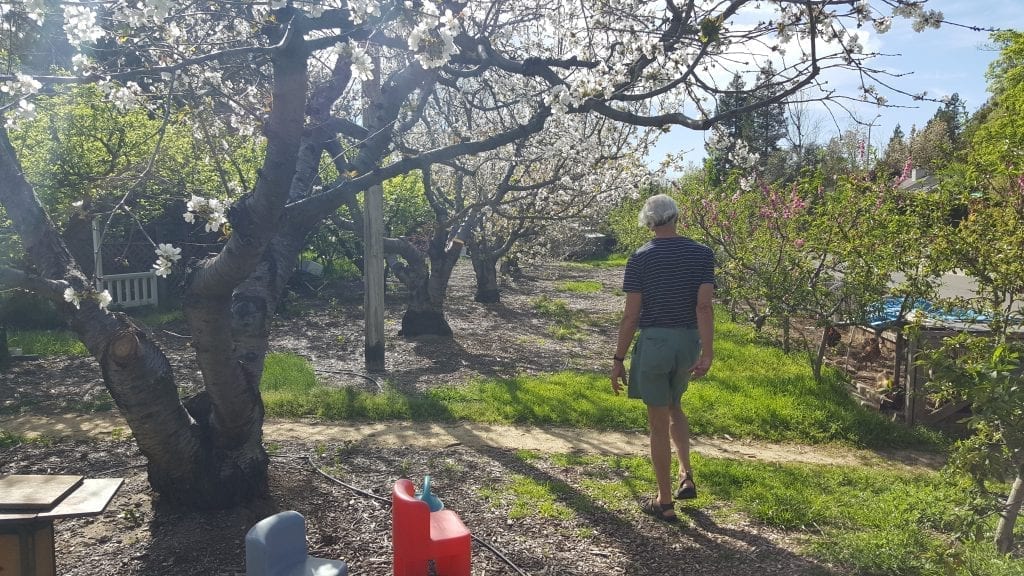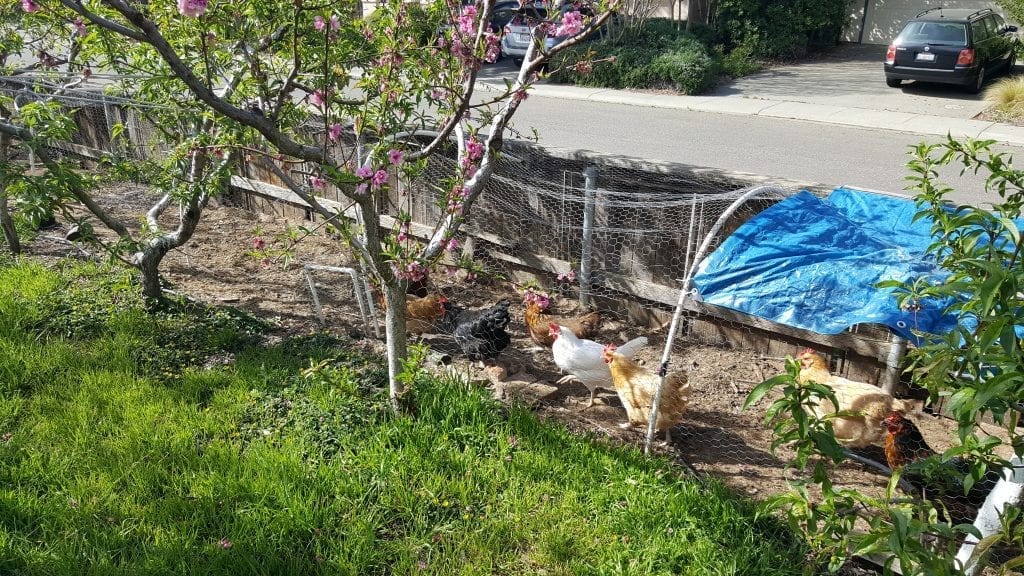 The tour ended with a look into my host's home and a quick peak into his son's home. Then we separate paths and I headed into Davis to check out the University and grab dinner.