Continuing my green adventures in Austin, I attended the City of Austin's Circular Austin Showcase. This was a "shark tank" style pitch event where entrepreneurs propose businesses/products based on recycled or upcycled waste materials. I was previously involved in 2021 [RE]verse Pitch Competition as an initial contestant (didn't make finals) with an idea for vermicomposting to pitch for that year's Circular Showcase.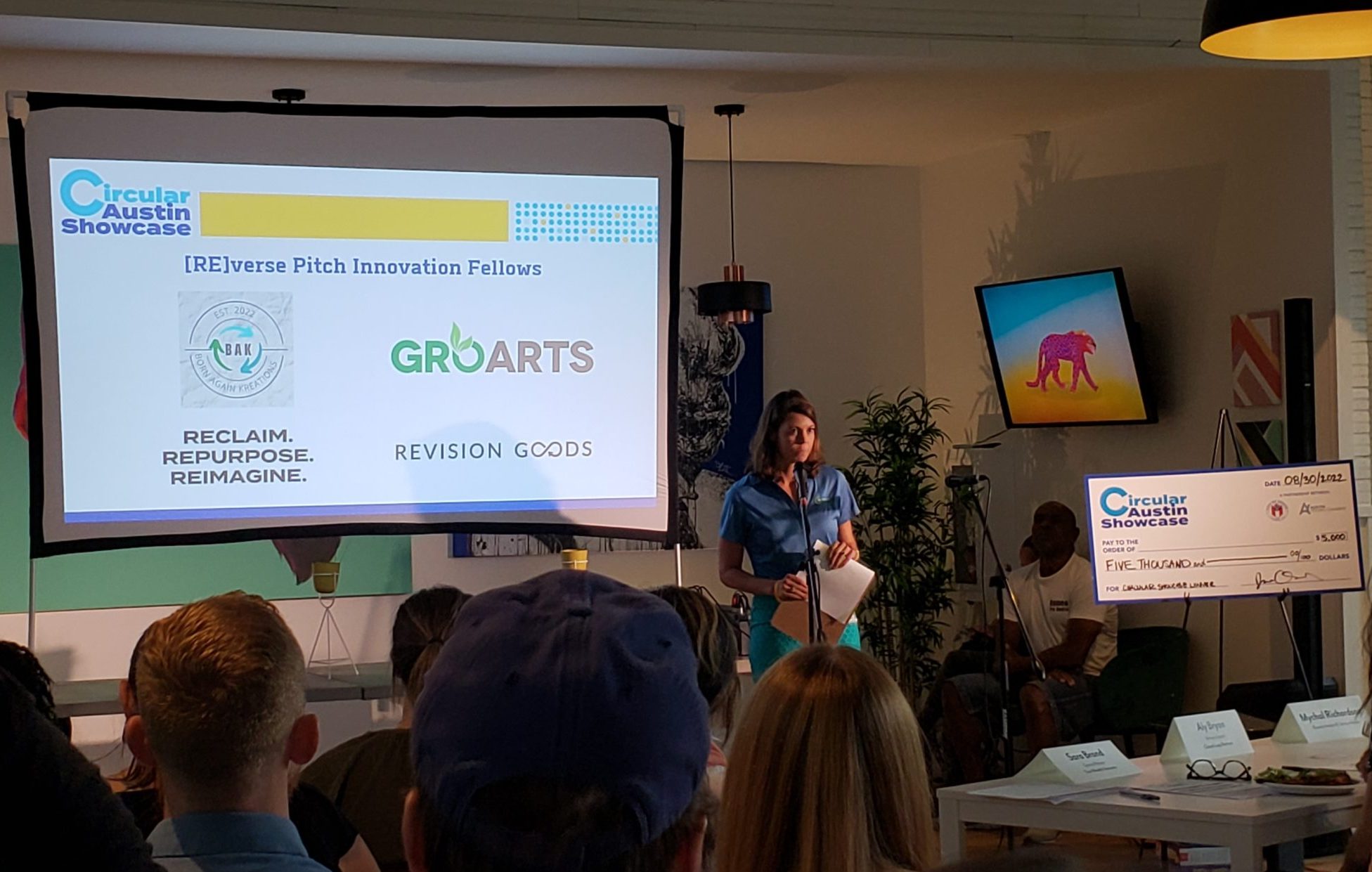 The Circular Austin Showcase is a program created by the City of Austin's Circular Economy Program. In 2015, the program launched Reverse Pitch, an annual zero-waste competition that provides more than $60,000 in cash and in-kind prizes on average. The Circular Austin Showcase is focused on connecting local investors and circular economy entrepreneurs and business owners. It aims to help Austin reduce waste, create a cleaner environment and grow the local circular economy.
"The City of Austin announced the winner of the second annual Circular Austin Showcase, a pitch competition for local businesses – known as 'circular' businesses – focused on reuse and zero waste. The event took place on Aug. 30 and was held in partnership with two City departments (Austin Resource Recovery and the Economic Development Department) and the Austin Young Chamber. This is the first in-person competition for the Showcase since it began in 2021."

– Austin Resource Recovery News Release
I thought this was an amazing event hosted by the city's waste hauler, Austin Resource Recovery. The pitched ideas were extremely innovative and unique based on the entrepreneur's chosen upcycled material.
The winner of the event was REVISION GOODS, a business focused on local manufacturing to create durable home goods using decorator fabric samples from Austin Creative Reuse. The judges based their competitor scoring on business viability, fundability, circular economy/zero-waste impact, economic impact and local job creation, along with effectiveness of pitch delivery. REVISION GOODS received $5,000 cash prize and will track the materials diverted used in their products.
Circular Austin Showcase Finalists:
Born Again Kreations – plans to create insulated water bottle holders using decorator fabric samples and cuts of high-quality fleece from Austin Creative Reuse and bulletproof vests from Travis County.
FLORAL SEA – is a conceptual fashion house and design studio that was launched in response to the lack of diversity and inclusivity of Black-Latinx beauty, style, and culture in today's sustainable fashion scene. 
GROARTS – plans to create the GROBOX which is a simple hydroponic setup for growing microgreens at home using plastic boxes and plastic inserts from ACC Bioscience Incubator and EQO.
Heron – rents and delivers anything you don't use enough to buy. Everything from carpet cleaners to knee scooters to projectors to air mattresses delivered right to your doorstep.
Not Nice – turns the vibrant graphics on aluminum cans into unique jewelry and accessories, creating simple, lightweight earrings from punched and sanded aluminum and incorporating other upcycled materials to create wallets, beer tasting journals, and pendant jewelry.
Reclaim.Repurpose.Reimagine. – plans to create packaging for luxury goods using decorator fabric samples from Austin Creative Reuse and bulletproof vests from Travis County.
USE2 – is a grassroots incubator committed to demonstrating the economics of innovative resale processes driven by extending material lifespans and circularity. In a USE2 scenario, donated material goods are immediately sorted, aggregated and sold to entrepreneurs.
Pre-Recorded 2022 Circular Austin Showcase Video: