Below you'll find a list of hyperlinked blog posts showcasing the projects I was a part of while at the Texas Trees Foundation. I've put them into categories to better highlight the specific projects.
Media Coverage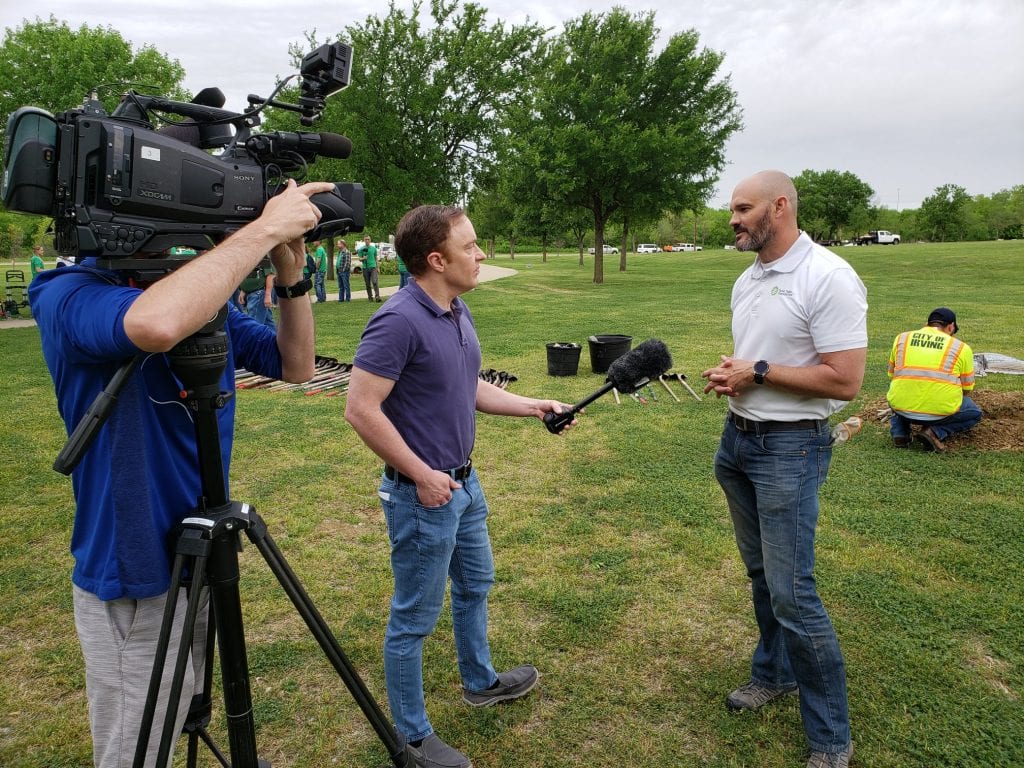 Tree Giveaways
During my time at Texas Trees Foundation, I helped give away several hundred saplings to local residents! This included coordinating logistics for online and in-person giveaway events, setting up event spaces, as well as tracking addresses for the online tree plotter map. Our biggest annual event was the EarthX Expo. We gave out a couple hundred native saplings at this event alone! I also helped with partner tree giveaways, like with bellagreen giveaways.
Events and Ceremonies
Along with actual tree plantings, we coordinated several ceremonial events for our sponsors and our projects. Many of these events were related to the Cool Schools program, however we did often have golden shovel events for official photo-ops. A number of events were also related to the Southwestern Medical District project, an urban greenspace around a large medical complex in Dallas.
Tabling at Events
My main event responsibilities were setting up our table and marketing presence. This was important for our EarthX event, where we changed the booth daily as more attendees came through the weekend. The table was essential for not only branding, but also a meeting and sign-in location for volunteer events. We made sure to get signatures for incident and photo releases – which I created with support from legal. Tabling at events gave us opportunities to talk about the foundation, recruit volunteers, show off our programs, and hand out our marketing swag.
Cool Schools
Cool Schools connect students and teachers to nature by planting trees and creating fun and engaging outdoor experiential learning areas. These were some of my favorite projects getting to work with volunteers and kids to plant trees! I nicknamed the younger kids "mulchkins" who carried the mulch to the trees.
Park Plantings
The NeighborWoods program includes a variety of community projects and plantings in collaboration with community members, homeowner associations, civic groups, businesses, corporations and local city governments. These were fun projects with a loads of diverse volunteers planting trees in public parks.
Tree Farm Days
The TXU Energy Urban Tree Farm and Education Center is located on the campus of Richland College in Dallas, and has been sponsored by TXU Energy since 2002. This tree farm serves as the Foundation's tree nursery and volunteer site as well as benefiting the college by offsetting emissions and energy consumption.
The four-acre tree farm features state-of-the-art production and irrigation technology with the capacity to produce over 7,000 ten-gallon trees per planting season. Trees are grown onsite are planted throughout North Texas for our various projects and programs.
This is where we had the bulk of our volunteer days for corporations and student organizations. It was really cool to see the tree farm evolve over time with the new improvements. On the other hand, the permanent forest onsite was mismanaged years ago. So the trees rooted in the forest are great examples of bad tree care that we would show visitors as cautionary examples.
Special Projects
There were also many special projects, or one-time Neighborwoods plantings, that we supported for different organizations and communities. I really enjoyed planting trees in peoples' yards and near sidewalks with volunteers. Knowing the work I did those days would be felt for decades to come if the trees survived the first few years.