Holistic Sustainability Semester Week 1 (Pre-Program)
My first week at Lost Valley Education & Event Center was like stepping through the wardrobe into the edible Eden of Narnia, combined with a "polar plunge" into a new subculture (inside of a subculture) that took me some time to adjust to – having come from urban-suburban Frisco, Texas.
I was warmly greeted at the entrance by Andrea Van Sickle, a former resident, and her son, who directed me where to park. That was where I first met Colin Doyle, Education and Events Director. At that time, my first permaculture mentor – Nicholas Burtner – told me he knew a Colin at Lost Valley and so send one of his famous "air guitar solos," which I did…but it so happened to be the wrong Colin at Lost Valley, so I felt like an idiot with my first impression.
On that same vein, Nicholas Burtner is a hugger and I only mention this because he helped warm me up for the months to come. Because I left "handshake country" far, far behind and unknowingly entered the "land of 1,000 hugs." So after my first official Lost Valley hug from Colin and my air guitar solo, he directed me over to the large dorms where the students, and a few residents, would be living for the duration of the program.
For quick context, Lost Valley is an on-grid, retro-fit ecovillage model operating on a former Christian Camp from the 1970's. (Shiloh Youth Revival Centers). So the community uses the existing infrastructure (water, sewage, electricity), cabins and dormitories, and other major amenities like the central lodge, garden spaces and classrooms.
Being one of the early arrivals, I had a pick of any room that I wanted – so I chose upstairs Earth Hall. The deciding factors for me were that we didn't have anyone above us; Earth Hall went through an apprentice renovation project years ago, so the walls were made from slip and chip natural building with cob plastering (my room had a 'truth window' in the shape of a heart); and my room specifically had a bunk bed to help with overhead storage; as well as the only desk and chair furniture combo.
Thankfully I was welcomed by another student, Welcome Thankful, who helped me unpack my car after he clarified my confusion with his name – because I thought he was saying 'welcome' after I repeated my name…several times…which he was, but as "Welcome" his given name.
Other students came trickling in over the next few hours that day, and it was obvious that Earth Hall was 'THE' floor to live on! Two of the other students who I quickly warmed up to, Sasha Bugler and Andrew Bottcher, and I went exploring the city of Eugene starting at a large highway-covered skate park, and then came across a farmer's market. We arrived and perused the booths, with Sasha making new friends left-and-right, and Andrew and I headed over towards the stage to sign him up to perform. Andrew is far beyond impressive with his guitar skills, and writes and sings his own soulful materials. So this was really the first time I got to see him perform…with a bit of encouragement!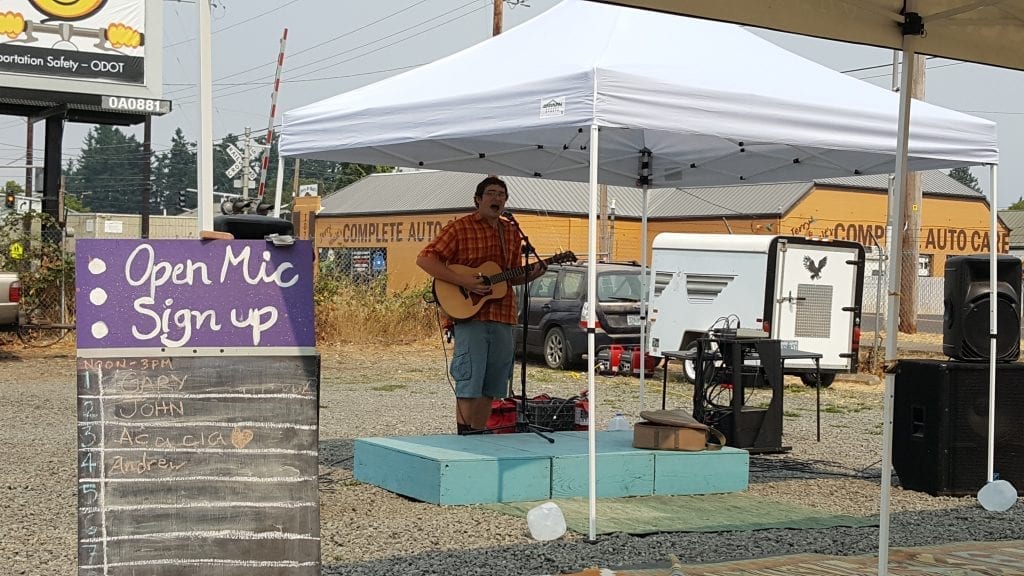 Once Andrew finished a few of his songs, a cute, short, and spunky girl – Anna Davis – came up after and her voice had me do a double take! She sang to shake the soul and turned a lot of heads at the market. Sasha went over and talked to her, making another new friend, while Andrew and I continued perusing the market. We left the market with fresh food and other supplies before returning to Lost Valley. And guess who we saw? Anna! She was one of the students, and Sasha forgot to tell us. This was a great surprise, and the start of a string of synchronicity in my life…