PLACE Community & Workshop – Summary:
Who: N/A
What: Visited the community gardens near the Ecohouse; Stopped at the Ecology Center
When: Friday, March 30
Where: Berkeley, CA
Quick Resources:
My Route:
Planning my Eco-Inspired Road Trip Blog Post
My Travel Story:
A few minutes down the road from the Ecology Center, I came across People Living Art, Community & Ecology (PLACE), which was also another recommendation by the EcoHouse volunteers.
"We are a public-serving, experiential learning center to showcase and foster sustainable living practices, urban homesteading, community resiliency & preparedness, social justice and artistic expression. Our goal is to incubate a local sustainability hub to allow people to see solutions in practice; to gain access to the knowledge and resources to empower them to take action in their own lives, neighborhoods, towns, cities and bio-regions. We hope to grow this green-center model into communities across the world in partnership with community centers, schools, park & recreation facilities and other local organizations." – PLACE Webpage
This was the second strike-out of the day, after the Ecohouse, because no one was around to let me in – but I'm glad I got to see it from the outside none-the-less!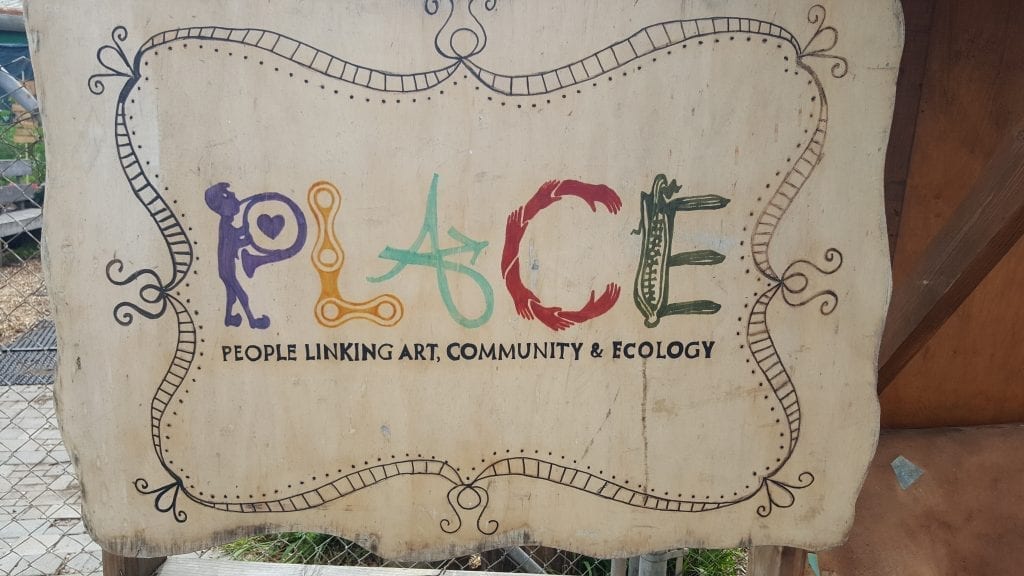 PLACE also has it's own cob welcome bench, and if you've followed along in my other blog posts – cob benches are essential to a good ecological site or community!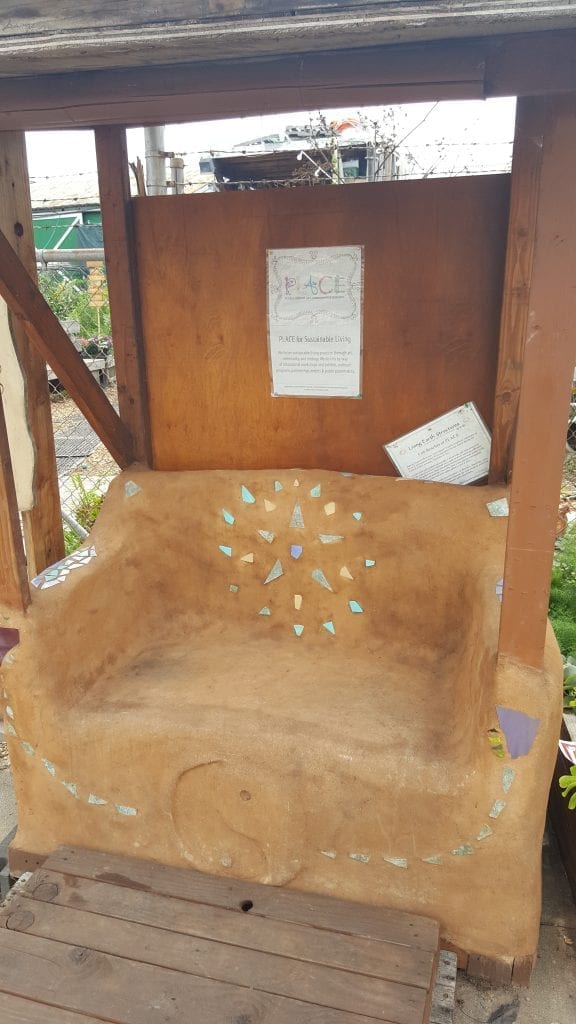 An over the fence view of the main gardens and the workshop/maker spaces. You can see there's a tremendous amount of bikes in the bike shop too!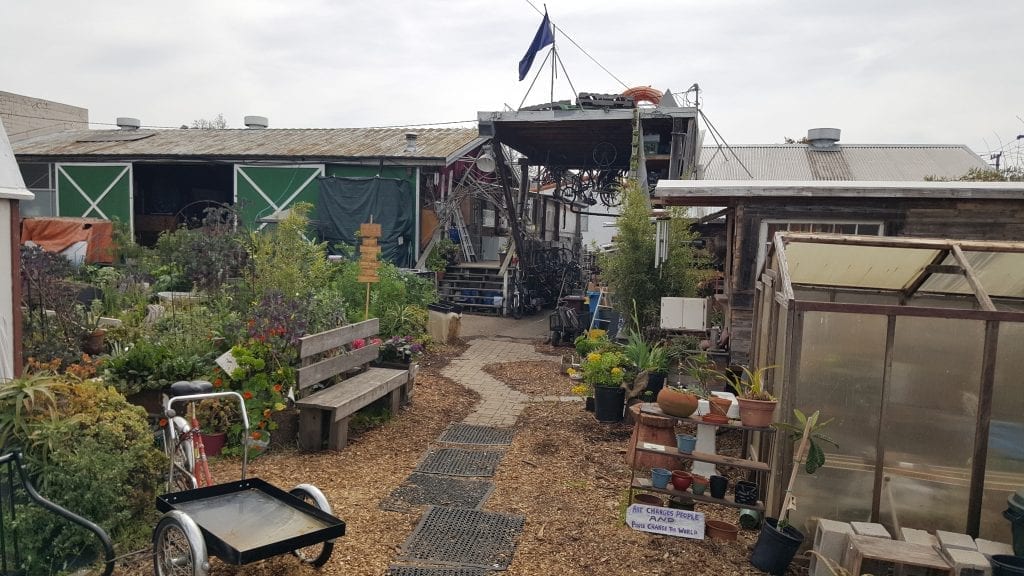 This is a view of the greehouse and a rounded sitting area near the entrance of the PLACE complex.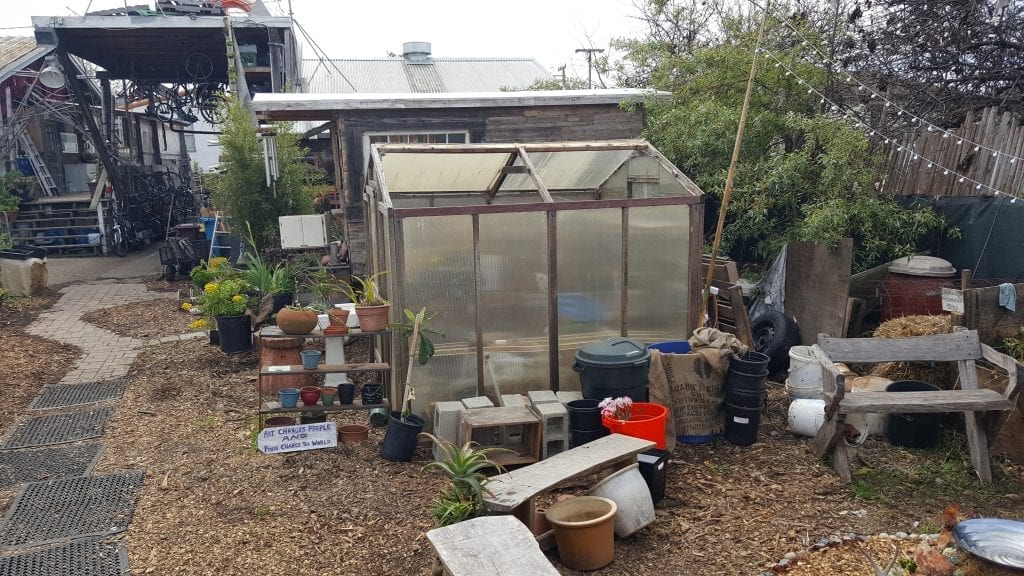 PLACE also painted an intersection mural, which I've learned help with pedestrian safety and vehicles, from an instructor at Lost Valley – Mark Tobin with CityRepair.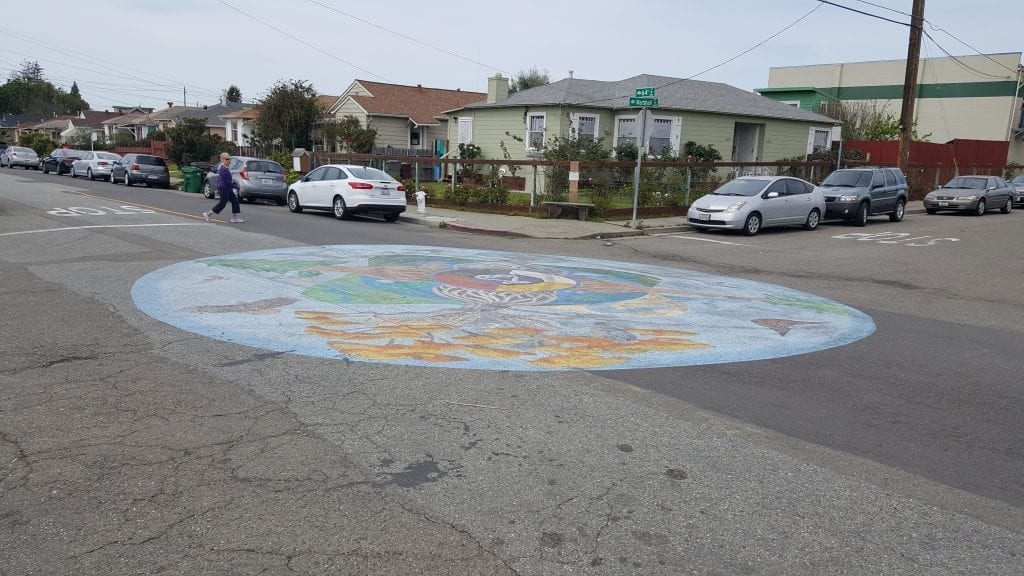 More about PLACE:
PLACE Fundraiser
With the recent Oakland Fire in the artist warehouse community, Ghost Ship – killing 36 people – PLACE is now undergoing a crowdsharing fundraising campaign to generate enough funds to implement safety measures and improvements to avoid a similar situation and avoid governmental repercussions.
Components of PLACE:
Demonstration Stations / Educational Exhibits

In a variety of sustainable practices: Rainwater Collection, Grey Water Systems, Composting, Aquaculture, Renewable Energy Systems (Wind, Solar, Geothermal, Pedal Power, etc), Gardens in a variety of Containers, Rooftop, Window boxes, etc.

Urban Garden/Farm

Vegetables, Fruits, Culinary Herbs, Native Plants, Medicinal Plants, Micro-Greens, Chickens, Bees and other beneficial insects and animals, Nursery & Greenhouse

Workshops

Gardening, Farming, Permaculture & Homesteading, Rainwater Harvesting, Greywater Systems, Natural Building: Cob, Strawbale, recycled/reclaimed materials, Mycelium/Mushroom Remediation, Renewable Energy Systems, Food Justice, Food Security, Slow Food, Composting (including Vermiculture), Arts and Crafts

Green Corps—Resiliency Response Teams

Training & coordinating local volunteers in neighborhood sustainability projects

Art Barn

This is our venue space for events, classes, movie nights and panel discussions and talks, east bay permaculture monthly meeting and more.

Fab Lab

Bicycle Mechanics, Art BIKES, and bicycle trailers, Metal, Wood & Jewelery making. MORE

The Makery

This is our maker space featuring local artists' creative work using natural materials and environmental themes. MORE

Coworking Space

Our shared working environment offers an alternative to cafes, libraries and your kitchen table. MORE