Sustainable Stops:

 (1) Agave Community, (2) Chestnut Plaza, and (3) Chestnut Commons Community

After my scheduled stops, I drove around east Austin and came across a couple of other note-worthy sites. The first was a modern housing community development called, Agave, which consisted of eclectic, pastel colored houses of various shapes and sizes in this planned community!

Below is the Agave housing development sign at the bottom of the hill as you drive up into the community!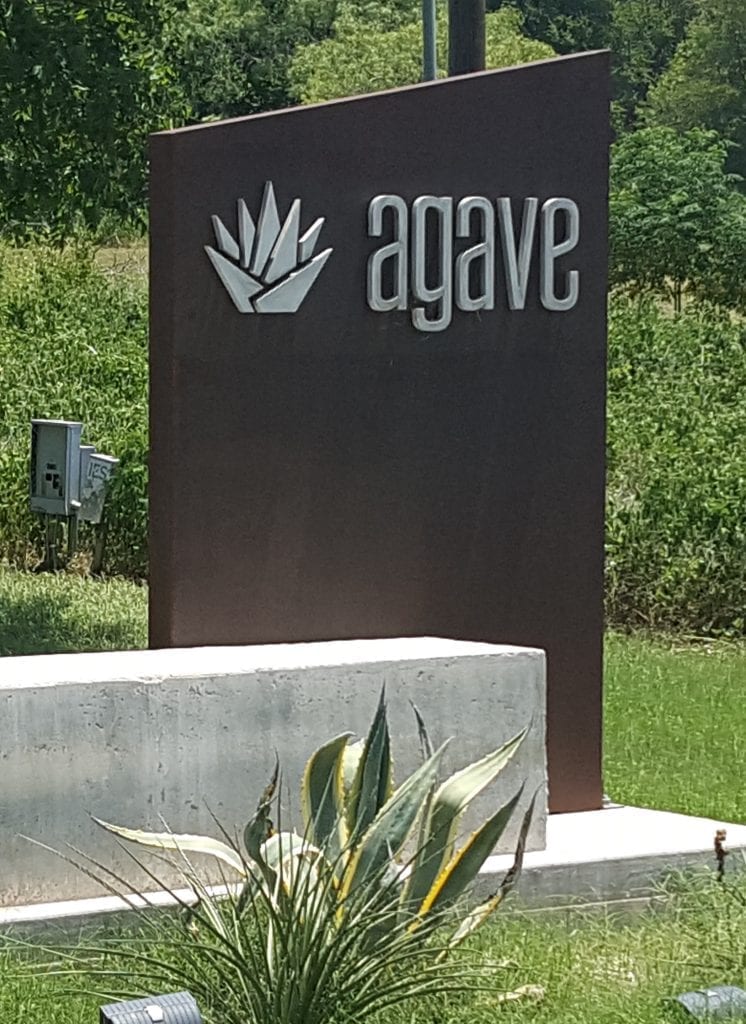 Here's a video of the community from the realtors that captures the essence of the community, and some of the interiors of the home. Looking back at the houses, they remind me of houses you might see in a Dr. Seuss film – but with a modern, more luxury edge.
"The modern streetscapes of Agave, with beautiful City views and the gently rolling terrain make this one-of-a-kind community Austin's most unique living experience. With nearly 500 homesites, this wonderful neighborhood of free spirits in rapidly growing East Austin offers the high quality interior finishes of an Intown Home encased in inspiring contemporary exteriors.
In the design-driven environs of Agave, we are committed to energy efficiency with 2 x 6 exterior walls, dual speed 16-SEER Air conditioning, tankless water heaters and Smart Home technology. 12 foot ceilings, huge windows, Wood floors, quartz counters, deep tubs, glass showers, Bosch appliances and Hans-grohe plumbing fixtures are standard in every home." — Intown Homes Webpage
Below are some additional pictures of the community houses, most of which were on sloping hills, or generally featured native landscaping – if not an occasional palm tree or standard grassy lawn!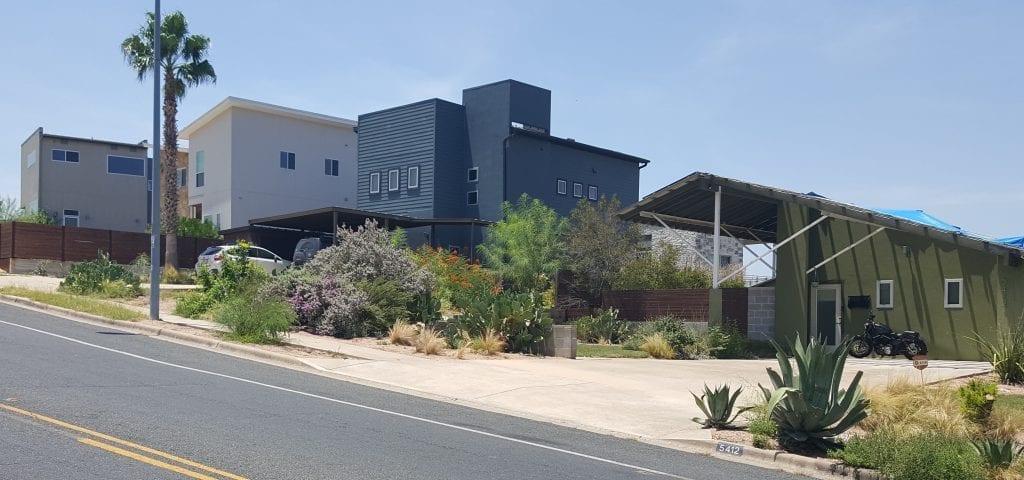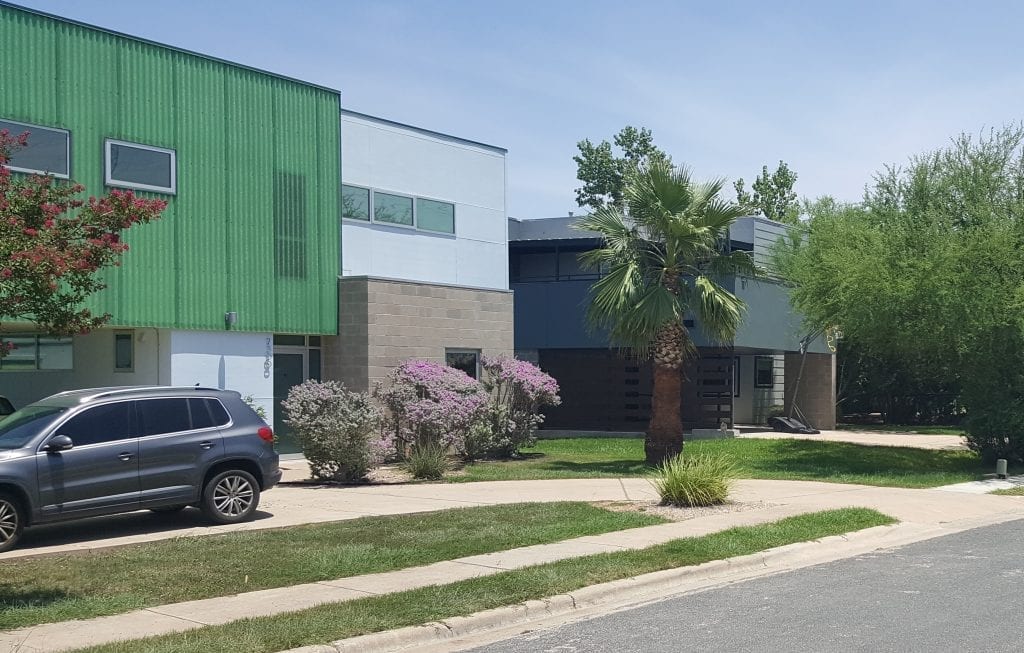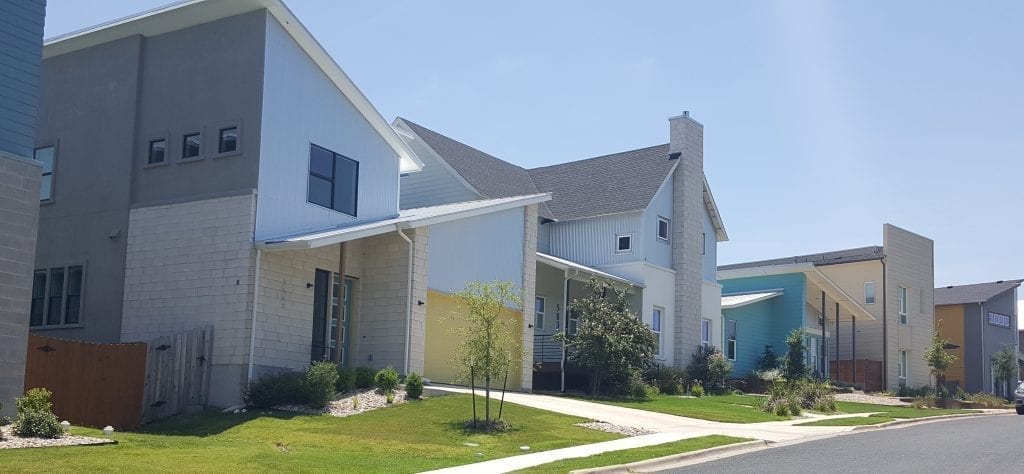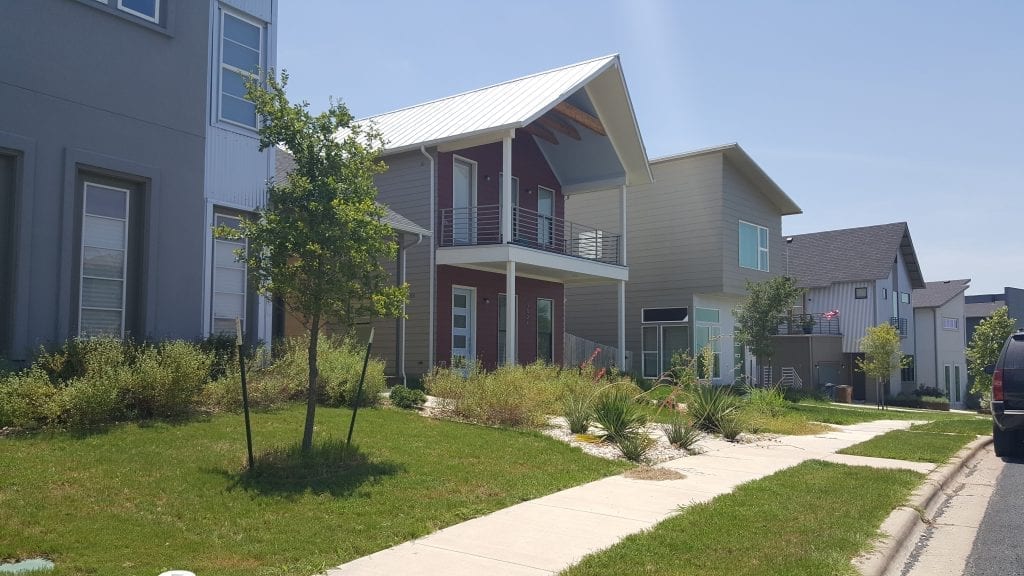 ---
My next stop after driving around the Agave housing development, was the Sustainable Food Center (SFC)! Close to the MLK Jr. Metro Station, the SFC was in a cluster of other green-friendly buildings that also housed socially-driven organizations, such as  Interfaith Action of Central Texas, PeopleFund, and Creative Action.
The picture below is of the PeopleFund building, which also housed Interfaith Action of Central Texas.
"PeopleFund provides small business loans as well as business assistance and education to people with otherwise limited access to such resources. Since being founded in east Austin in 1994 as Austin Community Development Corporation, PeopleFund's financial and educational assistance has helped create thousands of jobs and empowered an even greater number of Texans on a path to financial stability and independence. PeopleFund is a Community Development Financial Institution (CDFI) and operates as a non-profit 501(c)(3) serving all of Texas." — PeopleFund Webpage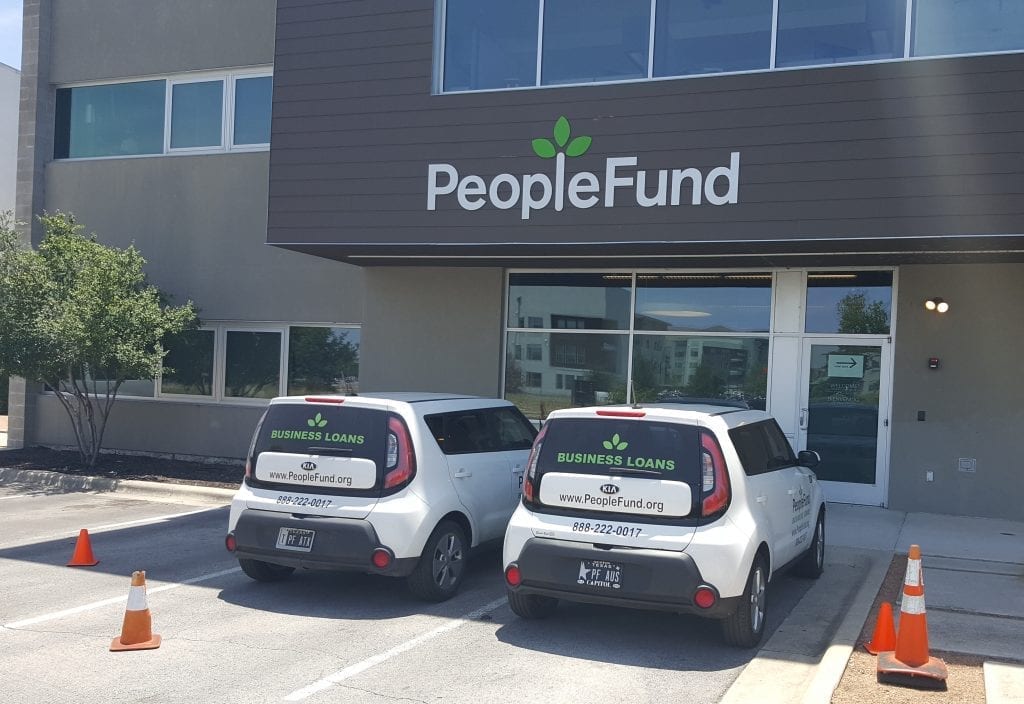 I walked around the building to the shared central courtyard, and took a picture of the front of the building both of these organizations are in. The other organization is Interfaith Action of Central Texas (iACT), a nonprofit which cultivates peace and respect through interfaith dialogue, service and celebration to build healthy relationships between the faith communities of Central Texas.
Adjacent to the green building with both of those organizations is another building where Creative Action is headquartered in! At the time I had no idea what these organizations did, but after I researched them and their missions – I could see why they were all clustered together!
"Creative Action helps young people develop skills for long-term academic, personal, and career success through high-quality, socially and culturally-relevant arts education programs led by professional Teaching Artists.
All Creative Action programs are designed to help young people develop holistically—blending arts education and youth development. We create dynamic and engaging learning experiences that allow youth to develop measurable creative expression, a commitment to social justice, 21st century skills, and social and emotional skills." — Creative Action Webpage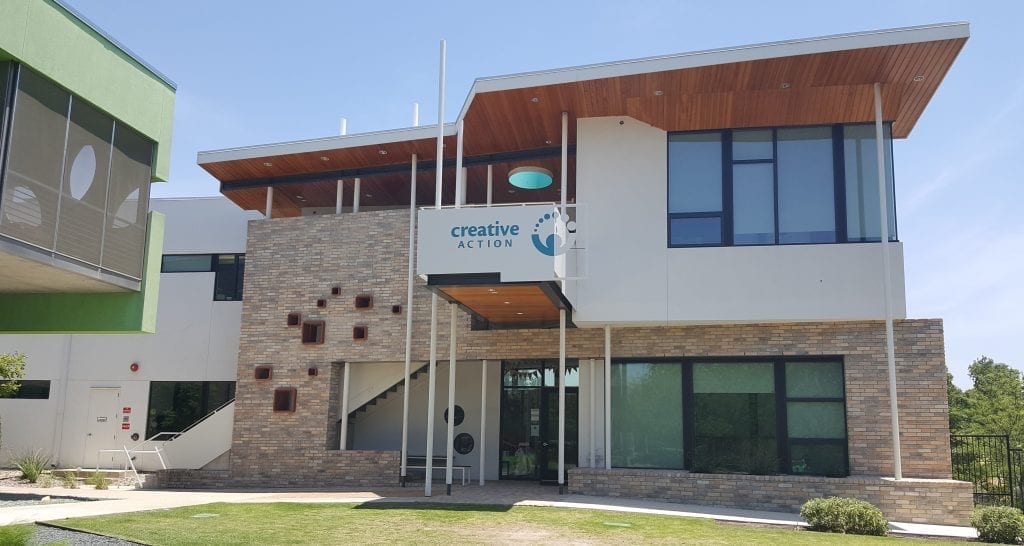 The third building in the cluster contains the Sustainable Food Center of Austin, who's "mission is to cultivate a healthy community by strengthening the local food system and improving access to nutritious, affordable food. SFC envisions a food-secure community where all children and adults grow, share, and prepare healthy, local food.
From seed to table, SFC creates opportunities for individuals to make healthy food choices and to participate in a vibrant local food system. Through organic food gardening, relationships with area farmers, interactive cooking classes, and nutrition education, children and adults have increased access to locally grown food and are empowered to improve the long-term health of Central Texans and our environment." — SFC Webpage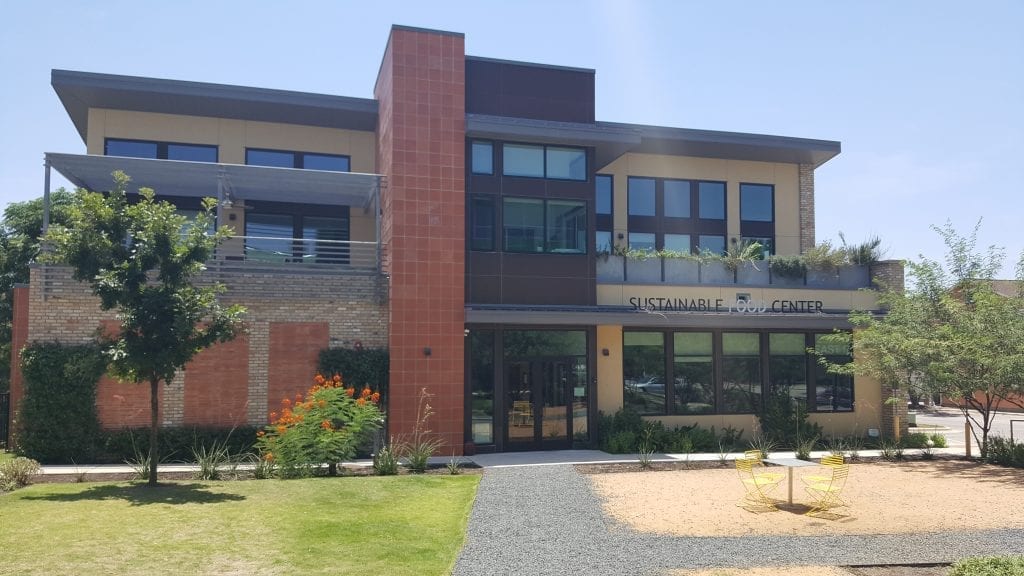 Below are some links to the SFC programs with explanation videos for each program!
---
Across the street from the social-driven organization complex is Chestnut Commons, a condo development for active residents similarly laid out like a cohousing development, but without the direct communal integration.
"Chestnut Commons is a darling development located at at 1601 Miriam Ave in East Austin just a bit southwest from the MLK commuter rail station . While condos, 30 of the 60 units are like freestanding homes with yards. The exterior colors are vibrant and eye catching. Brought to Austin in 2007/2008, the developer succeeded in bringing brand new value-priced homes closer to Downtown Austin." — SkyRealty Webpage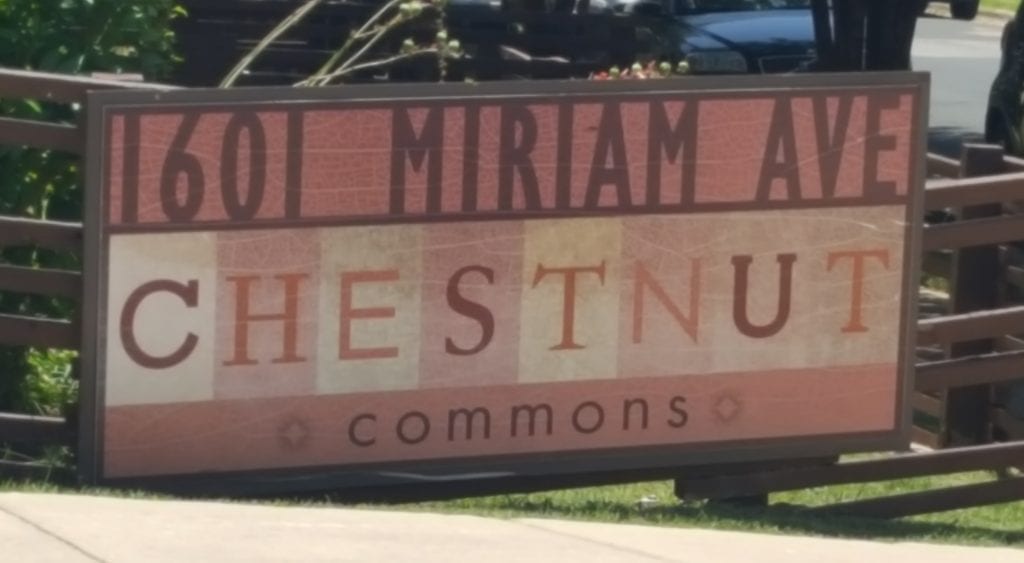 This is a view of a central street within Chestnut Commons! It's pretty quaint, but a little too ridged and cookie-cutter in my personal opinion.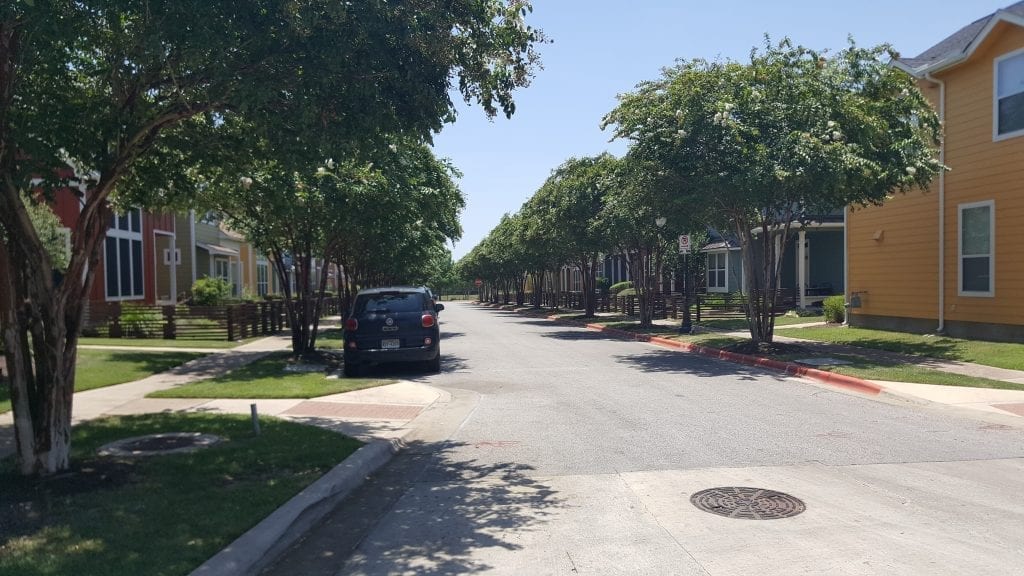 Here's a view of the alley ways, where you can see the garages back up to each other so every two rows of condos share a common courtyard with the opposite facing building.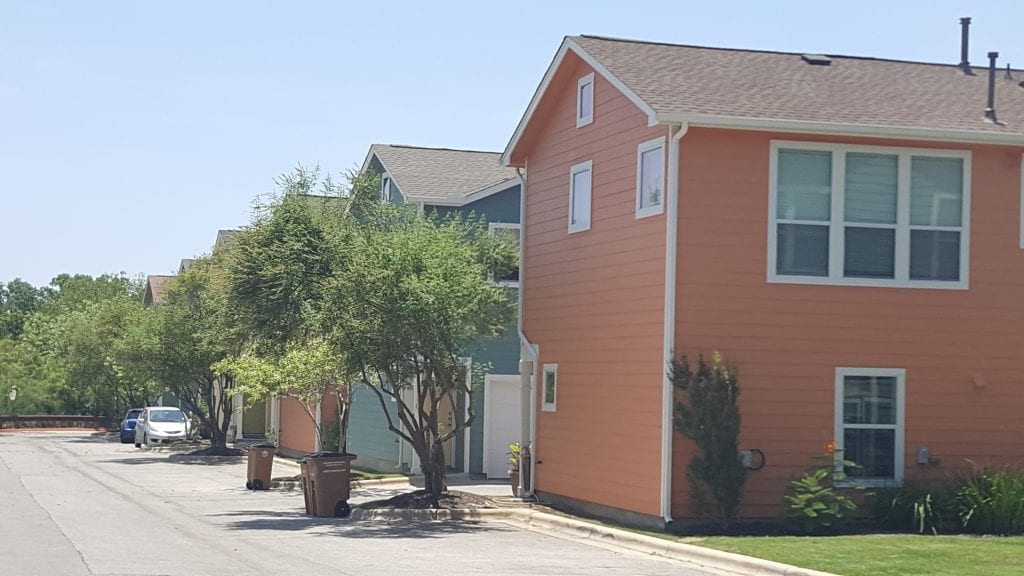 Even though its not a strong community tie, the HOA does a good job trying to communicate with residents with the community tackboards on policies like trash and pets!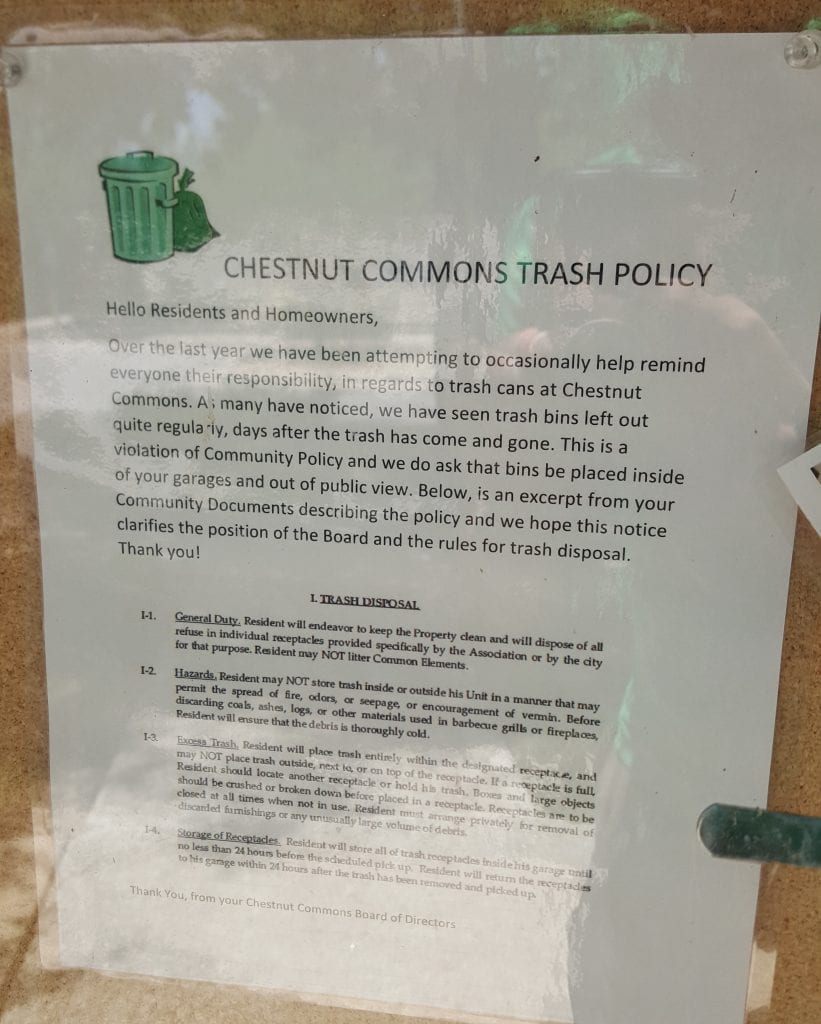 ---
Insights
It was really great to see these progressive housing developments and socially-conscious businesses in Austin compared to the strip-mall/superstore business corners and cookie-cutter suburbs of Dallas, where green initiatives are inching in compared to Austin, where they are almost legal requirements.
Maybe my opinion is skewed living in the northern suburbs of Dallas, where I don't get to see the same kind of diversity like I did in Austin, or even in South Dallas. But regardless of my current situation, I felt like Austin is heading in the right direction and is actively making strides and making these opportunities known to its residents – while Dallas is much more focused on big-business and commercial growth.
Resources
Articles
Videos