Pursuing my dreams of owning/operating a 'Space Colony Glamping Business,' I registered to attend The Glamping Show USA 2022 in October as a first time attendee! I'm very satisfied with my choice of going to this glamping conference based on everything I learned and experienced firsthand! As the only U.S. Trade Event dedicated to the glamping industry, I'd recommend anyone who's interested in pursuing glamping to attend.
Whether you are a seasoned glamping pro or the new kid on the block, the indoor/outdoor Expo is Wonderland. Picture swanky canvas tents, furnished wagons, cool new structures, creative amenities, new tech and a ton of other gems to help you take your glamping biz to the next level."

— The Glamping Show USA Website
The Glamping Show USA event offered many opportunities and experiences including:
Expert-Led Conference – learning from the best how to launch or evolve a glamping enterprise. Pros from every corner of the industry share their hard-earned expertise to ensure your success.
Networking Opportunities – gathering information, brainstorming and deal making. Fellow attendees face the similar business challenges and are key to helping find solutions.
Indoor/Outdoor Expo – perusing the wealth of glamping structures, products and services on display at the Expo to ignite the imagination and shape a vision for an outdoor hospitality business.
Pre-show Workshops – pre-show workshops offer in-depth information one needs to know to hit the glampground running.
E-bike Experience – vendors joined forces to bring e-bike test rides to the conference as potential amenities for glamping guests.
My first session was a pre-show workshop on Glamping Business Basics. This workshop covered "check list" items that every glamping business must complete before opening for business to site selection and finance options and much more. The workshop included specific topics like:
"State of the Industry" Report – Presented by Ruben Martinez of The American Glamping Association. An update on the growth of the glamping industry and where it's headed.
Start-Up Checklist – What to do and know before jumping into a new venture. Topics included risk mitigation, ADA, disaster management, insurance, permitting and more.
Financing Options – From bank loans, to equity investment, inventory financing to friends and family. Those were featured topics on how to tap the various potential sources of capital.
Property Purchase or Land Lease? – The ins and outs of site selection was covered as well as how to weigh the options of purchasing or leasing land for a business.
Founders Stories – Heard how two operations began with the small steps to achieve their glamping visions.
Hospitality Law 101 – Learned how tips on protecting ourselves and our businesses from the various legal risks in the changing hospitality environment.
This was the most valuable workshop/session I attended at the conference! I learned so much about the 'outdoor hospitality industry' and valuable advice from industry experts. The best take away was from a down-to-earth woman who quoted Julia Child, "If you can read, you can cook." How she translated this is that if you can read and learn about glamping, then you can pursue and succeed in glamping.
Searching this quote also lead me to:
"Reading is important, because if you can read, you can learn anything about everything and everything about anything."

– Tomie dePaola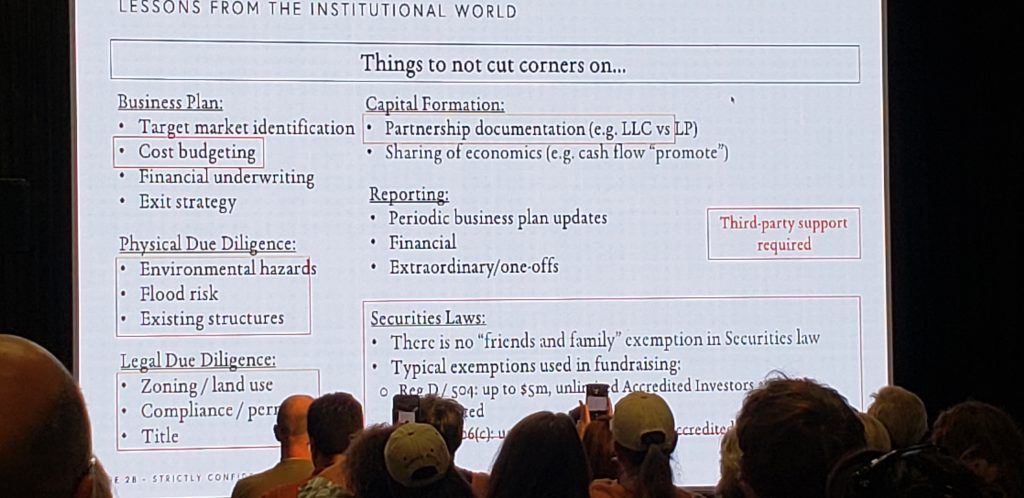 Lessons Learned from Glamping Business Basics:
Ruben Martinez:

It's hard to get started in this industry

You'll have to wear many hats in this role, especially as an owner-operator

This industry and the people you surround yourself with are willing to lend you help

It gets easy to feel isolated in this business

Doing what hasn't been done before meanings being uncomfortable

This is no cookie cutter approach or college degree for the glamping industry

Irene Woods, The Fields – MI:

Follow the (1) Dream, (2) Visualize, (3) Execute model for action

Treasure the early infancy stage because it will not last forever as your business grows

Protect your Brand Identity, and build the feel of Brand Affinity

David Smith, Outside Capital:

The three mega trends for glamping are (1) Experience Economy, (2) Community & Connection, (3) Reconnecting with nature

Most outdoor hospitality businesses have eclectic and hybrid funding methods

Glamping is tough to scale and a smaller part of outdoor hospitality overall

You need a well-crafted financial plan

Here's what professionals do: (1) hire a team (2) document everything (3) have exit plan (4) have plan B options (5) measure/track financials (6) build alignment/governance

Virginia & Reid, Collective Retreats:

Plan for seasonal operations challenges, like weather, climate, holidays, wear & tear, etc.

Consider the Maslow's Hierarchy of needs at the site for guests and amenities

Christine Taylor, The Towne Law Firm:

When purchasing an outdoor hospitality venue: use an entity to purchase the business for legal benefits, do your due diligence including in person, get the legal/zoning background information with the help of the Freedom of Information Act

You'll need to have waivers & liability coverage, contracts, agreements, and licenses in place in this industry

Labor and Employment is no joke, so OSHA compliance, background checks, and employee contracts must be solid

Cover yourself with liability and insurance, while doing investigations into incidents and document with photos

With animal/pet laws, there is a difference between a service animal and emotional support animal
Indoor Vendor Expo
I started off the conference in the indoor vendor expo hall. This area had financial institutions, glamping furniture, insurance, WiFi providers, reservation booking systems, consulting services, off-grid accessories, solar power and other similar vendors. There were several vendor areas, like the online reservation management and WIFI technology providers, which I had not considered in my initial planning thoughts!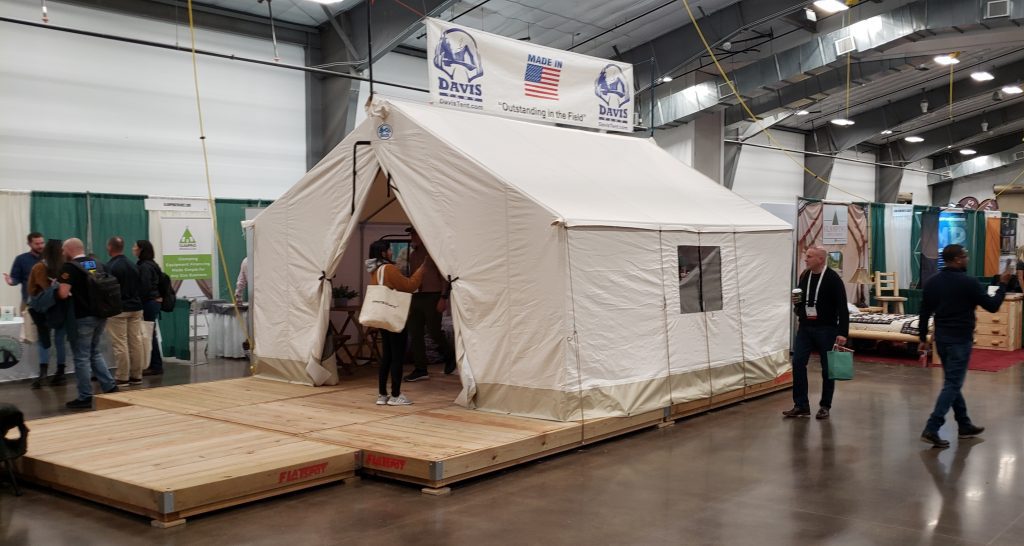 Outdoor Vendor Expo
The outdoor vendors were my favorite part of the Glamping Show since I was able to tour the various accommodations. The structures and vendors ranged from swanky canvas tents, furnished wagons, futuristic domes, off-grid amenities, outdoor lounge furniture, and a ton of other structures and technologies.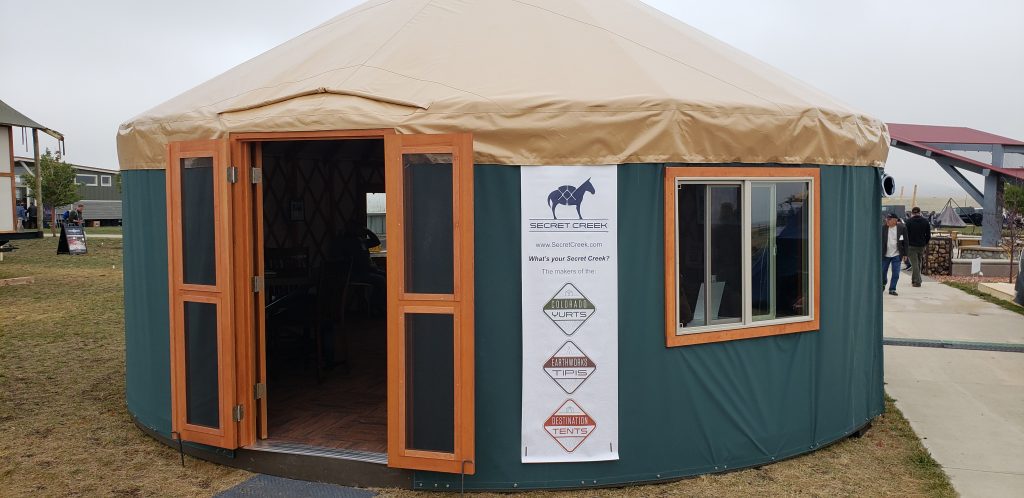 Conference Presentation Sessions
While the outdoor expo was my most favorite part of the show, the conference sessions were the most valuable! I was delighted to hear advice and insights from industry professionals and successful glamping operators. A lot of the topics discussed were new to me, eye-opening and made me think deeper about the logistics and flexibility.
"The glamping pie is getting bigger and bigger and there's no reason you can't carve out a larger slice! The key to upping your game is to stay on top of what's new and important to your business. At these conference sessions, you can soak up the expertise of industry leaders. You'll learn everything from using influencers to increase your business, to finance options, to new technologies available and more."

— The Glamping Show USA Website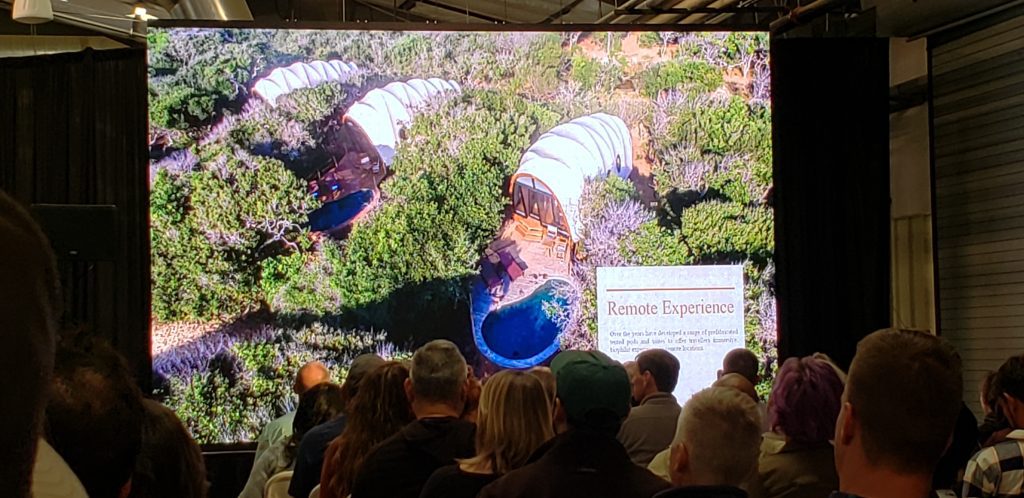 Sessions Attended and Lessons Learned: