My First, First Saturday Ecstatic Dance
I was still reeling from Friday's LEAF and was in a very vulnerable space. Which probably influenced how I experienced my first ecstatic dance at Lost Valley.
What is ecstatic dance, you may ask? According to Wikipedia, and confirmed by my own experiences:
"Ecstatic dance is a style of free form dance in which the music is the teacher. In this form of dance, there is no structure or steps to follow or any particular way to dance.
Ecstatic dance events are differentiated by being a talk free space. Some events feature a live DJ while other events feature curated music playlists, crafted by DJs. The music ranges from electronic dance music (EDM) to World Music with a wide variety of musical genres, often with little to no direction from facilitators to what ways community members should dance. The events are inclusive of all ages and are drug and alcohol free.
Ecstatic Dance is used to describe intentional dance events all over the world. There is no single format or guidelines that all events called Ecstatic Dance adhere to."
This ecstatic dance was the last one of the season to be hosted in the Meadow, which in and of itself, was unique because of the smoke traveling from the California wildfires, and being outside it brought a different type of energy from the attendees.
The dance started off with a traditional Cacao Ceremony that brought all the attendees and residents together with spiritual intentions, and was followed by a short set from a live band before the ecstatic DJ set began. I hung back on the hay bale seats encircling the Meadow dance space to see what ecstatic dances were all about.
The key aspects of this type of dance are 'no form/style' and 'no judgement,' which I initially had a hard time with because that's the opposite of my experience with dancing. If you don't have form or style while dancing, you are generally judged – either by peers or actual dance competition judges. So when I saw people climbing on top of each other like acrobats, throwing their partners up in the air, rolling around on the ground, barking on all fours like dogs – to say the least my 'open mind' tended to lean towards judgement. (It took attending many more ecstatic dances for me to really understand and be in a place of non-judgement.)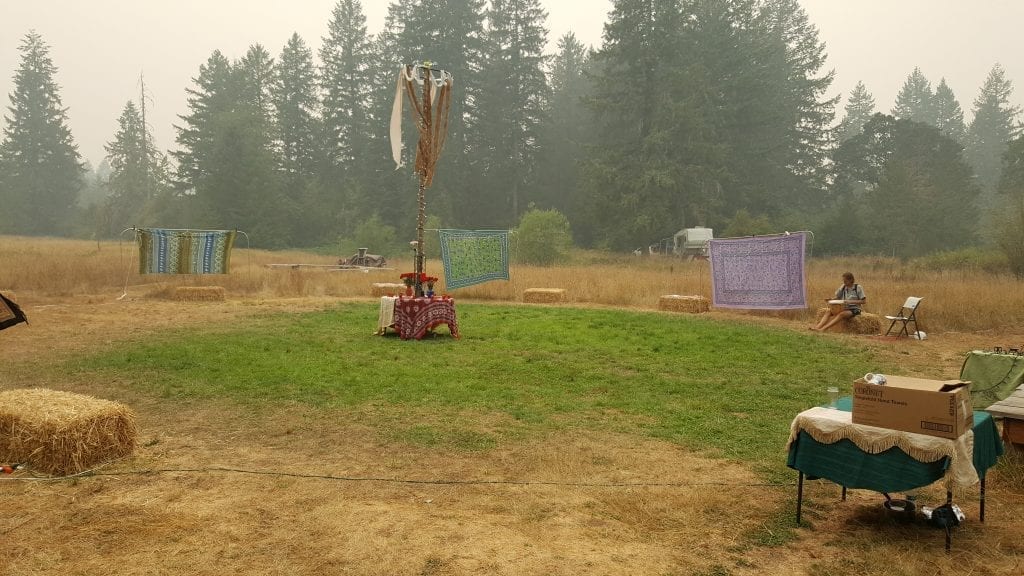 As the dancers moved and swayed to the music, there was an unintentional unison between each person – you could see it when the 'beat dropped' or the native vocal music changed paced. And out of this mystical dance space came Larry, an older, seasonal resident who loves to dance but was limited due to a recent accident that required he use a crutch. (Larry also taught NVC and tai chi classes during our program.) Larry approached me and asked to dance, which caught me off-guard, because (1) I was unsure 'how to dance' in this situation, and (2) I've never had another man ask me to dance. I explained this to him and he used a simple tai chi exercise to demonstrate ecstatic dance to me.
I appreciated Larry's intro to ecstatic dance 101, but I still wasn't 'feeling' it – especially in the headspace I was in from the day before. So I turned in early, but heard the festivities echoing late into the night…