One of the organizations I became a fan of in Dallas was The Better Block, "a 501(c)3 nonprofit that educates, equips, and empowers communities and their leaders to reshape and reactivate built environments to promote the growth of healthy and vibrant neighborhoods."
What attracted me to this organization was their guerilla-style local community impact, its architectural applications, and how it shared unlimited creativity similar to 3D printing. One of Better Block's tenants is placemaking and when you can build a sense of community out of a barren parking lot – it's truly the definition of placemaking!
It's a special organization that I want to highlight, in hopes that it can inspire you and other in your community.
Design Studio Structures
"There was a meeting of the minds to brainstorm design plans for the "Green Heart" and "Green Spine" areas of the Southwestern Medical District Urban Streetscape Master Plan project at the Architecture and Design Exchange. This brainstorming session brought about new and original ideas to help transform the District's pedestrian access and safety, aging infrastructure, urban heat island effect, and address aspects of nature deficit disorder — all under the power and shade of urban tree canopies."

— Southwestern Medical District Charrette, Texas Trees Blog Post
Below are some pictures of the Southwestern Medical District Charrette event. We had design vision boards outlining the room for the attendees to reference and better understand key areas. After a few words and sharing of logistics, people broke out into several groups to come up with design ideas.
Outside of the Architecture and Design Exchange were a handful of CNC-created bus stops! I followed The Better Block's projects online for a while, but this was the first time I saw one of their projects in person.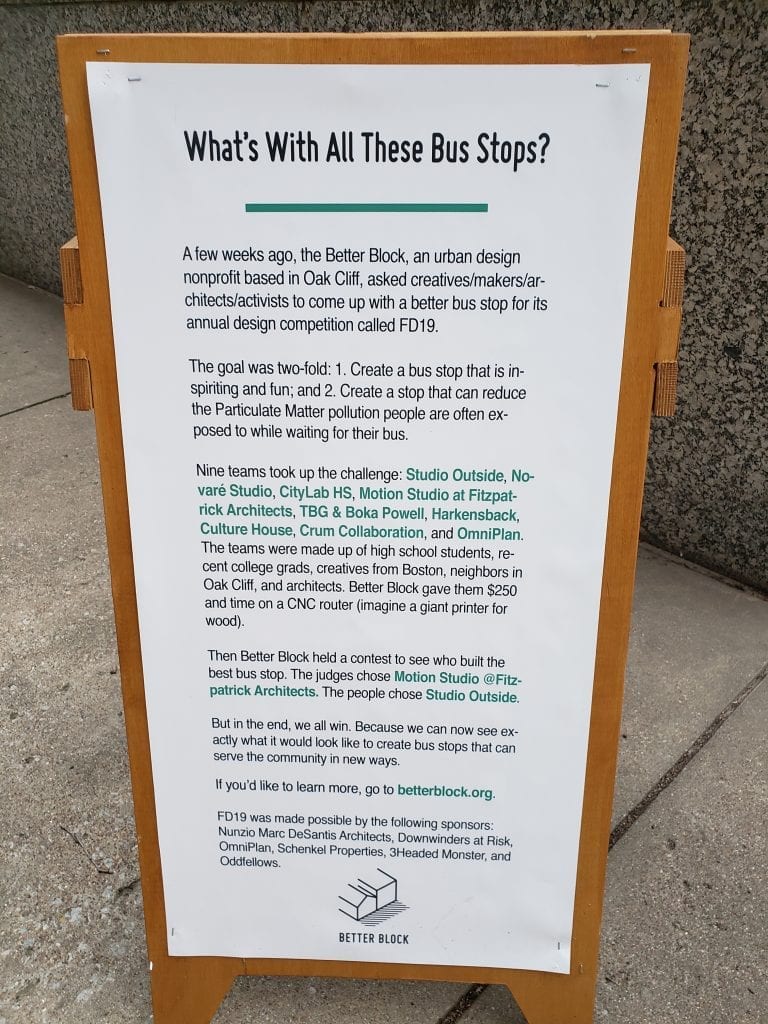 "In January, we announced the prompt for our FD19, our annual design challenge: create a bus stop that not only invokes joy but also addresses particulate matter pollution. We learned from Downwinders at Risk that if you put a barrier between a person waiting for a bus and the road, you can reduce PM pollution by 30-40 percent.
The contestants spent the morning of the competition setting up, and as the sun began to set on the nine bus stops, judges visited each one to evaluate the design and concepts. During that time, the crowd voted for their favorite as well."
Here's an overview video of The Better Block project in San Antonio, Texas. I really admire this nonprofit and their community building work, especially with their open-source style designs.
South Oak Cliff Pop-up Park
"A new public park is being developed in the South Oak Cliff community of Dallas. Organizers say it took 18-months to finalize plans for the 1.8 acre park which will be located on Overton Road near S. Marsalis Avenue. Neighbors describe the effort as significant for the community, considering many families have to travel more than 2 miles just to enjoy the closest public park."

— New public park to open in South Oak Cliff community. WFAA 8
I really enjoyed attending this ribbon cutting event in South Oak Cliff! The Texas Trees Foundation worked with several other organizations to clear the land for this pop-up park, while preserving essential trees on-site. The event opened with a dance team and marching band parade performance, followed by words from the sponsors and community members.
There were also several vision boards for upcoming projects that attendees could weigh in on. Guests would put sticky notes as votes on their favorite designs. The design organizations also had staff on site to take direct feedback.
The Better Block also created several amenities for the park, including a small amphitheater, play equipment, seating and benches, as well as colorful bird houses! Some of the sponsors and community members brought other things too, like rocking hammocks, outdoor fitness equipment, and old tires for park boundaries.